The Morning Report - 1/14/22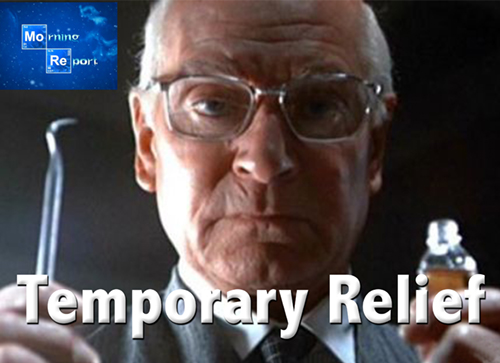 Good morning, kids. The weekend is here and in spite of everything we're dealing with, yesterday's news coming out of the SCOTUS as well as in the Senate (specifically Manchin and Sinema) allowed us to, if not turn cartwheels, at least breathe a sigh of relief. For sure it's a temporary respite as, in the words of my mother of blessed memory, "evil never rests." But that said, no matter how long this pause lasts, for the chance to at least have a respite I am grateful. I'm also grateful for the opportunity to just marvel at the circumstances and ineptitude of these so called "elites" as they slammed headlong into a wall. "Who'd'a thunk it?" A year ago, with control of both chambers of Congress and the executive branch (the latter and the upper chamber acquired by thievery), and with a judiciary that when the chips are really down is a reliable Leftist rubber stamp, the anti-American Left via the Democrat Party was ready to embark on what would have been the final phase of the nearly 100-year drive to "fundamentally transform" America as founded into yet another hell on earth socialist shit hole. The pessimist in me says, look back at where we were after the 2010 midterms. We were breathing a sigh of relief and doing cartwheels that Obama's agenda was seemingly halted, albeit after the disaster of Obamacare was rammed through. I hate that dog-eating fraud with the white hot heat of a thousand supernovas and yet compared to where we are today, those seem like halcyon days. The ever-leftward ratcheting over the years and decades has gotten us to a point where we've become so inured to the abuse, depredations and destruction that the psychos and sickos and outright thugs controlling most of our government and too much of our society have brought down us, that even the briefest pause seems like deliverance. But is it Moses-deliverance or is it
Ned Beatty Deliverance?
As I alluded to in yesterday's disquisition, our society has been turned completely upside down, first with the continuing mass-psychosis of the General Tso's Sickness and then the ensuing economic immiseration. We're heading for a crash that is going to make 1929 look like a blip, and even the lowest of the low-information crowd can sense it if not see it. It is a tragedy of the human condition, and really the American experience that we react to things when the wolf is at our throat. What we're going through now is not merely the swinging of the political pendulum every two to four years. With 2020, the pendulum has sheared off the bolts and flung off into space. Meh, I don't think even that is the correct metaphor, considering the illusion of the two-party system since the end of the Second World War. That was exposed by the election of Donald Trump in 2016 and specifically the reaction to that from all quarters that ultimately resulted in what happened in 2020. That was Trump's greatest triumph. No more illusions, no more deceptions, unless one wants to delude themselves into thinking that even now, with everything crashing down in flames, it's still business as usual. A sea change has definitely taken place. And the more the globalists who installed Joey the Wonder Corpse in the Oval Office shamble and scramble to preserve their hold on power by pressing their hobnailed boot on our neck, the more they alienate those who were either in their camp or perhaps were too dumb to pay attention. When you have no gas for your car either because of lack of fuel or when it hits $8.00 a gallon, when there's no food on the store shelves, when the value of your life savings is worth less and less every month, when criminals are free to rob, rape and burn your city down, when you are threatened with internal exile for refusing to be injected with Fauci's Fix - and on and on and on, things are bound to get real interesting real fast. Will these idiots ever stop? Of course not. The SCOTUS ruling will not engender a moment to reflect and respect a supposedly co-equal branch of government's decision. The Left will attack the court and use the decision to bolster their call to pack it.
Joey Soft-Serve, in fact, is shrieking at the private sector to ignore the ruling and demand vaccination or termination for all employees.
Ditto with Manchin and Sinema. Wouldn't surprise me if they get the
Rand Paul neighbor treatment
, or worse. Yeah, I get it that the insane Democrat base wants them to do what they were elected to do, but we bitch when the RINOs abrogate their oath to the Constitution; the Lefties want Manchin and Sinema to trash it. No, they're never going to stop. From C.S. Lewis timeless observation about tyranny,
" . . . those who torment us for our own good will torment us without end for they do so with the approval of their own conscience."
I don't know how you say it in Jive (if Ibram X. Krement is lurking, he can comment) but the belt buckle worn by every Nazi soldier is inscribed with the words
Gott Mit Uns
-- "G-d is with us." Ironic since both the Nazis and their kissing cousins of the anti-American Left are atheists. But that is their mentality. So utterly convinced of their righteousness, and more so of the alleged evil and sub humanity of us, that there is nothing that they will do and nothing that they are not capable of doing to obtain absolute power. For whatever elections are worth in the immediate tactical sense, the midterms are 10 months away, and we still have just under three more years until 2024. While it's a safe bet we are in for a world of hurt that might make even the last year seem like the good old days, the Enemy is not infallible. And there might even be a Black Swan event that we cannot perceive that really changes everything. Two things to ponder. First, on an ambivalent note from Emily Dickinson:
After great pain, a formal feeling comes
The Nerves sit ceremonious, like Tombs,
The stiff Heart questions 'was it He, that bore,'
And 'Yesterday, or Centuries before'?
The Feet, mechanical, go round
A Wooden way
Of Ground, or Air, or Ought
Regardless grown,
A Quartz contentment, like a stone
This is the Hour of Lead
Remembered, if outlived
As Freezing persons, recollect the Snow
First -- Chill -- then Stupor -- then the letting go
Second, a more hopeful note:
"Let us rejoice in our sufferings because we know that our suffering produces perseverance; perseverance, character; and character, hope, and hope does not disappoint us."
(Romans 5:3-5) Have a good weekend.
The End of America: 100 Days That Shook the World available here.


CIVIL WAR 2.0: LEFTIST PERSECUTIONS, CAPITOL HILL BLACK WEDNESDAY PROTEST AFTERMATH, DEMOCRAT PUTSCH, AMERICAN DISSOLUTION
NOTE: The opinions expressed in some links may or may not reflect my own. I include them because of their relevance to the discussion of a particular issue. ALSO: The Morning Report is cross-posted at
CutJibNewsletter.com
if you want to continue the conversation all day. Follow us on Twitter:
@CutJibNews
Follow us on Instagram:
@Cutjibnewsletter
Posted by: J.J. Sefton at
07:36 AM