Quick Hits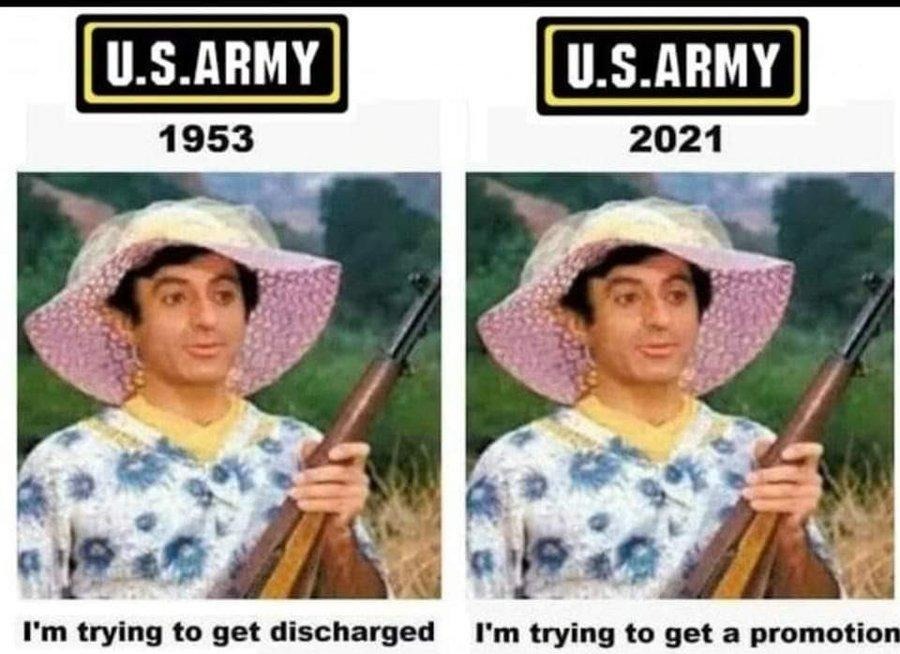 I added this as a late update to the Supreme Court mandate story, so some of you may have missed it: Ron Klain retweeted Stephanie Ruhle commenting on the fact that Biden's OSHA mandate was a "work-around," meaning, a way to get around the pesky little fact that Biden was doing something that Congress had not authorized and therefore was without legitimacy and was an illegal presidential action.
Justices Alito and Gorsuch both referenced Ron Klain's admission-against-interest that he knew he was executing a "work-around" the law and the Constitution
in their reasoning for upholding the injunction against the OSHA mandate. Heckuva job, Acting President Klain. I intended to include this in the filibuster story but couldn't find it when I needed it (I literally have 300+ open tabs).
Joe Concha

@JoeConchaTV
Any reason why Kamala Harris -- Who was put in charge of voting rights -- was not with the president on his trip to Capitol Hill today?
Well she delivered so hard on fixing the border... This might be a case of Kumala refusing to out and play the sacrificial lamb for a lost cause.
A twenty-
sixth
Democrat House member, Ed Perlmutter of
Colorado's 7th district,
has announced he's resigning. The district is D+7, which makes it technically competitive, particularly if Republican are having a big year. Which they are, of course.
Noted "Healer of America's Whole Soul" Jerkoff Brandon said that you're either on his side or George Wallace's, without disclosing that for most of his political career,
he himself was on Wallace's side.
In 1975, [Jerkoff Brandon] was an undeniable fan of George Wallace. "I think the Democratic Party could stand a liberal George Wallace--someone who's not afraid to stand up and offend people, someone who wouldn't pander but would say what the American people know in their gut is right," he told the Philadelphia Enquirer. Biden remained a fan of Wallace through the 1980s. In 1981, he praised Wallace's positions on various issues and told a black witness during a Senate committee hearing that "sometimes even George Wallace is right." Later, during his first attempt at running for president in 1987, he bragged that in 1973 Wallace considered him "one of the outstanding young politicians of America," and while campaigning in Alabama, he said, "we (Delawareans) were on the South's side in the Civil War." Imagine if any Republican had ever said such things. Biden also actively cozied up to Southern segregationist Democrats for help and support for his anti-busing legislation--which Kamala Harris used against him during the 2020 Democratic primary to suggest that he was a racist. Biden also praised former Ku Klux Klan "Exalted Cyclops" Robert Byrd and referred to him as a "friend," "mentor," and "guide."

Biden also opposed forced school busing, using the colorful metaphor that -- and I do quote here -- "Unless we do something here, "my children" are going to grow up in a "racial jungle."
Unless we do something about this, my children are going to grow up in a jungle, the jungle being a racial jungle with tensions having built so high that it is going to explode at some point. We have got to make some move on this.

Well isn't that just special? A lot of leftwing propaganda organs attempt to claim that this quote "requires additional context," but no, he's against mixing white kids with black kids because it will create "a racial jungle." No one doubts what the media would say if a Republican objected to integration, and especial objected to integration using such a racially incendiary metaphor.
Even Snopes admits the quote is real and says what it says and means what it clearly means.
When even the dirty filthy weakling coward cvck NeverTrump grifter liberal Ben Sasse is calling the man he supported for president "senile," you know Brandon's got some political problems.
John McCormack
@McCormackJohn
Sasse on Biden's comment likening Republicans to Bull Connor & George Wallace: "The president of the United States called half the country a bunch of racist bigots.... He doesn't believe that. This was a senile comment of a man who read whatever was loaded into his teleprompter."
Brandon's only truly rabid fan-base were NeverTrumpers, and now they're all "distancing" themselves from him. By the way, Sasse is absolutely
beloved
by the National Review crowd. If you thought they had an unseemly boycrush on Jake Tapper, you don't even want to know about their homoerotic yearnings for Ben Sasse. They want Ben Sasse to make cvck-babies in their butts. So I guess at National Review, it's now permissible to say that Biden is senile and bad and oh yeah we always opposed him even when we were supporting him.
Even Mark Zuckerberg is now leaving California for Texas.
Why does Texas insist on luring these very undesirable people to their state? I know they can't forbid them from coming, but they also don't have to offer special breaks to these companies to lure them, either. Especially not to bad actors like Zuckerberg. I'm not sure that's what happened here, and searches are unavailing on this point. But that's what Rick Perry was always doing.
Moreover, there is a certain irony in Mark Zuckerberg, a stout liberal who has previously criticized Texas's politics while spending millions of dollars to influence its elections, relocating his company to the obviously better-governed state. Liberals who savage Texas for everything from its abortion laws to its handling of the COVID pandemic can't help themselves from relocating there. Unfortunately, this also represents another troubling development. Liberals such as Zuckerberg work to create an ideological utopia in which their own companies evidently cannot survive or at least cannot thrive optimally. Then they abandon the places they helped destroy and move on to start the process all over again somewhere else. As Agent Smith observed in The Matrix, this is the behavior pattern of a virus, not that of a mammal.
Locusts.
Never forget that Zuckerberg spent $350 million of his own money to get out the vote in the bluest of blue districts -- including in Texas -- in order to swing the election for Biden.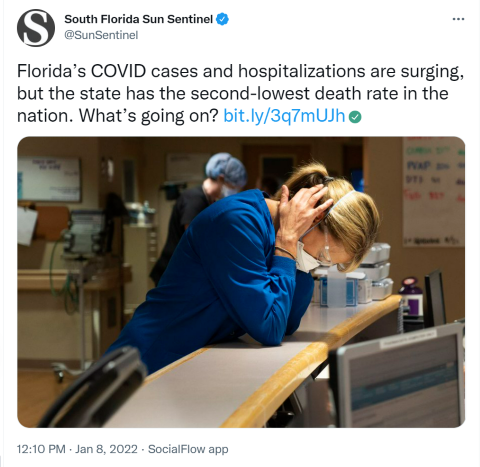 As someone on Twitter pointed out: They sound genuinely
saddened
to hear that Florida has one of the lowest hospitalization rates in the country. Look at the picture they chose to accompany the story-- it shows a nurse in anguish and despair over the news that DeathSantis isn't killing as many people as she'd hoped.
With COVID cases skyrocketing, Florida is experiencing one of the worst waves of the omicron variant in the United States. Yet Florida's death rate over the past seven days is the second lowest in the country, after only Alaska. What's going on? Even as record COVID cases in the U.S. were reported last week, deaths dipped slightly, and still, Florida's death rate is distinctly low, particularly in a state with a large, vulnerable elderly population. Experts say several factors could explain the currently low rate: Florida's horrific toll from delta and its acquired resistance and vaccination rates may be buffering the state at a time when others states are contending with two variants. Or, because of the way Florida reports COVID deaths, which already tend to lag infections and hospitalizations, the true death rate from this recent wave may be too soon to know.
This is amazing: Fat, ugly demented Twitter-addict losers say, "People should ignore the real consequences of the Brandon presidency -- continued covid misery, soaring inflation, real wage losses, a humiliating withdrawal in Afghanistan and likely coming setbacks in Ukraine and Taiwan, soaring crime rates and soaring
murder
rates, chaos and incompetence at every turn, met with more division and more anger and more autocracy and authoritarianism, and instead focus on what's
really
important, which is supporting Brandon so I can post W's on people on Twitter!!!" "Because that's all that matters! Me getting dunks in on my Twitter Enemies!"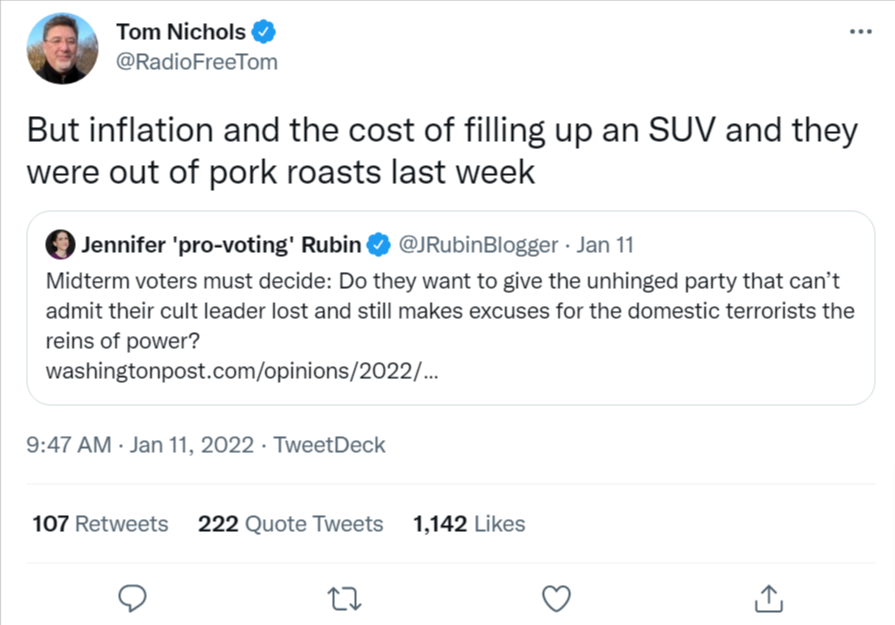 We'Re VeRy SeRiOuS tHiNkErZ. LiStEn To Uz. We R ExPeRtZzz. We KnOw StUfFzZz. Important Question for Howard Stern:
And you are...?
Ten years ago I might have written a whole post about Howard Stern's irrelevance. But he's so irrelevant now the point establishes itself. This is all it's worth.
Javier Goya

@JavierGoya7 Life hack Save all of your dryer lint in ziplock bags Excellent fire starter Scrunch it up, squeeze out the air, fits nice in a pack.
Sounds survivory.