Happy 2022! Was there anything you appreciated during 2020 or 2021?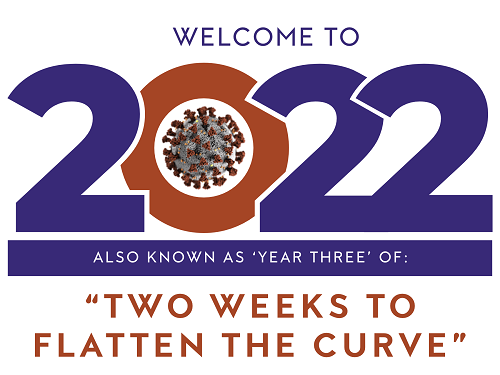 I agree with Dr_No that we shouldn't do this again.
Daniel Greenfield: COVID Deaths Fall as
Omicron Wave Fails to Deliver
The US is seeing fewer COVID-19 hospitalizations per case than in previous waves, suggesting Omicron is causing "milder disease" than previous variants, the head of the Centers for Disease Control and Prevention said Wednesday.
Teachers' unions are trying to figure out how to spin this to justify closing schools anyway.
A friend has thrown up his hands at all of this:
Was really hoping for more sanity in 2021. Lol. Going into 2022, I have no expectations but to enjoy it. Every day is a blessing. Happy new year y'all.
Are you with him, or are you in battle mode? I'm kind of in a "stay informed" and "pick your battles" frame of mind.
And yes, every day is a blessing.
Is education your battle?
On the mention of teachers above, one of the few advantages of forcing all kids into remote schooling has been that parents got a good look at
what their children are being taught.
Here's a glimpse at the equity resources
from one school district
including The 1619 Project. (Requires NYT subscription, apparently.) Did most parents know about this kind of indoctrination before enforced remote learning? Parents have been fighting back. And Ron DeSantis
has another plan, too.
Have you seen any headway in cultural battles?
Do you have a hero from the pandemic?
One of mine is Grace Daniel, who wrote about six months ago about how My Woke Employees Tried to Cancel Me.
Here's How I Fought Back and Saved My Nonprofit.
To protect yourself and your organization from becoming subverted by critical social justice ideology and subsequently cancelled, you must understand how the battle is fought. First, critical social justice is an anti-objectivity ideology: One of its fundamental assertions is that there are no objective truths, only "positional" truths.
She insisted on definitions of terms, such as "evidence-based". She also insisted that complaints by staff be "evidence-based". Even though she is
a woman of faith.
Since those complaining could not make "evidence-based" complaints, they left. I think the process she went through to counter the attack on herself, her husband and her organization was remarkable. A few months ago, Illiniwek made a comment here about "reason", which could be considered to go along with "objectivity". It reminds us that the French Revolution may have suffered from too much "objectivity". And "positional objectivity" is still possible among leftists:
idk the Deep Philosophy needed to argue "Reason" as it applies in various thangs . . . I vaguely recall hearing the French Revolution murdered good people, partly because it was reasonable to conclude removing the (perceived) evil ones was necessary to attain ? Enlightened Culture? Our Founders established God given rights, protected FROM government. It always comes down to reasonable men, deciding when to kill off their unreasonable oppressors. There is still real science, but the evil ones like Fauci are useful political tools, willing to murder by restricting doctors with useful treatments. Their chant is "Trust the Science", but real scientists know they are lying. It is a vicious coup, their fake science is just Orwellian 2+2=5, submit or be punished.
Reason, faith, values, truth. Big topics. We certainly get a lot of garbled messages. And we have been forcefully reminded - even more than usual - during these two years that suppressing information is a bad thing.
New Publications
Bari Weiss has published a description of
Our Favorite Essays of 2021
Many of which were published by
outlets that didn't exist a year ago.
I have to wonder if some of the old leftist publications and media outlets are sorry that they pushed some of their talent out. We have featured some of the essays that made Bari's list and one that didn't, this
long piece on vaccines from Tablet,
which picked apart the changing narratives on the vaccines and COVID. Even an honest liberal with deep anger at the "unvaccinated" found it "deeply disquieting".
The old joke about The New Republic was that it was a Jewish magazine pretending to be a magazine about national affairs. Tablet is a magazine that covers the nation while pretending to be Jewish. It's also one of the best damn publications in America right now. Editor in chief Alana Newhouse's powerful and provocative essay, "Everything Is Broken," is Exhibit A: Everything Is Broken
We've seen that one before here at AoSHQ, too. A lot of these pieces are not written by conservatives, but they challenge the leftist narrative.
Media comedy:
Readers of the British newspaper, The Guardian, are accusing the outlet of deactivating an online poll that asked readers to vote on "Person of the Year" after it became apparent that J.K. Rowling would handily win. "Tell us: who is your 2021 person of the year?" ran the headline, posted on Dec. 15, with the subtitle, "Time Magazine chose billionaire Tesla boss Elon Musk - but who would be your choice?" A short time later, when Rowling was far and away in the lead, the voting form disappeared, as did the results. A message in small print stated, "This form has been deactivated and is closed to any further submissions." Rowling has been at the center of numerous cancel culture storms this year for her refusal to deny the reality of biological sex. Earlier this month she stirred up controversy by mocking Scotland's law enforcement policy that allows accused rapists to self-identify as female. "War is Peace. Freedom is Slavery. Ignorance is Strength. The Penised Individual Who Raped You Is a Woman," she tweeted in reference to an article titled, "Absurdity' of police logging rapists as women."
Who is
your
Person of the Year?
Music and Dance
Swing seems to be
diverging from its roots
a little in the competitive arena:
What competitors do to unwind. Who did the Macarena best: these
randomly chosen partners
Or the DNC?
Have a hangover?
Fifth o' whiskey and a case of the blues.
Hope you have something nice planned for the weekend and the New Year.
This is the Thread before the Gardening Thread.
Serving your mid-day open thread needs
Posted by: K.T. at
11:15 AM