Quick Hits
A NeverTrumper lied about a Newsmax cover story entitled "Vlad the Great" being pro-Putin. In fact, it's anti-Putin -- the "Vlad the Great" title depicting him as a conqueror, which is his ambition, obviously -- and any investigation greater than "none whatsoever" would have discovered this.
But "any investigation greater than none whatsoever" was too much work for lazy, no-reading bluffing grifter and goldbricking nepot Jonah Goldberg, who immediately retweeted the defamatory claim.
Even after being told his original claim was a defamatory lie, the NeverTrumper
retweeted it again,
thus demonstrating NeverTrump's high regard for the truth and great personal integrity. And just to make this all
too perfect, this sassy little quisling with the dick-shaped mouth decided that he, too, had to jump on the No Reading Required Defamation Train as well.
So much Fidelity to the Truth. So much Commitment to Personal Honor. A teacher and board member of the NEA -- the nation's largest teacher's union -- posted that those with religious objections to the vaccine should
be shot.
And not shot with vaccine needles, but shot with bullets.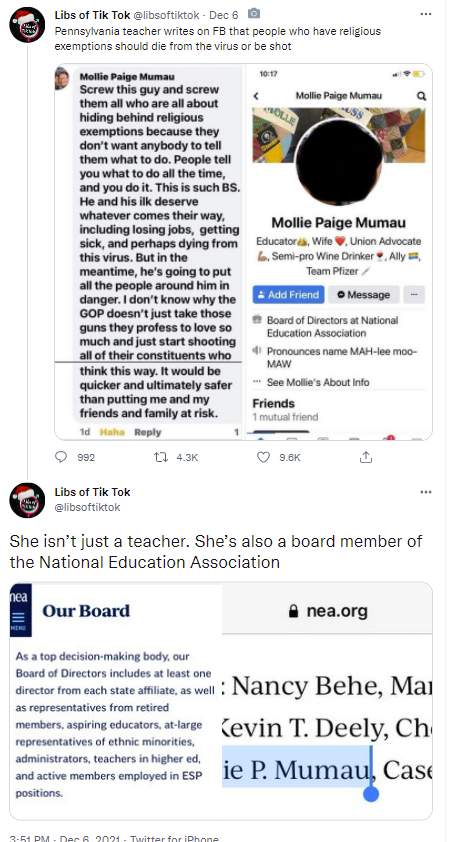 Publisher cancels Fredo's book, which was to have been called Deep Denial.
Not his own or his brother's or CNN's deep denial, but that which he claims that Trump and Republicans have about their failings. Chris Cuomo now has been fired from both of his jobs and he's had his book canceled. He'll be giving out handjobs under a bridge for fifteen dollars a man soon enough. Or, as he likes to call it, "Back to college!" CNN is actually
proud
to announce it's "working with the White House" to
massage its own economic news coverage to be more favorable to Joe Biden.
It congratulates itself on being willing toadies for the DNC, calling its presidential fellation sessions "productive."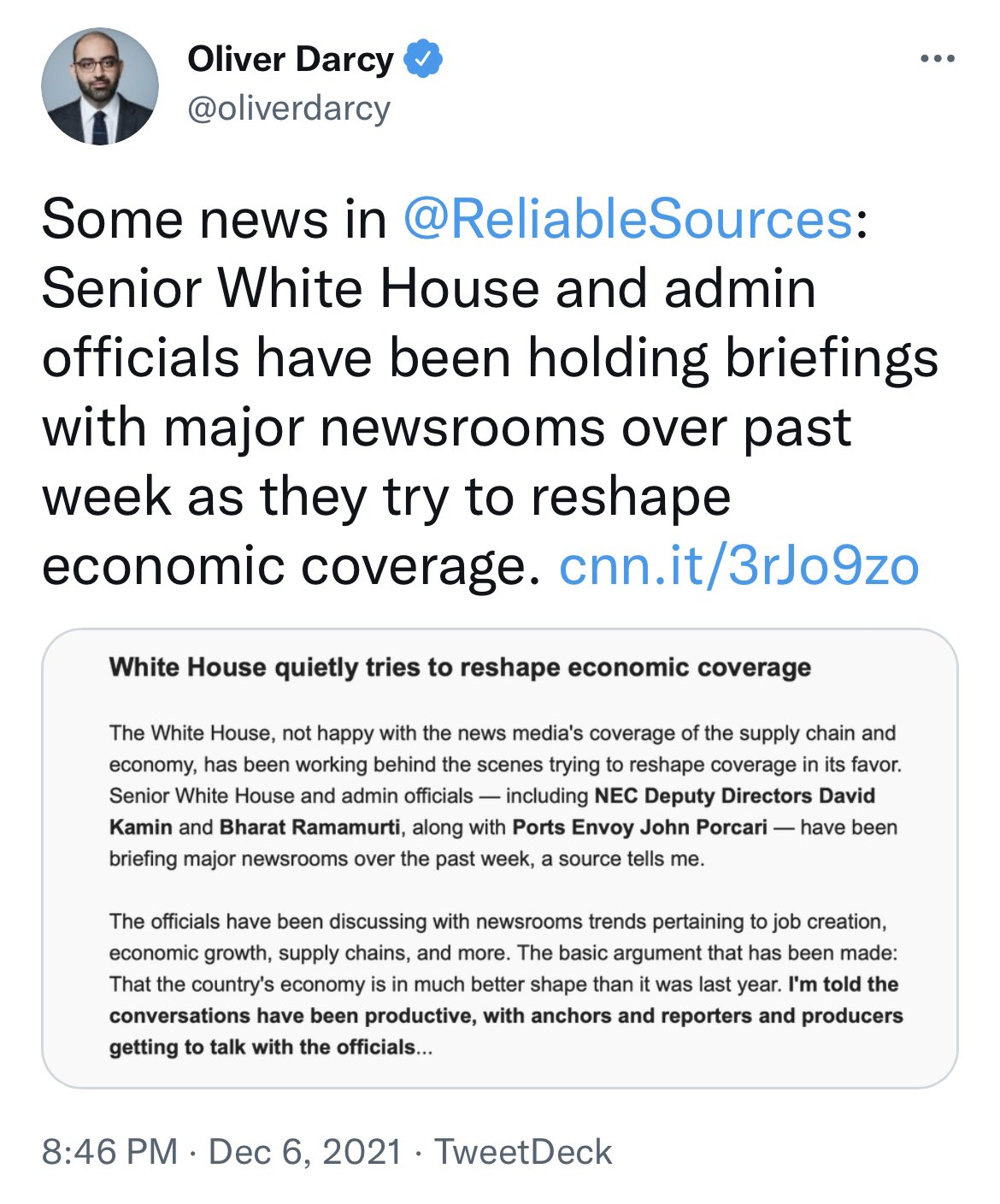 If you're baffled at how a "news" network could not only admit this but
boast
about this, let me explain: CNN is not a news network. You knew that, of course, but let me be elaborate. CNN is specifically a partisan shill organization whose viewers do not tune in for purposes of being "informed" but to
see how CNN is propagandizing useful political messages to other viewers, "persuadable" low-information viewers.
In other words, CNN's "viewers" are primarily not interested in CNN as viewers
themselves
but are interested in CNN as a vehicle for propagandizing to other, persuadable low-information viewers. But the joke's on them -- the only people watching CNN are rabid DNC partians. There are no "persuadable" low-information viewers CNN is propagandizing to; their viewers are exclusively the already-propagandized, and self-propagandizing. And
ALL
CNN viewers are low-information viewers. Definitionally. To continue: these viewers are
angry
at CNN for not reporting "the good news" about Biden's economy. That is why CNN are bragging about this: they are telling their viewers "we have heard your legitimate complaints that we have not licked enough poo off Biden's shit" and we are now asking him to write our economic reports for us, so you should be happy now. The Biden Regime be writing our propaganda for us now, so we'll be better able to propagandize to those "other persuadable viewers" you think we're reaching but who do not in fact exist because you lunatics are the only people that watch this absolute fucking clownshow of incompetent North Korean State Media. So this will be the official news on CNN shortly:
Despite massive subsidies to his own industry -- electric cars --
Elon Musk says the Build Back Brandon bill is a disaster that should be canned.
Tesla founder Elon Musk tore into President Joe Biden's 'Build Back Better' plan Monday over over its regulatory framework – even as the plan prepares to provide big subsidies for electric cars. Musk, who has gone after Democratic tax policies in the past, slammed the proposal in an interview with the Wall Street Journal. 'Rules and regulations are immortal,' he said. 'They don't die. The vast majority of rules and regulations live forever... there's not really an effective garbage collection system for removing rules and regulations, so this hardens the arteries of civilization where you are able to do less and less over time. ... 'Honestly, it might be better if the bill doesn't pass,' Musk told the Journal's CEO Council Summit. 'I'm literally saying get rid of all subsidies,' he said. 'It does not make sense to take the job of capital allocation away from people who have demonstrated great skill ... and give it to, you know, an entity that has demonstrated very poor skill in capital allocation, which is the government,' he said.
Jimmy Fallon, Arianna Grande, and Megan Thee Fallon are treasures, by which I mean, they should be buried.
Kind of a good joke for a Norm MacDonald roast there.