The Baris Thanksgiving Poll [Dave in Fla]
Rich Baris just released his most recent poll just prior to Thanksgiving. I want to take a look at two interesting results regarding voting preference and COVID.
Before I start, let me comment about how Baris does his polling. While he does work for individual clients, he gets most of the funding for his polling operations through crowd sourcing. This means that he is not beholden to the client for providing results they want to hear, or not reporting aspects of the internals that would work against the client's agenda. The result is that Baris has been arguably the most accurate pollster since before 2016. He was exactly right on the Florida 2018 results, his state polling during 2020 was much more accurate than any of the media polls, and he nailed the results of the 2021 Virginia governor's race. Not only did he predict the outcome exactly, he also exactly predicted the demographic turnout and votes by race, gender, and region. I am about to borrow a good bit from his reporting tool, and I highly recommend that you support his work. If you want to do so, the best way to follow and support him is at
peoplespundit.locals.com
. He is doing great work and is shaming the industry into cleaning up their act, by being consistently correct, while they are consistently wrong. While I understand the sentiment that some of you have regarding the accuracy of polling, this one really is different. Lumping Baris' work with the trash from Fox or CNN is being intellectually dishonest.
The Methodology
The poll is based on 2414 registered voters nationwide. This is a strong sample size to begin with, the most recent CNN poll (with a +5 Dem result) was only 859 registered voters. In general, a high confidence national poll needs a minimum sample of 1200 respondents. However, Baris goes further in getting his sample. He is always looking for representative samples from all demographic groups. Some groups are hard to sample, such as middle-aged working white men in rural areas, where it is very easy to get urban white women with graduate degrees. This means that he keeps sampling until he has enough response from all the target subgroups to be valid. He stops sampling subgroups when their "quota" is filled. His demographic targets are based on consumer research. Bottom line is this is as good as you can get in national polling. His 95% confidence level is legit. I'm going to highlight two portions of his results, electoral preference and COVID. If you aren't interested in election polling,
be sure to read the COVID section
.
Electoral Results and Analysis
Baris is finding similar results to the latest polling from other firms. This gives some credibility that those polls were probably performed legitimately, and this is now the 6th poll in the last 3 weeks showing an unheard-of lead for Republicans in the generic congressional ballot. The following shows the results for both 2022 congressional preference, but also polls a 2024 matchup between Trump and Biden.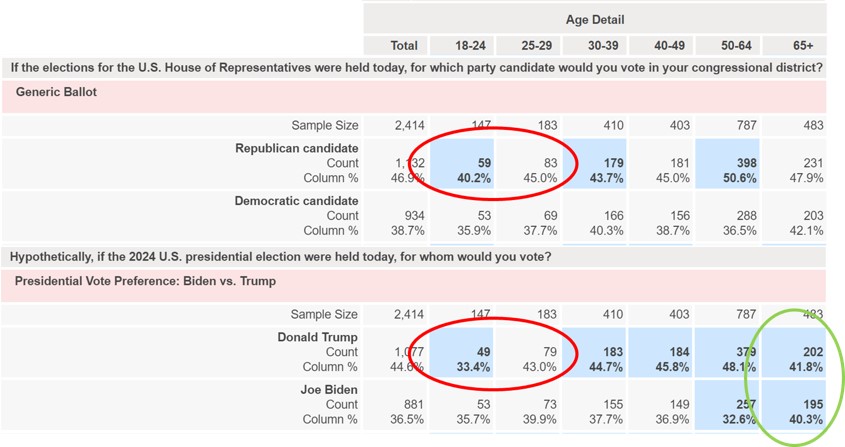 There are several interesting takeaways from these results. First, he is finding the GOP with an 8-point lead over the Democrats. He is also finding Trump with an 8-point lead over Biden. There were a couple comments on Tuesday about generic candidate doing better than an actual named candidate, but these results show that thinking is suspect. You can't be less generic than Trump vs. Biden. Every voter in the country has an opinion about them. The level of support for both is lower than the generic ballot though. 20% of the voters want someone else. By the way, Harris polls even worse against Trump, he leads her by 10.5 points. There are a couple subgroup results I found interesting. The only group that Biden leads with is 18-24 year olds. However, generic Democrat is losing in every age group including the youth vote. I also find it fascinating the difference between the 18-24 and 25-29 groups. Generic Republican goes up 5 points, but Trump goes
up 10 points
. This seems to indicate that once the youth finally get off the campuses and enter the real world, their willingness to support Trump rises significantly. The source of weakness for Trump is in the 65+ subgroup. While generic Republican wins the seniors 6 points, Trump barely breaks even. These are the most reliable voters, so Trump either needs to find a way to get their vote or have a high turnout election to maximize the votes from the 40-49 and 50-64 groups, where he has a huge lead. Since my last post looked at women voting, here is the breakdown by gender in the poll.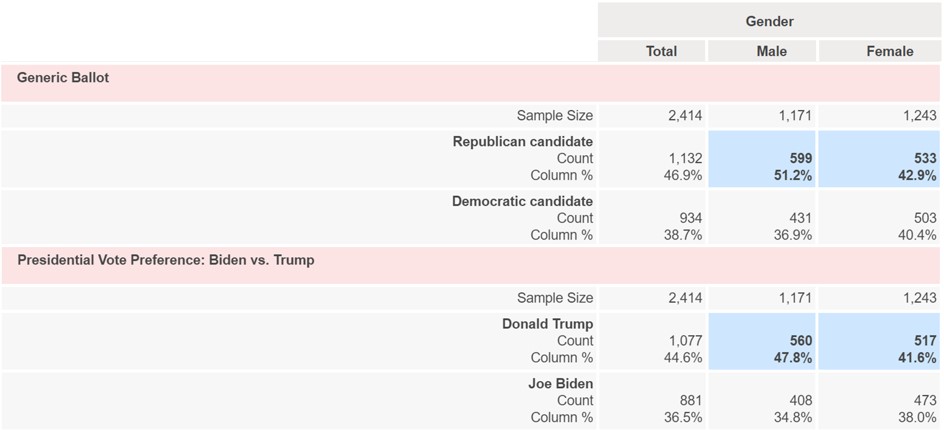 As expected, the preference for both Republicans and Trump is driven by men. Women do still prefer both by about 3 points, but it much lower than the 13-point lead seen with men. I see a lot of "Let's Go Brandon" bumper stickers on trucks around here. This could be an understatement of women's support for the GOP too. The social undesirability effect is still out there, and they could by lying to pollsters.
COVID
Rich started polling about vaccine adverse effects back in September when he was trying to examine the VAERS database and finding the results did not match Phizer records that he had access to. He believed that the VAERS system was being severely under reported, and his polling confirmed that.
These results are troubling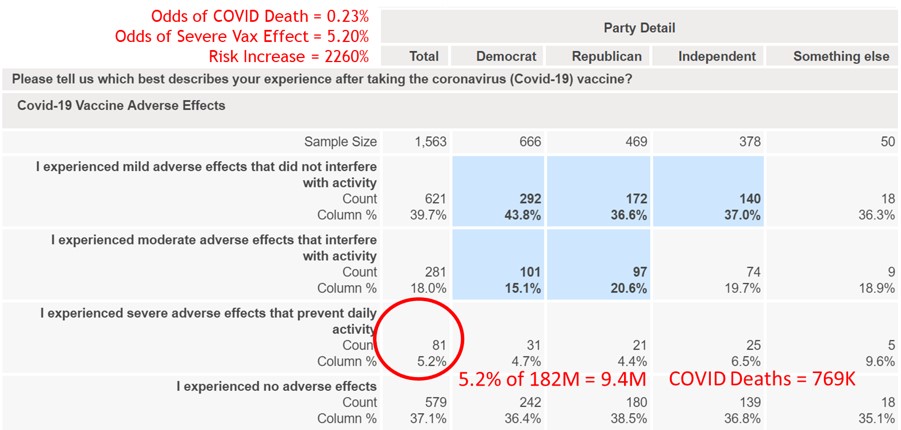 Baris is finding that 5.2% of respondents have had severe reactions to the vaccines. There is no political bias in this reporting, with all political affiliations reporting at close to the same rate. According to the CDC, 182 million people have received a full vaccine course. This means that 9.4 million people have had a severe reaction that prevented daily activity. This does
not
include people who have died from the vaccine, since they aren't answering polls. Also, according to the CDC, 769 thousand people have died from COVID in the US. Out of a population of 330 million, this puts the risk of dying of COVID at 0.23%. The risk comparison between the two groups means that by taking the vaccine, you are increasing your risk by 2260%. This is made worse by moving to a booster regime. From a pure probability perspective, by the time you get to the 8th booster, your odds of a severe reaction are 50%. An argument might be that if you didn't have a reaction to the first two, you won't have a reaction to the boosters. This is possible but recall there are confirmed cases of people who had no reaction to the first two shots, who died from the booster. It should surprise no one, that despite these risk factors, the main Karens in the country are Democrats. Mandates are very unpopular in the US. But over 60% of Democrats support mandates with employees being fired and severe fines for companies that don't comply.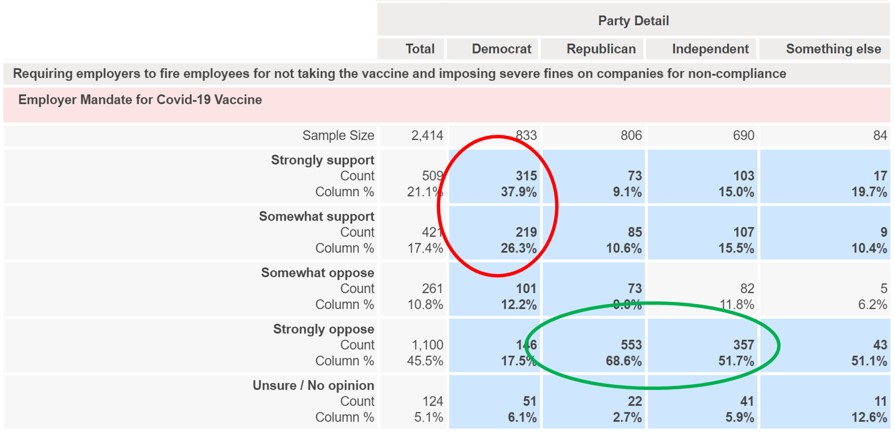 Who is the Fascist now?
Republicans and Independents are against mandates, with over 50% of both groups strongly against them. This shows the very authoritarian streak that runs through the Democrat party of today. Thankfully mandate support remains under 40% overall. Overall, this is a really good and informative poll. Rich Baris is doing yeoman's work, and single handedly pulling the polling industry out of the gutter it has been in since 2010. If you don't follow him yet on Locals, Youtube, Rumble, or Twitter, I recommend that you do so.
Update [OregonMuse] This Atlantic piece just dropped: