Food Thread: Texas! And Low Country Boil And Other Good Things...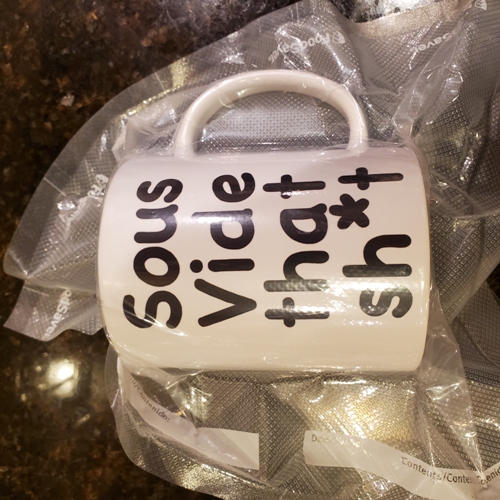 Obviously my subtle efforts to introduce Sous Vide cooking to The Horde have borne fruit, because this was the wonderful door prize I received at the world famous Texas Moron Meet-up! It's a total hoot, as many people have already mentioned, but damn...the food was good too! But before I describe it I have to mention Ben Had's friend "Bryon," who cooked Friday's and Saturday's main courses.
He used one of these
, which as you can see is designed specifically for roasting whole pigs. But he managed to cook marinated pork loin for one night and pork shoulder for the next night without skipping a beat. Very different than cooking a whole pig, but he managed it with aplomb, seemingly without a care in the world, even when his temperature probe gave up the ghost halfway through the first cook. And worst of all he had some loudmouth from the East coast who fancied himself a good cook, chirping in his ear about temperature and time and oh no...it's not going to work. Luckily Bryon was smarter than the jabbering bounder and ignored him, because the end result was excellent. Ben Had made a very nice, very subtle chile and crema dipping sauce that went perfectly with the loin, and the pork shoulder was served with a soffritto that went wonderfully! There were also some sides that stood out, in particular an eggplant dish made by
Stephen Price Blair
that is in
a very famous cookbook!
There was also a hominy dish made by some unknown master of the culinary arts that was simple and delicious. Oh...Posole! I can't forget the posole made by
Jack Sucio
. But he is a dastardly rascal who promised to send me the recipe but hasn't, so please hector him until he does, because it was also pretty damned fine eating. Good friends, good food, good guns, and good weather. It's hard not like Texas when you have all of those things under one roof!
******
Carne de Profanidad
From "Inspector Cussword" comes the recipe for a really, really tasty dish that he was kind enough to bring to the Texas Meet-up, and best of all was thoughtful enough to save some for me because I was pursuing chicken fried steak and was late for lunch!
Ok, here's my recipe. It's not actually carne adovada – that's braised. I twice roast it (3 times if I'm fancy) but don't braise it really unless you count the last part as braise instead of partially oven-fried.
I guess you could call it carne dos veces asada, but that's a lot of words. Or
Carne de Profanidad
(meat of profanity) might work since I'm Inspector Cussword. And because it takes a lot of work. I used to do all of the below except for the meat prep – I'd just slow cook it and shred it but my youngest can't eat shredded meat so I made this to give it a lot more toothiness. (If this is too much work, just put the shoulder in a slow cooker with some broth for about 4 hours and shred it, then dump in the chile sauce/paste)
Take a 10 lb pork shoulder. Debone it. Rub it on all sides with a mixture of New Mexico Medium Chile Powder (2 - 3 tablespoons), 1.5 tbsp of ground cumin, 1tbp ground pepper & 1 teaspoon salt. Some garlic powder and onion powder to your preference. Put this in a roasting pan with a rack (rack is important, lets the fat melt) with the fat cap on top. Put into oven at 375 degrees American Fahrenheit for 15 -20 minutes. Pull it out let cool for about 10 minutes and slice off the fat cap to render down later. Cut the thick parts of the meat to be about 1 to 2 inches thick. Sprinkle the spice mixture on all the new exposed sides. Don't worry about the spices falling into the roaster below the rack – we'll be using that later. In fact, run a spatula down into the drippings and loosen up the fond on the bottom of the roaster. The cut is really fatty, we'll end up with about ¼ to nearly ½ inch of drippings by the end of this that you can later strain and use for cooking eggs, etc. Put the roast back into the oven at 350 for another 15 minutes or until you see some crust form. Pull it out, cool it, and slice into ½ inch to 1 inch chunks. If you run into big pieces of fat, separate them and put that in the corner of the roaster. Sprinkle with some garlic powder and some onion powder and cumin. Pull the roaster rack out and place the meat in for a final roast – yes, it's going to roast in the drippings. Roast again for 10 to 15 minutes and then pull out.
While all this last roasting is happening, you need to prepare your chile paste. Take:
7 dried guajillo chiles
2 dried pasilla chiles
1 or 2 dried ancho chiles Take off the stems and open the chiles. Take out the seeds and if there is rib – like a greyish white threads on the seeds – take that out too. Rinse these off and place in a small pot and cover the stack with water. If necessary, weigh down the dried chiles with a small saucer or something like that to keep the chiles submerged. Simmer with a lid on for about 15 minutes and then pour off about ½ of the water. The chiles should be reconstituted and floppy when you move them. Drop this whole thing into a blender with about 6 minced garlic cloves. Puree for about 2 minutes. Pull out the meat and use a slotted spoon to remove the meat and drop it into a slow cooker. Lease as much of the fat in the roaster – you'll pour that off and strain it later or put it in a glass container and refrigerate it to separate the fat from the rest. Pour the chile paste/sauce into the slow cooker. Set it on high for an hour and season with cumin (or fresh ground coriander seed – it has a crisper flavor), salt, pepper and some onion salt. Drop the temp down to low. I usually refrigerate it and reheat it the next day since the flavors infuse the meat a lot more.
******
What the hell is "falernum?"
A cordial made from an infusion of citrus, spices, nuts and sugar, falernum adds an irreplaceable zing to classics like the Rum Swizzle, Royal Bermuda Yacht Club and Navy Grog, and while a few commercial versions are available on the market, it's surprisingly simple to whip up at home.
I don't drink any of those things, and I have no particular desire to start, but I guess it might be an interesting ingredient to play around with...but I'm not making my own, that's for damned sure. [Hat Tip: redc1c4]
******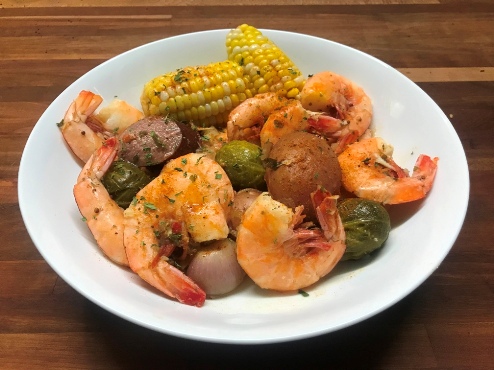 Commenter "Bitter Clinger" fancies himself a Gulf-State Southerner, and while his bona fides may be suspect, that does look like it would be quite tasty.
We had our traveling missionary in town for her stateside tour to update the congregations on the work she was doing in the mission field. In has become custom over the past 5 years for me to cook the welcome meal for the congregation and missionary, and about 4 years ago I decided to have the Pastor begin asking the missionary that is visiting to tell us what kind of meal they like or some home cooking they don't get overseas. This year I was delighted when I heard "Shrimp!" (Don't ask about the request for Thai Chicken Satay, it consumed two weeks of my life perfecting the recipe southern-boy style). What was most enjoyable was that shrimp has one of the easiest applications to feed mass amounts of people, the one-pot wonder that is the shrimp boil (or I believe some folks like to call it a low-country boil). Just start a pot of seasoned boiling liquid and add things in waves from the longest cooking time to the shortest cooking time. Now I'm a landlocked Tennessean, so I don't know jack-squat about doing it properly, but it turned out fantastic as near as I could tell, witnessed by the cherished sign for every cook out there, when the crowd goes silent because everybody is busy eating with no time for chit-chat. I made mine with the usual taters, corn, sausage, whole garlic cloves, and shrimp, but veered a little off course with the addition of shallots and Brussels sprouts (I never can figure out if it's Brussel sprouts or Brussels sprouts, which doesn't seem quite right, like a double plural). The sprouts were awesome, as they soaked in all of that boiling liquid. I seasoned with Zatarain's shrimp boil, Spanish paprika, Old Bay, salt, Tony Chachare's cajun seasoning, a stick of butter and some whole lemons. Now that you've read by book of a comment, here's my question for the knowledgeable Horde: What else should go in a shrimp boil? Is there anything that more experienced boilers like to include? I'm always eager to learn more!
******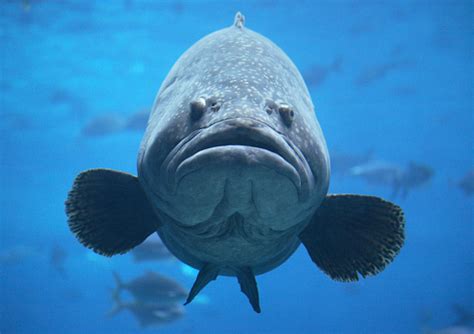 My local fishmonger had some grouper that looked fantastic...I couldn't resist. But way too many of the recipes I found drowned it in spices, which is a shame for such a nice fish. So I winged it...my favorite sort of cooking. I had some grape tomatoes of various colors, garlic, basil, and butter. Lots and lots of butter. I did the simplest thing I could imagine; I rough-chopped the tomatoes and threw them into a pan with tons of butter. After a few minutes added some minced garlic, and then when that was fragrant a bit of fresh chopped basil. As for the fish? Sautéed in a hot pan with even more butter, then into a 350 degree oven to finish. Topped with the tomato stuff and it was a great dish, simple to cook, and almost foolproof.
******
Bluebell sent me a
great and easy recipe for pork belly.
I have mentioned it before, and probably included a photo or two, but I just made it again because I saw nice looking pork belly at a local market. As most of you know, that's often how I cook...whatever looks good rather than what I decide upon before I go shopping. Anyway, it's easy. In fact the only remotely difficult step is cutting the grid into the skin. You will need a sharp knife!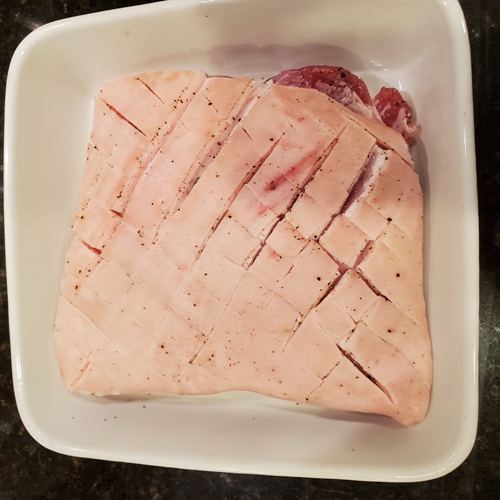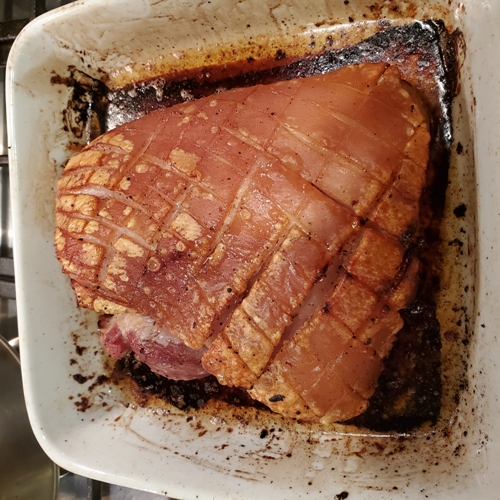 ******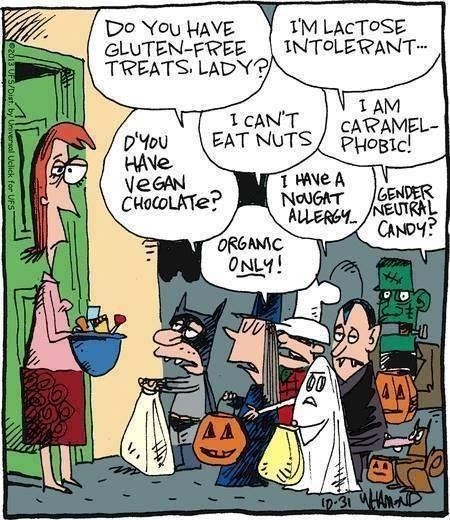 ******
Avocados sans thumbprints, beef short ribs that have meat on them (not the stupid little sliver of bone they sneak into the packages), carrots that don't taste like stalky chalk, spare bottles of Van Winkle Special Reserve 12 Year Old Bourbon, an herb garden that actually produces herbs (but no basil!), well-marbled NY strip steaks and elk backstrap to:
cbd dot aoshq at gmail dot com.
And don't think that you are off the hook with maple syrup and French Toast: I'm watching you...all of you! And I am watching you perverts who shake Manhattans and keeping a list for the Burning Times.