The Morning Rant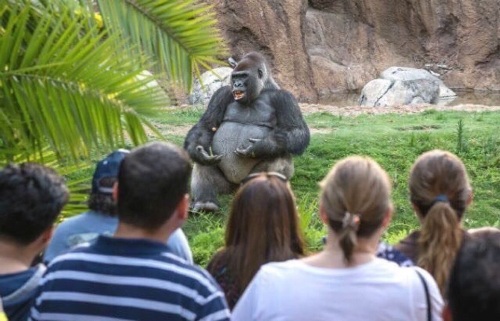 BATTLEGROUND VIRGINIA
A couple of battles are going on in Virginia right now: the governor's race between the loathsome Terry MacAuliffe and Glenn Youngkin is pretty tight. Also, a group of parents are showing up at school board meetings in Loudoun County and asking pointed questions about the teaching of toxic critical race theory and also their poor handling of two reports of sexual attacks. This is very depressing. Because we're not going to win. And if we do win, we'll still lose. The seeds of our defeat can be seen in the difference between how the Left and Right view politics. The Right wants to do politics and be done with it so they can get on with life, while the Left wants to do politics all the time. So, ever since WWII, the Right has been basically asleep while the Left's termites have been eating their way into various rooms of the house we both live in, namely the media, academia, entertainment, etc. Occasionally, the left does something noticeable, like chewing their way through a large beam, or perhaps undermining a weight-bearing wall, which causes the house to suddenly shake, or lean to one side, or creak alarmingly, which suggests that collapse is not far off. And only then does the Right wake up. Only then will they engage, form local political action groups, run a candidate, or a slate of candidates, etc. And then the Right will either win, or lose. If they lose, they will tend to give up. For example, I remember when we lost the
Obergefell
decision, somebody on our team, I think it was Marco Rubio, said 'Oh well, I guess we lost. We need to just move on now.' And for that, he should have been primaried the next time he was up for re-election. What a gutless coward. The Right does not have the stomach for a sustained fight. I've heard too many stories of conservatives, say, ousting 2 wacko progressive school board members only to have the progressives come out in force in the next election and take back the board seats that they lost. The Right is questionably good at winning territory, but is unquestioningly bad at holding territory. Thus the Left's victories are always permanent, but the Right's are temporary at best. Every time we win at the SCOTUS level (i.e.
Masterpiece Cakeshop
), the ruling is decided on such narrow ground that there's little chance it's going to be able to be used as precedent in any other case. It's very disheartening. Which is why, I think, the Right tends to give up easily, not willing to expend vast amounts of time and resources for goals that turn out to be fruitless. Which is perhaps why, when state election officials unconstitutionally rewrote election laws for the 2020 election, we mostly just sat there and watched them do it. The Republicans in the various state legislatures should've screamed bloody murder about this, and perhaps some of them did, but not nearly enough. Now, I admit that there are a couple of exceptions to this. The first is the large body of firearms rights advocates and their skill at mobilizing They're always up for a fight, probably because every time there's a shooting with lots of media coverage, lots of idiot politicians suddenly get it into their heads that they way to stop criminals from shooting people is to take away firearms from law-abiding Americans. That'll show them. I hear the Left caterwauling about "the powerful gun lobby" and it makes me smile. The second is the pro-life movement. They've been fighting for the rights of the unborn since the mid 1970s. They will never,
ever
give up. And I have to commend Roman Catholics for their steadfastness here. They pretty much jump-started the pro-life movement themselves and have always been rock solid on this issue. On the other hand, we Protestants have much to be embarrassed about. If you look at Protestants as a whole, a disappointingly small number of us are actively pro-life, many of us don't believe we should be involved in politics at all, and another large segment is actively fighting on the other side. In other words, Protestants are very much like the Republican Party. So, getting back to Virginia, the only glimmer of hope here is that the Left has chosen a very difficult position to defend. That is, that the state, not parents, has the sole authority to determine the content of their children's education. And I should emphasize that these are
tax-paying
parents. So the Loudoun County School Board's position (echoed by Terry 'Ratweasel' MacAuliffe) is that the citizens of the Commonwealth of Virginia need to pay up and shut up. That's it. That's their position. Which is pretty much the textbook definition of taxation without representation and didn't we fight a war over this very issue? I can't think of a better way to get a continuous stream of parents pounding on your office door than to insist, out loud and in public for all to hear, that you have the right to mess with their kids.
Yeah, That Works. Run On That: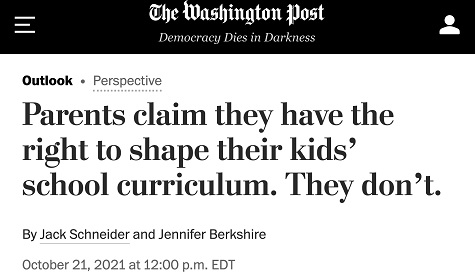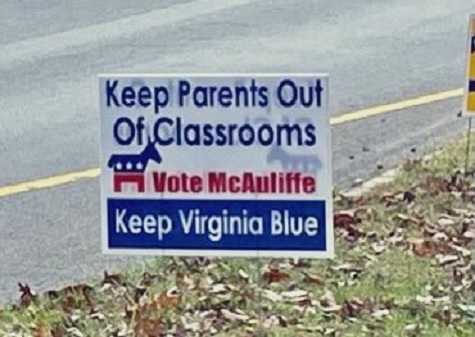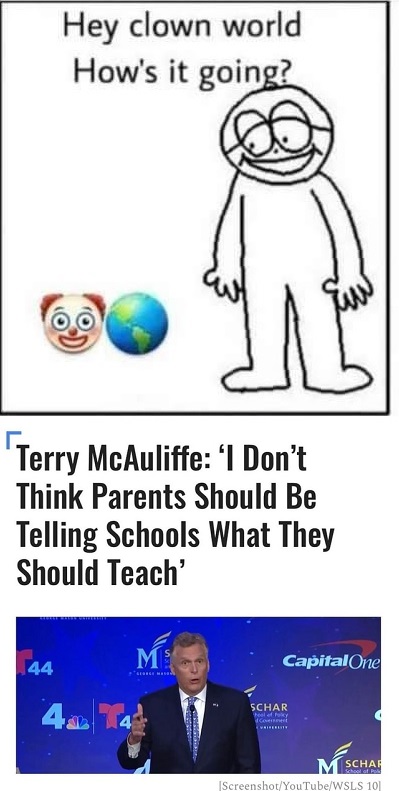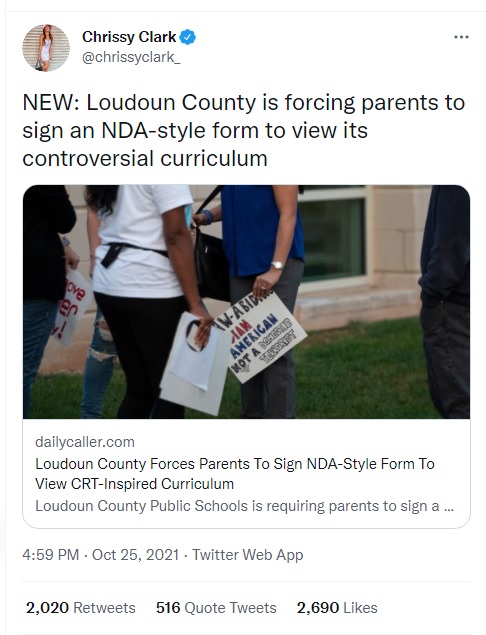 ...And the Knives Come Out: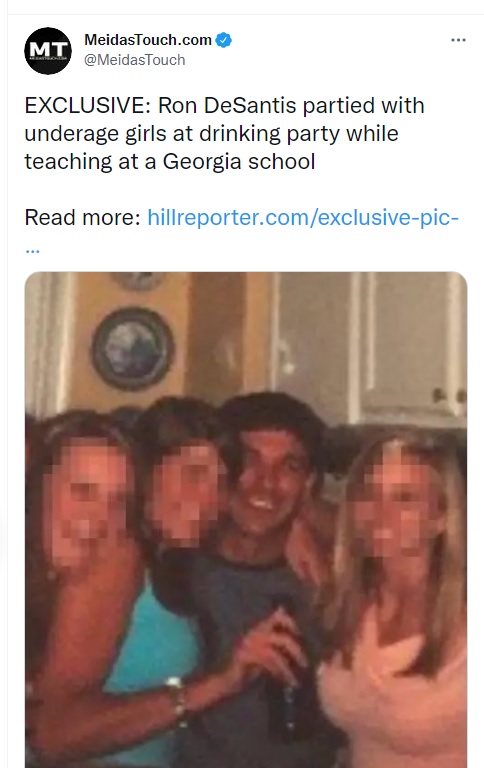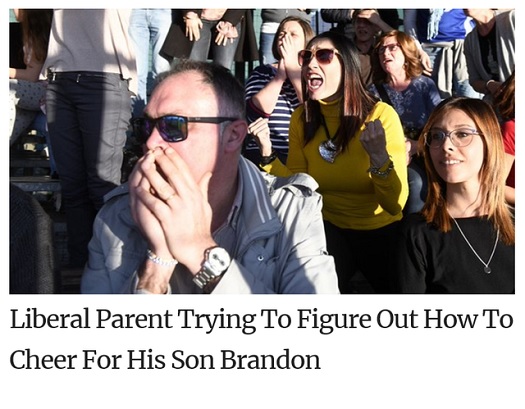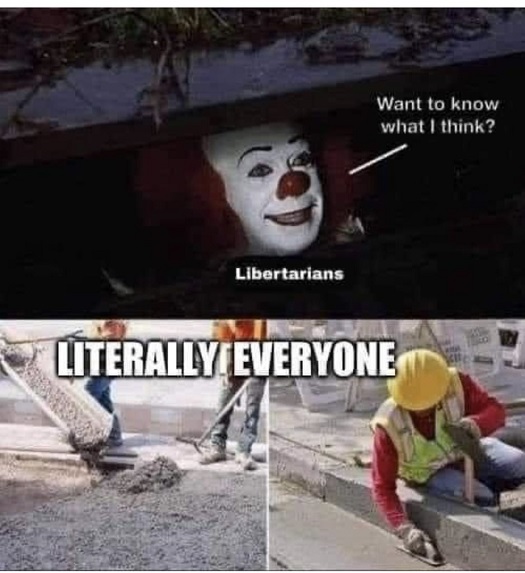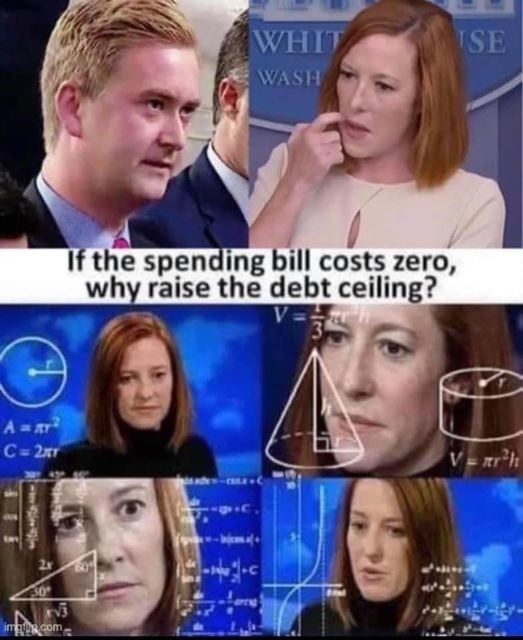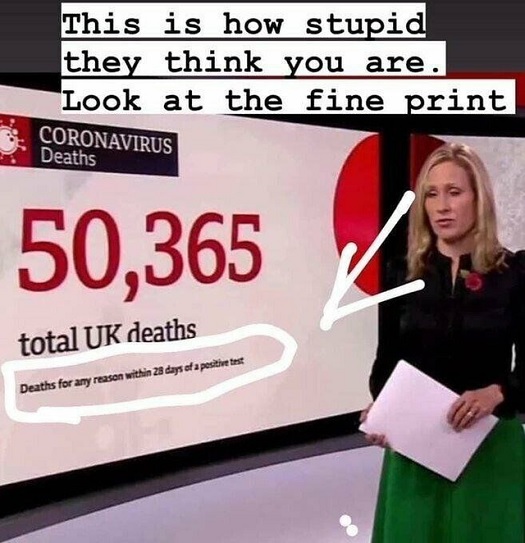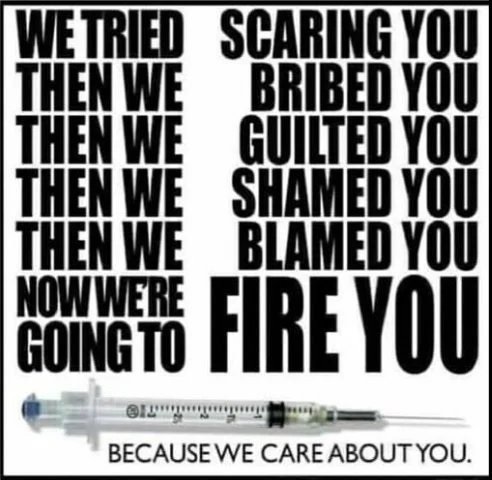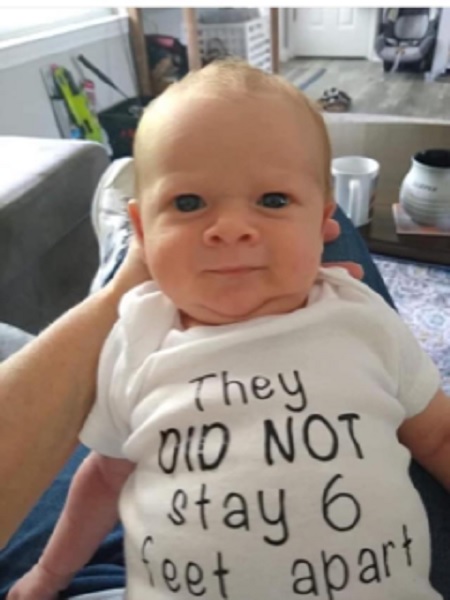 AoSHQ Weekly Prayer List
Please submit any prayer requests to me, "Annie's Stew", at apaslo atsign hotmail dot com.

Prayer Requests: 9/20 – Ozborn asks for prayers for JC_from_Texas. He's recently developed Postural Tachycardia (some family history, recent physical stress event). Pray for wisdom in treatment, and that he can rebuild strength and stamina to resume normal activities. 10/4 – Annie's Stew requests prayers of comfort and support for a sweet young family she knows. We'd prayed for the dad a few months ago, as he was being treated for brain cancer. He just passed away from the WuFlu (in addition to his brain cancer), at age 30. They have a daughter who is only 6 months old. 10/5 – snotnosed nuclear sonic punk asks for prayers for her mother, her father, herself, and her husband. Her 78-year-old mother had an episode of garbled and slurred speech which led to no speech. She broke her left ankle, but didn't/couldn't relay the injury. Now she can't understand why they won't let her out of the hospital, and she is confused and combative. Her father needs prayers, also, as he is scared and frustrated and showing it as anger. He needs patience for his fears to be quelled. She needs prayers for comfort in the Lord, strength, and clear headedness. Her husband needs prayers for strength and comfort, as he does everything he can to make things easier for all of them. 10/9 – Tonypete asks for prayers for his two granddaughters, especially the 14-year-old. Their mother is a raging alcoholic, and the kids are suffering greatly with the usual things: acting out, eating disorders, troubles in the classroom, fighting at school, way inappropriate behavior and dress and big trouble at home. Prayers also for Mom – that she accepts the help offered and get it together. 10/9 – Prayers for comfort for the family of paisley1333, at the death of her mother. She was battling heart disease, dementia, and Alzheimer's when she got Covid and passed away. 10/13 – Aelfheld asks for prayers for her former co-worker, KV, who lost her mother on 9/21 and her grandmother a week later, all while her husband was sick with pneumonia. Prayers for her and her sisters in their time of loss and mourning. 10/13 – Sassy has 2 prayer requests. First is a thank you and praise report. She has made it through the gauntlet of breast cancer. (Double mastectomy and rebuild in Feb, Mar-May chemo, June-July radiation, Sept hysterectomy). She is now free to look towards the future, and thanks the horde for their prayers. Second is a prayer for the Repose of the soul of Gilbert, who died of Covid. He leaves a distraught wife and 3 teen sons. They are strong Chinese Catholics, but fear and anxiety are strong. May the Lord give them peace. 10/13 – Grannysaurus Rex requests prayers for her father-in-law who has entered hospice care. He is a much-loved WWII Marine vet, father, grandfather, and great-grandfather. Please pray for a peaceful passing and for God's grace as a comfort for the family.
10/21 Update – Her father-in-law has peacefully passed away. Thanks to all for their prayers. 10/17 – Pollywog the 'Ette passes along a prayer request for Brother Tim, who was admitted to the hospital Sunday for kidney stones and UTI. He needs both full healing, since this isn't the first time he's had these problems, and financial blessings. Prayer that he be able to have rest and peace, not something hospitals are known for, would be helpful as well. 10/20 – Dr_No sends an update on his daughter, Megan, who we have prayed for while she was going through Stage III[c] cancer of the sigmoid colon. She has been done with chemo for a while and has received her 'N.E.D' diagnosis: 'No Evidence of Disease'. Her doctors and caregivers were outstanding, and it means everything to see her able to live a normal life again. Yes, there's always the unspoken fear that she may in future get a diagnosis of cancer's return, but for now we enjoy that she's healthy again and no longer in pain. After reading the prayer list, and understanding what others are faced with Do_No says he can only wish for them the joy and relief that he and the rest of the family have at Megan's successful treatment, and sends his thanks to all for their words up. 10/22 Pookysgirl asks for prayers for Pooky, as he is going in for extensive neuropsychological testing for 4-8 hours on Oct 27, so he could really use prayers today. He's had issues with similar testing in the past, so prayers for calming and peace would be appreciated.
For Healing: 10/5 – redc1c4 sends in a prayer request for his wife's co-worker, whose son James (her only son) had a bad spill riding motocross. He was air evaced to Loma Linda, about 120 miles away, where he is currently in the pediatric ICU. It's so far, so good, but a long row to hoe from here. Prayers for swift and complete healing of his injuries for James, wisdom and insight for his caregivers at Loma Linda Hospital, and strength, faith, and courage for his mother Deborah would be appreciated.
10/19 Update – James is going to be transferred to rehab soon. His mother sends her thanks to the Horde for their prayers on her son's behalf. 10/6 – Java Joe's 19-year-old grandson was injured in an accident at college. He suffered a serious concussion, facial lacerations, a bi-lateral fracture of his jaw and 10 broken teeth. He is currently at the U of M hospital, scheduled for surgery. We are requesting prayer for recovery and no long-term effects. 10/7 – Pete in Texas asks for prayers for his mother, age 89, who got the J&J Covid shot. Her health rapidly deteriorated over the next week until she had a heart attack. For the next month she was unconscious. She is still in the hospital (where he will see her shortly) and she is still in a bed and can't speak. Last week, his sister's family got Covid. His brother-in-law went to the hospital on 10/6, so prayers are requested for him. The rest of the family are almost fully recovered.
10/14 Update – Mom got the Pfizer jab. Mom is stable enough that the case worker is talking about bringing her home. That is good news, and Pete in Texas loves her, but he realizes that is going to be a challenge. Also his brother-in-law is still hospitalized with pneumonia, but he made a remarkable recovery over Covid-19 after one of his old Army buddies visited him last week. 10/20 – Nancy at 7000 ft is asking for prayers for her friend Timothy, who just had a quadruple bypass yesterday. Tim owns and runs a small business repairing industrial machines, and has recently purchased an old church with his wife Gabrielle, and was in the process of moving when he experienced a minor heart attack. Further investigation revealed he had an aneurismic section of his aorta, a genetic condition, and required multiple bypasses. Pray for an easing of his post-surgical pain and a full recovery.
For submission guidelines and other relevant info, please contact Annie's Stew, who is managing the prayer list. You can contact her at apaslo at-sign hotmail dot com.
Romans 8:26-27:
[26] In the same way, the Spirit helps us in our weakness. We do not know what we ought to pray for, but the Spirit himself intercedes for us through wordless groans. [27] And he who searches our hearts knows the mind of the Spirit, because the Spirit intercedes for God's people in accordance with the will of God.
If you see a prayer request posted in a thread comment, feel free to copy and paste it and e-mail it to Annie's Stew. She tries to keep up with the requests in the threads, but she's not here all of the time, so she may not see it unless you e-mail it to her.
Who Dis: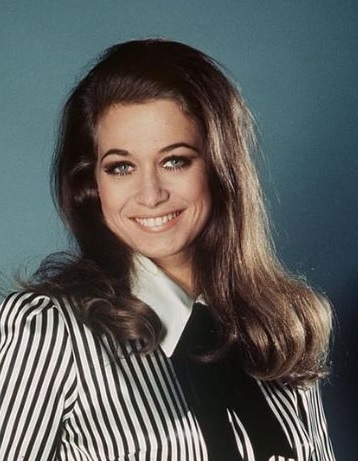 Photo 2
(elbows!)
Photo 3
(leggy!)
Photo 4
Photo 5
(busty!)
Photo 6
Photo 7
(bonus leggy)
For the 'Ettes: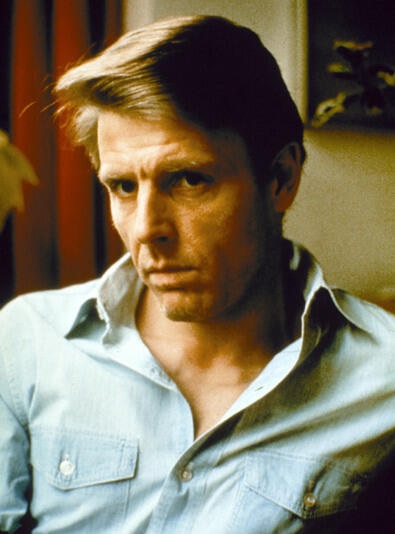 Photo 2
Photo 3
Photo 4
Photo 5
Monday Who Dis:
Looking for photos of 'B' movie actress
Susan Hart
, I discovered that there is (or was) a porn actress using the same name. Oops. She doesn't have a real extensive CV, but she married a producer and helped raise money in his name to create the pediatric heart wing at UCLA Medical Center. She has also sung professionally, released a few singles, and performed as a figure skater. Earlier, she was in one of the first of the "beach" movie genre,
Ride the Wild Surf
with the hunky
Tab Hunter
. They also did the fantasy/horror movie
City in the Sea
(AKA War Gods of the Deep).
Today's Edition Of The Morning Rant Is Brought To You By Coq Au Vin: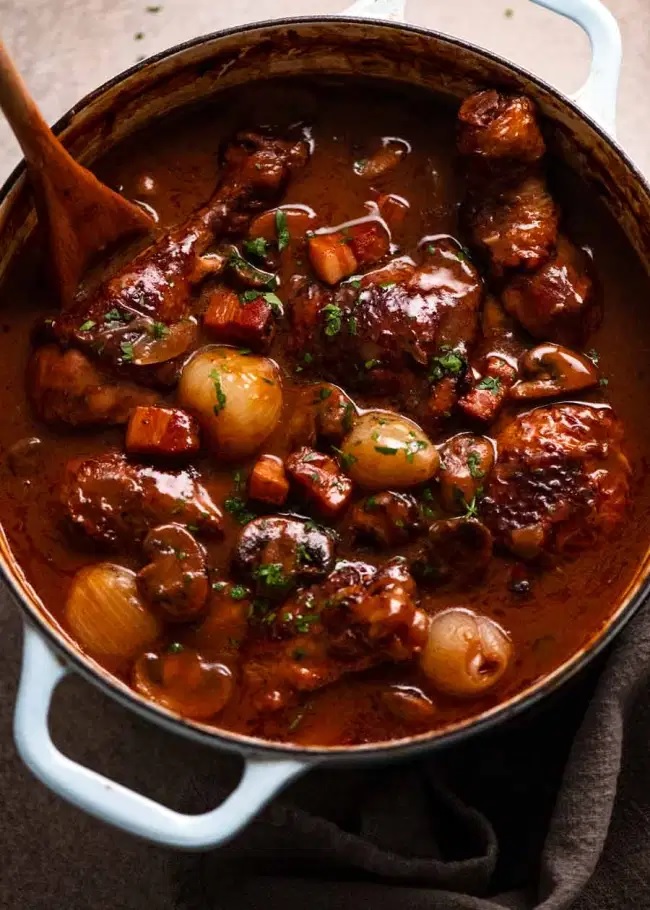 (Click for bigger coq au vin)
Coq au vin recipe available
here
.
Posted by: OregonMuse at
11:15 AM