Joe Biden Has a Response to Supply Disruptions: Ordering Suppliers to Fix Their Disruptions.
Surprisingly, Experts Say That's Not Going to Fix The Problem
The most incompetent, brain-damaged, mush-mouthed imbecile to ever hold the position of "president" thinks that he can command things to be fixed just by unintelligibly reading remarks written for him by his handlers.
President Joe Biden is pushing to ease supply shortages and tame rising prices in time for Christmas, but unsnarling U.S. supply lines could take far longer, experts told Reuters. Biden brought together powerbrokers from ports, unions and big business on Wednesday to address shipping, labor and warehousing pain in the U.S. supply chain, and announced new around-the-clock port operations in Los Angeles. As his Republican opposition seizes on possible Christmas shortages to connect Biden's economic policies to inflation, and try to stall a multitrillion-dollar spending bill in Congress in coming weeks, the White House's message Wednesday was that a solution is in sight.
Oops, Republicans are seizing again. That must mean the Democrats have authored another catastrophe. But Biden's brain-damaged ramblings aren't likely to fix anything, experts say:
"What the president's doing isn't going to really hurt. But at the end of the day, it doesn't solve the problem," said Steven Ricchiuto, U.S. chief economist at Mizuho Securities.
Even the Washington Post's hand-picked "experts"
agree:
[S]ome industry executives described the administration's latest initiative, which the White House billed as "nearly doubling" the portís cargo-handling hours, as incomplete. Matt Schrap, chief executive of the Harbor Trucking Association, whose members service the ports, said the measure will make a "big difference" only if terminals abandon requirements for truckers to return a specific type of empty shipping container before collecting a full one. And Craig Grossgart, senior vice president for global ocean at SEKO Logistics, said: "It will accomplish zero. Itís just window dressing."
It's not just the Port of LA or Long Beach. It's also Savannah -- and experts say that unless your goods-made-overseas (and aren't just about all goods now made overseas?) sailed a full month ago, they won't be arriving in time for Christmas: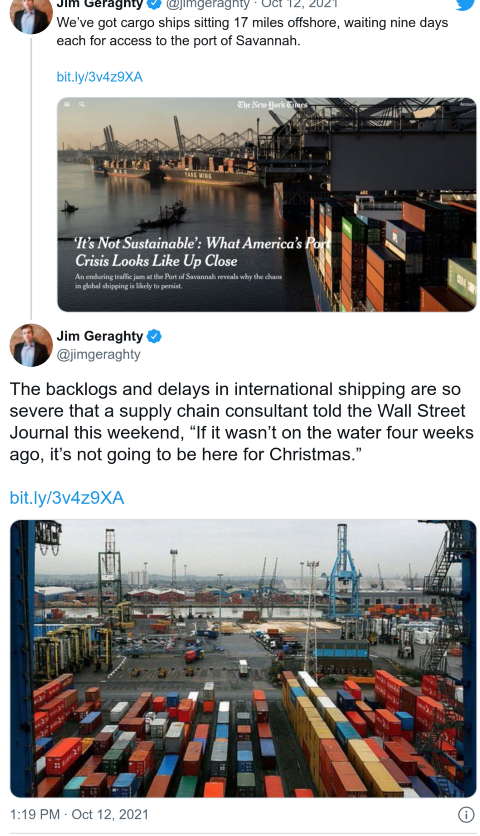 Charlie Spiering
@charliespiering
Jen Psaki says "we cannot guarantee" that Americans will get their gifts on time this Christmas
Via Ed Driscoll at Instapundit, the Washington Post has discovered the real story in the port snafu, and that story is... Republicans Pouncing.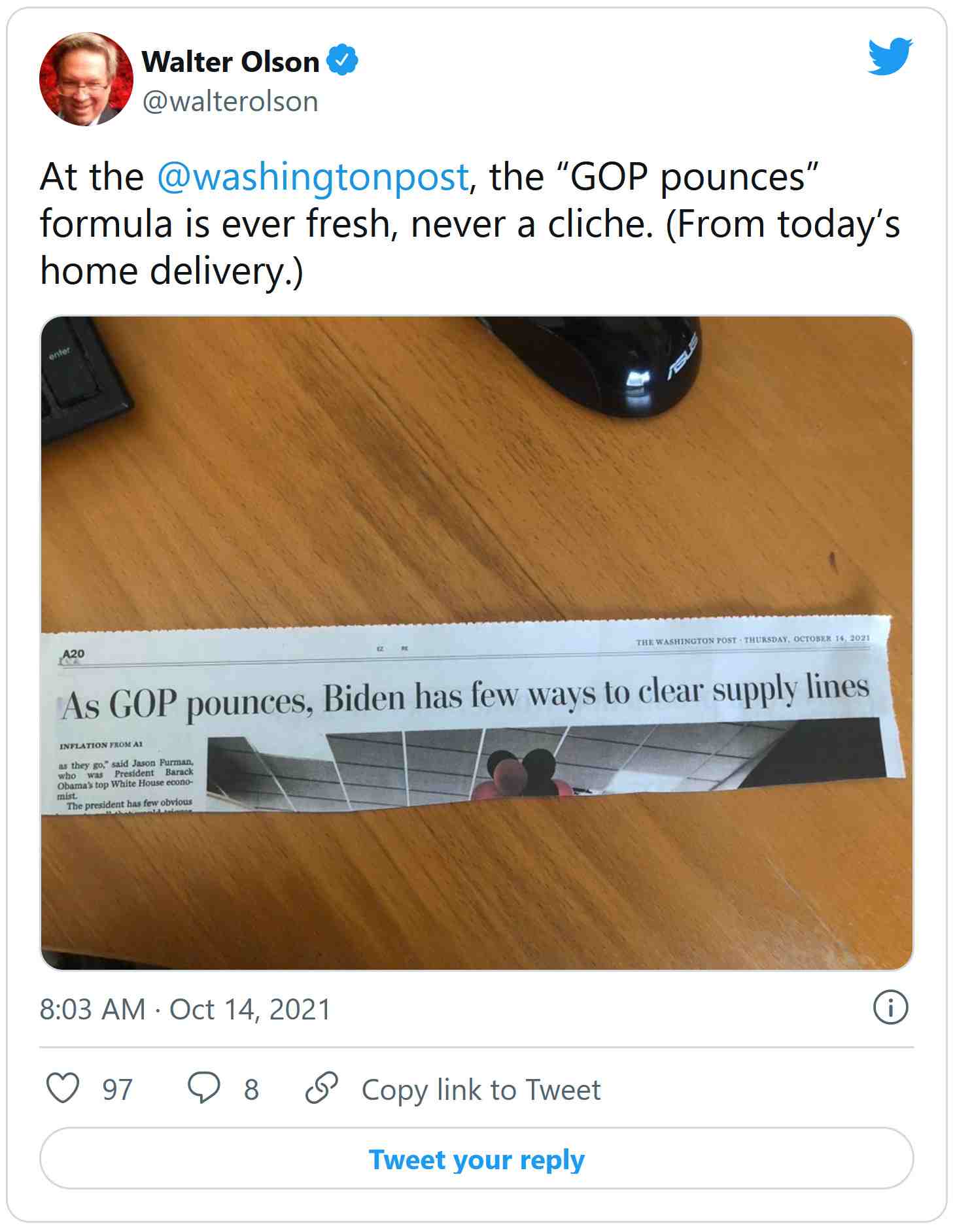 That gels nicely with Reuters' "Republicans Seizing" scoop. Does the leftwing media have a point? Is it true that when their are shortages, it's not the fault of the current president? Well, to answer that,
let's consult The Sage of Scranton in May 2020, blaming "food shortages" on poor presidential leadership: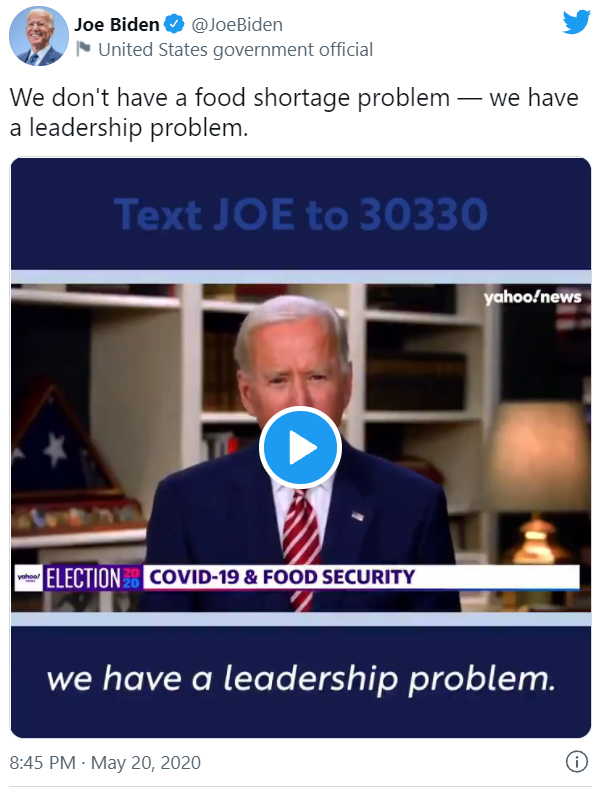 Weird, I don't remember the Washington Post or Reuters chiding Joe Biden with "Democrats Seize" headlines as regards covid-caused shortages. Ron Klain -- often called "President Klain" because he's the chief puppeteer working President Ice Cream -- says he "inherited" this problem.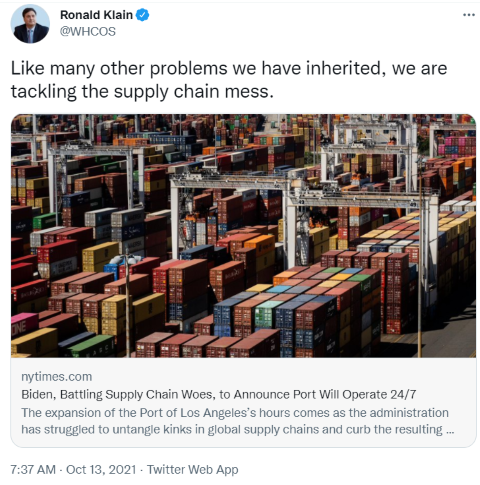 Inherited it since... May 2020? And you just decided to do something about it
this f***ing week
?
Yeah that ought to do it. Paging Empty Shelves Joe... Paging Empty Shelves Joe..
By the way: I can't vouch for this
FaceBook post-- I know nothing about supply chains -- but this is some interesting stuff.
Part of the problem may be the onerous rules California imposes on truck drivers.
The NEWS says the California port situation is caused by a driver shortage. Not so fast: It is in part caused by a California Truck Ban which says all trucks must be 2011 or newer and a law called AB 5 which all but prohibits Owner Operators. Traditionally the ports have been served by Owner Operators (non union). California has now proposed banning Owner Operators. Long term, truckers in California are not investing in new trucks because California has a law that makes them illegal in 2035. The requirement is to purchase electric trucks which do not exist in large numbers and are constrained by their short range. And in the words of Paul Harvey, "Now you know the rest of the story"


BUSINESS
CARB to begin blocking certain trucks' DMV registrations in 2020 Carriers domiciled in California with trucks older than 2011 model, or using engines manufactured before 2010, will need to meet the Board's new Truck and Bus Regulation beginning in 2020 or their vehicles will be blocked from registration with the state's DMV, the state has said. The new "health-based requirements" will need to be met before a driver is allowed to register his or her truck through the Department of Motor Vehicles, CARB says. A new enforcement tool used by the DMV beginning in 2020 will automatically block 2010 and older trucks from registration The Owner-Operator Independent Drivers Association said in an amicus brief that the California AB5 legislation will cause immediate and irreparable harm to thousands of truckers. The brief was filed with the U.S. Court of Appeals in the Ninth Circuit in support of the California Trucking Association's petition for a rehearing before all the judges.