Ace of Spades Pet Thread
(H/T Nurse Ratched)
Good afternoon and welcome to the almost world famous Ace of Spades Pet Thread. Why don't you take a break from whatever you are doing, kick back and enjoy the world of animals.
***
A Little of This. A Little of That.
Cats and science research.
Seven personality and behavior traits identified in cats
Date:
September 7, 2021
Source:
University of Helsinki
Summary:
Researchers have developed a new comprehensive questionnaire for surveying feline personality and behavior. A dataset of more than 4,300 cats representing 26 breed groups revealed seven personality and behavior traits, with significant differences observed between breeds.
***
I know when our youngest says "Bull Shit!".
I don't need a collar.
You Can Get A Collar That Translates All Of Your Dog's Barks Into Curse Words You don't have to be a dog owner to know just how much people love their dogs. Most dog owners will do just about anything for their pets because of the special bond they share. Dogs bring people happiness, plain and simple. We have no problem with them shedding, getting slobber on everything, muddy paws, chewing up furniture but there is one thing dogs do that most people get seriously annoyed with, barking. Unless it's from a command, people go crazy when their dog barks. Do you really want to silence your dog's main form of communication.
***
This is one lucky dog.
VIDEO: Abused, Abandoned Pup Tied to Pole Puts Paw in Officer's Hand—Gets Adopted by Deputy
By Louise Bevan September 8, 2021 Updated: September 8, 2021biggersmaller Print
An abused, abandoned dog found tied to a pole had every reason to snap and snarl when a stranger approached. Instead, the pup placed his paw into the hand of the police officer who greeted him, then freed him, and whisked him away to a better life.
Meet The PetMorons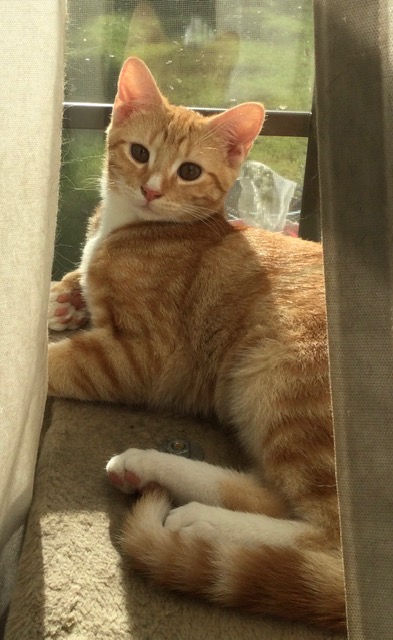 Hi MisHum, My blind tuxedo cat Angus, who made the pet thread last year, had to be put down suddenly in February, at 17; his liver failed. I couldn't stop dwelling on it, and my other cats were depressed too. Finally one day, after five dark months of sadness, I went impulsively to the nearest shelter...and my kitten was waiting! Named him Rufus Apricus--"red-haired," and "full of sunlight" which is his personality. Five months old now, and such a darling!! a gift from God. Very happy, smart, loving little guy. He'll be a huge adult cat, long and lean. The old lady cats tolerate him and watch him play, and my 7-year-old male, who needed a new buddy, looks for him and romps with him. Still miss my grand old fellow. But it hurts less, and we are revitalized. Rufus fits right in and brightens up the whole house! To those of you grieving a pet, please don't be afraid to adopt again after awhile. It does bring back joy.-skywch
So sorry to hear about your buddy Angus. However we are excited to see and meet your newest pal Rufus. He's a good kitteh. Thanks for sharing today.
***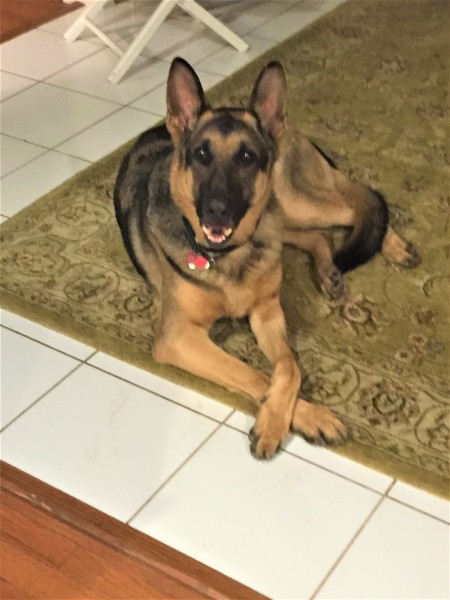 Hi Mis Hum. After much procrastination, I have finally gotten around to sending you some pictures of my rescue, Max. I got him a year ago in August. According to the adoption agency, he was previously owned by a lady who developed Alzheimer's and then passed away. Her son was unable to take care of Max, so he had to give him up. He did tell them that he did not think his mother would have lived as long as she did without Max, and I can see why. He's a great companion and protector who wants to go everywhere with me. He loves playing fetch, keeps the squirrels on their toes so they don't take over the backyard, and makes sure the other dogs in the neighborhood know he's around. He's about 8 years old now and I hope we have many good years together, just like I did with all of my other dogs. I'm a long time lurker, but have never commented, so just call me Max's Dad.
Hello Max's Dad. Max is certainly a stunning looking GSD. It sounds as if he has found a forever home with you. We appreciate your heartwarming story today. Thanks.
***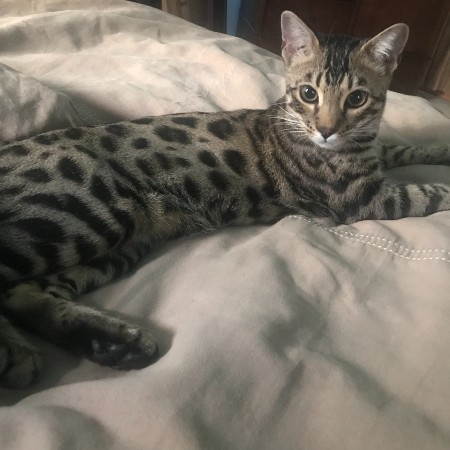 Mr. Bean
The dogs don't feel like posing but every once in a while my Bengal kitten will stay still!
He has many names (we couldn't agree) which don't really matter because he answers to none of them. Very fun kitty tho – fetches endlessly, loves water, walks on a treadmill, loves climbing trees! Right now he has about a 6 foot vertical leap from just standing (if he's running around he can just bounce from wall to wall like a crazy jumping … bean!) - "Black Orchid"
My goodness. Mr. Bean is a stunning cat. We know why he poses so well. He's just showing off. Thanks so much for sharing today.
***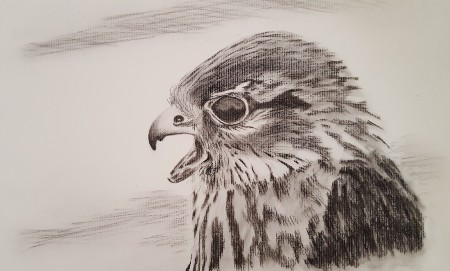 I haven't had time or inclination for art recently, but finally found both and drew this Merlin, which is a small species of falcon that breeds in the arctic and then migrates south to prey on small birds like sparrows and quail. I love the pet morons and their humans, and am grateful that my animals get to share space with them. - Sobek
We always enjoy it when our resident artist swings by. We are grateful that you enjoy sharing with us. Thank you.
***
This is Amber she was our 14 year old Rhodesian Ridge back. She had a stroke Monday night and was completely paralyzed in her back legs. We had to let her go the next day. We will miss her. - ME
Dayum, it just got dusty in here. What you did is one of the hardest things to do but such a correct decision. May Amber dwell in your hearts forever.
***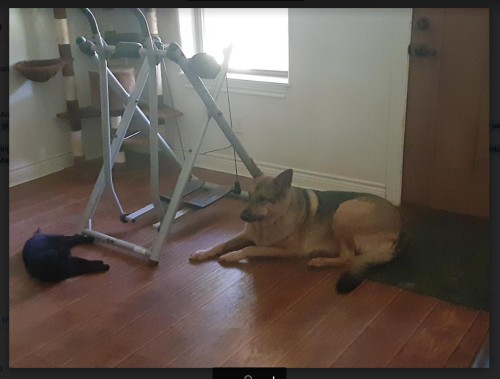 I got Maizy the psycho German shepherd almost four years ago. I've been trying to teach her that cats aren't furry toys ever since. We've finally gotten to this point; this is how we did it. I told her AGAIN to leave the damn cat alone and she looked at me
and went right back to aggravating Ziva. Openly defiant. So I ran over and gave her a Gordie Howe bodycheck. Didn't hurt her but it shocked the hell out of her. Life is more peaceful for all of us now. Full disclosure: Ziva would taunt her every chance she got. But Maizy's 95 lbs. and Ziva is 10. But it's cool now, - Bean Counteress of Rohan
So how does a 29 year old know about Gordie Howe body checks? I think a taunting kitteh should have spent some time in the sin-bin. Always good to hear from you and your amazing critters.
***
Thank you folks for sharing the joys of your life with us today. If you have something you wish to share with us you can reach us here at petmorons at gmail dot com. God willing and the creeks don't rise we will be back next Saturday. Have a great week!
Posted by: Misanthropic Humanitarian at
03:00 PM