Quick Hits: Megan Rapinoe Loses to a Transgender Edition
From The Bee: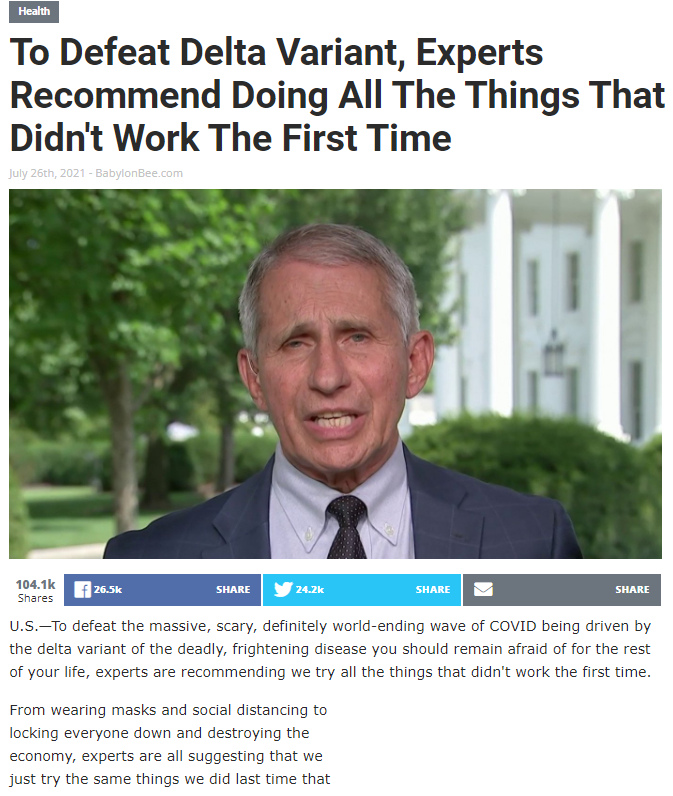 RINO corporate sell-out Kristi Noem c*cks out to the US Chamber of Commerce again -- she'll allow employers to mandate vaccines. Because
of course she will.
@KristiNoem Jul 31
Workers whose employers are mandating a vaccine for continued employment have the power to say no. Our robust economy and job market gives them the option to find a new employer that values personal choice and responsibility, and doesnĺt force mandates on their employees.

Agent355
@libertybelle025 Noem has officially bowed out of the fight. If it wasn't already clear before this. This is the most RINO-ey tweet ever. The retweet quote ratio is well deserved.

Andrew Smith
@AndrewSmithClub What a strange way to signal that you're endorsing Ron DeSantis.
The US Whiner's Soccer Team's loss is just this much sweeter:
Canada, who knocked them out of gold medal contention, did so with the assistance of... the world's first transgender playing Olympic women's soccer.
A pyrsyn who's calling "themself" "Quinn."
Quinn, a 25-year-old midfielder from Toronto, will also become the first openly transgender and non-binary athlete to win an Olympic medal, as the team is assured of a gold or silver. Quinn came out publicly as transgender in a social media post last fall, changed their pronouns to they/them and now goes by one name. Since Canada's 1-0 semifinal victory over the United States on Monday at Kashima Stadium, setting up the final against Sweden, Quinn said they've been "getting messages from young people saying they've never seen a trans person in sports before." Quinn played college soccer for Duke University in North Carolina, and is the highest-drafted Canadian in National Women's Soccer League (NWSL) history -- taken third overall by the Washington Spirit in 2018. They now play for the OL Reign.
Now, I don't know if "Quinn" is a man saying he's a woman, or a woman saying she's non-binary. The media, for some reason, doesn't think this information should be publicly known. I did find an article saying that "their" deadname was Rebecca Quinn, which suggests, but does not prove, that Them is a woman who now claims to be a They.
Gwen Berry, who turned her back on the flag when she lost in the hammer throw, promises she'll protest if she wins a medal. Which she won't, so don't worry about it. She knows she's not going to win which is why she has to pre-declare what she would do if she actually won something.
Note the required
warning coloration
these poisonous animals adorn themselves with. One of the Texas fleebaggers -- who became the DC Super-Spreaders, infecting a lot of White House and Congressional staffers with covid -- gaslights everyone again by claiming Governor Abbot is the problem:
Realignment, baby: leftwing Democrat brags about how much money The Regime pays him to advocate for socialist policies, also claims all of his critics are working for the Kremlin.
No comment required:
This is literally how Mad Max started: