Even Leftwing Journalists Are Admitting Fauci Lied About Gain-of-Function Research At Wuhan -- But Supposed Super-Reporter and Seeker of Truth Jake Tapper "Doesn't Want to Get Into the Details" About It
Josh Rogin, a reporter for the Gonzo Progressive Democrat Washington Post, says "Sorry fellow liberals, Fauci funded gain-of-function at Wuhan and lied about it."
Josh Rogin's column in the Washington Post:
Both men were playing to the cameras, but many scientists think Paul actually does know what he's talking about. One of them is Rutgers University microbiologist and biosafety expert Richard Ebright, whom Paul quoted as saying this research "matches, indeed epitomizes the definition of gain of function research." Other scientists, even those who believe the lab leak theory likely, argue that Fauci is technically correct, although they note that the official definition is so narrow it enables anyone to avoid the review process Fauci himself helped to establish. In other words, if the oversight system for reviewing risky research is almost never used, what good is it? But it doesn't matter which "gain of function" definition you prefer. What everyone can now see clearly is that NIH was collaborating on risky research with a Chinese lab that has zero transparency and zero accountability during a crisis -- and no one in a position of power addressed that risk. Fauci is arguing the system worked. It didn't. Even if the lab leak theory isn't true, what's clear is that we need more oversight of this risky research, both in the United States and in China. Fauci also told Paul there's no possibility the research in the paper Paul cited directly led to the SARS-CoV-2 virus, but Paul correctly called this out as a straw man. That specific project was only one element of the U.S. government multiagency effort that for years pumped U.S. money and know-how into these Wuhan labs, via the EcoHealth Alliance, including NIH, USAID and the Pentagon. According to an intelligence fact sheet released by the Trump administration and partially confirmed by the Biden administration, the WIV took our help and used it to build another, secret part of the lab, where they worked with the Chinese military. Congress and the media would be derelict not to examine the decisions by Fauci and others that led to this collaboration. But rather than respond with openness and transparency, Fauci has consistently thrown cold water on the lab leak theory. Right now, NIH and other government agencies are ignoring congressional requests for more information about their relationships with these Chinese labs.
Speaking of media figures in dereliction of their duty to report accurately and honestly to the public: The Fake, C**ky Republican's favorite "reporter" Jake Tapper covered for Fauci, wondering why Republicans were so mean to him,
while saying "didn't want to get into the details" of Fauci's claims.
You know -- the details that establish that Fauci has lied multiple times to Congress about whether he used US taxpayer money to fund gain-of-function research in Wuhan. The same Wuhan lab that almost certainly created covid-19 through gain-of-function genetic Frankensteining. Those are the "details" that the Heartthrob of Effeminate Fake Conservative Twitter Addicts, Fake Tapper, doesn't want to "get into."
"I want to start with another kind of misinformation," Tapper began. "The constant MAGA media and Republican lawmaker attacks on health experts and especially Dr. Anthony Fauci."
Criticism of Fauci is "misinformation," and, therefore -- thanks to CNN's constant campaigning on the point - subject to censorship and deplatforming.
"I don't want to get into the details of what Senator Paul was attacking there and all that," Tapper told guest Dr. Paul Offit...
Why don't you want to "get into the details," Fake Jake? Is it because getting into the details would prove that Fauci is lying and Paul is honest and correct, and you've been ordered by your hack boss Jeff Zucker to always play to the ignorant bigotries of shut-in leftwing obsessives, who cannot stand hearing anything that triggers them? Pretty sure you wouldn't be eager to gloss over these details if they proved that Republican Rand Paul was lying, Fake Jake.
..."But the bigger picture here... we keep seeing this, Trump allies in Congress, in governors' offices, in the media, trying to make Fauci a COVID bogeyman."
No, I assure you, the "Bigger Picture" is the question of whether US taxpayers funded the pandemic that killed millions and shut down the world. The feuding between politicians -- like Fauci, who is a politician -- is a trivial diversion for trivial people. You want to steer the discussion away from the
real
"Big Picture" question towards your trivial Trump Derangement Syndrome fan-service for leftwing zombies, for obvious reasons.
Why would you, Fake Jake. Why would you. I mean, "getting into the details" of how someone is lying about a major, major national controversy is -- or was -- supposed to be your job. And one you did with great relish and Snarky Chyrons when Trump was (officially acknowledged to be) president. But now you're just brazenly an officer of the DNC. So now these "pesky details" of who funded what lethal, world-stopping pandemic just don't seem worth all the bother! Here are the details of Fauci's funding of
THE PANDEMIC THAT SHUT DOWN THE WORLD FOR TWO YEARS
that Super-Reporter Jake Tapper "doesn't want to get into:"
Fauci actually said that the virus might have gained some functions, but then insisted that this was
not
"gain-of-function"! People from EcoHealth Alliance -- who were themselves the conduit passing US taxpayer money from Fauci to Wuhan -- assured him that the gains of function the Wuhan lab inserted into bat viruses were not "gain-of-function" as Fauci and his friend Peter Daszak and as EcoHealth Alliance defined it. I guess it depends on what the definitions of "gain," "function," and "of," is. Drew Holden talks about the corporate media suppressing this story for coming on two years running:
This thread by Drew Holden -- linking many of his past threads -- demonstrating how the corporate leftwing propaganda media has repeatedly, brazenly denied the truth and spread its own unhinged conspiracy theories
is worth a review.
Another leftwinger who admits Fauci is lying is Krystal Ball, who notes that the people claiming this is not gain-of-function research are up to their necks in gain-of-function research and are potentially liable if this ever turns into a legal matter. She also suggests that Fauci created the very loophole -- the narrow definition of "gain-of-function" research -- that he now uses to claim his gain-of-function research was not gain-of-function research. Citation: Anthony Fauci's definition of gain-of-function. Saagar Enjeti (is that his name?) also makes the point that Fauci almost certainly came to this hearing with the intent to yell and and quiver with indignation and turn his lie into a "viral moment" that the stupid, "I don't want to get into the details" clickbait corporate media could turn into their preferred "Politicians Versus Science Itself" narrative. Of course, the leftwing clickbait corporate propaganda media was only too eager to do that. Like Super-Reporter and Seeker of Truth Jake Tapper, they too "don't want to get into the details of this," because they're 1, lazy, 2, incompetent and barely educated, and 3, extreme partisans who realize that "getting into the details of this" will not help the Democrat/Deep State cause.
Anthony Fauci has previously suggested that yes... we should be a bit loose in our "restrictions' on gain-of-research. "Being too restrictive can impede creativity," he says in the clip below. Being too restrictive, say, with an expansive definition of gain-of-function research, Tony?
Here's Fauci making it clear that there are serious, serious dangers with making Frankenstein viruses. And then saying, as the original Frankenstein did, damn all caution, we've got a God to impersonate!
Note there that in that clip, he defines gain-of-function narrowly, to only mean "to increase transmissibility." Which is precisely the loophole he is currently claiming that makes his gain-of-function research
not
gain-of-function. Note well this slide which the Frankensteinian dwarf presents himself in the summary of his talk, calling gain-of-function research
"Critical"
to immunology: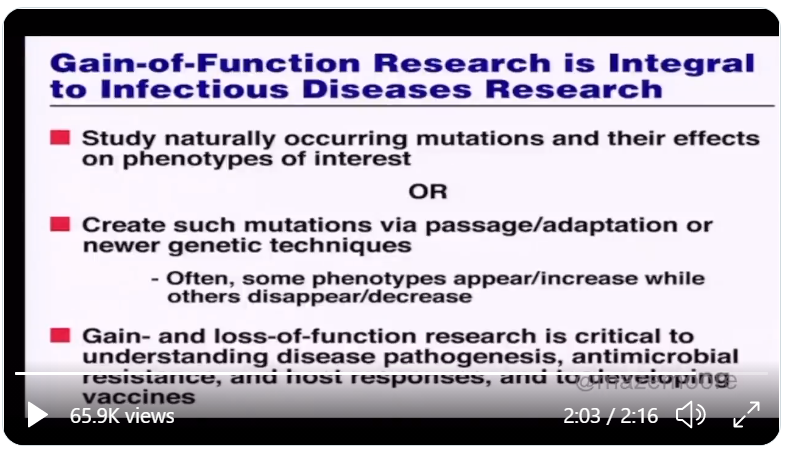 But he wasn't funding gain-of-function research, right? He wasn't funding research he deems
"critical"
to immunology, right? Right? But Jake Tapper doesn't want to get into the details of this and that, so let's put this aside and just ask the question, how dreamy is Anthony Fauci? Doesn't he seem like a real cuddle-bug?! Exit question: How inadequate does a "man" have to be to Hero-Worship
Jake Tapper
of all people?