Victor Davis Hanson Quit National Review Months Ago
If this is a surprise, it's because National Review prominently features the syndicated column VDH writes -- but anyone can run that, if they pay the syndication fee.
I could run that if I had the jack. Hanson got off this sinking ship.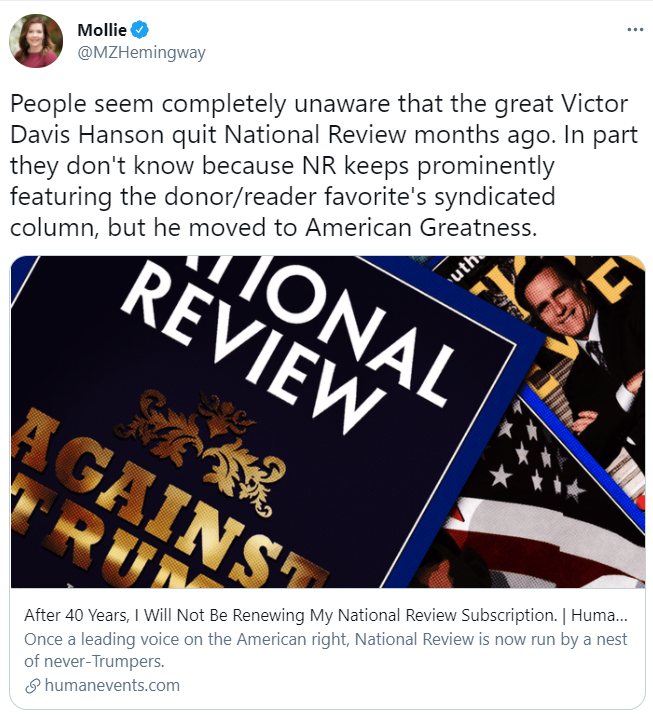 Mollie Hemingway points this out because in
this Human Events article,
the author writes he will not be renewing his subscription to National Review, despite Victor Davis Hanson still being there. He's not, dude. Cancel away! But do start reading American Greatness, where he is now employed.
National Review is now run by a nest of never-Trumpers. During the past four years, almost every issue criticized Trump for something he said or the way he said it... National Review, like the rest of the Washington establishment, disdains working-class populists. In future, we can expect that the few Trump supporters that appear regularly in NR-- Victor Davis Hanson...
Nope.
...and Conrad Black come to mind--will be making fewer appearances, or perhaps, writing on different topics altogether.
Or even: "Not appearing at all."
Maybe the essence of NR's anti-Trumpism is as simple as this: Donald Trump was a populist president who appealed to working-class Americans; National Review, like the rest of the Washington establishment, disdains working-class populists. In the most recent issue of NR, the editors write, "The GOP is like a shell, occupied by the hermit crab of Trumpism, an increasingly obstinate and delusional thing. Recovering the party from its current inhabitant will be a task requiring years of work.Ē(11) Another editorial in that same issue criticizes the Democratic House impeachment managers for failing to bring an airtight case against Trump that would have proved his obvious guilt of inciting a riot on January 6. Trump's conduct, the editors write, "in the post-election period and on January 6 will blight his reputation forevermore." Who would have thought that National Review would help the increasingly radical Democratic Party gain power and ridicule the 75 million Trump voters--a Democratic Party whose leadership has lock-downed the nationís capital, freed up federal dollars to support abortion around the world, promoted transgenderism at the cost of womens' and girls' sports, made climate change the nationís most important national security issue, allowed illegal immigrants to remain in the country, promoted seemingly unlimited immigration at the southern border, and supported and reinforced a "cancel culture" that seeks to silence all opposition to their agenda.
I would have guessed. The Upper Middle Class Karens that are National Review's (dwindling) constituency have gone hard left the past ten years. They were always socially moderate (at best), but they're also cultish followers of Class Fashion. And as their class went hard left, so did they. Obviously National Review would have to chase them to the hard left. Covington Kids are so icky!
NR's editors are simply tone-deaf. Donald Trump reshaped the Republican Party into an anti-globalist, populist movement that will outlive Trump's political career. Trumpís supporters are willing to overlook style and vote for policies--conservative policies that NR once championed with intellectual argument and political realism. Sure, the intellectual argument--at least some of it--is still there in NR's pages. But the political realism is missing. Political realism means supporting, or at least not opposing, the candidate that promotes the policies you favor. The only question is, will National Review go the way of The Weekly Standard?
Answer: Yes. It's already gone the Weekly Standard way in terms of content. It's now going the Weekly Standard way in terms of making up for its shortfalls in revenue by seeking out donations from the Stalinist tech monopolists. At some point, those tech monopolists will realize that National Review no longer has an audience it can push their Corporate Propaganda out to, and will put their money somewhere else. By the way, Victor Davis Hanson is now a colleague of Julie Kelly -- Julie Kelly, who National Review branded a liar and monster for daring to suggest that NeverTrumpers like David French were kinda liberal in her book
NeverTrump.
She herself was a former National Review contributor -- but they smeared her viciously to prop up their liberal friends David French and Jonah Goldberg. What a liar and monster to suggest such that these True Conservatives were leftwing whores who holler for a dollar, huh?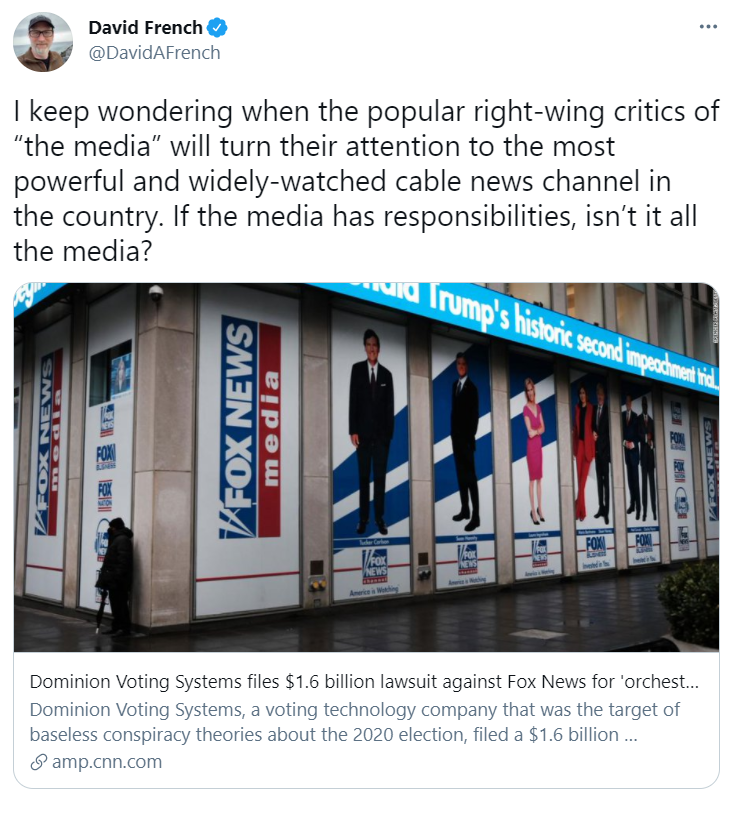 National Review is now just corporate welfare for MSNBC "Conservatives." Note: Even Corporate Fake Conservative grifter organization Heritage is making a big show of
refusing and refunding donations from Google and FaceBook.
Will National Review follow?
Doubtful.