Surprise! Ahmad Alawi Al Issa -- The "Washington Post Shooter" -- Was "Known to the FBI"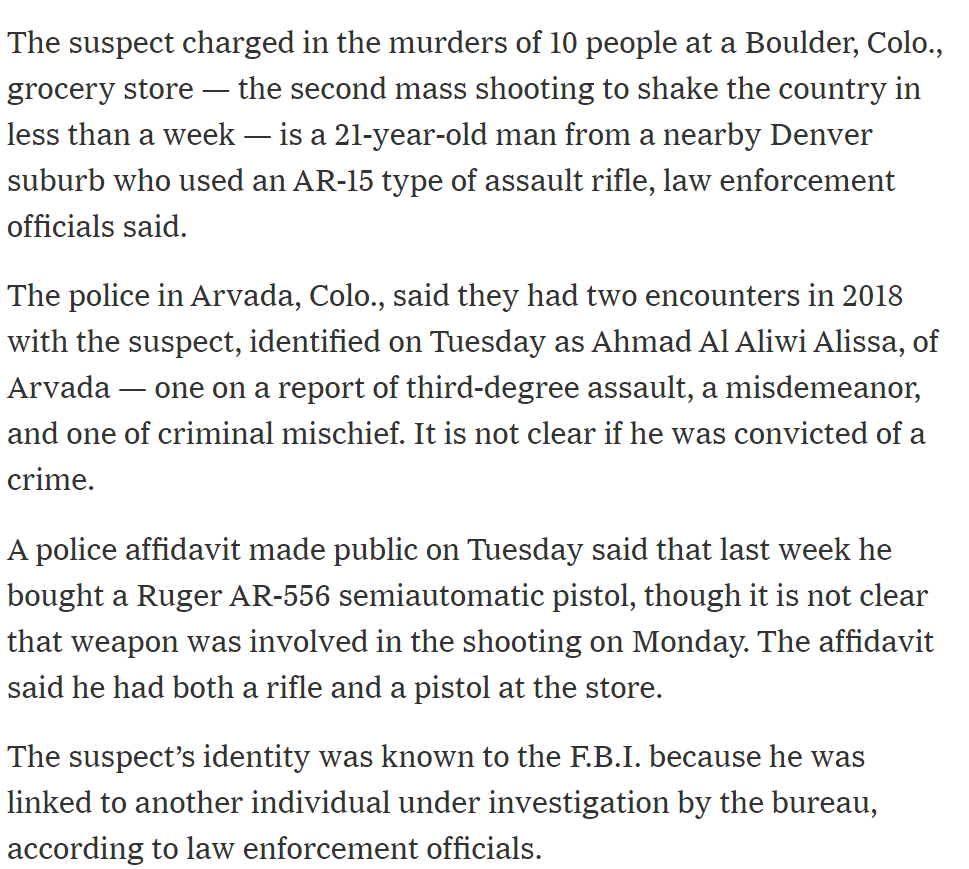 THE AR-15 IS NOT AN ASSAULT RIFLE AND WILL NOT BECOME ONE NO MATTER HOW MANY TIMES COMMUNIST PROPAGANDISTS CLAIM IT IS.
Remember how they did this: In the 90s, they made up the fake weapon category of "assault weapons" to
sound
like "assault rifle" -- which is a real weapon category, consisting of military weapons capable of firing multiple shots per trigger pull (or single shots if selected) -- and scare the Karens into thinking these "assault weapons" are actually assault rifles. As the years pass, the media increasingly mislabels sport rifles -- single shot sport rifles -- as "assault
rifles
," finishing the semantic coup. Now they just state a falsehood without embarrassment. It's an "assault rifle" as we over the years have accustomed the public to (incorrectly) understand the term. Deal with it, Plebes. Meanwhile, this guy was on the FBI's radar, and yet they did nothing, as usual. Gee, I wonder why? Could it be that for the last three months, the Biden Occupational Force has detailed virtually every investigator and government lawyer to cracking the "Insurrectionist" case?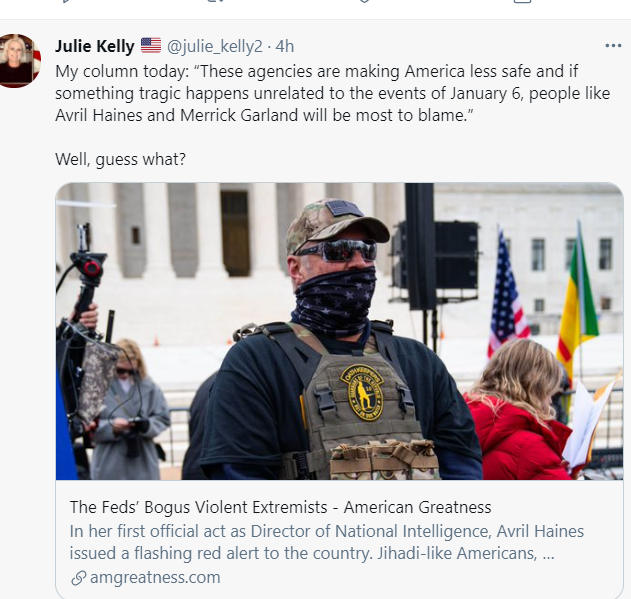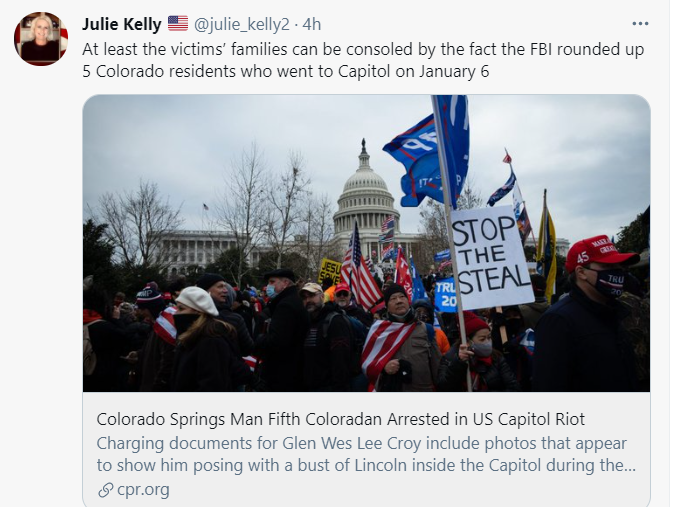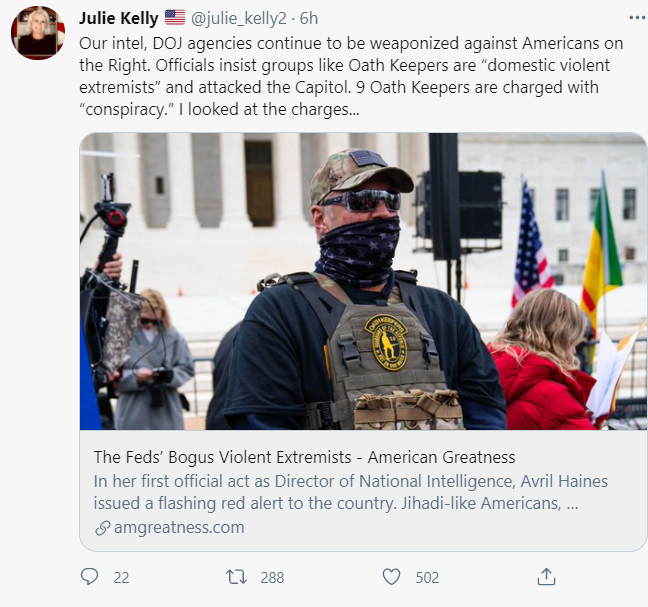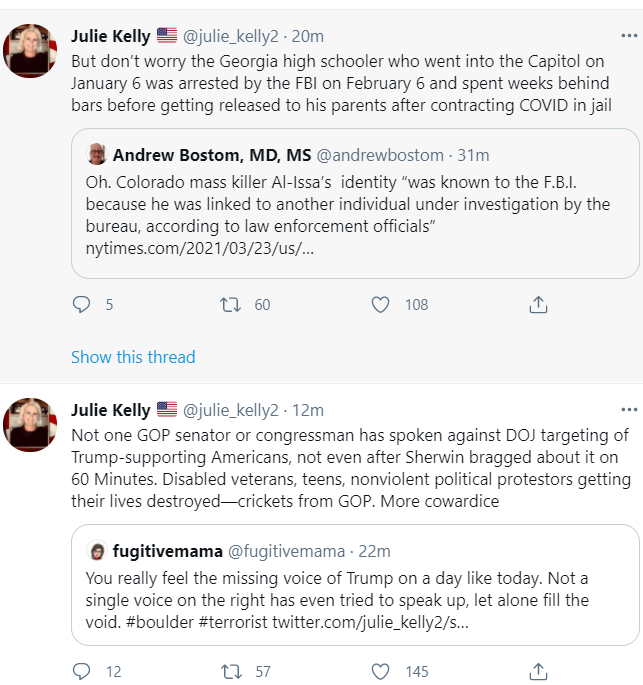 They're releasing convicted
killers
due to, supposedly, covid fears -- but they're keeping unconvicted high school protesters locked up and
giving them covid.
But hey, if you're a Racial Paranoid who mistakes a pull-string for a "noose," don't worry -- the FBI will send an entire Flying Squad to investigate it.
Julie Kelly continues reporting on the corrupt government's transformation of the DOJ into a Democrat Narrative Enforcement Agency.
The Feds' Bogus Violent Extremists There idea that there are Jihadi-like cells of domestic terrorists attempting a violent overthrow of the U.S. government is unproven propaganda.
By Julie Kelly
In her first official act as Director of National Intelligence, Avril Haines issued a flashing red alert to the country. Jihadi-like Americans, especially those on the political Right, lurk among us and are plotting to commit vicious crimes such as kidnapping and assasinations. These "US-based actors" allegedly will be moved to violence based on "narratives of fraud in the recent general election, the emboldening impact of the violent breach of the US Capitol, conditions related to the COVID-19 pandemic, and conspiracy theories," the March 1, 2021 document claims. Haines divides "domestic violent extremists," or DVEs, into three categories; a graphic of the U.S. Capitol building sits atop the category entitled "anti-government/anti-authority violent extremists." That particular brand of terrorist, according to the report, is driven by their "opposition to perceived economic, social, or racial hierarchies or perceived government overreach, negligence, or illegitimacy." (Perceived?) The thin, three-page paper does little to substantiate her alarming assessment; it is short on proof but long on political usefulness for Democrats and the media, who continue to stoke fears about so-called domestic terrorists loyal to Donald Trump who orchestrated a "deadly insurrection" on January 6. (The word "unclassified" appeared on each page, as if to give the impression that a thick trove of "classified" material somewhere exists.) A Politicized Intelligence Community Haines, of course, takes her cues from the best in the business. As John Brennan's top deputy at the CIA during the Obama Administration, Haines learned intelligence can be weaponized to work against political enemies, Donald Trump in particular, with impunity. In fact, Haines' document conjures memories of Brennan's 2017 Intelligence Community Assessment, issued just two weeks before Donald Trump was sworn-in as president, concluding Russia interfered in the 2016 presidential election to help Trump win the White House, a claim that remains without evidence to this day. But the DNI report is just the latest chapter in the narrative-building surrounding the events of January 6. From false accounts about the death of a Capitol Police officer and tales of an "armed insurrection" to the fortification of Washington, D.C., political protest is being criminalized in a way that sets an extremely dangerous precedent for the future.
Read the whole thing. It's at American Greatness. But also make sure you donate your money to Townhall Media, Heritage, and National Review -- the
real
conservative heroes here fighting for Amazon's right to deplatform you.