The Morning Report - 1/13/21 [J.J. Sefton]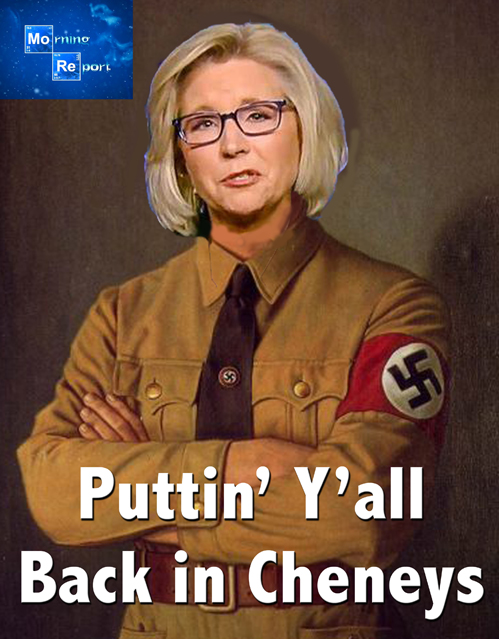 Good morning, kids. Midweek and if you thought the de-platforming, censorship and demonization in the wake of the Black Wednesday false flag "riot" was frightening enough, you ain't seen nothing yet. With one week until marionette meat puppet Zhou Bai-Den is installed as president of the country formerly known as the United States of America, things are happening that are scaring what's left of the living shit out of me. Let's make this perfectly clear for the trolls and other sub-imbeciles to understand: the invasion of the Capitol Building was a pre-planned operation coordinated by the Democrats and their armed militant terrorist death squad Antifa with the cooperation of the Capitol Police in order to create an incident that smeared President Trump and the many thousands of peaceful orderly citizens protesting the theft of the 2020 election. A few dozen who foolishly followed the confederate wolves in MAGA clothing were not exactly doing the typical Democrat "mostly peaceful rioting" while, tragically, Ashli Babbitt was murdered in cold blood by a Capitol cop (say
her
name, right?). The tragic loss of life of Babbitt and three others notwithstanding, what happened was the equivalent of what one pundit described as nothing more than a "panty raid." Forgetting the Burning, Looting and Murdering that decimated at least a dozen cities since last May, forgetting the fact that Democrats, their media propagandists and cheerleaders in the entertainment industry, the brainwashing mills of academia and vast swathes of corporate America justified all of it based on the most titanic lie since the Jewish blood libel - America as an illegitimate, irredeemably evil white supremacist nation - what happened one week ago now justifies not only the immediate removal of President Trump from office but the removal from the public square of anyone and everyone who was either in DC at the rally, voiced approval of that rally or voices an opinion supporting the undeniable truth that is the basis for that rally: the theft of the 2020 election. The thousands of peaceful people in DC that day as well as tens of millions of people know it, and are justifiably angry. They're angry not only because it was stolen but because our cries for justice and redress of grievance to those who had the ability and the duty to mete that justice out not only refuse to hear them, but have now openly turned on us. More on that in a moment. Now, despite confirmation that
the half-naked chucklehead dressed up like a headhunting shaman from New Guinea was a leftist environmental whacko
and another alleged MAGA minion was actually
a BLM terrorist who had a trail of violent eliminationist rhetoric against Trump and his supporters
, the FBI - yay!!! - is about to "round up the usual suspects" because of two live (allegedly) pipe bombs that were found in DC during Black Wednesday.
And when I say the usual suspects, of course I'm not referring to the aforementioned hard leftists; I mean ordinary citizens who were merely in attendance at the rally. Scape, meet goat.
Federal law enforcement officials also revealed that pipe bombs found on the U.S. Capitol grounds last Wednesday, were equipped with explosive igniters, they do not know why the bombs did not explode, and that finding the bomber, who appears in some surveillance footage taken outside the Capitol, is a top priority for the FBI. Acting US Attorney for DC Michael Sherwin said Tuesday that the FBI has already opened 160 separate cases as a result of last week's riot and assault and that the FBI expects "'hundreds; of criminal cases to be filed against people who participated in the Capitol riot within the next several weeks," according to Fox News. The agency plans to make the probe a "long-term investigation," and one FBI official, Washington Field Office ADIC Steven D'Antuono told reporters that he wanted "to stress that the FBI has a long memory and a broad reach." Sherwin added that his office is planning to be involved with the FBI "for the long haul." "This is going to be a long-term investigation," he said.
I could have sworn I saw a link about Sherwin being fully on board with the Russia collusion hoax/smear against President Trump but surprise-surprise it seems to have been airbrushed off of the internet. No matter. The FBI is a corrupt organization that works at the behest of the Democrat-Globalist-ChiCom Enemy. Along with the equally corrupt DOJ of which it is a part, it has been involved in all sorts of schemes to railroad innocent people for decades. It serves no purpose other than to advance itself and its political allies/enablers with total disregard for ethics, the rule of law and the Constitution. If they can ruin people like Michael Flynn, Paul Manafort, Ted Stevens and the two saps who spent decades in prison so that Whitey Bulger can galavant around with Bob Mueller, surely they can plant a couple of prop pipe bombs as a pretext to round up a few dozen citizens and make them confess,
pour encourager les autres
. Get ready for a Reichstag Fire "riot" and two cosplay "pipe bombs" and some unknown event in the next 174 or so hours to suspend habeus corpus. You think they won't do that? They used the pretext of a Chinese virus that's a fraction of one percent lethal to anyone who catches it to shut down our economy and put us under de facto house arrest for the past year. They stole a national election, or tried to with the mail-in ballots, but when that failed they brazenly dumped tens of thousands of forged ballots, right in front of our eyes. I have a very bad feeling about the next seven days. With all this talk of National Guard troops and other military being called up to DC and other state capitals, the idea that the Deep State doesn't already have a latter day Lee Harvey Oswald somewhere in DC waiting for next Wednesday is well within the realm of possibility, G-d forbid.
And now that the Democrats have kicked us in the groin, as we writhe in agony on the ground, here comes the GOP eager to borrow their jackboots and stomp on our head.
"On January 6, 2021 a violent mob attacked the United States Capitol to obstruct the process of our democracy and stop the counting of presidential electoral votes. This insurrection caused injury, death and destruction in the most sacred space in our Republic," Cheney said in a statement. "Much more will become clear in coming days and weeks, but what we know now is enough. The President of the United States summoned this mob, assembled the mob, and lit the flame of this attack. Everything that followed was his doing," she continued. "None of this would have happened without the President. The President could have immediately and forcefully intervened to stop the violence. He did not. There has never been a greater betrayal by a President of the United States of his office and his oath to the Constitution." "I will vote to impeach the president."
Liz Cheney. Meanwhile, over in the Senate, Mitch "Ancient Chinless Chinese Secret" McConnell is supposedly willing to get the ball rolling to high tech lynch President Trump even with a week to go before he exits the White House. I can't even begin to describe the loathing I have for these creatures. I can deal with the Left. They are what they are. I cannot deal with backstabbing traitors, criminals and degenerates that are allegedly there to oppose the Left. I guess what I'm getting it is that I hate myself most of all for voting for them time and time and time again in some vain hope that maybe they might do the right thing. Well, if there is one positive takeaway from the events since (S)Election Day, is that I'll never have that problem again as there won't be any more elections. Meh, there's no more country. Not the one that I was born into.

CAPITOL HILL BLACK WEDNESDAY PROTEST AFTERMATH
NOTE: The opinions expressed in some links may or may not reflect my own. I include them because of their relevance to the discussion of a particular issue. ALSO:
The Morning Report
is cross-posted at
CutJibNewsletter.com
if you want to continue the conversation all day. Follow us on Twitter:
@CutJibNews
Follow us on Instagram:
@Cutjibnewsletter