The Morning Report - 1/8/21 [J.J. Sefton]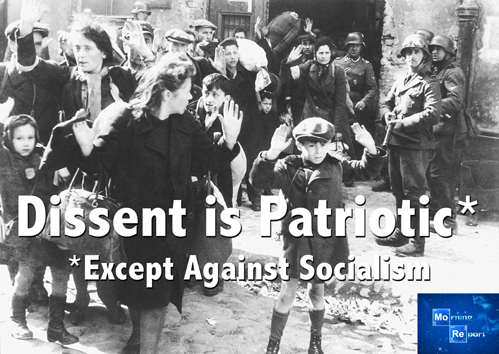 Good morning, kids. Friday and the fallout over Black Wednesday continues. That was the day that America was snuffed out for good by Enemies domestic and foreign (I'm looking right at the monstrous mongoloid Chi-Coms). Naturally, like slavery, Jim Crow, real insurrection, poverty, domestic terrorism and every other misery they have inflicted for 244 years, they cast the blame on us for what happened on that day while strutting, preening and usurping the mantle of righteously aggrieved. And you can bet every last red cent of your $600 federal stimulus insult they will continue to grind that designer jackboot in our collective face until the end of time. My heart aches for those who lost their life or were injured that day including Ashli Babbit, a 14-year military veteran who came to Washington like thousands of other decent, patriotic Americans to show their outrage at a stolen election to an uncaring and indifferent Congress. A Congress that when the dust had settled put a seal of approval on the greatest crime in the history of the country formerly known as the United States of America. However the chaos of storming the Capitol building happened, and there is growing evidence to indicate that Antifa/BLM thug terrorists were let into the building
with the actual assistance of Capitol Police officers
, I applaud it. When these same BLM/Antifa thug terrorists beat people up, riot, loot, vandalize monuments, burn buildings and decimate entire communities on the completely false pretext of "systemic racism" they are lauded as heroes by the Democrat-Enemy and their propagandists. Their violence and destruction are either deemed justified in the context of that false narrative or labeled peaceful or patriotic when the flames and bricks accidentally make it onto your TV screen. And that's just what's been happening since last May when some criminal named Floyd died while being arrested. The armed militant wings of the Democrat Party have been burning, looting, occupying and terrorizing our cities and towns, including allegedly sacrosanct government buildings for years with not even a peep of protest from the usual suspects. Funny how no one mentions the antics of Code Pinko (who are given guest passes by Democrat politicians) every time there is a Congressional hearing let alone
the 1954 attack by Puerto Rican terrorists who shot up the House of Representatives.

Didn't that shambling, cackling gin blossom Hillary Clinton declare dissent to be patriotic? I guess it is unless you're dissenting anything that aids and abets the Left. When you think about it, the presidency of Donald Trump was a giant dissent against the intentional sabotage, dismantling and selling out of this nation that had gone essentially unimpeded since at least the end of World War Two. Beyond the petty and personal, the real reason they hate President Trump - forever my beloved and revered President Trump - is because
they fear him
. He was an existential threat to their graft, corruption and lust for absolute power because he was an incorruptable outsider that remained that way. So he had to be destroyed. And in his (seeming) destruction by way of impeachment and finally the theft of his clear victory, a Luca Brasi dead-fish-in-a-flak-vest message was sent to anyone who might want to follow in his footseps. The question is, will we get that message? Will Trump, by way of the undeniable movement if not consciousness-lifting of millions of us, remain an existential threat to the forces that have now enslaved us? Rush Limbaugh returned to the airwaves yesterday (thank G-d) and despite his illness blasted out much of what I have been saying regarding the complete hypocrisy of the Enemy and their apologists regarding the so-called "riots." It was comforting to hear him again, especially after Black Wednesday, but about my only point of contention was his explanation of why so many GOPers and Trump cabinet members and staff are now jumping ship and abandoning the President. Per Rush, it is to preserve their future status in DC. While I do not disagree insofar as in any other time than this, once you've done your time in an administration, there's always a job waiting at a think tank, media outlet, lobbying firm or university where you can park your ass by day and then hit the cocktail party circuit by night. Not this time. Anyone who served with Trump in any capacity at best will be persona non grata, even if they go on TV day after day doing POW hostage videos denouncing him. At worst, they might get the Paul Manafort treatment, or even the Steve Scalise treatment depending on the circumstances and their particular "crime against the state" between 2017 and 2021. Even before the (s)election, rabid lickspittle cockroaches like Robert "Turd" Reich were demanding re-education camps for Trump supporters and now we have calls for those who initiated the Electoral College protest to be expelled from Congress. Do I even have to go into the mass censorship campaign of dissenting voices, including the President himself? In any case, and I guess it comes down to one's own personality and degree of intestinal fortitude and morality, but that so few of his allies are refusing to stand with him and speak the truth about the events of Black Wednesday is understandable, yet no less tragic in the extreme. I guess I shouldn't really pass judgment unless my house has been firebombed by mostly peaceful storm-troopers. Still, it's bad enough that a national election as well as now two senate seats in Georgia were stolen in front of our eyes. Provably with reams of hard and anecdotal evidence. But those who stole it are not just your ordinary, garden variety FDR or Harry Truman Democrats but corrupt power-mad agents of Communist China or brainwashed, racialist Maoists out to enslave us and eradicate the last vestiges of our culture. Bad enough to have to endure the noxious emissions from the festering cakeholes of such vermin as Cuck-Schemer and Malig-Nancy Pelosi, but to hear Republicans going on and on about the violation of sacred Democratic institutions, and the sanctity of the hallowed halls of Congress and the defiling of our Constitutional heritage is just the bitter end. Where the hell were you when cities burned? Where were you when we were locked down and prevented from seeking comfort in our churches and synagogues? Where were you when our children were kept locked out of schools (bad as they are)? Where were you when the backbone of our prosperity, small businesses, were crushed and destroyed? Where the hell were you for two whole years when this President tried to dismantle Obamacare, secure our borders, bring our troops home from useless Middle Eastern meat grinders, and institute policies that would finally get the ball rolling on devolving power away from DC and back to the people? And where the hell were you when the toilet paper-thin safeguards against election fraud were stripped away in the statehouses and the courts and then finally, when the chips were down, when it really mattered, to put an end to this madness and do your duty by reversing the steal? You have the fucking unmitigated temerity to blood libel this president and the tens of millions of us who voted for him by hiding behind a supposedly besmirched Constitution and defiled Capitol building? No. By your inaction in the face of naked tyranny, and actions to legitimize the bastardization of the rule of law, it is all of you that are guilty of the crimes you unconvincingly shriek "j'accuse!" at Trump and all of us. I don't know which BLM/Antifa goon or apologist said referring to the horrendous Dresden-like destruction of Kenosha or Portland or Minneapolis, but considering what the Democrats and their confederates in the GOP have done while inside the Capitol for years now, "hey, it's only a building." Have a good weekend.

CAPITOL HILL PROTEST AFTERMATH
NOTE: The opinions expressed in some links may or may not reflect my own. I include them because of their relevance to the discussion of a particular issue. ALSO:
The Morning Report
is cross-posted at
CutJibNewsletter.com
if you want to continue the conversation all day. Follow us on Twitter:
@CutJibNews
Follow us on Instagram:
@Cutjibnewsletter