If Ever There Was a Year for Christmas Cookies, this is the One [Bluebell]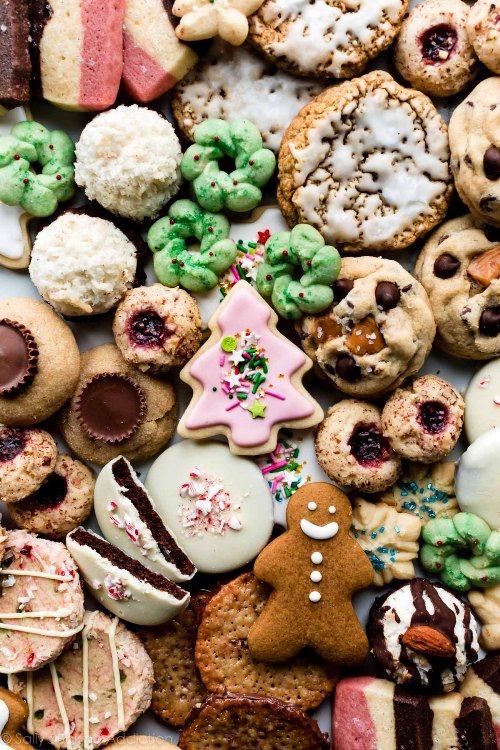 This has been a year like no other, and it's not finished yet. We've been battered and bruised mentally and spiritually, if not physically. But – Christmas is coming! No matter what else life has to throw at us, we can look forward to Christmas with its many traditions including, of course, Christmas cookies.
Christmas cookies can be spiced and sturdy, like gingerbread men, or delicate, like sugar cookies. They can be chocolate, vanilla, nut-flavored, citrus-flavored, or pretty much any flavor you like. They can be rolled in nuts or sugar, filled with jam, dipped in chocolate, or sprinkled with jimmies. I like to make an assortment of all kinds, and in a typical year I will make 10 or 12 varieties, one of which is not exactly a cookie, but rather a chocolate-covered almond toffee.
I encourage everyone to make some Christmas cookies this year, even if you never have before, and even if you are the only one in your home. Maybe you have your mother's or grandmother's old cookie recipes, or maybe you have favorites you've found over the years. Or maybe you've never made them before, in which case I invite you to do an internet search and pick something you'd like to try. Or look in the "Cookies and Brownies" section of
The Deplorable Gourmet!
What if you don't have time to make Christmas cookies? After all, you don't want to make them too early or they will go stale, or get eaten. And the closer it gets to Christmas, the busier you will probably be, especially if you are hosting a big family dinner or a party (well, in normal years anyway). Relax, I've got you covered. Starting about mid-November, whenever I have a free half hour, I will mix up a batch of Christmas cookie dough and put it in the freezer. For cookies that will be baked in a ball shape, like
Mexican Wedding Cookies/Russian Tea Cakes
, I freeze the dough in the ball shapes on a cookie sheet (no need to leave much space in between) for about an hour, then put the frozen balls into a Ziploc bag and back in the freezer. For slice and bake cookies like
Neapolitans
, I freeze the dough in the form the recipe suggests, then wrap in wax paper, put into a Ziploc and back into the freezer it goes. For rolled out cookies, freeze the dough in flattened disks. Not all cookies will lend themselves to this treatment, but a good many will. When you are ready to bake, it only takes a few minutes to pull the dough from the freezer, pop into the oven (no need to thaw first, unless you have to roll out the dough and cut shapes), and let the cookies bake for a little extra time. Keep a close eye on them. This technique is especially useful because you don't have to bake all the cookies at once unless you want to, and you don't have to find space to store the baked cookies in your freezer. When I send cookies to out-of-town friends and relatives, I bake the cookies in this way the morning I plan to send them. That way they are still relatively fresh when they arrive a couple of days later (I always send them Priority Mail). By the way, you don't have to celebrate Christmas to enjoy Christmas cookies! I have given them to my Jewish friends and no one has complained yet.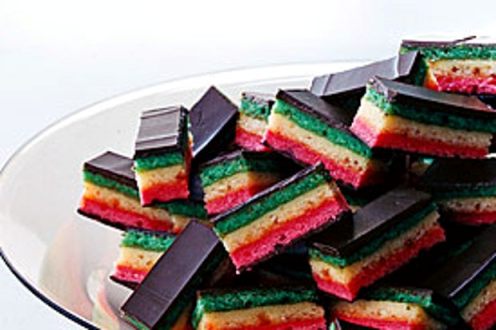 The fanciest Christmas cookie I make – recipe
here
. I invite you to leave your favorite Christmas cookie recipe in the comments. I can't wait to see what you give us! In the meantime, here's one of mine, which can also be found on page 70 of The Deplorable Gourmet.
Shortbread Chocolate Chip Cookies


2 cups butter, softened

2 cups powdered sugar

2 teaspoons vanilla

½ teaspoon salt

4 ½ cups flour

2 cups chocolate chips

1 cup chopped nuts (I use pecans)
Cream butter and sugar. Beat in vanilla and salt. Gradually stir in flour until well blended. Stir in chocolate chips and nuts. Dough will be very stiff. Shape in 1" balls and place 2" apart on ungreased baking sheets. Flatten with a fork to 1 ½" rounds. Bake at 350 degrees about 15 minutes, or until they just begin to lightly brown around the edges. Remove to wire rack to cool. If you want, while the cookies are still warm, you can sprinkle the tops with 3 tablespoons of powdered sugar through a strainer. (I have never done this.) **Note – the butter MUST be softened considerably (although not melted). If the butter is too cold, the dough will be far too crumbly.
******
Many thanks to CBD for allowing me to usurp his Food Thread today. And I would be remiss if I didn't acknowledge that the reason we have Christmas cookies is to celebrate the birth of Christ, Who gave everything for us. Wishing you all a blessed Advent and soon, a merry Christmas.