What Is A PCR Test And How Does It Work? [Muldoon]
Coronavirus is an RNA virus consisting of a chain of RNA (approximately 30,000 links) surrounded by a protein shell. In general an RNA virus infects by attaching to the surface of a human cell and injecting its RNA into the cell. Once inside, the virus 'hijacks' the cell's own machinery to reproduce many thousands of copies of itself, which eventually cause the cell to rupture, releasing the new viruses, which are able to spread and repeat the process with other cells. Fortunately though for mankind through the ages, the immune system recognizes the foreign invader and begins the process of fighting off the infection.
When intact virus particles are released into the bloodstream (viremia) the body reacts with inflammation resulting in systemic symptoms (fever, chills). When intact viruses are released at the surface of the nose and throat localized symptoms (sneezing, coughing, runny nose) occur and viruses can exit the body (viral shedding). During the incubation phase there may be no viral particles in the nasal mucus. During the contagious phase the mucus membranes will contain both complete viruses and fragments of destroyed viruses. As the infection subsides (convalescence) fragments of virus can remain in the upper airway for days or potentially weeks. Either intact virus or RNA fragments can be detected in a laboratory by the process of PCR or ( polymerase chain reaction).
Genetic information in nature exists in the form of either DNA or RNA. DNA consists of two matched chains (like a spiral zipper) made up of molecules known as nucleotides (A, T, C & G) in a specific sequence. This is essentially a four-letter alphabet that carries the code for whatever that section of DNA controls. RNA is a single strand (like one side of the spiral zipper). In human cells RNA is copied from the source DNA to provide the blueprints for making proteins. Reverse transcriptase is an enzyme that can produce a DNA copy from an RNA strand (the reverse of what happens in normal cell function). Polymerase is an enzyme that can build a matching complementary strand of DNA to match an existing single strand of DNA. It does not work on RNA.
So the PCR test for viruses in general works like this: 1. Cotton swab is used to obtain sample from nose, (mucus, cells, and general debris). 2. Sample is processed to remove extraneous components such as fats and proteins, leaving just nucleic acid (both DNA from the patient or microorganisms and RNA from viruses). 3. RNA in the sample must be converted to DNA by using reverse transcriptase. 4. The sample is heated to denature or unzip the double stranded DNA into single strands. 5. The polymerase enzyme makes a matching segment of DNA for both of the single DNA strands that were unzipped by the denaturing process, thereby doubling the total number of DNA segments. 6. The heating and cooling cycle is repeated over and over, generally between 30 and 40 cycles, doubling the DNA each time. 7. Specific segments of unique coronavirus RNA that have been tagged with a fluorescent marker are included in the mix, and if matching stretches of coronavirus genetic material were present in the original sample the fluorescent marked reagent will bind to them, and when a critical mass of viral DNA copies have been produced the fluorescence is detectable by a scanner and the test is deemed positive. Theoretically, even if there is just a single fragment of coronavirus RNA in the sample, the amplification effect of the PCR process can render it detectable. 35 cycles of doubling will produce over 30 billion copies of a single DNA fragment. In contrast, if the patient is in the active phase of virus shedding during a clinical infection and has many thousands of viruses or virus particles in the sample, the fluorescence could be detectable earlier in the cycling process, perhaps after 25 cycles. This means there is a semi-quantitative aspect of the PCR procedure, as the number of cycles provides a rough estimate of the amount of genetic material in the original sample.
The amplification process can produce a positive result in somebody with such a small viral load that they are not contagious (e.g. in the late convalescent phase or a subclinical level of infection). Defining a "case" of coronavirus solely on the basis of a positive PCR test in an asymptomatic patient gives a potentially distorted view of the extent and the attendant risk of the epidemic. As an example, say you have a rate of positive tests in the general population of 5%. if you are equating a positive PCR test with infectiousness you would then expect that if you are in a group of 100 people that 5 of them could infect you, when in reality maybe only two or three are actually contagious. Ironically, Colorado is using a positivity rate of less than 5% as one of their desirable target metrics for relaxing restrictions. Compare these two graphs (screenshots) from the official Colorado COVID dashboard page:
COVID-19 data | Colorado COVID-19 Updates
The so-called secondary wave of coronavirus cases that occurred in July graphically appears nearly equal to the original wave in April. This was largely an artifact produced by a shift in the testing strategy. In April the majority of people tested were obviously symptomatic and Colorado was testing on the order of 3,000 people/day with perhaps 25% positivity rate. By July Colorado was testing 12,000 people/day, largely in a self-referred population of individuals concerned they had been exposed, or individuals who needed a test to return to work or school and were asymptomatic. The positivity rate dropped to less than 5%.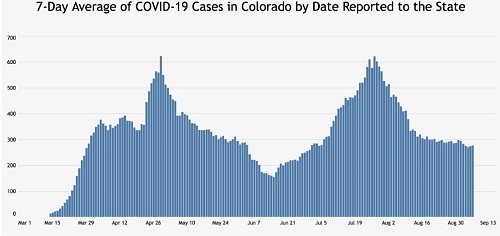 Click for larger image
Although the raw number of cases appears graphically to be comparable or even slightly higher than the primary peak in April, there was no corresponding secondary peak in deaths or hospitalizations.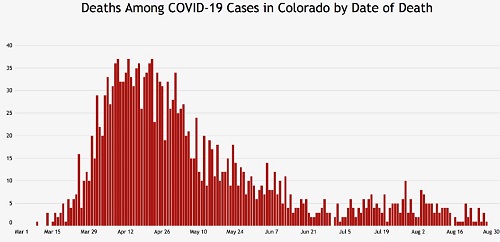 Click for larger image
This is in large part due to performing PCR testing as a screening test in asymptomatic people rather than employing PCR as a clinical diagnostic test. This detected a subset of the population that surely existed back in April but were not tested. By changing the case definition and the testing strategy, Colorado began comparing apples to rutabagas. We need to stop testing asymptomatic people, or at the very least stop using these results as the basis for public policy.