Inevitable: National Review Runs Pro-Riot Article Submitted by Leftwing Agitprop Organization
Some of us predicted the National Review would run a "Two cheers for antifa rioting" article.
But we weren't really predicting that -- we were darkly, archly suggesting that that was within the realm of possibliity. Barely. Well, we should have put money on the actual prediction coming to pass. Because National Review is
now officially an antifa organization.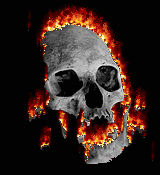 This was written by someone from the (William) Brennan Center for Justice, a leftwing agitprop organization. Did someone from that organization just submit it to National Review, wondering if was now so firmly on the left it would be published? Or did an editor from National Review
reach out to a leftwinger from the Brennan Center and commission the piece?
This is being shared around on all the c*cked-out listservs. They love it.
America Begins to See More Clearly Now What Its Black Citizens Always Knew ... Calls for justice rang from all corners, and many of them soon developed into demonstrations decrying the disparate treatment of black Americans by law enforcement. Some of these have broken into riots, devolved into looting, and spiraled into violent confrontations with heavily armed police forces.
Note the suggestiong here that the people attacking the cops are the Davids, and the "heavily armed police officers" are the Goliaths. But the police are refraining from attacking the rioters -- while the rioters hurl dead bricks and bottles at their heads. Bricks pre-positioned in piles by the logistics corps of this insurrectionist army. National Review is now supporting attacks on the police, and insurrection against America.
But the overwhelming majority have been civil exercises of the First Amendment rights to assemble peaceably and to speak freely about the effects of racism on our liberty and society.
The overwhelming majority of cops do not (accidentally) kill black men while restraining them. Should we focus on those non-criminal, non-controversial events, too? No? You say you want to focus on the death of George Floyd rather than the literally millions of
peaceful
police interactions with the public that take place every year? Why? Because while it's a rare event, it's a shocking event that tells us something important? Then let me ask you: Why is it that you insist that we must not look at the arson, rioting, mayhem, vicious pack-animal assaults, and targeted assassinations of police, and instead look at the mundane non-criminal protests? Weird -- every year a hundred natural gas plants in the US do
not
explode. But when one explodes spectacularly -- of course that's the one that makes the news. Why can't they focus on all the non-exploding natural gas plants?
Predictably, rather than take on the exceptionally difficult task of a national self-assessment, some politicians and media directed public attention to the most egregious actions during protest rather than to the aims of the protest.
Ah yes, Eric Holder's "Americans are cowards about race." In other words, some media -- conservative media -- chose to report the truth, that there was widespread rioting, arson, looting, and assassination of police, rather than cover it up in order to serve the propaganda aims of Black Lives Matter. That, this person from the leftwing (William) Brennan Center for Justice postulates is counter-revolutionary and therefore forbidden.
The brew of militarized police, enraged citizens, and criminal looters -- bursting into scenes of chaos backlit by burning cars and flashbangs -- is a powerful elixir.
An elixir like liquor -- gives you a brief high, but it's just excitement in a shotglass. Not
real
.
Sensational images and impassioned appeals to stop the violence flooded traditional and social-media outlets, broadcasting the destruction and airing competing ideas about how to restore order.
I'm sorry, are "appeals to stop violence" objectionable? Who the fuck commissioned this article? I think this person should make his responsibility for pro-riot propaganda known, instead of hiding behind the vagueness of a masthead. Does National Review believe that the poor dupes still donating to it are donating to it to pay for apologias for rioting and murder and insurrection? Or, perhaps: Are they right about this? Have they tacked so far left that their former conservative readership has entirely abandoned them and they now serve the same niche as the leftwing rags like The New Republic?
... And, as usually happens when racial tensions reach fever pitch, Martin Luther King Jr. becomes the referential totem. In explaining the anger that boils over into destruction, we are reminded of his statement that "a riot is the language of the unheard."
Rioting is just a form of speech, man.
Others note that the principal order of business should be to restore order, echoing another King quote from the same speech: "I will always continue to say that riots are socially destructive and self-defeating."
As the protests continue across the United States, we risk finding ourselves lost in the same pattern of unproductive behaviors that have long plagued the country. An obsession with modes of racial protests rather than with the meaning of them belies an unwillingness to face the flaws they expose in the nation's ability to live up to its ideals and fulfill its obligations to the citizenry.
He's trying to obscure his meaning. What he means is: We're focusing on the fact that antifa and BLM and "protesters" are using violence, riots, arson, looting, and targeted assassination to advance their list of demands, instead of
paying attention only to their demands.
How much mind should I pay to a terrorist force's demands? National Review, when it was a conservative publication, used to advise, "Pay very little attention to a terrorist force's demands." Now, of course, it advocates a different course.
Public order and the rule of law are elemental to the well-being of liberal democracies, but the values on which our republic is founded are far more important than any material loss from protest.
Again, he's obscuring his meaning deliberately. His meaning, put plainly, is this: "Riots, arson, looting, wholesale destruction of property, vicious beatings that result in death or serious permanent brain damage, and targeted assassination of police are important, but much more important are the 'values' that the 'protesters' are using riots, murder, arson, etc. to advance."
This is your National Review, people.
After all, nearly 250 years after Massachusetts colonists destroyed private property by dumping the contents of a British East India Company shipment into the Boston Harbor, no one gives a damn about the tea. However, the principle that inspired that protest -- "no taxation without representation" -- endures.
This is exactly like the Boston Tea Party -- an action that resulted in no deaths and no permanent property losses, just the loss of a ship's load of tea. Oh, one more thing: the Boston Tea Party was not just a "protest." It was a deliberate provocation and preparation for separation from the King's rule, possibly involving violent revolt to come. Is this what this guy is saying the riots and looters are all about, a preparatory step towards violent revolution? If so, why should we treat them any better than we would treat a right-wing "Boogaloo" effort at violent insurrection? Just because they're leftwing and the left has conditioned us to always accept that the left gets to play by different rules? Below, some images from the "Minneapolis Tea Party."
The Cucked-Out Second-Rate Writers at The National Review
We finally figured out that The Atlantic was never, ever going to hire us, so we've decided to convert a formerly conservative magazine into a liberal one just like The Atlantic, except of lower quality and greatly lower prestige.
Keep those donations coming, suckers! I notice this similarity between National Review and the NeverTrump #Resistance within government: If you believe that you cannot serve a government or execute a policy ethically, the honorable course of action is to make your objections known to your superior in a bid to get him to change his mind, and, if that does not availl, resign. But the #Resistance types have not done that, of course. They have consistently taken the dishonorable course of pretending to serve the president while actually actively subverting him and attempting to drum up new special counsel investigations. They continue to #Occupy government positions in order to subvert that government. It is very clear to me that most of the paid allegedly professional, allegedly conservative media long ago decided that they could not ethically advocate for the right or conservatives any longer. Many of them now refer to "the Right" or "conservatives" as third parties. Not "we conservatives," but "those conservatives." Often, their references to the right are contemptuous. Yet they keep their jobs with the despised right. Rather than resign their posts and seek employment in leftleaning institutions they are plainly more aligned with, they have joined their #Resistance government friends in the dishonorable strategem of continuing to #Occupy positions which are intended for actual conservatives, in order to subvert the conservative movement and lead it astray. Also, let's face it: they're only marginally employable and while they would no doubt prefer to be working for non-Deplorable leftwing outlets, they're just not going to get those jobs. So they'll write Daily Beast articles under the aegis of the National Review. They need money. And grifters, you know, are gonna grift. Please, please, please: I really need more red-faced lectures from you lot about honor, and principles, and integrity.