News Round Up
I've opened a huge number of tabs about the rioting and violence over the past week, and have been waiting to think of something to say about them.
Well, I give up. I want to close these tabs. My computer is getting very slow. So I'm just going to link a bunch of things without much commentary.
Pressed by Kayleigh McEnany,
Jim Acosta refuses to denounce violence against police.
Network newscasts propagandize about the "peaceful" protests 42 times while giving mere
seconds to a murdered black cop.
I guess not all black lives matter. The media's been justifying or outright praising
antifa's campaign of domestic terrorism for years.
The media should be probled by the DOJ. Just a couple of days ago, Fredo Cuomo -- who has previously praised antifa as being like the boys who stormed Normandy, and who defended antifa violence against citizens as moral and righteous -- announced that nothing in the Constitution requires "protesters" to be law-abiding. Nothing in the Constitution says that laws must be obeyed?
Really?
Which part of your Chaplinsky Rules Reader says that?
Trivial Pursuer tells Fredo where to look.
Okay, dumb ass. Here it is: U.S. Constitution, 1st Amendment: "Congress shall make no law respecting an establishment of religion, or prohibiting the free exercise thereof; or abridging the freedom of speech, or of the press; or the right of the people peaceably to assemble, and to petition the government for a redress ..."
Wow. very first setence of the Bill of Rights. Totally hidden! Fredo Cuomo is allegedly a lawyer, you know.
Longer version:
Dick Durbin lied about a finding of the Mueller report, apparently making it up completely and trying to get Rosenstein to agree with it. For once, Rosenstein did his fucking job and bothered to check the record and found there was no such claim in the report. Dick Durbin, caught in his lie, mumbled something about "getting back to you with that information" later.
Jordan Schaechtel -- a real conservative, therefore always in fear of losing his job in the "conservative" media -- expresses a view that most conservatives are either considering or have already resolved upon: The country should take an Escape From New York position on the cities where the governors/mayors permit looting, rioting, murder and mass chaos, and let them bury their own dead.
One thing, which Schaechtel probably means to imply: Not a dime for these cities or these states. You broke it, you bought it, as legendary cuck Colin Powell said about demolishing the existing civil order in other backwards, savage, lawless areas. Liberal commentator and jellybelly Jonah Goldberg retweeted this liberal who called the
need
for National Guards troops to protect the Lincoln Memorial "disturbing."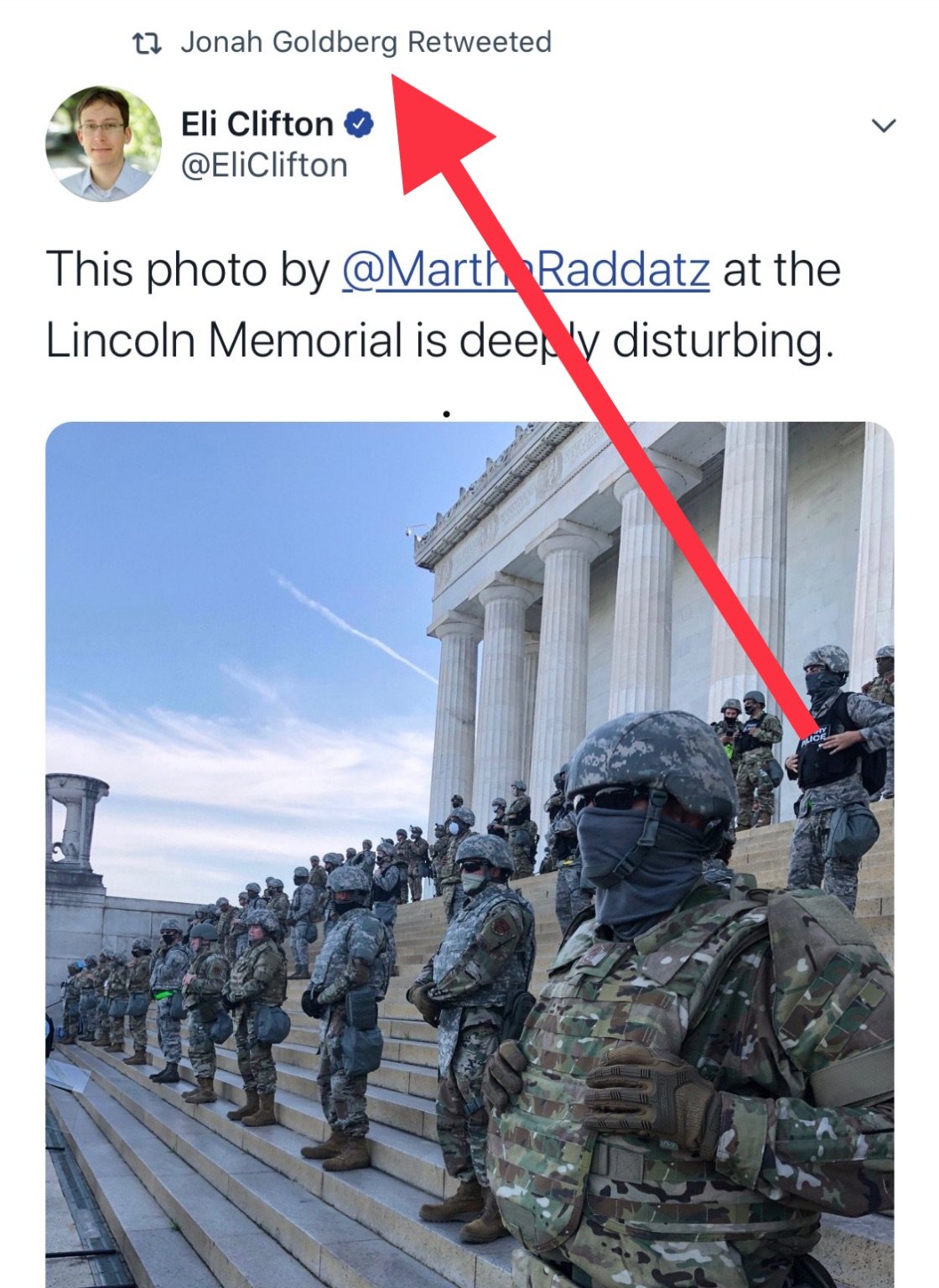 This is a guy who's never previously shown any fucking reserve about sending US troops to protect Middle Eastern monuments. But now it's "disturbing." He got called out by
John Noonan about this, who himself is a former Romney hand.
When you're getting called out for cuckery by a Romney guy, you're filthy, cringing cowardly cuck. Meanwhile, this guy who seems to spend too much time in closets is still lisping hysterically about Tom Cotton saying we should show antifa "no quarter:"
By the way, it's now Also Racist and Oppression By White Privilege to
clean up BLM graffiti from the walls of buildings:
LOL, s my d, antifa subhuman:
This is quite old. Damn, I really should have posted on it. Cuomo blames Trump for the order
he himself
gave to nursing homes, to take in infected people. He's lying about the CDC guidance saying the same thing. It did not. It did not order nursing homes to take in anyone. It said a nursing home "
CAN
" take in infected people if and only if they have the facilities and resources to create an isolation ward for infected people. Obviously most nursing homes do not have such capabilities. Cuomo ordered them to take in the infected anyway.
Governor Whitmer of Michigan -- Cruella De Tranny -- is
still
packing nursing homes with infected people. I guess Cruella De Tranny really doesn't want to keep paying those expensive Medicaid bills going forward, huh?
A lighter note: