Sunday Morning Book Thread 05-24-2020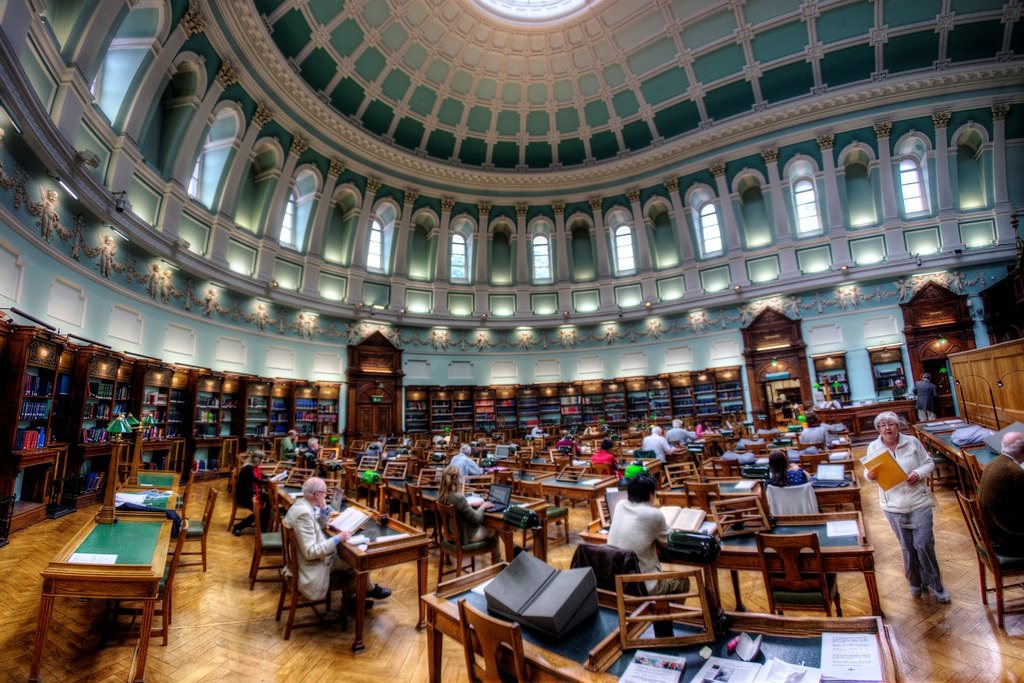 National Library of Ireland, Dublin


Good morning to all you 'rons, 'ettes, lurkers, and lurkettes, wine moms, frat bros, crétins sans pantalon (who are technically breaking the rules), the low-lifes, shady characters, "funny uncles", and the rest of you ne'er-do-wells. Welcome once again to the stately, prestigious, internationally acclaimed and high-class Sunday Morning Book Thread, a weekly compendium of reviews, observations, snark, witty repartee, hilarious bon mots, and a continuing conversation on books, reading, spending way too much money on books, writing books, and publishing books by escaped oafs and oafettes who follow words with their fingers and whose lips move as they read. Unlike other AoSHQ comment threads, the Sunday Morning Book Thread is so hoity-toity, pants are required. Even if it's these pants which may be from some "take your daughter to work" event in DC.
Pic Note:
It's not just full of blarney
:
The National Library of Ireland was established by the Dublin Science and Art Museum Act, 1877, which provided that the bulk of the collections in the possession of the Royal Dublin Society, should be vested in the then Department of Science and Art for the benefit of the public and of the Society,

The mission of the Library is to collect, preserve, promote and make accessible the documentary and intellectual record of the life of Ireland and to contribute to the provision of access to the larger universe of recorded knowledge.
It Pays To Increase Your Word Power®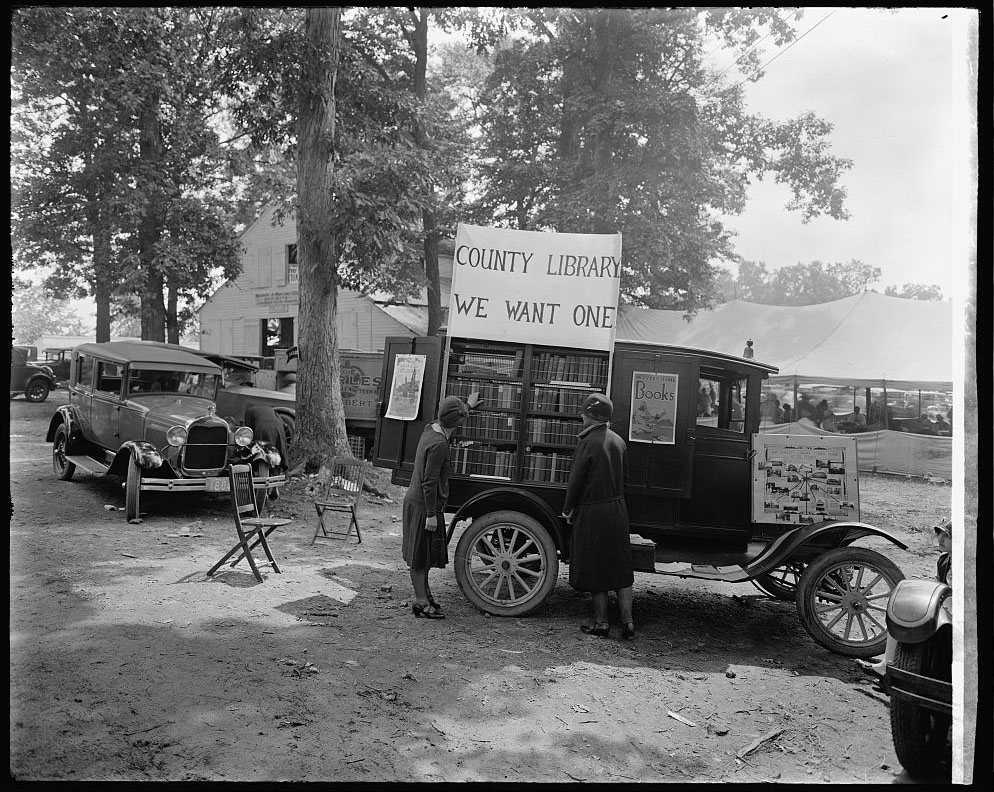 Mobile library, Rockville Fair, Maryland, 1928

(h/t Atlas Obscura)
The Great Memorial Day Weekend $0.99 Book Sale
You can peruse the complete list of sale books
here
. Here are a couple that caught my eye: The first is the novella
An Inconvenient Presidency: The Time-Traveling Misadventures of President Al Gore
by Eric M. Hamilton, which is an installment in his 'Presidents of the Uncanny States of America' series:
On January 20, 2001, Albert Arnold Gore, Jr. became the 43rd President of the United States for the second time...

Newly elected President Al Gore is given a mysterious device that allows his mind to travel back in time and relive his presidency. He needs it, too! There is always some disaster forcing him to start over. Soon, the time-traveling President begins to suspect there's more going on with this device than he first suspected.

Read the hilarious story of the President that never was, and discover why history turned out different.
The other novella in this series,
Franklin Pierce in Death of a Vice President
, also looks fun:
Madness, murder, and mystery permeates throughout this Edgar Allan Poe-inspired thriller!

It is early April 1853. Franklin Pierce, the newly elected President of the United States, has suffered the greatest personal tragedy of his life, plunging him into a depression fueled madness. The Vice President, William King, unexpectedly appears at the White House in the middle of the night having overheard details of an international assassination conspiracy that threatens both King and Pierce. Unfortunately, Vice President King is killed without any clue as to who could have done it. Can President Franklin Pierce overcome his personal demons and discover who killed the Vice President before they kill him too?

Franklin Pierce in Death of a Vice President is a thrilling psychological horror, starring the president from the 1850's you forgot in 4th Grade. It's an exciting read, and you don't have to be familiar with Franklin Pierce at all to enjoy the story (in fact, it may be a better story if you go in knowing almost nothing). This is perfect for the American history-buff and "normal people" alike!
Franklin "I Can't Get No Respect" Pierce rebooted as a detective/crime-fighting badass gets points for originality.
This novella
is also priced at 99 cents. __________________ Also of note is
The Long Black
, by J.M. Anjewierden:
Morgan always assumed that if she could survive growing up in the mines of Planet Hillman – feared for its brutal conditions and gravity twice that of Earth – she could survive anything.

That was before she became a starship mechanic. Now she has to contend with hostile bosses, faulty equipment, and even taking care of her friend's little girl. Once pirates show up, it's a wonder she can get any work done at all.
There's already a sequel,
Black Holiday
. __________________ This is not part of the sale, but while I was pulling together the relevant bits of information for this item, I noticed that the Kindle edition of
Star Soldiers
by Andre Norton was on sale for FREE (as of Friday afternoon), so I grabbed it. Because free. And also because Norton is an author I have never gotten around to reading. I hope it's still free when you're reading this so you can take advantage.
Who Dis: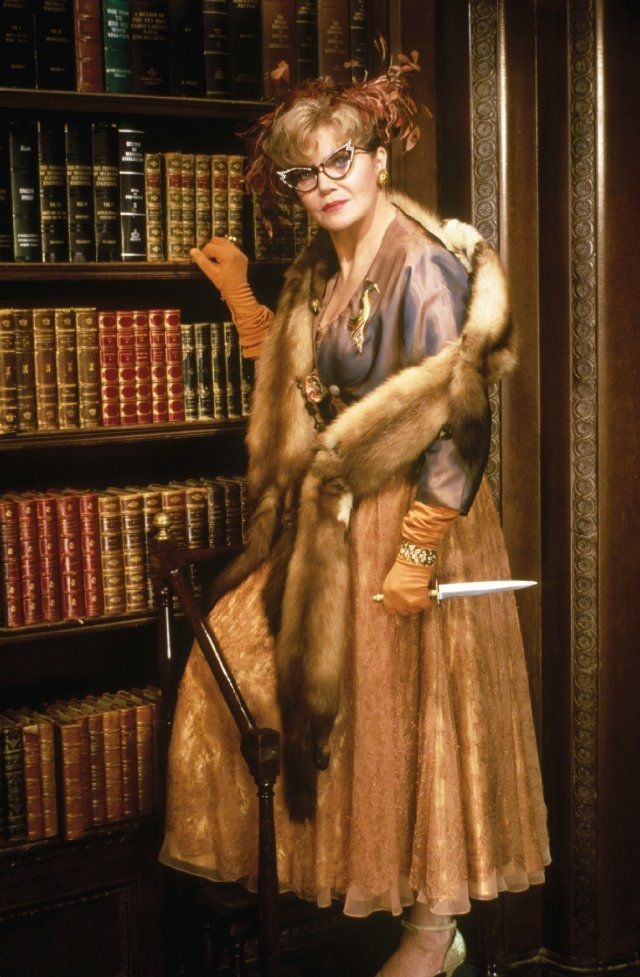 Last week's 'who dis' was author
Phillip Terry and Joan Crawford
.
In The Year of the Plague - III
472 As I've said, my brain can only handle pulp and picture books during These Uncertain Times, but if you're fully functional, bully for you!, and here's a list of Tomes of Substance:
https://spectator.us/lockdown-list-books-quarantine/

Posted by: All Hail Eris, She-Wolf of the 'Ettes 'Ettes at April 26, 2020 12:01 PM (Dc2NZ
Here's a series discussed in
the Spectator list
that I don't believe has been mentioned here before, and if it has, I missed it:
If you like science fiction, but don't want anything too close to the bone, I can recommend the Destroyermen series by Taylor Anderson, which is about a World War Two destroyer that passes through a portal in the space-time continuum and plunges its crew into an alternate universe in which highly-evolved lemurs and lizards are engaged in an epic struggle for control of the earth's resources. It sounds rather lowbrow, and I suppose it is, but the characters are very well-drawn and every inch of the canvas is filled in. The author is a gun buff so there's lots of detail about ordinance, if you like that sort of thing, which I do. Highly recommended —.
And there are 14 Destroyermen novels in the series, so if you really like it, you have a lot of reading to do. Here's a link to the first in the series,
Into the Storm
, which Kindle edition costs only $2.99.
Misc. Book Notes
'Ette author
Sabrina Chase
sent me a link to some online explorable libraries
I doubt the hamsters can handle a direct imbed but the links might be fun for people to try. I'd warn people not to try the Klementinum library site when drunk, it's a little TOO responsive. I got dizzy looking at it sober.
Here's the link,
7 Spectacular Libraries You Can Explore From Your Living Room
. In addition to the Klementinum, you can take a virtual tour of Harvard's Widener Library, King's College Library at Cambridge University, and four other great libraries.
Inappropriate Children's Books: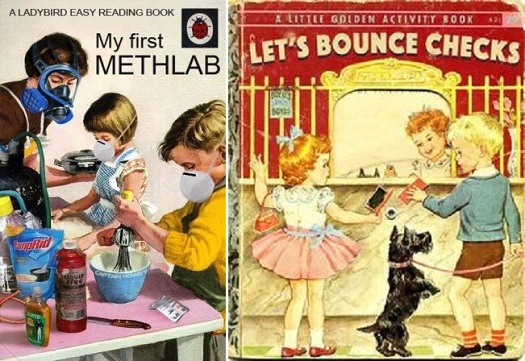 Moron Recommendations
Catch Thirty-Thr33 e-mails in a recommendation:
For anyone wanting to read a good book on the history of Berlin with a focus on the postwar era, I'd recommend Frederick Taylor's "Berlin Wall: A World Divided, 1961-1989". The book covers the whole history of Berlin, but it focuses greatly on the postwar era, as the title indicates. Mr. Taylor goes into personalities on both sides of the Wall, and goes into the events as well. The airlift, the building of the Wall, and even the uprising of June 17, 1953 are featured in the book. Escapes and escape attempts from East Berlin are chronicled therein, and there are extensive sections on how East Germany kept its citizenry in line, through generally bribing the population whenever possible and of course through the usual measures of vicious police state tactics, such as the use of the Stasi. Finally, Mr. Taylor goes in depth into the Fall of the Wall and what happened afterwards (up until 2007, which I believe was the year the book was published - I bought my copy that summer). Best of all is that the book is very readable - it delivers the goods in easy to digest language and does so in a way that pulls the reader in and holds his or her interest. This is not a dense academic work - it is aimed at a general audience. This is exactly the kind of book those out there who were either born after 1989 or were too young to have a memory need to read so that they can get a sense of what a society ruled by a communist government is like. The memories are fading, I fear, and the sooner younger people are educated on topics like this, the better off we will all be.
I'm not quite old enough to have remembered the wall going up. I've always been curious as to the engineering involved, how the commies put it up in one night. And I am old enough to remember when it came down.
On the morning of August 13, 1961, the residents of East Berlin found themselves cut off from family, friends, and jobs in the West by a tangle of barbed wire that ruthlessly split a city of four million in two...it became an imposing 103-mile-long wall guarded by three hundred watchtowers. A physical manifestation of the struggle between Soviet Communism and American capitalism that stood for nearly thirty years...In the definitive history on the subject, Frederick Taylor weaves together official history, archival materials, and personal accounts to tell the complete story of the Wall's rise and fall.
The Kindle edition of
The Berlin Wall: August 13, 1961 - November 9, 1989
is $10.99.
___________
On the morning of July 12, 2017, the FBI Boston field office receives what appears to be a hoax call: a man rescued from the waters off Massachusetts has claimed that his sailboat was hijacked and used to smuggle weapons and terrorists into the United States. With local agents tasked to prepare for an evening Presidential visit to downtown Boston, and with procedures requiring a response to any threat, no matter how unreliable it may seem, FBI administrative staffer Ben Porter is dispatched to investigate the call. Can Ben, untrained in field work and relying only on his wits and intuition, uncover the deadly plot … in time to stop it?
This is the Amazon blurb for an action thriller that Rush Limbaugh was raving about a few days ago,
False Assurances
by Christopher Rosow. Apparently, there's going to be a series featuring the character Ben Porter, and the second installment,
Threat Bias
, has already been released. The Kindle versions go for $2.99 each, not a bad deal.
___________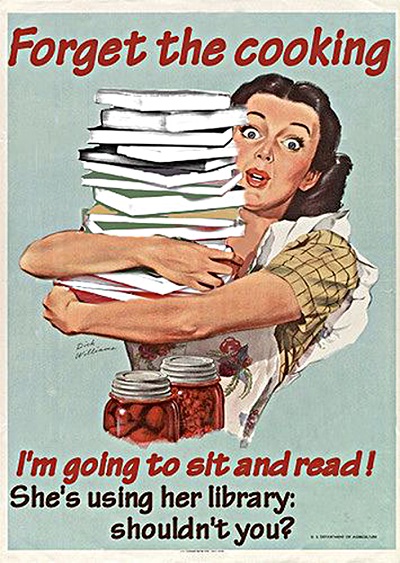 Books By Morons
'Ette author and short-story specialist Lisa Mathisen has just released the latest installment of her 'Glimpse' series, 'Glimpse vol 9 – BEST SCENES' which is a
...mixed genre sampling of fan favorites. Short story maverick Mathisen highlights the best of her penetrating observations and musings, 50 uniquely original tales in flash fiction style ranging from biting humor or spiritual to frightening and dystopian.

Sometimes it's a shocking mix to keep you guessing. A wild thrill ride through the lives of protagonists you never saw coming, it has something for everyone.

Mathisen reflects Mark Twain's sardonic humor; pinches of Poe's creepy elegance and large helpings of Heinlein's ability to wrap futuristic fantasies in human frailty. If you enjoy a quick read these 2 page stories will leave you thoroughly entertained.
Glimpse vol. 9 Best Scenes
is available on Kindle for $2.99.
___________
Kerrie Ross (author of
Rebel Without A Clue
) has a new book out,
A Dress For A Queen And Other Stories: Tales From A Funny Woman
, containing the stories:

A Dress For A Queen
Lizzie loves to perform daring tricks in strange places- the only trouble is -her day job gets in the way. The Story That Got Away
Deidre works alongside Rodney an editor, who turns up his nose at every story she writes. Until she comes across photos of his mother's past life. The Lady In The Box
Pete thought he knew everything there was to know about yoga until he meets the Lady in the box. Boudicca And Mavis
The tail of a dancer waiting for a chance, she wants attention, she wants adoration but what she gets is a different story.
A comical collection of 4 short stories, all for $2.99.
___________
'Ette' author artemis has just released a new Regency romance novel, a nice summer read called
The Spanish Mask
:
A Spanish postulant is living quietly in her Andalusian convent until suddenly, the various factions from the Napoleonic war descend upon her, believing that she alone knows where the Spanish royal treasure lies hidden. As she attempts to convince the British Commander that she is not the missing royal, she finds she must also convince him that the attraction that crackles between them is forbidden, and for more reasons than one.
The Kindle edition
is $4.99.
___________
So that's all for this week. As always, book thread tips, suggestions, bribes, insults, threats, ugly pants pics and moron library submissions may be sent to OregonMuse, Proprietor, AoSHQ Book Thread, at the book thread e-mail address: aoshqbookthread, followed by the 'at' sign, and then 'G' mail, and then dot cee oh emm. What have you all been reading this week? Hopefully something good, because, as you all know, life is too short to be reading lousy books.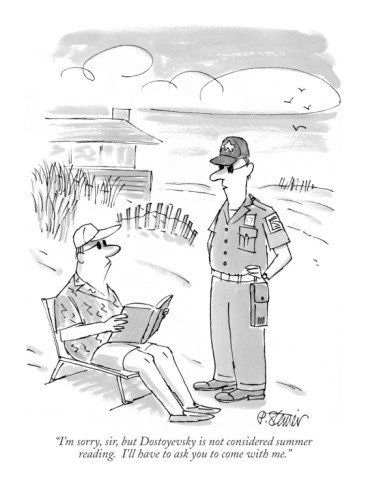 Posted by: OregonMuse at
09:00 AM