Gallup: 59% of Americans Say They Are Better Off Than They Were Last Year (And Last Year Was Pretty Good Too).
This Is the Highest Level Ever Recorded for This Measure.
Before getting into that, the Department of Labor released January's jobs report.
Huge.
January adds a much stronger-than-expected 225,000 jobs, with a boost from warm weather Nonfarm payrolls surged 225,000 for the month, well above Wall Street estimates for a 158,000 gain. The unemployment rate ticked higher to 3.6%, but for the right reason as the labor force participation rate increased 0.2 percentage points to 63.4%, matching its highest level since June 2013. Average hourly earnings rose 3.1% over a year ago to $28.44, ahead of estimates for 3% growth.
This twitter user highlights:
Best news in the jobs report = Labor Force Participation hits 63.4%, the highest of this recovery so far
That was just today's news. The last week has brought news of the country's extremely positive feelings about the economy and their own lives.
Via Twitchy.
From the Gallup's report:
The current 59% of Americans who say they are better off financially than they were a year ago is essentially tied for the all-time high of 58% in January 1999. That was recorded during the dot-com boom, with conditions similar to the current state of the economy -- a stock market rocketing to then-record highs and unemployment at multidecade lows -- though GDP growth was higher at that time.
And it gets better: The percentage of Americans who expect to be doing better
next
year is at its highest point.. since the original
Star Wars
came out.
@byHeatherLong Notable: 74% of Americans believe they will be better off in a year, the highest percent since 1977, according to a new @Gallup poll
Is there any other good news? Well, just this: Americans' satisfaction with their own lives is at the highest level since, well, ever. Highest level
ever recorded by Gallup.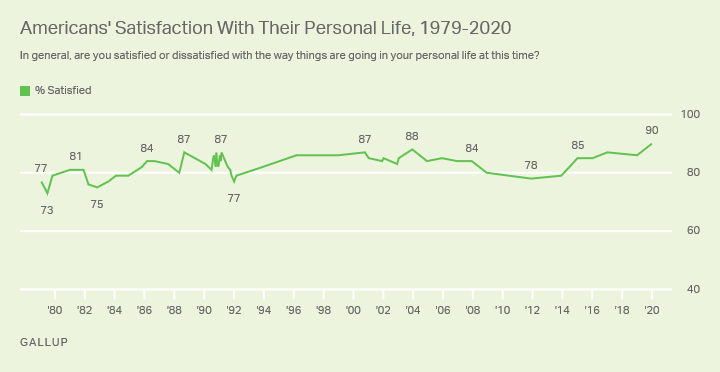 Note that in 2012, when Obama won an undeserved term against the loser Romney -- who almost seemed to be
working for Obama himself
-- Americans' satisfaction with their lives was a mere 78%. And now?
90%.
Nine in 10 Americans are satisfied with the way things are going in their personal life, a new high in Gallup's four-decade trend. The latest figure bests the previous high of 88% recorded in 2003. ... Gallup has asked a follow-up question since 2001 to measure the extent to which Americans are satisfied or dissatisfied with their personal life. The 65% of U.S. adults who are currently "very satisfied" marks a new high in the two-decade trend.
So here's the math: On one hand, the economy is at levels never before seen; Americans say they're doing better than last year at the highest rate ever recorded; and furthermore they expect to do better next year at the highest rate since the Summer of Star Wars; and American's satisfaction with their lives is the highest level ever recorded. But, on the other hand: Trump's
TWEETS.
This is what they got. This is what all their hopes are riding on. Sure you're making money, America is at peace for the first time in decades, and you think the economy is in great shape. On the other hand: Trump's Tweets. Easy call! It sure is for Bill Kristol, who a friend calls a "Virtuoso of Wasting Rich Fools' Money:"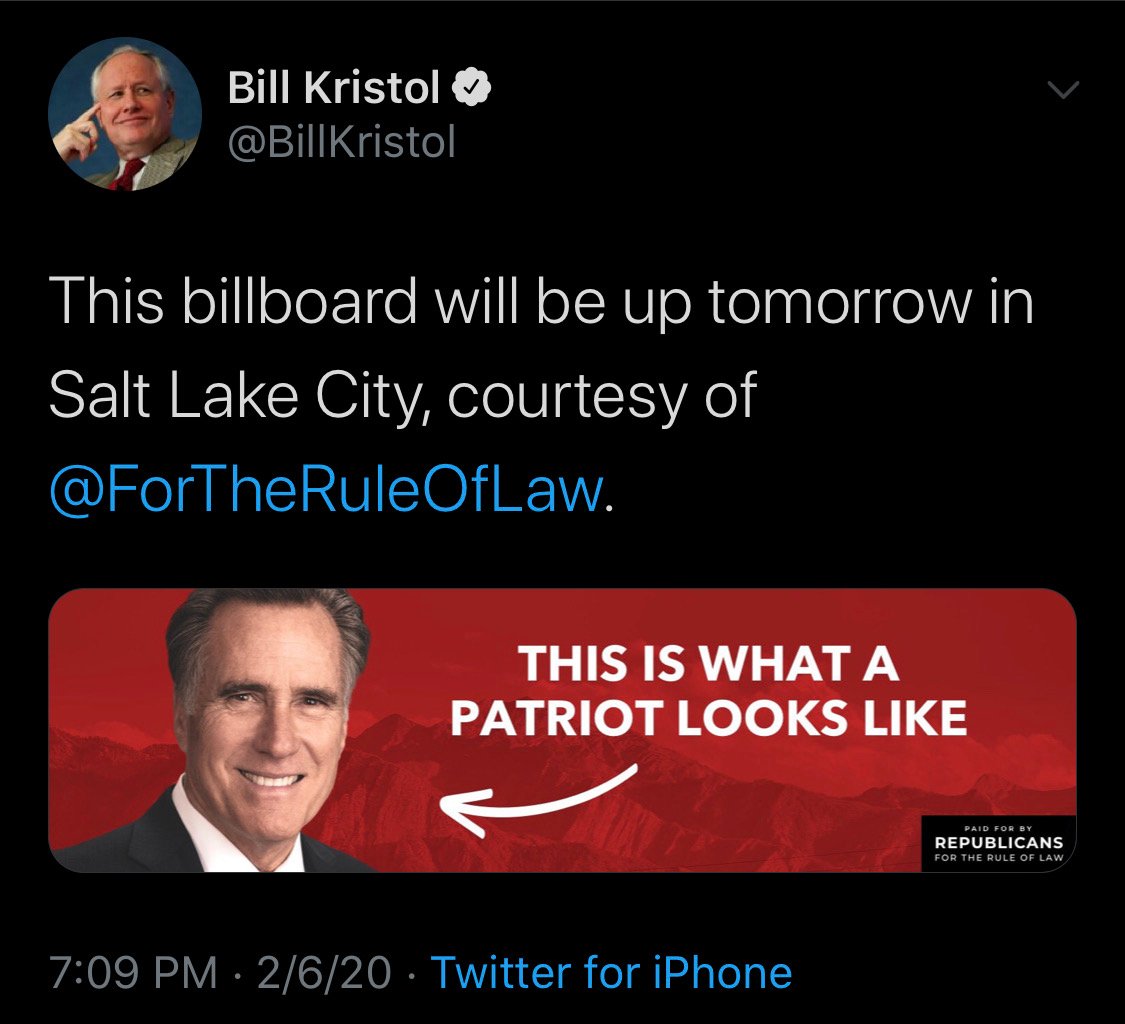 It's nice that Bill Kristol has a
billboard.
Say, isn't that his the first sentence he's written that's actually made it into
print
since another damned fool of a billionaire took his stupid failing magazine away from him? Congratulations on finally having a, uh, physical publication again, Billyboy.
55 "I'm taking advantage of media to reach out to people by pressing a phonograph for the kids!" --Bill Kristol, totally with the times Posted by: Christopher R. Taylor
Some of the graphs previously mentioned below.