Rashida Tlaib on Black Hebrew Israelites' Targeting and Slaughter of Jews: "White Supremacy kills"
Vox's reporter on "the GOP and white supremacy" and frequent NeverTrump Grief Counselor Jane Coasten was pushing the "black antisemitic violence is just more white supremacy" lunacy yesterday, too.
Tweets below.
Daniel Greenfield reminds us that the Black Hebrew Israelites (citation needed for two of those things) have been praised by the New York Times and, of course, Ilhan "Omar" Nur.
The New York Times called them "sidewalk ministers" who practice "tough love." The paper quoted Heidi Beirich of the Southern Poverty Law Center who described them as victims of racism and claimed that they were non-violent. The Washington Post, in its own puff piece on the Black Hebrew Israelites, also falsely described them as non-violent, and concluded that, "Israelite street preaching in parts of D.C., Philadelphia and New York is commonplace, a familiar if odd accent to city life." The odd accent to city life in Jersey City came amid a hail of bullets as two members of the racist black nationalist hate group opened fire in the JC Supermarket. ... The media whitewash of the racist Black Israelites had come during the Covington Catholic case when the Washington Post, among other papers, had falsely blamed the pro-life students for a confrontation that actually began when members of the nationalist hate group had begun calling them, "crackers," "faggots," and "pedophiles." An African-American pro-life student was called the 'n-word'. Rep. Ilhan Omar, who has her own history of racism and anti-Semitism, falsely claimed that the Covington Catholic students were "taunting 5 black men." The New York Times equivocated that members of the hate group "use blunt and sometimes offensive language, and gamely engage in arguments". The typical "offensive language" and argumentative style of the Times' second favorite racist hate group involves shouting racist and anti-Semitic slurs at people. ... You can see why Rep. Ilhan Omar might have felt called to defend the racist hate group.
... And yet, the New York Times concluded its whitewash of the hate group with a closing quote by Todd Boyd, a professor of race and culture at UCLA, which claimed that, "To many black people, Hebrew Israelites are a harmless part of their communities." No doubt to many white people the KKK are a harmless part of their communities. Racist hate groups are the bigger problem for people who aren't a member of their race. "More alarming to many African Americans," the UCLA professor of race had argued, is "seeing a white guy in a 'Make America Great Again' hat." The dead at the JC Supermarket would have liked to have seen a MAGA had instead of black coats.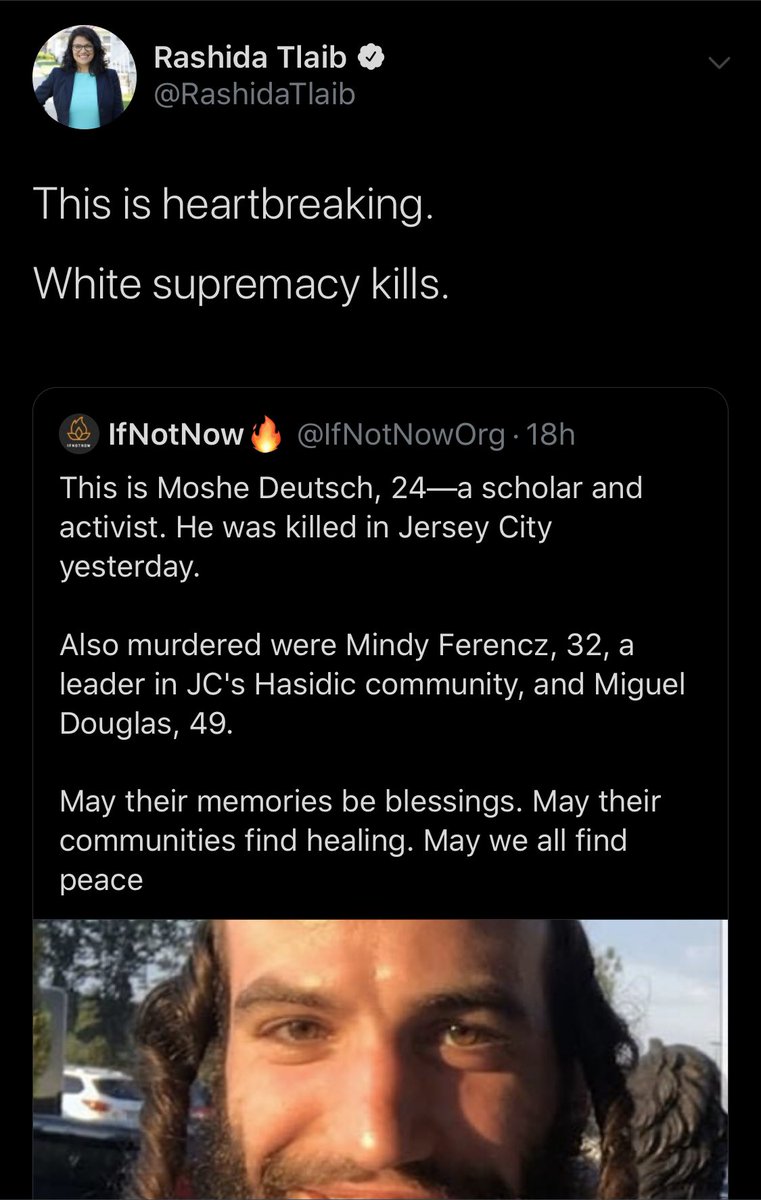 Oh, and then this guy comes along.
Are we ever going to talk about black support for racism and antisemitism or is that the Right Kind of Hate which should never be chastised? Daniel Greenfield asked this too, referencing the constant black (with some Hispanic) assaults on Jews in New York City which the always-on-the-search-for-white-antisemtism media absolutely refuses to acknowledge:
There's nothing extraordinary about this. It's the everyday hate that we can't talk about. The hate that the media is quick to cover up. If you want to understand why children are beaten on Brooklyn streets and why a Kosher supermarket was shot up, it's because we aren't allowed to talk about it.
People hate and sometimes people kill. If it's so damned important to "call out" white hatred, on the theory that if you don't call it out, you are encouraging it and even
participating in it
, then it must equally be true that the leftwing media is encouraging and indeed participating in black anti-white and anti-semitic hatred, because they never condemn it, and in fact go out of their way to
justify it
. It's
dangerous
to tell people who are already violently deluded that the
White Man and Jewish Money Men
are "really to blame" for their hatred of whites and Jews. I know Jake Tapper is pretty stupid, and paid by Jeff Zucker to be even more stupid on TV than he is in real life, but is Jake Tapper so stupid he can't even grasp this simple truth? If you excuse and justify antisemitic violence and racial hatred, you're just Nazis cheering Hitler, and no, having a "#Resistance" hashtag in your Twitter handle doesn't chance that. Progressives believe that they can be as racist as they like because they are definitionally "anti-racist." In fact, they're the most racist people who have ever existed. They've created and are set on enforcing hierarchies of Racial Worthiness just as baroque and twisted as those created by the Nazis.