To the Democrats Marie, Not Elise, was yesterday's star [KT]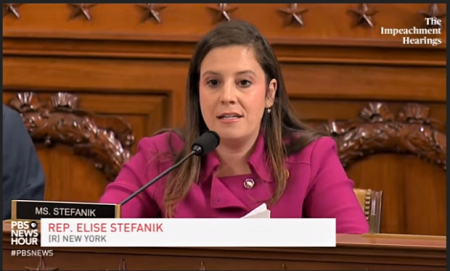 Good morning! I ran across some additional takes to add to Ace's posts from yesterday, regarding how these two women were treated at yesterday's hearing. The hearing was an amazing political exercise. Not in a good way.

Ace sets the stage:
Schiff has made up New Rules -- unilaterally -- that the only Republicans permitted to ask questions are Devin Nunes and a staffer who I think is named Castor. A source says Castor is a good lawyer, but people are telling me he's coming off as a real blank on TV. And Schiff made up a rule saying that he would be one of the only two people to question "Masha" Yavonovich, the former Obama-holdover ambassador to Ukraine fired by Trump. . . When Nunes moved to yield his time to Ellie Stafanovic, Adam Schiff and his Ten Inch Neck started banging the gavel to shut her up.
Meanwhile:
Nunes questions why Yavonovich is even a witness -- she has absolutely no knowledge of these Impeachable Phone Calls we keep hearing about. The only reason she was called by Democrats is so that she can Appeal to Women with her Sad Stories about how Sad she was when Trump fired her.
Sharyl Attkisson
One question I'd like to have seen asked: "If Ukraine's new president distrusts U.S. Ambassador-- rightly or wrongly-- should that person stay in the position? Or for the good of the US, should she be replaced with someone who can have a productive relationship?"
Legal Insurrection has a nice piece on
Elise Stefanik's part in the hearings,
as well as some background on her district. William Jacobson mentions "stardom". There are several video clips included at the link. "I can watch these videos over and over. And probably will." Nunes made a good choice in choosing her to speak, I think. First a quote:
President Obama's own State Department was so concerned about potential conflicts of interest from Hunter Biden's role at Burisma that they raised it themselves while prepping this wonderful Ambassador nominee before her confirmation. And yet our Democratic colleagues and the Chairman of this Committee cry foul when we dare ask that same question that the Obama State Department was so concerned about.
No wonder Schiff wanted to shut her up. Andrew Klavan:
Nevertheless, she persisted.
Jacobson, about her district:
For those of you who go way back with Legal Insurrection, NY-21 was a hot topic here in 2009 when Republican infighting and subterfuge handed the seat to Democrat Bill Owens in a Special Election defeat of conservative candidate Doug Hoffman. It was more important to state Republicans that a Tea Party insurgent lose than that Republicans hold the seat. Owens barely hung on to the seat in 2010 and 2012, but chose not to run for reelection in the 2014 cycle. Stefanik won the seat in 2014, at age 30. At the time, the youngest woman ever elected to Congress. Stefanik has won re-election pretty easily every since.
At the hearing:
First, she took on Schiff. But because she's Republican, Schiff received media cheers not scorn for trying to shut her up. She took Schiff to the woodshed over his flip flop on having the so-called Whistleblower testify. . . She score a substantive home run by pointing out that the Obama administration was concerned about Hunter Biden's actions in Ukraine, so much so that she was prepped on the subject in advance of her Senate confirmation hearings. So why, she asked, is it wrong when Republicans to have the same concerns about Hunter Biden that the Obama administration had?
And
John Hayward
pointed this out about part of the former ambassador's actual testimony:
Boy, it's a good thing giving false testimony to Congress isn't a crime when Democrats do it, or Yovanovitch could be in some really hot water here.
Back to Ace and the
Ambassadors as Superheroes
theme. It was reported in The Hill that the vacuous Yovanovitch testimony had given the Democrats a
new burst of momentum.
Oh, and Trump engaging in
witness intimidation,
to make the witness cry.
There was witness intimidation today, but it was not done by President Trump. The only one who intimidated a witness was Adam Schiff. He's the one who brought up Trump's tweet to Maria Yovanavitch DURING HER testimony, pressuring & questioning her into making it a big deal.
Let's relax a little
Steven Hayward with the week in pictures,
Hearsay Edition.
Hope you have a good weekend. Remember, this is the Thread before the Gardening Thread.
Serving your mid-day open thread needs