Gun Thread: Damn AutoCorrect! [Weasel]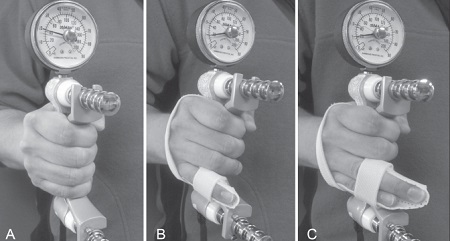 Scientific Thing What Measures Pinky Strength
Who among us hasn't been the victim of autocorrect? Although it can be helpful with the occasional typo, for those who make them, it can also be a nightmare when a word or two are unintentionally changed and completely alter the meaning of a sentence!
Am I right?
Let's find out what the ever-loving Hell I'm talking about, shall we?
Last week, while thoughtfully composing the Gun Thread and carefully researching and triple fact checking the material, I wrote:
The fact is, the pinky must be allowed space to join the other fingers, because the pinky is very important and contributes much to your grip strength and it really matters a lot when shooting that your pinky is on the grip so please get a magazine with a pinky extension. Amen.
Well, as can happen to anyone, autocorrect changed that to:
The fact is, even with space to join the other fingers, the pinky doesn't really contribute much in terms of grip strength and it doesn't really matter if it's on the grip or not.
Boy did I ever feel stupid when I saw what happened! As you can imagine, the email was fast and furious, and as soon as the thread was over I had this waiting in my inbox from our pal
Jimbro
who wrote:
I'm an Orthopedic Surgeon and the small finger adds a lot to grip strength. Here is an article from the National Institutes of Health - US National Library of Medicine, regarding the contribution of the ulnar digits to grip strength.
Thanks for the correction, Doc Jimbro, even though it was totally the fault of autocorrect and in no way a result of my half-assing the job. And with that little unpleasantness out of the way, let's pick up where we left off last week!
*******
Grips Pt. Dos
So what happens when a gun just doesn't feel right in your hand? Say you're looking for a particular gun and find a great deal but as you pick it up you find your hand is too big or too small and it just feels awkward as shit? Do you pass up the great deal and look for something else? How about the larger calibers? Did you finally buy the 44 Mag snubbie you always wanted, but find the recoil makes it just too painful to shoot so you leave it in the gun safe?
No! No I say!!
I love the Smith & Wesson Model 10, but I'm convinced the original Magna grips were designed as a bad joke. To me, they're too small and feel funny. And not 'ha-ha' funny in a good way, either. Since I'm something of a purist when it comes to things I collect, I leave the Magna's on and just live with the fact that it's going to feel a little goofy when I shoot that particular gun. Same with the Remington Rand 1911A1 I own. I'm sure there are probably aftermarket grips available which might be more comfortable and ergonomically correct, but am I putting them on the pistol? Hell no. As long as I own it, it'll have the correct bakelite grips. These are guns that I shoot just for fun and I'm frankly more interested in the original aesthetics than getting a perfect fit. It's a pretty simple matter to change the look and feel of a gun by changing the grips. Do you have giant cartoon hands and want pink Hello Kitty grips on your 44 Magnum? I'm sure you can find them. Two aftermarket grip manufacturers mentioned last week are Hogue and Pachmayr, and I have examples of each. I am a big fan of the rubbery
Hogue
Combats and have them on my daily carry pistol and also on a revolver I carry at the farm.
Pachmayr
makes a line of grips called the
Decelerator
which do a really good job of cushioning the recoil of large Magnum cartridges particularly during prolonged range sessions. Both are popular enough that in some cases they are offered as standard equipment by certain manufacturers. Here are Hogue wrap-around grips on my carry pistol which add both the rubbery grippiness, but also fit my hand better than regular flat grips.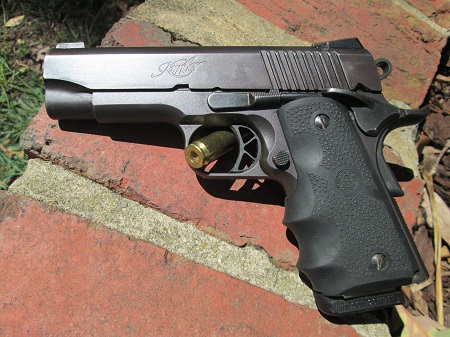 Hogue Wrap Around Grips
Here is a stock photo of the Pachmayrs. I like them for prolonged large magnum caliber range sessions, but they have more of a squishy 'gel' feeling. I'm sure this contributes to the cushioning, but some might find it a little strange at first.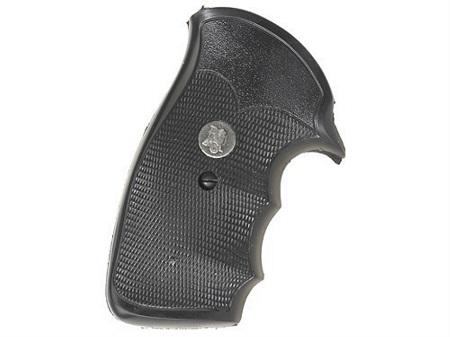 Pachmayr Decelerator Grips
Spend some time looking around at the manufacturer's websites linked above. They offer first rate products in just about any size, shape and style imaginable.
There are also a
lot of companies
making aftermarket grips in all price ranges and some are truly custom, where the maker will incorporate your own design and sizing requirements. I only mention the mass production examples I have used, Hogue and Pachmayer, but an internet search will return dozens of choices for smaller custom shops which can offer a tailored product. It pays to look around and find a shop that will really work on getting you what you want. How about you all? Has anyone used a true custom grip manufacturer and what was your experience? Did you have them sized up or down, or was your modification in design only?
*******
Concealed vs. Open Carry
A couple of nights ago, one of Mr. O' Spades' posts turned to a discussion of concealed versus open carry, and I rather brilliantly observed it might be interesting to continue that conversation tonight. As long as I have owned guns, Virginia has allowed open carry, however, there was a time when it was virtually impossible to get a concealed weapons permit in the Commonwealth. Remember Oliver North? I recall reading somewhere that during the Iran-Contra mess, even he wasn't allowed a permit, being unable to demonstrate a sufficient "need" to the courts. Sometime after that, it all changed and Virginia became a "shall issue" state. Anyhoo, I carry concealed regularly, but I do not think I have
ever
openly carried, even though it has always been allowed. Carrying a weapon is a big responsibility and I can't think of a good reason to advertise the fact that I'm armed. At best it's likely to simply attract unwanted attention when I'd rather be blending in with the scenery. When I'm at my property in the country, I open carry when I'm working or riding around on the tractor but that's mostly for pest management and I'm not sure it counts because I'm the only person for a half mile in any direction. So what do you think? Do you live in an open carry state and do you exersize that right, or do you prefer to carry concealed? Can you think of a scenario where you would want people around you to know you're armed?
*******
Butt-Mart is Dead to Me
By now we've all heard
Wal-Mart
recently announced they were prohibiting open carry in their stores and also discontinuing the sale of certain ammunition. CVS, Walgreens and Kroger soon jumped on the bandwagon, prohibiting open carry in their stores. I will tell you I was never a frequent Wal-Marter to begin with, and I'm sure as hell not going to become one now. I think these are largely symbolic gestures in an attempt to be seen as doing
something
in the wake of the shooting at their El Paso store. Time will tell, but I cannot imagine this will sit well with their shoppers, but I also suspect the company will get away with it because for many people these stores are the only game in town now that they've run everyone else out of business. What other actions could the company have taken in response to the shooting? How about nothing? How about something for the victims and the community as a whole like setting up a scholarship fund? I don't know, maybe they're doing those things too, but I think what they have done only emboldens the anti 2nd Amendment retards, while not accomplishing anything really significant. Besides offering the Board of Directors cover from the shrieking left, that is.
*******
Link-O-Rama
MidSouth Shooters: Space Saving Ideas for the Reloader
NRA/Washington Times: Parkland Shooting Victim's Father becomes Pro 2nd Amendment
NRA-ILA Article: Gun Control thru Confiscation
NRA-ILA: 2015 Criminal Gun Sourcing Study
NRA Statement on Wal-Mart's Decision
Walmart CEO Doubles Down on Pissing Me Off
Berry's Manufacturing: New Website - Free Shipping and 10% Off!
Powder Valley: Starline Brass Sale and Free Shipping!
NRA Shooting Sports: New ELR World Record - 2,158 Yards
***Mail Bag***
With so much gloomy bullshit in the news, how about a tiny ray of light? Our pal
Winston, dreg of society
sends us a report from Washington State, where all appears
not
to be lost!
I wanted to share these shots from the Kittitas, WA, county fair 4 H exhibit. There remains some sanity in the world, even out here. Good kids and there was an even larger display on bows and hunting. They did not mention a preference for long v cross bows. The fair also features re-enactors from the 9th and 10th Cavalry. Lots of detailed history and period weapons and gear. Good people doing an amazing job of education. Another gentleman had a display of his firearms, in a log cabin, on the grounds.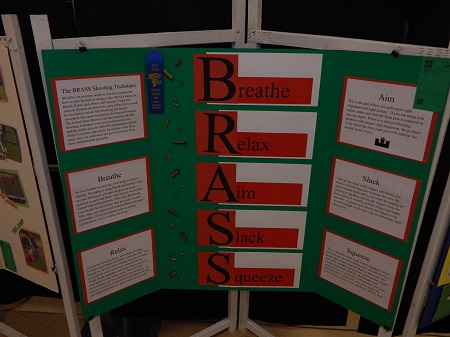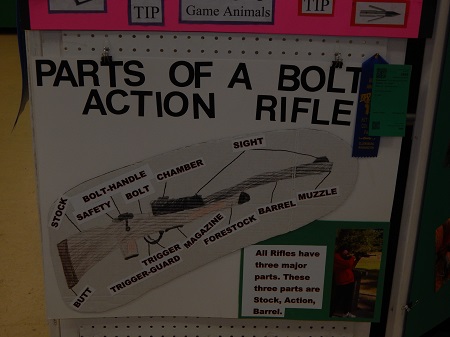 Thanks for sending this in Winston, dreg of society. It's nice to see there is still some hope!
******
Please note the new and improved
gmail
account
morongunthread at gmail dot com
. An informal Gun Thread archive can be found
HERE
. If you have a question you would like to ask Gun Thread Staff offline, just send us a note and we'll do our best to answer. If you care to share the story of your favorite firearm, send a picture with your nic and tell us what you sadly lost in the tragic canoe accident. If you would like to remain completely anonymous, just say so. Lurkers are always welcome!
That's it for this week - have you been to the range?