Hold Your Breath And Stamp Your Feet And Pass Laws All You Want: The Price-Demand Curve Will Never Change
I know...I know...NO MATH! But this is really just a pretty picture!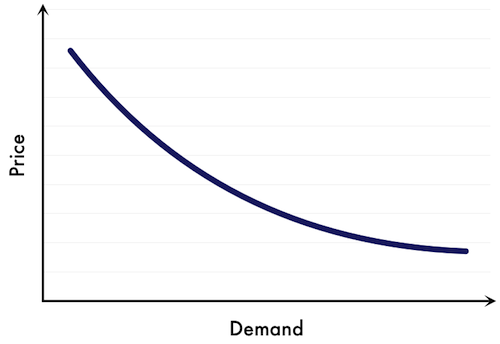 Unionizing Uber
Uber lost $5.2 billion in the second quarter of 2019. New York City already imposed a minimum wage of $27.86 for Uber and Lyft. Taking an Uber in New York is now more expensive than calling for a car service. And customers voted with their wallets by looking for other options for going from A to B. Uber trips dropped by well over a million in one month. That million rides represented fewer passengers using Uber, fewer drivers finding a niche in the market, and less viability for the ridesharing market and the entire gig economy.
But a bunch of ignorant, elitist assholes who don't even take Uber and Lyft because they have cars and drivers paid for by the city of New York will feel oh-so-virtuous, because they have protected the common man, the ignorant laborer who doesn't know any better. You know, by destroying an easy entry-level job he could do in his spare time. But the reality is worse. Much, much worse. It's just a crooked dodge, and any New Yorker who pays attention to the machinations of the taxi and limousine commissions scams will know what's what.
A gig economy is based around flexibility and convenience. That's a problem for municipalities which make money by taxing established industries. New York City is destroying ridesharing because it makes a fortune from auctioning off taxi medallions. Ridesharing ruined that business, so it's ruining ridesharing.
The taxi medallion business was a huge cash cow for the connected elites, and when Uber and Lyft arrived, the value of a taxi medallion crashed. And they would have none of that! So they set their sights on ridesharing companies, and lo and behold!
Posted by: CBD at
02:00 PM