Sunday Overnight Open Thread (6/17/18 ) Father's Day Edition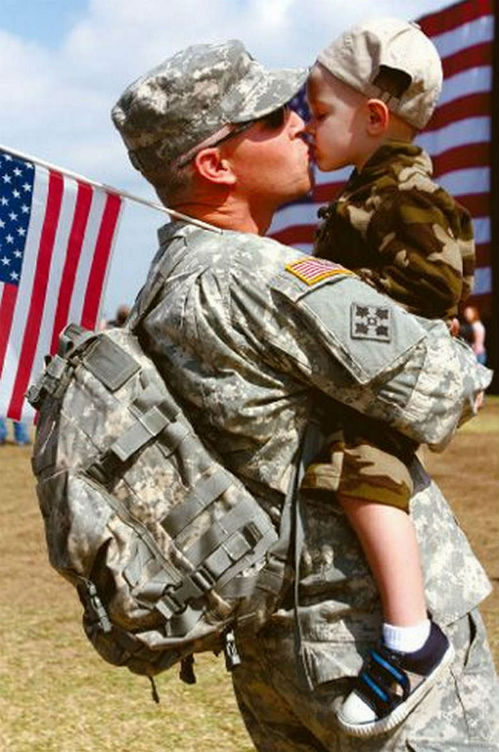 (Happy Father's Day)
*****
The Quotes of The Day
Quote I
History is littered with wars which everybody knew would never happen. Enoch Powell
Quote II
One of the greatest titles in the world is parent, and one of the biggest blessings in the world is to have parents to call mom and dad. Jim DeMint
Moar quotes about fatherhood.
Ahhh fatherhood..............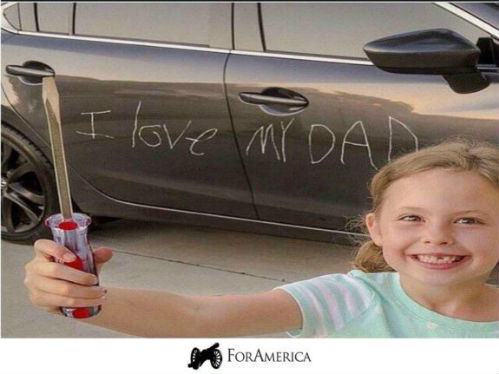 *****
An expensive Father's Day or
Ooops!!!!
Parenthood is filled with all kinds of expenses—both expected and unexpected. As it turns out, children need food and clothes and all kinds of stuff. And sometimes, if you're especially unlucky, they break expensive artwork and you're left holding the bill. That's precisely what happened to a couple from Kansas, whose 5-year-old son broke a sculpture—titled "Aphrodite Di Kansas City," made of glass and pieces of mirror—by "hugging" it. Now his parents are being asked to pay the estimated $132,000 that the piece is worth. The family was attending a wedding at the Tomahawk Ridge Community Center in Overland Park when the boy—who was unattended at the moment—wrapped his arms around the piece and caused it to fall to the ground, breaking it.
*****
Ted Cruz victorious over Jimmy Kimmel.
And it looks like Kimmel (just as other typical lefties) is
a sore loser.
*****
If I ever move to California.
My addiction is safe.
*****
Oh no!!
People making $100,000 per year are destitute.
They better not ask the people of
Green Bay, WI.
Let's face it, wages and salaries are dictated by regions, including but not limited the cost of living, education, occupation and experience. What is a shit-ton of money in Newton, IA is not in NYC.
*****
There is a reason for dump trucks.
Boulder vs. Ford Ranger. And the winner is.......
NSFW-Language
*****
Target,
always on the cutting edge of societal norms?
Target veered out of the politically correct lane the retailer likes to travel in with a Father's Day card featuring a black couple that included the phrase "Baby Daddy." The controversy was prompted by social media users such as Takeisha Saunders, who shared a photo of the card on Facebook. ""You CANNOT be serious Target!!!! Really!!!?!!!!? This was the only Father's Day card that featured a black couple!!!!!!" Saunders wrote, including a series of hashtags.
*****
Twitter loses in court.
CA judge allows deleted Twitter account holder to sue.

Last year, Twitter purged a significant amount of far-right and white nationalist accounts as part of its updated terms of service. The purge led to many cries of free speech violations from members of those aforementioned groups, and now, one white nationalist is taking the social network to court. That would be Jared Taylor, founder of the white nationalist publication American Renaissance. Taylor first sued Twitter in February for banning his account, an action he claimed "violated civil rights and contract law," the Verge reports.
*****
Driving while intoxicated is not a funny matter.
Well, in this instance it was.
h/t ibguy
*****
You have your dairy farmers. You have your cash crop farmers. You have your Body Farmers. Your what?
Body farmers.
While body farms that leave the dead out to rot may be unbelievably creepy, they're also incredibly important — here's why........
*****
We didn't have this 'Green' thing back then.
Checking out at the store, the young cashier suggested to the much older lady that she should bring her own grocery bags because plastic bags are not good for the environment. The woman apologized to the young girl and explained, "We didn't have this 'green thing' back in my earlier days." The young clerk responded, "That's our problem today. Your generation did not care enough to save our environment for future generations."
*****
Tomorrow DOJ Inspector General Michael Horowoitz is expected to testify before Congress.
Some people are putting their eggs in one basket.
Michael Horowitz, the DOJ inspector general, will testify Monday before the Senate Judiciary Committee, defending his report. He will be praised and attacked for his work product. But the politics ultimately will take a back seat to fact-based evidence that will eventually put a lot of individuals in jail.
The idea of people (FBI agents, etc) going to jail is Pollyannaish.
*****
The ONT Musical Interlude
June 17, 1978, Andy Gibb became the first solo artist in the history of the US charts to have his first three releases reach No.1, when 'Shadow Dancing' hit the top of the chart. Spending seven weeks at No.1 it became the best selling single in the US in 1978. via thisdayinmusic.com
The stuff you learn here at the Interlude.
June 17, 1947, Born on this day, American singer and keyboardist Gregg Rolie who has been a member of Santana and Journey. He joined Carlos Santana and others to form the Santana Blues Band in 1965. As a co-founding member of Santana, Rolie was part of the band's first wave of success, including an appearance at Woodstock in 1969 and central roles in several hit albums. via thisdayinmusic.com
*****
She's hot, don't mess with her air conditioner.
Genius Award Winner.
A Columbia County woman is back in jail after she failed to show up in court for an aggravated battery charge. In October of last year, Kimberly Dunn, 35, shot her ex-husband in the testicles after he tried to take an AC unit, according to an arrest report.
*****
Craigslist, what can't it do?
Tonight's Feel Good Story of The Day.
Last December, a 29-year-old woman made a New Year's resolution to donate a kidney and save someone's life. Last night, Jessica Morris made good on her resolution.
*****
A special Father's Day present is our second
Tonight's Feel Good Story of The Day.
*****
Tonight's ONT has been brought to you by Lucky Deer Hooves.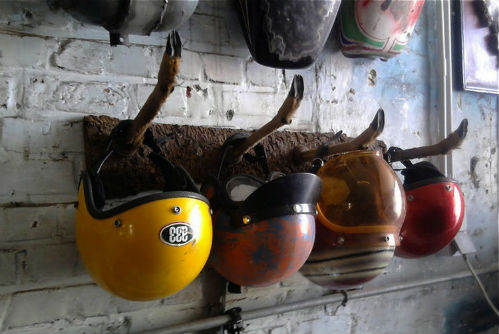 Notice: Posted with permission by AceCorp, LLC. No animals were injured in the making of this ONT.
Posted by: Misanthropic Humanitarian at
09:56 PM