Sunday Morning Book Thread 07-26-2015 [OregonMuse]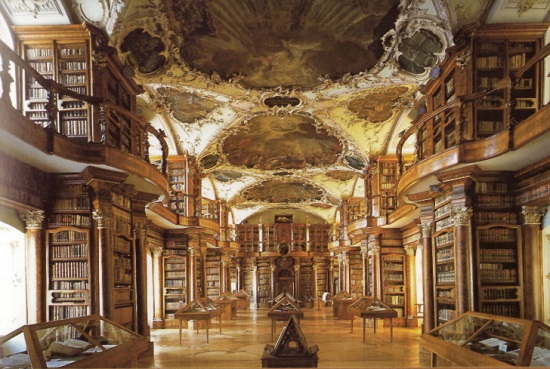 Abbey Library of St. Gall, Switzerland
(
Not sure what library this is
, but the photo came from
here
.) (
Update
: thanks to 'major major major major' for identifying the library in the photo)
Good morning to all of you morons and moronettes and bartenders everywhere and all the ships at sea. Welcome to AoSHQ's stately, prestigious, internationally acclaimed and high-class Sunday Morning Book Thread. The Sunday Morning Book Thread is the only AoSHQ thread that is so hoity-toity, pants are required. Or kilts. Assless chaps don't count. Serious you guys. Kilts are OK, though. But not tutus. Unless you're a girl.
Book thread MULTIPLE TRIGGER WARNINGS because taxes are not "contributions", they're more like "forced extractions", the adjective "social" negates whatever noun it modifies, and the problems facing our country have become too great to be solved by voting.
A great book should leave you with many experiences, and slightly exhausted at the end. You live several lives while reading.
William Styron
The Unspeakable Crimes of Orson Scott Card
Orson Scott Card is probably the worst person in the entire world, in fact, a "monster".
Says so at the end of this 2013 article right here
. Why? Guess. Well, many of you morons probably already know, but for those who don't, Mr. Card is guilty of Thoughtcrime; he hasn't done anything to actually hurt the author, or for that matter, anyone else, but no matter, he holds views on homosexual marriage and homosexuality in general that SJWs do not approve of. And that is sufficient to warrant his expulsion from the human race entirely. So Orson Scott Card is not "of the Body". OK, fine. But there are other reasons for SJWs to hate Mr. Card. They probably won't like the fact that he has written a series of Biblically-themed books that are probably, like his own beliefs, not in accord with SJW dogma. The first one of Card's "Woman of Genesis" series,
Sarah
,
...child of the desert, wife of Abraham, takes on vivid reality as a woman desirable to kings, a devoted wife, and a faithful follower of the God of Abraham, chosen to experience an incomparable miracle.
And:
In his afterword, Card explains that here he is not an apologist for the Bible, but rather "an apologist for Sarah, a tough, smart, strong, bright woman in an era when women did not show up much in historical records."
Most of the time, the traditional Bible accounts are pretty skeletal and there's much that can be fleshed out, and many gaps that can be filled in. So there's lots of room for a creative imagination to work, which can be either a bad thing or a good thing. I consider myself pretty lenient about this, (for example, I'm a fan of the
Zombie Bible
series, which, despite injecting a zombie storyline to various Bible stories, still remains more or less true to the text) as long as the fiction writer does not distort the biblical narrative out of all recognition. So I think it's perfectly OK to make Sarah a "a tough, smart, strong, bright woman". But remember what it says about her in the New Testament:
(1 Pet.3:6)...as Sarah obeyed Abraham, calling him lord. And you are her children, if you do good and do not fear anything that is frightening.
So, in order to maintain a biblically accurate picture of Sarah, her devotion to her husband must also be factored in to her "smart, tough" nature. Which in no way would this detract from her strength as a woman. However, most SJWs, blinded as they are by a cramped and narrow ideology, would not be able to understand this. Or, if they could, it would probably be not well enough to write a convincing character. SJWs would have to pretend that the 1 Peter passage didn't exist, or do something stupid like turn Sarah into a Bronze Age lesbian activist railing against the patriarchy, which is a character they'd obviously be more comfortable with. The two other books in the "Women of Genesis" series are
Rebekah
and
Rachel and Leah
. Card also wrote
Stone Tables
, his imagining of the life of Moses. The Amazon review by Lawrance Bernabo, which came up first on the page, is very informative and I really can't sum it up without just copying and pasting the whole thing. Yes, I'm lazy. The point is, Orson Scott Card is apocolyptically evil and ought to be shunned by all Right-Thinking people.
Non-Book Note
The Center for Medical Progress
is the organization responsible for conducting the succssful sting operation against Planned Parenthood, that revealed deeply disturbing details concerning the traffic in aborted baby body parts conducted by the taxpayer-funded abortion provider. The response of the Obama administration was swift and serious. At the behest of several members of congress, it launched a full-scale investigation...
of the Center for Medical Progress
. Now, is anybody really surprised by this? I didn't think so. I'm guessing that this is just the beginning. CMP is probably going to be looking at a whole series of IRS audits, FBI visits, SWAT teams showing up in the middle of the night, subpoenas, nuisance lawsuits, state and local investigations, etc., the sole purpose of which is to punish them and to drive them out of business. Combating the inevitable lawfare is going to take money. So
here is the CMP donation page
, if you would like to send a few bucks their way. I'm sure they would appreciate it. Every dollar will help. Schadenfreude is not a virtue, but I have to admit that for the past couple of weeks, I've been watching Planned Parenthood getting punched in the nuts again and again and I just can't wipe this smile off my face. We now return you to our regularly scheduled book thread.
To Steal A Mockingbird
I haven't covered the release of Harper Lee's new novel,
Go Set A Watchman
, her first since
To Kill A Mockingbird
over 50 years ago, because, actually, I just don't care. TKAM came out in 1960, when the civil rights movement was just getting up to full speed nationally, so it's obvious why the story of defending an innocent black man would be of interest. But now? 5 decades later, and another story with pretty much the same characters? I'm just underwhelmed. But
in a thread of a few days ago
, a moron mentioned a controversy I never knew about before:
402 re:Harper Lee
Y'all got it backwards. To Kill a Mockingbird is the "fake". The ugly literary rumor has always been that she was having trouble with the manuscript so she sent it to her cousin to look it over and offer suggestions. He basically rewrote the thing and that is what was sent in and published. He appears in TKaM as cousin Dill, his real name was Truman Capote.

Posted by: the guy that moves pianos for a living... at July 15, 2015 08:06 PM (W6ipS)
As I said, this I had never heard, so I Googled around and found
this interview on NPR
with Dr. Wayne Flynt, retired professor of history from Auburn University. Apparently, a letter from Truman Capote has been made public, the gist of which is this:
FLYNT: Essentially, it says that a year before the novel was published in July of 1960, that Capote had seen the novel, had read much of the book, and liked it very much, and commented that she has great talent. And nowhere in the letter does he claim any involvement whatsoever in the book.
And, speaking of Capote:
FLYNT: Here's a person who was known for his enormous ego and for his banter and for his self-promotion. Here's a man who wanted desperately to win the National Book Award and wanted desperately to win the Pulitzer Prize and never won either one of them. And to assume, as jealous as he was of Harper Lee's success, he would not have claimed credit for this if he in fact done it, is simply too much for me to believe.
Heh. So, in other words, if Capote actually had written TKAM, his bloated ego would not have let him keep his fat yap shut. This is actually more convincing to me than any letter, extant or otherwise.
Civil War History
Longtime moron CBD e-mailed this week and would like good Civil War history recommendations:
McPherson and Catton come to mind, but I am no expert, and would like some input from others.
So would I. Other than
Shelby Foote's multi-volume history
, I got nothing.
Books By Morons
I heard from a lurking moron this week who told me he and his siblings tried to stop his mother from writing a novel (by taking up all of her time). But they were ultimately unsuccessful and so the novel
Angel
has been published. It is a coming-of-age tale set in Appalachia, and steeped in the culture of that region. My correspondent describes it as "southern gothic-lite: lots of family intrigue and dark mystery, less of the gruesome and macabre bits." It is available on Kindle for 99 cents. She has also written the novella
All The Pieces
, another tale of Appalachia. Also 99 cents on Kindle.
What I'm Reading
According to the book thread comments for the past few weeks, many of you morons are reading
Flashback
by Dan Simmons, so I started it a couple of days ago. Not sure where it's going yet, but I'm impressed with Simmons' craftsmanship as a writer. Some of the Amazon reviews complain about the politics (which are strongly conservative), but I haven't got to those parts, yet. While I was on Amazon, another book by Simmons caught my attention.
The Crook Factory
looks like a "historical" spy novel involving famous people:
Joe Lucas, an amoral special agent in the FBI, finds himself assigned to a case that seems designed as punishment. FBI Director J. Edgar Hoover has tasked him with keeping tabs on an amateur spy network in Cuba. The network has been coined "The Crook Factory" by it's ringleader - none other than Ernest Hemingway...And after joining up with Hemingway's eight-man spy network, Lucas discovers a spiderweb of machiavellian schemes involving the intelligence agencies from three different countries that could affect the outcome of World War II...Cameo appearances by Ian Fleming, Gary Cooper, Ingrid Bergmann and Marlene Dietrich.
Simmons claims, in an afterwards, that 95% of the events he has written about in this book are true. I think I'll read this one next. Which sounds far-fetched to me, but even if his claim is BS, it sounds like it will be a fun read.
___________
So that's all for this week. As always, book thread tips, suggestions, bribes, rumors, threats, and insults may be sent to OregonMuse, Proprietor, AoSHQ Book Thread, at the book thread e-mail address: aoshqbookthread, followed by the 'at' sign, and then 'G' mail, and then dot cee oh emm. What have you all been reading this week? Hopefully something good, because, as you all know, life is too short to be reading lousy books.