Sunday Morning Book Thread 06-14-2015: Serious Cheese [OregonMuse]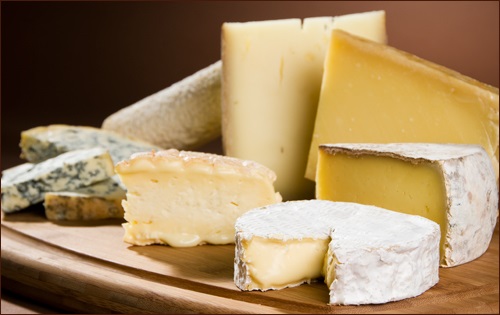 For That Special Ewok In Your Life
Good morning to all of you morons and moronettes and bartenders everywhere and all the ships at sea. Welcome to AoSHQ's stately, prestigious, internationally acclaimed and high-class Sunday Morning Book Thread. The only AoSHQ thread that is so hoity-toity, pants are required. Or kilts. Serious you guys. Kilts are OK, too. But not tutus. Unless you're a girl.
Books are better than TV. If you fall asleep, you don't miss the ending.
-Family Circus
TRIGGER WARNINGS: the AoSHQ book thread extols the virtues of Western Civilization in general and America in particular, considers a well-armed citizenry a much-neglected necessity, voting being a privilege, not a right, believes that the propagation of fake rape stories for the sake of a particular narrative is actually harmful to women, and indulges in
promiscuous use of the word "guys"
.
The AoSHQ Book Club
Hey you guys! This is a reminder that the Ewok-In-Chief will be putting up his first regular book club thread later on today, about 7PM Eastern/4 PM Pacific, assuming he's conscious. A book club was suggested here a few months ago, but I really don't have time for it, so I'm glad ace has started one. So the book you're supposed to be reading for the book club is
The Crying of Lot 49
by Thomas Pynchon. The Amazon blurb says
The highly original satire about Oedipa Maas, a woman who finds herself enmeshed in a worldwide conspiracy, meets some extremely interesting characters and attains a not inconsiderable amount of self-knowledge.
The Big Cheese
And speaking of ace, since he kind of let on in a thread earlier this week that he's bi-curious about cheese, I figure there must be something he could read to whet his appetite. So maybe he could start out with something mild, like
Mastering Cheese: Lessons for Connoisseurship from a Maître Fromager
by Max McCalman:
After years of teaching courses for amateurs at the Artisanal Premium Cheese Center, where he is Dean of Curriculum, McCalman has developed a compelling set of classes for understanding and experiencing cheese. A full master's course in a book, Mastering Cheese covers the world of cheese in twenty-two distinct lessons, featuring tasting plates that deliciously demonstrate key topics. For example, a chapter titled "Stunning Stinkers" explains why some of the strongest-smelling cheeses can be among the best tasting and then recommends several stars of this category. Learn about the issues facing real raw-milk cheeses and then go out and taste the differences between these cheeses and those made with pasteurized milk.
So if ace wants to be a cheese connoisseur, it sounds like this book would be perfect for him. The pastor of my church thought it would be fun to sample all of the cheeses mentioned in Monty Python's
infamous Cheese Shop sketch
(all except for "Venezuelan beaver cheese", which is a "joke cheese", kind of like
"Biggus Dickus" is a joke name
) and last week he served Limburger. It's actually quite a mild cheese and he told us that the bacteria that gives Limburger cheese its strong smell is the same bacteria that causes foot odor. Which makes me wonder who it was that decided that a stinky foot would make great cheese. It tasted OK, but I could not get past the aroma. But, many people like it, so I shouldn't make fun of it. One of the guys at church said his father enjoyed liverwurst and Limburger sandwiches for lunch every day. Which I think should be on one of those "I Dare You To Eat This" reality TV shows. Although it does have the advantage that your lunch is pretty much guaranteed that it will never be stolen. Anyway, after that, ace would probably be ready for
The Science of Cheese
by Michael Tunick:
Today we know of more than 2,000 varieties of cheese from Gorgonzola, first noted in year 879, to Roquefort in 1070 to Cheddar in 1500. But Tunick delves deeper into the subject to provide a wide-ranging overview that begins with cows and milk and then covers the technical science behind creating a new cheese, milk allergies and lactose intolerance, nutrition and why cheese is a vital part of a balanced diet. The Science of Cheese is an entertaining journey through one of America's favorite foods.
Sounds yummy. Finally, perhaps he'd like something a little stronger and tangier, like
Cheese and Culture: A History of Cheese and its Place in Western Civilization
by Paul Kindstedt:
Behind every traditional type of cheese there is a fascinating story. By examining the role of the cheesemaker throughout world history and by understanding a few basic principles of cheese science and technology, we can see how different cheeses have been shaped by and tailored to their surrounding environment, as well as defined by their social and cultural context. Cheese and Culture endeavors to advance our appreciation of cheese origins by viewing human history through the eyes of a cheese scientist.
Big Brother Is Watching You
Hey you guys, I got 90% on this
Test Your Knowledge of 1984
quiz. See how well you can do. It's only 10 questions, so it won't take very long.
The Martian -- Trailer
Many of you guys have read and enjoyed Andy Weir's novel
The Martian
. It was adapted to a screenplay and here's the trailer to the movie. I haven't read it, so I don't know if this trailer gives any indication of the faithfulness of the adaptation:
New Pratchett Novel
Title:
The Shepherd's Crown
:
The Shepherd's Crown is a forthcoming comic fantasy novel, and the last novel to be written by Terry Pratchett, set on the Discworld. It will be the fifth novel within the Discworld series to be based on the character of Tiffany Aching. It is to be published in the UK on 10th September 2015.
According to Sir Pratchett's daughter Rhianna,
this will be the last Discworld novel
:
The author, videogame and comics writer told a fan last week that her late father's forthcoming novel, The Shepherd's Crown, featuring teenage witch Tiffany Aching, would be the final Discworld book. And asked by a fan if she would be continuing the series herself, she ruled out the possibility.

"No. I'll work on adaptations, spin-offs, maybe tie-ins, but the books are sacred to dad," she wrote on Twitter. "That's it. Discworld is his legacy. I shall make my own."

She added: "To reiterate – no I don't intend on writing more Discworld novels, or giving anyone else permission to do so."
So, fin. I will miss Captain Vimes and Corporal Carrot, my two favorite Discworld characters.
A YA Novel -- By Philip K. Dick?
Dick actually wrote this book
quite some time ago
:
Dick sent the manuscript to Doubleday in the late 1960s alongside his acclaimed time-slippage story for adults, Ubik, but his editor decided to decline. Nick and the Glimmung found a publisher in 1988, six years after its author's death, but slid out of print around 1990. A limited run was produced by the US publisher Subterranean Press in 2008, but has since sold out. Gollancz are now due to release a UK edition in September 2015.
The novel,
Nick and the Glimmung
, takes place on a futuristic earth where
pets are illegal, jobs are rationed, and school is taught in multiple classrooms by one teacher. Nick and his family face the Anti-Pet Man when news of their secret cat gets out. To save Horace, they leave Earth for Plowman's Planet, a 10-day journey into space. Awaiting them there are colonists caught between alien species, who are at war with each other. Nick encounters Glimmung, the most feared creature on the planet, who guards a book that tells the future.
It's funny, I read that plot description and I just know this is a PKD book without ever seeing his name. Also, what would make this even more awesome would be if the audio CD version could be narrated by Christopher Walken. I'm not sure why, it just sounds appropriate. Unfortunately, they chose someone else.
Guess That Tweet
What famous author tweeted this:
"Where 99.3% of women report having been sexually harassed & rape is epidemic – Egypt – natural to inquire: what's the predominant religion?"
(a) Brad Thor
(b) Pamela Geller
(c) Michelle Malkin
(d) Joyce Carol Oates Try to guess. As the poet E.L. Clickbait once said,
the answer may surprise you
.
You Guys Tired of Game of Thrones?
I'm not. Actually, that's because I never watch it. Mrs. Muse and I got about 75% through the very first episode, and after the 3rd barnyard sex scene, we said 'enough'. Whatever good points GoT may have, it's simply not worth picking through all of the crap to find. So I was mildly curious about this WaPo piece,
If you're burned out on 'Game of Thrones,' read these books
. This being a WaPo piece, you pretty much have to assume that the author is way left of center, so naturally she's going to be recommending books commensurate with her to-the-left values. With that in mind, she had a couple of interesting selections:
Kim Stanley Robinson's Mars trilogy...They're set in the future and concern the colonization of Mars, so the biggest animals in question are anaerobic bacteria that can find a foothold in the Martian landscape. But if you love getting lost in the details of a fictional universe, then these are the books for you.
Red Mars
Blue Mars
Green Mars
These are "hard" science fiction novels, so everything is made to sound as plausible as possible, and the scientific descriptions are pretty detailed. The 5-star Amazon reviews are enthralled by this, while the 1-stars complain of intense boredom and desperate need for better editing. Another of her selections which sounds like it could be interesting is
The Lions of al-Rassan
by Guy Gavriel Kay. It's a one-off novel set in an alternate "fantasy" universe (no magic) that looks very much like medieval Spain:
Though the setting is the fictitious Al-Rassan, and there are passing references to the "Star-born," any ancillary connection with science fiction is almost irrelevant to the story. Kay provides insightful glimpses into the goals and motives of his many characters, including King Almalik of Cartada, his adviser Ammar ibn Khairan, a young soldier, Alvar de Pellino, and the compelling female physician Jehane...Studded with poetry that is evocative of Spain (some selections are reminiscent of El Cid), the story is buttressed with convincing cultural and social details and descriptions of medicine as it was practiced in the 12th century.
Medieval Spain before the time of Columbus was quite a lively place. I found this out by reading
Christianity and Islam in Spain 756-1031 A.D.
by C. R. Haines. First published in 1889, it's a Kindle freebie. This book, which I am finding very interesting, and not at all dry, came to my attention when it was listed among the books found in Osama bin Laden's hidey-hole, as I mentioned
a couple of weeks back
. Kay has created these sorts of different-but-strangely-similar universes in some of his other books, notably
Sailing to Sarantium
(really the Byzantine Empire) and also
Tigana
(Renaissance Italy). Not quite "historical fiction", call it "alternate historical fiction".
Books By Morons -- And A Freebie
Long-time lurker John D. Payne e-mailed me a few days ago to recommend his own novel:
The Crown and the Dragon is the story of a dangerous outlaw and a paladin in training, thrown together by fate. He and she are on the run together, chased by a fiery dragon, an invading army, an evil sorcerer, and a demon monster made of crows.
And then it gets even worse:
There's also an ex-wife with a grudge, in case things weren't scary enough.
Truly the stuff of nightmares. You can buy this novel
from Amazon
for $4.99 or as part of this
Epic Fantasy Bundle
available only for a limited time. It's one of those "storybundles" where the price is
determined by the reader
:
The StoryBundle concept is pretty simple. There are a fixed set of books that we offer in a bundle, and each bundle is available only for a limited time. If you miss out on the bundle, you'll have to buy the books individually from each author.

Again, one of the central concepts is that you get to decide how much each bundle is worth to you. Think each individual book in a bundle of five books is worth $2? That's fine! Pay $10 and get five books! Only think they're worth $1 each because you're not sure if you like a certain genre? That's fine too. If you want to reward these authors and encourage more independent writers by giving a bit more, that's fantastic as well.
The deal on this bundle ends on June 18th. In addition, the author is offering some freebies:
I have codes that can be redeemed for the whole ebook bundle, 13 books. I will give away these codes to people who share a link to the storybundle website on their Facebook/Twitter/etc. and then link that in the book thread comments so I can see they did it.
Mr. Payne informs me he will draw 5 random winners from the book thread comments at midnight Sunday/Monday. Presumably, you guys who wish to participate in this should have you contact information on Facebook/Twitter/whatever or include it in the comment, so your redemption code can be sent to you.
___________
So that's all for this week. As always, book thread tips, suggestions, bribes, rumors, threats, and insults may be sent to OregonMuse, Proprietor, AoSHQ Book Thread, at the book thread e-mail address: aoshqbookthread, followed by the 'at' sign, and then 'G' mail, and then dot cee oh emm. What have you all been reading this week? Hopefully something good, because, as you all know, life is too short to be reading lousy books.