Sunday Morning Book Thread 05-24-2015: For The Rough Men Willling To Do Violence On Our Behalf [OregonMuse]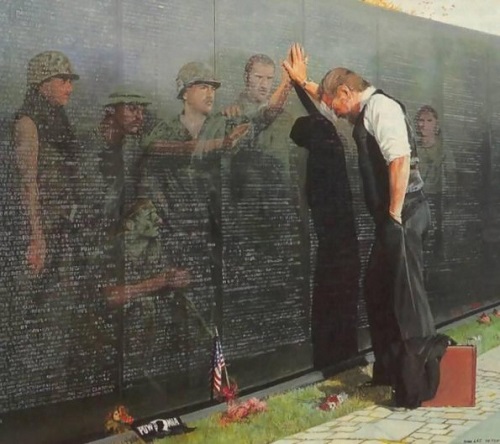 Good morning to all of you morons and moronettes and bartenders everywhere and all the ships at sea. Welcome to AoSHQ's stately, prestigious, internationally acclaimed and high-class Sunday Morning Book Thread. The only AoSHQ thread that is so hoity-toity, pants are required. Or kilts. Kilts are OK, too. But not tutus. Unless you're a girl.
Book Quote
Anyone who says they have only one life to live must not know how to read a book.

-Author Unknown
Many of you will recognize that the title of this morning's book thread is from the quote by George Orwell, "people sleep peacefully in their beds at night only because rough men stand ready to do violence on their behalf." This is a great quote, but alas, Orwell never said it.
Here is an interesting account
of how it probably came to be misattributed.
We Will Remember Them
With proud thanksgiving, a mother for her children,
England mourns for her dead across the sea.
Flesh of her flesh they were, spirit of her spirit,
Fallen in the cause of the free.
...
They shall grow not old, as we that are left grow old:
Age shall not weary them, nor the years condemn.
At the going down of the sun and in the morning
We will remember them.

Excerpt from
For The Fallen
by Robert Laurence Binyon (1869-1943)
War Novels
There's a number of "greatest war novels" lists available (for example,
this one
, and
that one
, and
that one
and
that one in particular
), and there are some great books on those lists, but I decided to pick just one novel for this Memorial Day,
A Midnight Clear
by William Wharton, which didn't make many of the lists. It just sounded interesting:
Set in the Ardennes Forest on Christmas Eve 1944, Sergeant Will Knott and five other GIs are ordered close to the German lines to establish an observation post in an abandoned chateau. Here they play at being soldiers in what seems to be complete isolation. That is, until the Germans begin revealing their whereabouts and leaving signs of their presence: a scarecrow, equipment the squad had dropped...and, strangest of all, a small fir tree hung with fruit, candles, and cardboard stars. Suddenly, Knott and the others must unravel these mysteries, learning as they do about themselves, about one another, and about the "enemy"
Wharton also wrote an account of his own WWII experiences,
Shrapnel: A Memoir
.
Military Fiction by Veterans
Thanks to Oldsailors Poet for telling me about
this site here
for military fiction written by actual veterans. Sales-based donations go to various veterans groups. How much and what veteran groups depends on the title. The link is to the "action and adventure" books, but there are many books and many genres represented.
Osama Bin Laden's Bookshelf
Of course, OBL's reading has been interrupted as of late, and he probably won't be getting back to it any time soon. But the content of his bookshelf
has recently been declassified
, and some of the titles are English language texts. Here are some of the highlights:
The 2030 Spike: Countdown to Global Catastrophe
by Colin Mason.
Within 30 years, in the 2030 decade, six powerful 'drivers' will converge with unprecedented force in a statistical spike that could tear humanity apart and plunge the world into a new Dark Age. Depleted fuel supplies, massive population growth, poverty, global climate change, famine, growing water shortages and international lawlessness are on a crash course with potentially catastrophic consequences.
This sounds like that old time
Population Bomb
religion that nobody pays much attention to because we all know it's crap. It's just another "crisis" pushed by the left in order to seize more power. And speaking of steaming piles of crap, there's also
America's "War on Terrorism"
by Michel Chossudovsky. Get a load of this:
According to Chossudovsky, the "war on terrorism" is a complete fabrication based on the illusion that one man, Osama bin Laden, outwitted the $40 billion-a-year American intelligence apparatus. The "war on terrorism" is a war of conquest. Globalization is the final march to the "New World Order", dominated by Wall Street and the U.S. military-industrial complex.
Yada, yada, yada... Actually, it might be kind of interesting to know what ol' OBL actually thought about this. Would it be closer to "This guy don't know nuthin'" or "Curses! I've been found out!"?
Black Box Voting: Ballot Tampering in the 21st Century
by Bev Harris. Another conspiracy book, this one about voting machines. The bad guys: corporations. Of course, you already knew this.
Confessions of an Economic Hit Man
by John Perkins. This is the one written by an idiot who claims he was hired by "the NSA" and sent to third world countries to falsify economic statistics. Uh, actually what the NSA does is collect and analyze intelligence data, not send agents into the field, that's the CIA. Here's a pro tip for wannabe left-wing "hit men": if you're going to spin a tall tale, at least make your lies plausible. Next, we have
Bloodlines of the Illuminati
by Fritz Springmeier.
Bloodlines of the Illuminati is a unique historical genealogical who's-doing-it book, rich in detail, providing a devastating exposé of the people and families who are THE movers and shakers of the United States and the entire world.
HA HA HA HA HA HA HA HA HA HA HA HA HA HA HA HA HA HA HA HA HA HA HA HA HA HA HA HA HA HA HA HA!
Christianity and Islam in Spain 756-1031 A.D.
by C. R. Haines. First published in 1889, it's available for FREE on Kindle. I love these old history books, so I immediately downloaded it. There's more stuff on the list from Chomsky and other progtard authors. I'm surprised there was nothing from Howard Zinn. About the only "mainstream" book I could find is
The Rise and Fall of the Great Powers
by Paul Kennedy. One thing's for sure: OBL sure liked him some left-wing kookery. Rush was
all over this story
last week. The coverage was pretty bland. I think Fox had a story on it, and
the Daily Mail
in the UK. And the
LA Times piece
goes a long way to avoid talking about the obvious, and describes the far left kook authors in OBL's collection with the anodyne phrase "government critics." Only the British piece refers to Chomsky as a "left-wing radical", which, of course, is exactly what he is. Rush rightly calls the MSM out for the tepid coverage:
Can you imagine if they had found a copy of one of my books in there? Can you imagine? That would be the headline. But since there are books by a bunch of leftists in there, ho-hum, no big deal.
It's just a local crime story.
A Book About Stealing Books
An historical thriller that sounds like it's worth reading
:
Writer Matthew Pearl is earning positive reviews for his new book "The Last Bookaneer," with critics calling the novel "a loving testament to the enduring power of paper books" and Pearl himself "the reigning king of popular literary historical thrillers."
Old criminals in a changing world: "Bookaneer," which was released on April 28, centers on the hunt for a manuscript by "Treasure Island" author Robert Louis Stevenson. "Bookaneers" like Pen Davenport make money by absconding with manuscripts, but now that new laws will put this trade to a halt, Davenport and others set out to complete one last theft: getting their hands on Stevenson's unpublished book.
The Last Bookaneer
is Kindle price high at $11.99 and I'll wait for the price to come down a bit.
Scorpions Are Our Friends
I never knew such animals existed
.
Chelifer cancroides or book scorpions are a type of pseudoscorpion that eats the booklice that eat and destroy old books.

As a pseudoscorpion they are not real scorpions, but they do have pincers and live in dusty areas, especially those with old vintage books. They are too tiny to hurt humans and indeed are small enough you probably won't notice them unless you are looking.
So, if you have old books,
these tiny creatures are actually good to have around
:
The book scorpion is a tiny creature that makes its home in your bookcase, but it is not a pest. If you are a book lover, the book scorpion is your greatest ally in keeping your library safe from destruction.
Marvelous
Stan Lee will soon be publishing his autobiography --
as a graphic novel
:
Touchstone plans to publish Lee's "Amazing Fantastic Incredible: A Marvelous Memoir" on Oct. 6.
I thought, hmmm, this might be interesting for comic book fans. But then he had to go and ruin it by opening his mouth:
"As Marvel just celebrated its seventy-fifth anniversary, I thought maybe it's time for a look at my life in the one form it has never been depicted, as a comicbook ... or if you prefer, a graphic memoir," Lee said in a statement. "It strikes me as a horrendous oversight that I haven't done it before! If I didn't know everything about my life already, I'd envy your voyage of discovery!"
Ugh. I know Stan Lee is 92 years old and one of the most successful men in the world, but if he really is that full of himself, it kind of spoils fot me anything he has to say. If I was impressed by men with incredibly over-inflated egos, I'd be watching Bill O'Reilly every night.
Books By Morons
I heard from several new moron authors this week. Jeb Kinnison would like you to read his science fiction novel,
Red Queen: The Substrate Wars 1
Red Queen is a story about young people searching for freedom and agency in a world dominated by bureaucrats, administrators, and propagandists. The world of Red Queen is a police state with its roots in today's events: post-9/11 warrantless physical and electronic surveillance; the erosion of personal liberties for supposed security reasons, even when the government's actions are shown to be ineffective or wrongheaded; and the rise of a penal-industrial complex that imprisons one in three black men, often for victimless crimes.
The prologue begins with a quote from Robert Heinlein, "There is nothing in this world so permanent as a temporary emergency." The sequel to 'Red Queen' is
Nemo's World: The Substrate Wars 2
___________
I forgot to mention this last week, but the Kindle version of
Amy Lynn: Golden Angel
is now available for purchase for the reasonable price of 4.99
___________
OK,
Smartass of Mars
is probably worth buying for the title alone. Jim Gavin, the author, e-mailed this week and told me that
it's my scifi/fantasy homage to the sword-and-planet novels of Edgar Rice Burroughs and many others. However, I didn't just want to write another pulp pastiche so this one is set in the modern day and flouts a lot of genre conventions. I think AOSHQ readers would really like it as it's very old school despite the modern setting -- no badass princesses who don't need rescuing. I also managed to work in some references to CS Lewis' Space Trilogy... [it's] the story of a skinny milennial nerd who has to rediscover manly virtues to survive.
Trigger warnings for crazy action, cussing, laser guns and swords, a drunken riot in a Martian capital, and psychic powers. Gavin is also the author of
Hard Boiled Vampire Killers
. I like the tag-line: "Fully loaded and half in the bag, fighting evil on two 99-cent tacos a day."
___________
Of course, for books you need to buy just for the title, it's hard to beat the
Hard Luck Hank
series by Steven Campbell. The first book,
Screw The Galaxy
, introduces us to the eponymous main character, a thug with a mutation that allows him to withstand extraordinary levels of physical trauma, kind of like the main character you manipulate in that old FPS game, DOOM. The sequels are
Basketful of Crap
and
Prince of Suck
.
___________
Jami Gold
has written a full-length paranormal romance novel,
Treasured Claim
, is available on Kindle for just 99 cents. In her e-mail she told me:
Treasured Claim is a multi-award-winning contemporary fantasy romance--imagine dragons and swords and knights in contemporary Chicago...Desperate for treasure, a shapeshifting dragon resorts to thievery, but a knight steals her heart...
I like happy endings.
___________
Anna Puma's collection of short stories,
The Princess Who Caused Fear,
is available for FREE on Kindle for this weekend. Thanks, Anna.
What I'm Reading
I'm about half-way through
For Honor We Stand
, the 2nd in author H. Paul Honsinger's
Man of War
military sci-fi series. I've read this series referred to as "Horatio Hornblower in space". and while I don't think it's quite that, nevertheless it is very fun to see Commander Max Robicheaux deal with the various challenges thrown his way, from trying to get his crew into shape, to clashing with the navy brass, to actually fighting the enemy, which ostensibly he was sent out to do. Another thing I like about the series is that all the books, not just the first one, are reasonably priced. One of you morons complained last week about
The Black Prism
, and I feel your pain.
TBP
is a good book, which I've read a while back, and author Brent Weeks has developed an interesting system of magic based on the colors of the prism. But being the cheap bastard that I am, I'm not about to pay $10 to continue the series. I look at it this way: The pricing of the Black Prism series goes like this: 1. $1.99. 2. $9.99. 3. $8.99
The pricing of the Man of War series goes like this.: 1. $3.99. 3. $3.99. 3. $4.99 Seems to me that you'd get a lot more sales with the
MoW
pricing scheme than the
TBP
system, but maybe I'm wrong. All I know is that I'm going to finish out the
MoW
series, but not
TBP
. Even if they priced
MoW
higher, say 1-2 bucks more for each book, that still would be more attractive then
TBP
___________
So that's all for this week. As always, book thread tips, suggestions, bribes, rumors, threats, and insults may be sent to OregonMuse, Proprietor, AoSHQ Book Thread, at the book thread e-mail address: aoshqbookthread, followed by the 'at' sign, and then 'G' mail, and then dot cee oh emm. What have you all been reading this week? Hopefully something good, because, as you all know, life is too short to be reading lousy books.