Sunday Morning Book Thread 02-15-2015: Downfall [OregonMuse]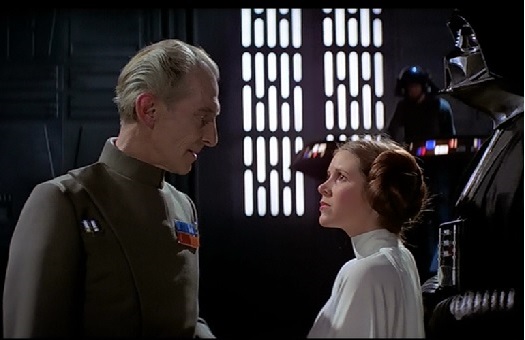 "Here At The IRS, We Think Your TEA Party Is Offensive To The Emperor."
Good morning to all of you morons and moronettes and all the ships at sea. Welcome to AoSHQ's stately, prestigious, and high-class Sunday Morning Book Thread. The only AoSHQ thread that is so hoity-toity, pants are required. Or kilts. Kilts are OK, too. But not tutus. Unless you're a girl.
Book Quote
Read the best books first, or you may not have a chance to read them at all.

-Henry David Thoreau
The Last Remnants Of The Old Republic Have Been Swept Away
I wanted to discuss
the Jay Cost piece over at The Federalist
, but it looks like The Big Cheese Himself
has already covered it
, so I can only add to what has already been said. I especially like this observation from Cost:
[T]he New Deal...effectively inverted the constitutional schema. Previously, the federal government was only allowed to do what the Constitution expressly authorized. From the New Deal onwards, the government could more or less do anything that the Constitution did not expressly forbid.
And, sad to say, most Americans appear to be pretty much OK with this. Except for a few bitter clingers like us, that is. Thanks to the progressives, massive federal overreach became the new normal, and the only memories people have of what it was like before, the only thing that old people can remember, is the Depression. Cost develops this and other of his ideas about government in his book
A Republic No More: Big Government and the Rise of American Political Corruption
, which I definitely will
not
be paying the $18.99 Kindle price for, even though it's probably well worth reading. I'll just wait until the price comes down a bit. One of the Amazon reviewers of Cost's book referenced this other book,
The Original Constitution: What It Actually Said And Meant
by con law professor Robert Natelson, and included this juicy quote from it:
During the ratification debates advocates of the Constitution publicly listed examples of activities over which the federal government would have no authority. They did so to inform and reassure Ratifiers and members of the general public about the limited scope of federal power. Among the activities listed as within the exclusive sphere of the states were marriage, divorce, and other aspects of domestic relations; manufacturing (necessarily including labor relations); other business enterprises; agriculture and other land use; land titles and conveyancing; property outside of interstate trade; commerce wholly within state lines; state and local government; the regulation of most crimes and civil suits; social services; training the militia and appointing militia officers; religion; and education."

The U.S. Constitution would not have been ratified without these assurances by the Federalists about the actual meanings of many of the constitution's clauses...Nine of thirteen states ratified the Constitution on condition of those Federalist assurances.
In order to understand the constitution, we need to understand how English was used in the 18th century, and what certain words and phrases actually meant to someone living back then. Which may be different from the way we understand them today. This is crucial knowledge which has been pretty much forgotten for over two centuries. And nobody cares. Which is why we're so utterly, utterly boned.
Weapons of Micro Destruction
From the sidebar earlier this week, there's a link to a Popular Mechanics article on
how to make a blow gun out of playing cards
. No, really. Fortunately, this comes from a book written by John Austin,
Mini Weapons of Mass Destruction: Build and Master Ninja Weapons
, which includes plans for how to build a Crouching Tiger Catapult, Paper Clip Grappling Hook and the Craft Stick Katana. Austin continues the fun in a number of sequels, including
Mini Weapons of Mass Destruction 2: Build a Secret Agent Arsenal
and
Mini Weapons of Mass Destruction 3: Build Siege Weapons of the Dark Ages
.
Fifty Shades of Crap
Fifty Shades of Suck
Fifty Shades of Fail
Let The Ceaseless Mockery Begin
Well, I guess the crappy movie based on the crappy book came out this week, and to celebrate this craptacular festival of crap, here are some parodies I found by googling for, would you believe, "Fifty Shades of Gray parodies". And there's a crap ton of them out there. Here are some examples: First up, there's
Fifty Shades of Beige
by "Reid Mockery", and here is a bit of the description on Amazon:
The lead character is Annis Thesia. She's not that great looking, terribly naive and has fallen hard for Bobby Beige, Pittsburgh's most eligible billionaire. The comic sexual exploits of this bizarre relationship will keep you going as you dive into the wild world of kinky sex with two total idiots...Warning: It does contain some foul language and very weird acts not meant for normal people.
Personally, I think the whole 'sparkly vampire' genre is not meant for normal people, but then again, I'm a bad person who is very judgmental. In any event, Mr. "Mockery" has already penned a couple of 'Beige' sequels, thus proving that E.L. James' crappy book will no doubt be providing material for ridicule and abuse for decades. Then there's
Fifty Shades of Black and Blue
by "I.B. Naughtie", which I'm mentioning just because of the author's silly
nom de plume
, but it's got a crapload of 1-star reviews, so maybe it's not all that good. How about
Fifty Shades of Grey and Zombies
by "Grey West", which Goodreads describes as "truly romantic" and "erotic and sweet". Really. And if you want to combine genres, Joy McKann/Little Miss Atilla's husband has just published
50 Shades of Zane Grey
, which puts the female protagonist "Anna Ironhead" in, guess what, a western setting.
Anna seeks romance and finds it in abundance as she is also courted by an honest, but toothless, Indian scout; a dishonest but well-toothed bandit; and a fairly honest but hapless telegraph clerk. In addition, Anna must endure shootouts, Indian attacks, and internal battles with her Inner Spinster and her Inner Canadian goose, whose honking erupts at the most inappropriate times.
Joy says this parody is "about as erotic as Benny Hill." Which I guess means that the characters run around in speeded-up motion over a "Yakkity Sax" soundtrack. Oh heck, a whole bunch are listed
on this page
. Finally, there's
Fifty Shades of Chicken: A Parody in a Cookbook
by "F. L. Fowler" that teaches you how to pull, jerk, stuff, and truss your chicken for recipes such as Dripping Thighs, Sticky Chicken Fingers, Bacon-Bound Wings, Holy Hell Wings, Mustard-Spanked Chicken, and others that are too unspeakably tasteless and rude for this high-class book thread.
Have We Reached Peak E-Book?
The LA Times reports
an increase in print book sales in October:
[C]ompared to October 2013, sales of hardcovers were up 14%. Trade paperbacks rose 14.6% while mass market paperback sales were up 9.9%.
Overall, print sales are down from 2013 and the October increase didn't make up for it. However:
In England, signs are pointing to an e-book plateau. The bookstore chain Waterstones reported that print book sales at its stores were up 5% in December. In 2013, British readers spent $3.3 billion on printed books and just $455 million on e-books.
Well, OK, maybe. E-books certainly aren't the be-all and end-all of reading, and there are still advantages with dead-tree editions. Many people just prefer the solid feel of holding on to a real book. Plus, some people like to use yellow markers to highlight interesting or pertinent passages in their books, and others are inveterate scribbles of notes in the margins. You can also do these things with your e-books, but it's more difficult, and I daresay, probably not as satisfying.
So What?
When I first got my Nexus 7 tablet, I was perfectly happy with the operating system it came with, Android 4.whatever it was, maybe 1 or 2, I forget exactly. I don't use it for much, just e-reading and playing a few chess apps. But then Google pushed out 4.3, then 4 and I said OK, fine, I have no idea what new features I was getting, but whatever they were, I didn't think I was using them, it all looked pretty much the same to me. Then they pushed v. 5, I said no, and that was it for a month or three. But then I turned the device on a week or so ago and I see the message "Android update downloaded and ready to install". So it looks like I didn't have a choice. So now I'm on 5, which looks substantially different, and my tablet is a bit slower, but other than that, not much has changed. It's getting closer to the point where I'm going to have to buy a newer, faster tablet that will better handle the increased demands of Android 5, just so I can read my books.
Books By Morons
Longtime lurker Neil Russell broke the surface (at least in e-mail) to tell me about his series of novels featuring Rail Black, whom he describes as "hybrid of John D. MacDonald's Travis McGee and Ian Fleming's James Bond, but about a half-foot taller than either." A wealthy, ex-Delta Force operator, Black now uses his talents and resources to help friends in trouble. The first novel in the series,
City of War
, starts out with a bang:
Caught in gridlock on the world's busiest freeway, Rail comes to the rescue of a naked woman escaping from a van. But Kimberly York is no ordinary victim, and Rail has invited violence into his life...again - as a sudden, shocking murder pulls him into a decades-old international conspiracy of greed, rare treasures, and human depravity.
Russell has since published two sequels,
Wildcase
, and
Beverly Hills is Burning
. Russell is running a promotional this weekend, so you can get the Kindle edition of
BHIB
for only 99 cents. One more thing: Mr. Russell also informs me that his novels do contain a fair amount of "violence, profanity, and sex, some of it explicit", so sensitive readers should be aware of this.
___________
People write novels about all sorts of things. Cowboys. Pirates. Sparkly vampires. Detectives with paranormal abilities. Even the game of poker. I mention this because moron lurker (mostly) 'Dandolo' has written a short story, "Ace In the Hole" which is included in
Poker Pulp
, a collection of three poker-themed stories, available on Kindle for $2.99.
Open Question
An Amazon book listing may contain several "professional" reviews gathered from other sources (such as Publisher's Weekly). These are over and apart from the reader reviews. I was looking at this book and that book on Amazon looking for book thread material, and I happened to notice this sentence in one of these reviews:
There's not enough action for a thriller and not enough intrigue for a mystery, and a glut of description and dialogue will leave readers snoozing.
Now, presumably Amazon lists books because it wants readers to buy them, so that Amazon can turn a profit, and, incidentally, earn royalties for the author. So, my question is, what good does it do either the store or the author to include a review like that in an Amazon book listing?
___________
So that's all for this week. As always, book thread tips, suggestions, bribes, rumors, threats, and insults may be sent to OregonMuse, Proprietor, AoSHQ Book Thread, at the book thread e-mail address: aoshqbookthread, followed by the 'at' sign, and then 'G' mail, and then dot cee oh emm. What have you all been reading this week? Hopefully something good, because, as you all know, life is too short to be reading lousy books.