THE MORNING RANT: Thar She Blows! Killing Whales for Energy is Cool Again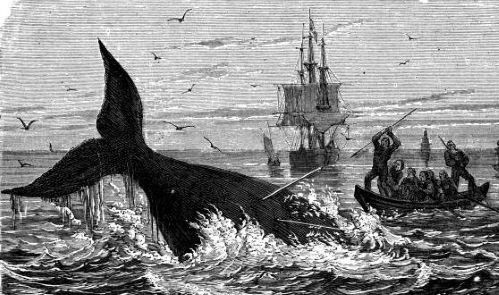 Nothing should surprise me anymore, but the left's enthusiastic embrace of whale-killing in service to energy production is not something I would have believed possible a few decades ago.
The $100 Billion Offshore Wind Industry Has a Whale Problem, Dead Whales Keep Washing Up on the US Atlantic Coast [Bloomberg – 02/18/2023]
The offshore wind industry has a 40-ton problem on its hands. Since early December, close to two dozen large whales have washed up on or near beaches on the US Atlantic coast…
It's unclear what exactly is fueling the deaths, but an unlikely coalition of wind opponents, local environmental groups and conservative talk show hosts have zeroed in on offshore wind as the culprit.
Per Steve Milloy in a New York Sun article titled
License To Kill Whales
:
The deaths are coincident, however, with an increase in activity by the offshore wind industry as it surveys locations to erect its turbines. These surveys include seismic testing that involves bouncing sounds off the bottom of the ocean. It is possible that these sounds impair sound-sensitive whales and dolphins in such a way that deaths can result.
Environmental activists have historically opposed offshore seismic testing by the US Navy and by oil companies, because of the impact of the testing on whales. No longer…now the greens have an almost sick passion for killing birds and marine mammals as an offering to their angry climate God. Although the
official
government position is that wind turbines don't kill marine mammals, the government
has authorized
the wind industry to kill whales, seals, and dolphins as "incidental harassment."
A currently proposed permit would allow New Jersey-based offshore wind developer Atlantic Shores Offshore Wind, L.P., a partnership of foreign-owned wind companies, to kill 42 whales, 2,678 dolphins, and 1,472 seals.
Among these whales are some listed as endangered by the Endangered Species Act, including up to three North Atlantic Right Whales. This is the same whale species whose plight is being used by environmentalists in their efforts to cripple the Maine lobster industry. Here is a snippet of the proposed permit, including its generous allowance of up to 24 dead Minke whales.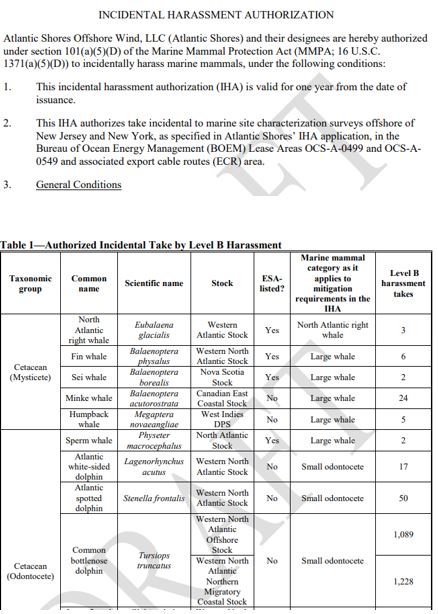 Milloy also points out that this is not the only such permit.
There are others already issued with more on the way. Each one allows for the killing of dozens of whales and thousands of dolphins and seals. And all this permitted killing is just for the survey phase of construction. There is the actual erection of wind turbines, and their operations and maintenance still to come.
All these cetaceans will die for an unreliable source of energy that must still be backed up by reliable carbon or nuclear energy. Of course, whales were once a prominent source of energy in our nation's history. It's gross and ironic that our ruling class has embraced whale killing as an acceptable sacrifice in their quest to eliminate the carbon-based fuels that replaced whale oil in the first place.
New England Whaling in the Nineteenth Century [Yale University – Energy History]
Before petroleum-derived lamp oils like kerosene became readily available in the 1860s, people lit their homes with energy derived from seed or animal fats. Among these options, whale oil - especially that taken from sperm whales - produced a clean, bright flame with no smell. In the long winters of Boston, New York, Providence and other eastern cities, whale-fueled lamps lit homes and factory floors, streetlamps and the headlights of trains, and guided ships home from lighthouses.
*****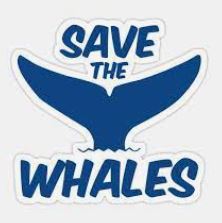 Those who are too young to remember the late 20th Century might not realize what a huge cultural phenomenon "Save the Whales" was. The USA banned commercial whaling in the early 1970s, and by the 1980s Norway and Japan were vilified for their reluctance to submit to an international moratorium on whaling. "Save the Whales" bumper stickers were ubiquitous, with those on the political left particularly animated about the cause. It should be noted that unlike the whales currently being killed as "incidental harassment" in the production of boutique wind energy, whales that were commercially harvested were actually consumed, not just left to rot on a beach. The folks at the Heartland Institute and CFACT (Committee for a Constructive Tomorrow) are pulling out the old "Save the Whales" playbook in the battle against unreliable wind energy, by putting up billboards and flying banners over East Coast beach towns. It's getting some national attention.
Conservative Watchdogs Highlight 'Alarming' Surge in Whale Deaths as Wind Farms Grow Off NY, NJ Coasts [NY Post – 4/23/2023]
Conservative watchdog groups ran a guerrilla-style ad campaign on the Jersey Shore for Earth Day, drawing attention to a surge in whale deaths amid the growth of offshore wind farms.
Beachgoers in Atlantic City on Saturday looked on as a single-propeller plane carried a message waving from a banner — "SAVE-WHALES-STOP-WINDMILLS.ORG" — and drivers heading out of town saw a billboard with the same message and a picture of a dead whale washed ashore.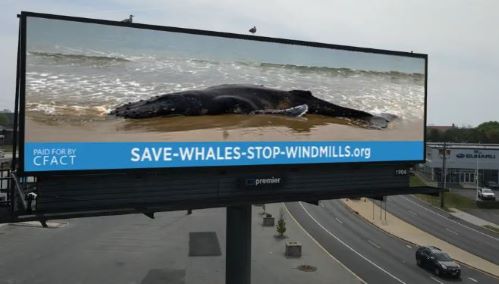 "'Damn the whales, full speed ahead' seems to be the official policy of the Biden administration when it comes to the construction of offshore wind," [CFACT President Craig] Rucker said in a statement. "The White House seems to remain unfazed and fixated on implementing its reckless 'net zero' energy agenda."
Steve Milloy is also quoted in this article, stating
"It's gone from 'Save the Whales' to 'Kill the Whales.' And the green groups that have promoted Earth Day for 53 years are totally okay with this agenda."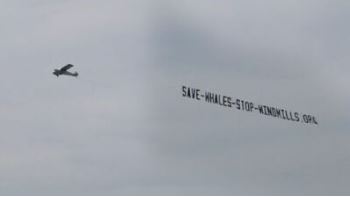 Killing whales, dolphins, and seals in service to the climate hoax is heartbreaking and grotesque.
[buck.throckmorton at protonmail dot com]
Posted by: Buck Throckmorton at
11:00 AM