The Weekend Hobby Thread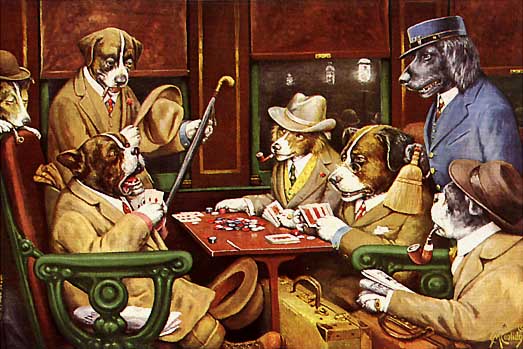 Painting. Dogs. Cards, now there are some hobbies. Hey, welcome to The Weekend Hobby Thread. We have some good stuff today. A couple of Morons are quite creative. So check it out and by all means, leave the politics and current events out in the driveway.
***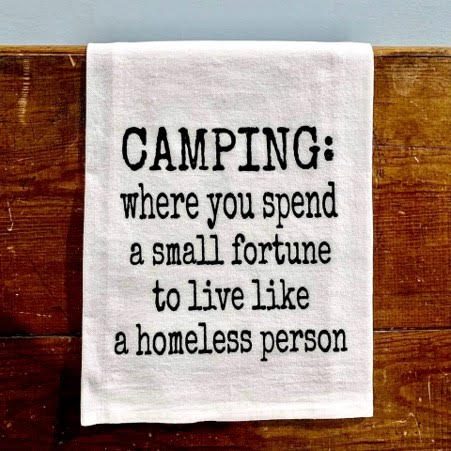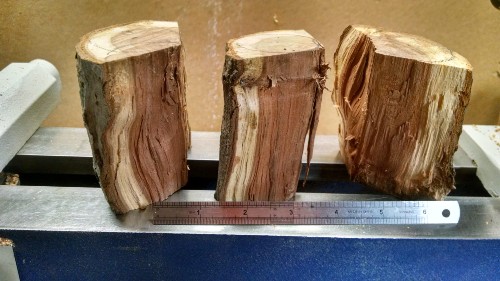 .jpg" src="http://ace.mu.nu/archives/unnamed (
.jpg" width="500" height="888" border="0" />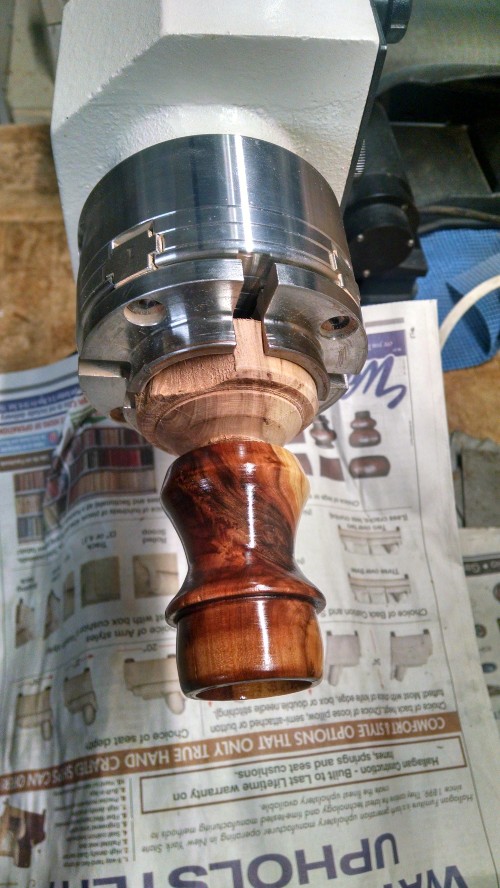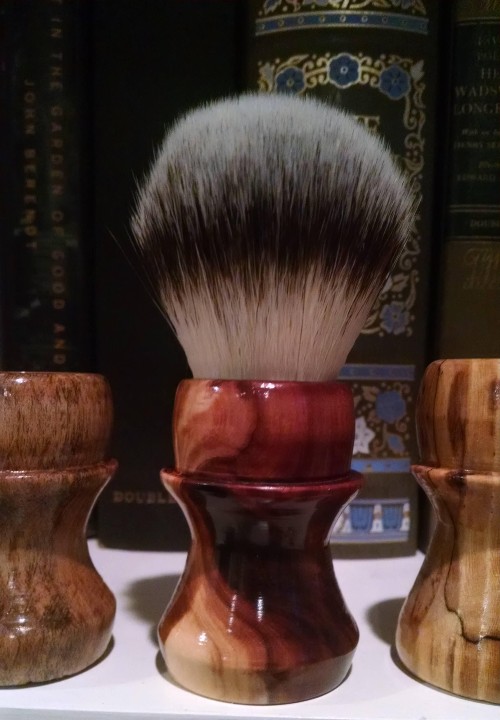 Hi MisHum, Long time moron lurker here and thought I would share some pics of one of my many hobbies. I live in an area where there are a lot of trees. One of my favorite things is to turn what would normally be a log on the firewood pile into something beautiful and useful. For example: Here is a piece of a large Beech branch that fell in my yard. After splitting it I saw that it was spalted. Spalting is the term to describe the staining of the grain caused by a fungus. Once the wood dries out, the fungus dies but the grain coloring remains. You can see the difference in the last picture with a piece of beech that is not spalted on the left. The finish on all the brush handles is clear, so this is the natural coloring which to me is the best part - knowing that what looks like a piece of trash destined for the fire into something gorgeous. There are a lot of different species of trees here so everytime I'm over someone's house, I'm always looking at their firewood pile which gets me some weird looks until I explain why. Now I have people sending me notes about a tree that just came down and if I want any of it ... lol. I know there are a few traditional wet shavers amongst the horde including myself so thought I would share something that relates to that. BTW, I attached the photos in the zip in case they do not come through in the email. They are numbered in the order that I have them in the email so if you need to change something it should be easy for you. If you think this is a worthy post, please feel free to edit, change or trim to make it fit. Thanks
Carluchi
Not one word changed by me Carluchi. What a wonderful project. And thanks so much for sharing with us. If I didn't have plans to quit shaving I would try and twist your arm for one of those brushes. So where did you score the brush hair? And if you have any basswood or birch reach out to me.
***
There are as many hobbies as there are stars in the sky. One hobby can be "Home Improvements". And that is exactly our next entry from Jim -Sunk New Dawn -Galveston, TX Jim wrote the following:
Dear MisHum... I sent you cel fone pics of the gates I finished, just today. The old, treated pine, all wood gates had succumbed to gravity and the Texas Gulf Coast's cumulative effects of salt air, high humidity, and wood-killing heat, and had sagged damn near off their own hinges. I had to build a new gate, and resolved to do it ONLY ONCE, to last long after I'm gone. It's all heavy structural steel, NOT the thin stuff they sell at Fence Supply places. Each 3"x3" INSIDE dimension post has 125 lbs of concrete holding it in. Gates are framed 1"x1" square tubing. It's all MIG welded, all ends on the tubes were fitted with plates and welded closed. It's NOT going to rust from the inside-out. Hinges are purpose made, welded-on hinges, 3/16th plate steel. Fitment of the wooden pickets is best described by the photos of the backsides of the gates. The wood is made to be "replaceable" but the frame of the fence should endure. Sweated a lot of details on this one. I'm not a great welder, but I can make stuff, square, accurate, true and strong. Jim
Sunk New Dawn
Galveston, TX
Here are the photos: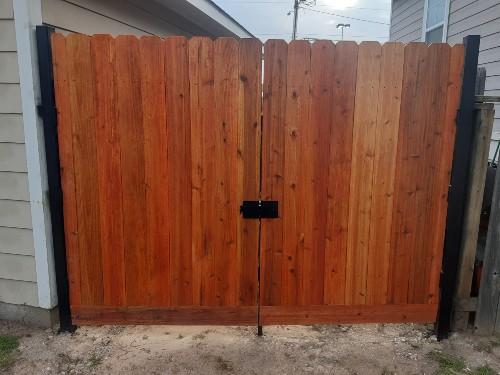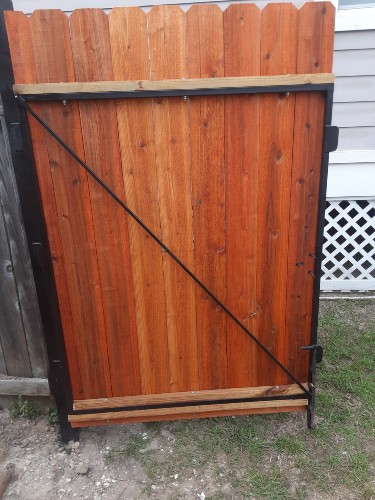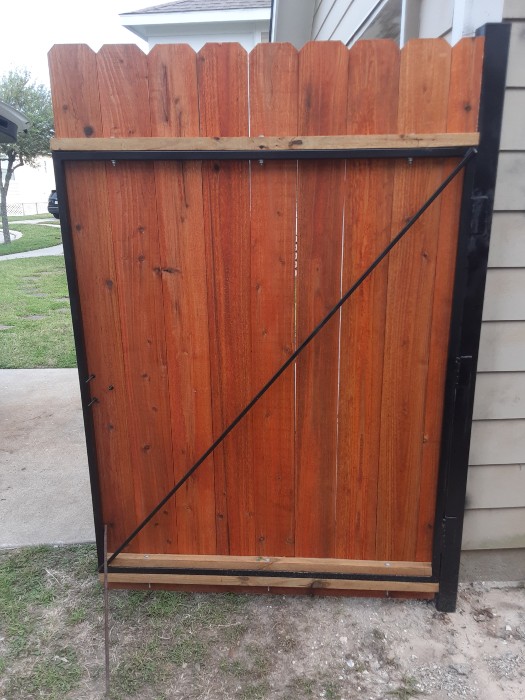 Another email from Jim:
Extended the project, extending new fence w neighbors permission, replacing his broke down, aged out fence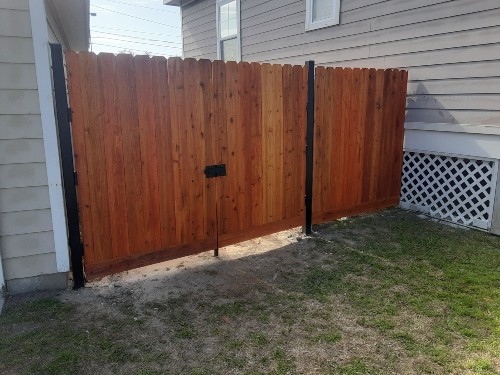 Jim is a pretty handy guy with tools. I recall a kitty cat castle he built and submitted it to the Pet Thread a few years back.
***
Here is an interesting video for us beginning wood workers.
***
Hobby tips, hobby stories, photos, as well as 20/0 fan brushes, Jenkins Acrylic Green to petmorons at gmail dot com. Have a nice week.
Posted by: Misanthropic Humanitarian at
05:30 PM