Tom Cotton Delivers Stunning Statement to Woke CEO Which Should Stand as an Example to All GOP Senators and Represenatives
Albertson's and Kroger want to merge. They're being grilled about that in Congress, chiefly by Democrats, who don't like any companies ever merging.
Kroger is an extremely woke corporation which
compels its employees to support specific Woke Cult Doctrines.
The Kroger Company, a supermarket giant, published an "allyship guide" that told employees to use "inclusive language," celebrate transgender holidays, and even support an organization that bails violent criminals out of prison. The allyship guide, intended for employees and published in 2021, is split into four different sections, titled "LGBTQ+," "Asian American Pacific Islander," "African American," and "Hispanic Heritage." The guide says that allies should "lead by example and prove to be fierce advocates" and defines the term as "anyone who publicly declares support for and advocates on behalf of LGBT rights." "Some people's morality can be a barrier to accepting LGBTQ+ people," the guide read. It went on to say that, though the company cannot decide an individual's values for them, "a company has values that they expect employees to follow." The guide provided a vocabulary list of various terms associated with the LGBTQ+ movement, including "non-binary," "queer," transgender," "cisgender," and "pansexual," which it defined as "someone who is physically or emotionally attracted to all genders." Included on a list titled "language to avoid" were the terms "boyfriend/girlfriend" and "husband/wife." The guide told employees to "avoid if you do not know the gender of the partner/spouse." Employees are also supposed to abstain from asking transgender people "any pre-transition questions such as asking for old pictures or inquiring about the person's old name." The guide even suggests that employees refrain from referring to customers with language like "sir" or "ma'am." It also argued that gender and sex were distinct before going on to discuss those who identify as "non-binary." It defined the term as "a person who does not identify exclusively as a man or woman." "Non-binary people may identify as being both a man and a woman, somewhere in between, or as falling completely outside these categories," the guide read. It then listed some "gender expansive terms," such as "genderfluid," "genderqueer," and "enby." One slide, titled "The Importance of Pronouns," admonished its employees, saying "It is a privilege to not have to worry about which pronoun someone is going to use for you based on how they perceive your gender. If you have this privilege, yet fail to respect someone else's gender identity, it is not only disrespectful and hurtful, but also oppressive." It also informed them that they may be asked to use newly invented pronouns like "Ze/hir" while others do not want to use any pronouns whatsoever. "When someone is referred to with the wrong pronoun, it can make them feel disrespected, invalidated, dismissed, alienated, or dysphoric," the guide contended. Several "notable awareness dates" were listed in the guide, including five different annual celebrations dedicated to people with gender dysphoria. Employees were encouraged to celebrate "International Non-Binary People's Day," "International Transgender Day of Visibility," "Pansexual Visibility," "Transgender Awareness Week," "Trans Parent Day," "Transgender Day of Remembrance" and several other faux holidays that have recently been manufactured for political purposes.

Kroger created a bib which had a rainbow emblem on the collar under the words "Our Promise." Religious employees believed the rainbow was a reference to the rainbow flag of the LGBT movement.
When religious employees asked for a conscience exemption to wearing the Gay Pride Bib, Kroger refused. When they asked for the very reasonable compromise that they be permitted to wear their nametags over the rainbow patch to cover it up, Kroger still refused. Then they fired the employees for acting according to their religious faith and refusing to spread the Corporate Religious Cult Doctrine. The employees sued
and Kroger had to settle for $180,000.
Kroger has agreed to pay $180,000 to settle a lawsuit that involved two employees who say they were fired for refusing to wear LGBT-themed aprons due to their religious beliefs. The lawsuit was filed on behalf of the women by the U.S. Equal Employment Opportunity Commission (EEOC) in the final months of the Trump administration. The EEOC is a bipartisan commission that includes appointees of both President Biden and former President Donald Trump. ... As part of the settlement, Kroger will pay $180,000 and "create a religious accommodation policy and provide enhanced religious discrimination training to store manage­ment," EEOC said. "The EEOC commends Kroger on its decision to create a policy describing the process for requesting a religious accommodation," said Faye A. Williams, regional attorney of the EEOC's Memphis district office. "This policy will provide guidelines for requesting religious accommodation. The parties in the case worked in good faith to resolve this matter, and the Commission is pleased with the resolution." The apron depicted a "rainbow-colored heart emblem on the bib," and the two employees believed that wearing it would "violate their religious beliefs," the EEOC said. One woman "offered to wear the apron with the emblem covered, and the other offered to wear a different apron without the emblem, but the company made no attempt to accommodate their requests," the EEOC said.
The Breitbart article states that Kroger "denied the allegations" -- I take that to mean they denied the claim that the rainbow symbol was intended to show support for LGBT crap, and they were forcing religious people to support LGBT crap against their religious conscience. But... um...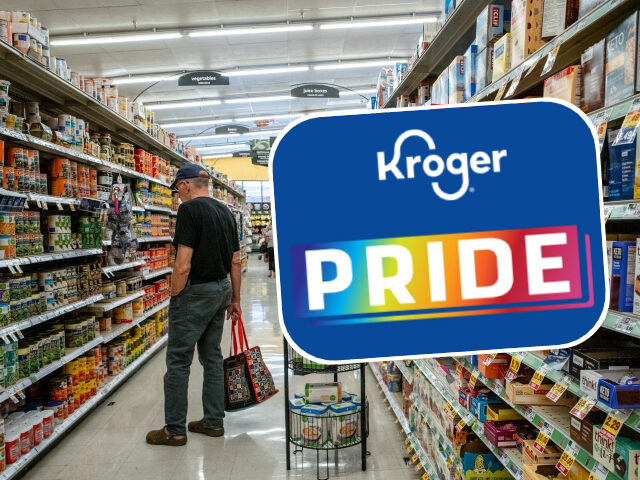 That photo is by Getty Images, and appeared with the Breitbart article quoted above. Are you
certain
your rainbow is not a reference to pride, Kroger?
Note the "PRIDE" Rainbow appears on the cover of Kroger's "Allyship Guide."
Senator Hawley asked Kroger's woke CEO about this lawsuit. Preposterously - ridiculously - absurdly -
perjuriously
- he claimed not to know enough of the details to even dare a guess of an answer.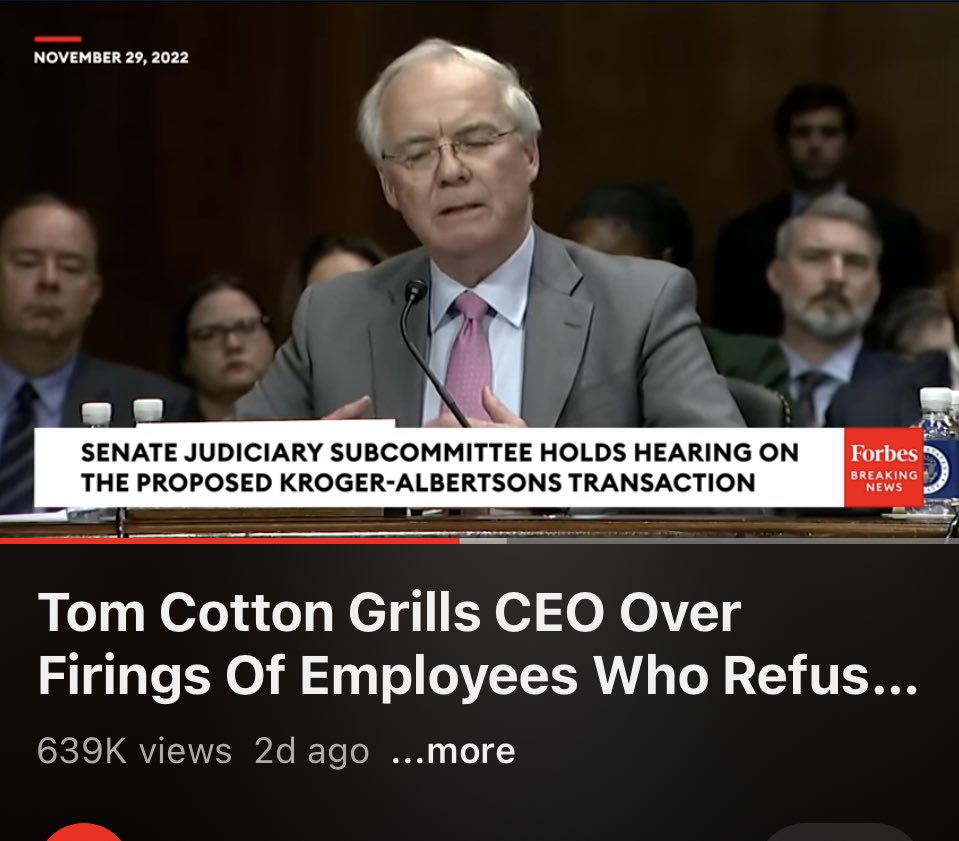 Now Tom Cotton says he's all broken-hearted that the woke Kroger CEO is being beaten up by his Good Democratic Friends, and finds it necessary to reach out to Deplorable Republicans to ask for help. Every fucking Republican needs to memorize this answer, and deploy it constantly: