Quick Hits
Leftwing fashionistas and photographers got caught using sexualized photos of children for an ad campaign, while sneaking in pages from a Supreme Court decision about child pr0n into another campaign.
So who's the bad guys here? Well, to the New York Times, it's all pretty simple: It's QAnon and Fox News, obviously.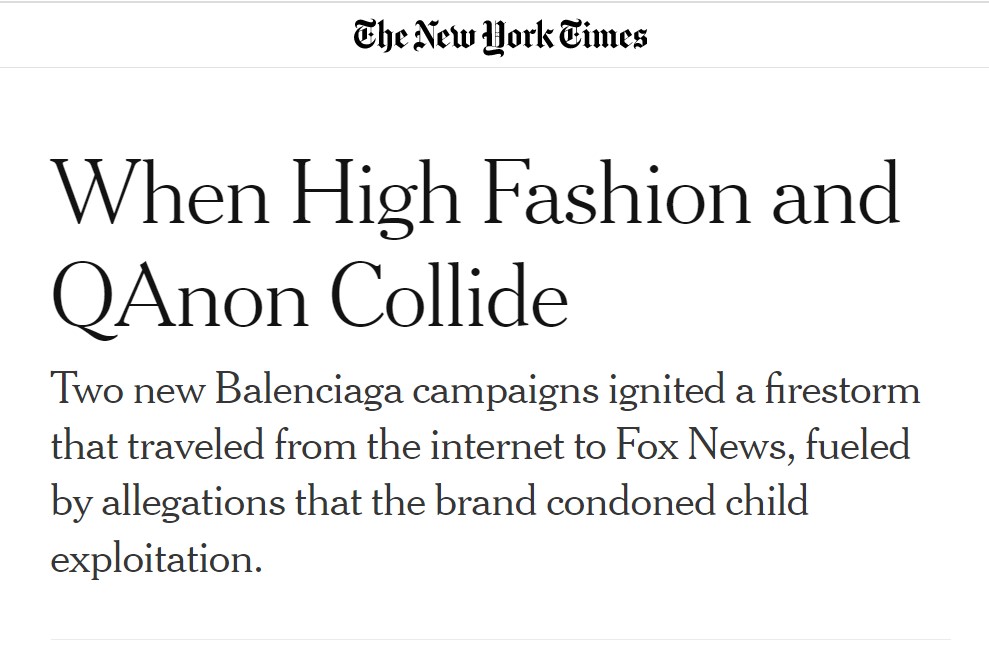 One detail made me chuckle: they note that "one Twitter user" pointed out these photos. They say nothing else about this "one Twitter user." The Twitter user in question is leftwing socialist, Bernie Gal, and gonzo-trans-ally Sh0eOnHead. She may be on the left, she may never stop talking about how wonderful she thinks transgenderism is, but she doesn't like child pr0n and calls it out when she sees it. The New York Times doesn't want to admit that
some
people on the left retain their primitive, uncultured aversion to the sexualization of children and also notice its increasing mainstreaming, so the leftwing Bernie Sanders lover Sh0eOnHead becomes "one Twitter user." Simpler that way. Mustn't complicate the Narrative. What's Sam Brinton been doing since he was quietly put on leave while the Biden Administration scrambles to figure out how to cover up his brazen theft...? Why, putting on spanking kink seminars, of course.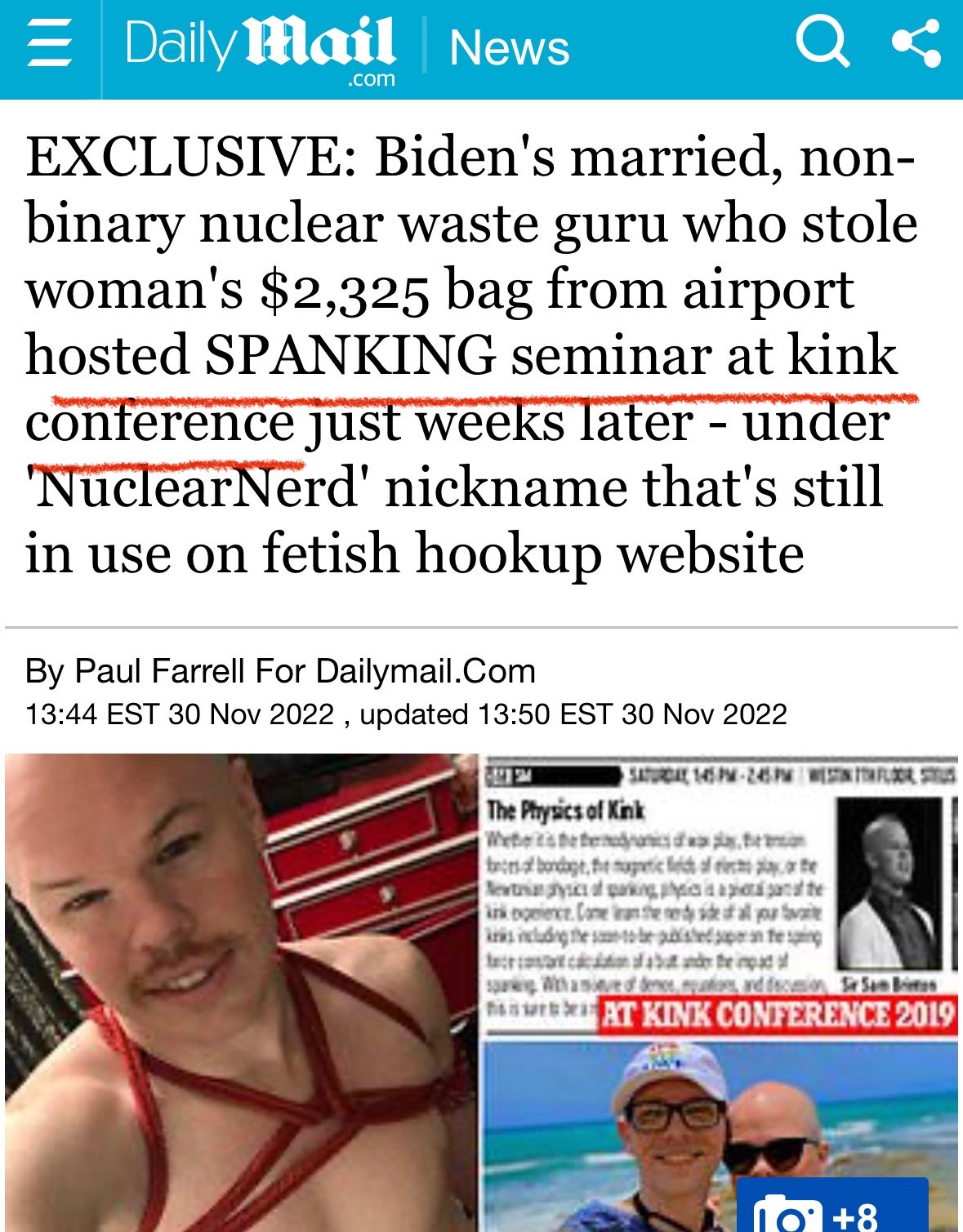 This "man" is in charge of the nation's spent radioactive materials and fuel rods, and subject to blackmail.
Clay Travis
@ClayTravis The adults are back in charge guys.
Don LeMon insisted to a surprised Stephen Colbert that akshually, CNN was never liberal.
"Word on the street is that you guys aren't allowed to be liberal anymore. Is that the case?" Colbert asked. "I don't think we ever were liberal," Lemon replied. Lemon's answer drew a surprised response from Colbert, who replied, "What?" "Yes, I don't think we ever were," Lemon insisted. "Not me saying that, that's the people out there saying that he's not letting you be liberal anymore," Colbert said.

And Don LeMon never committed sexual assault, and then had his insurance company or their lawyers pay the complaining witness to go away and sign a statement that he was "mistaken" about being sexually assaulted.
Wut? The Swiss might ban the use of electric cars over the winter to... save energy.
But but but I thought... Oh nevermind. It's all ClownWorld (TM) now.
The European Union jumped on the electric vehicle craze well ahead of other parts of the world, particularly after the Paris climate accord. But in typical socialist fashion, they weren't content with simply encouraging people to switch to EVs. Many European countries almost immediately started making plans to ban gas-powered cars and trucks and make EVs mandatory. Lots of Europeans wanted to get out ahead of the curve and began snapping the newer models up. But then came the start of the war in Ukraine, cutting energy supplies just as Europe was trying to wean itself off of fossil fuels. Now, in a rather embarrassing reversal, Switzerland is considering legislation that would ban people from driving electric vehicles except in urgent conditions over the winter because there simply might not be enough juice on the grid to recharge them.

The plan would ban the use of electric cars except for absolutely necessary journeys.
Jetski Grizzly
@Jetskigrizzly Remember when Kyle Rittenhouse randomly shot a group of liberals and 2/3rds of the people he hit were pedophiles
10:18 AM Nov 29, 2022

I rate that a Hate Fact (TM). Someone give Joe Biden a cognitive test -- looks like he forgot one of his grandchildren for the second Christmas in a row.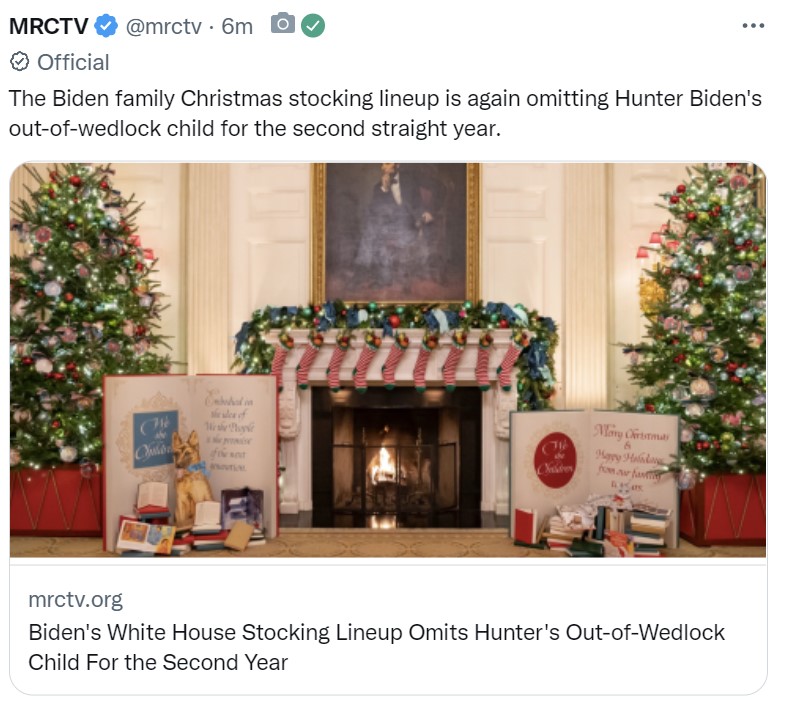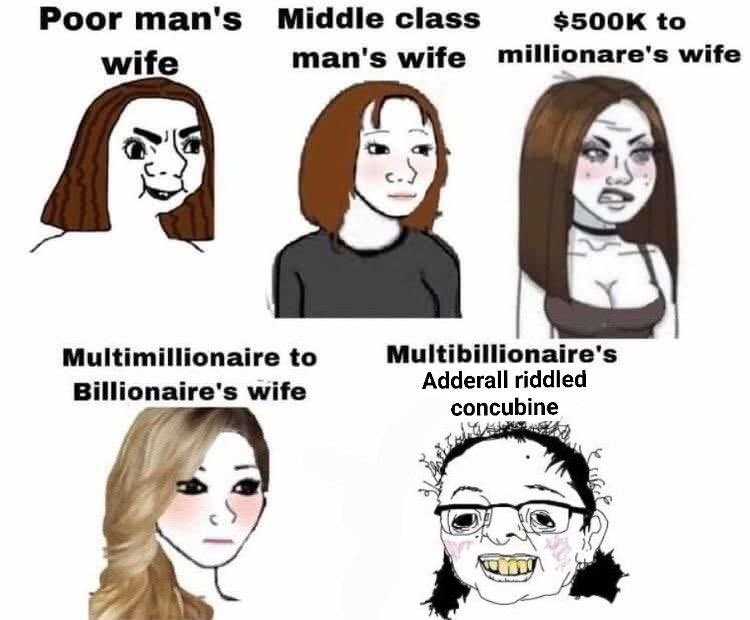 Justin Roiland guest-voices on Red Letter Media to do the Rick and Morty voices.
I guess the last season didn't improve things, if he has to go on RLM to do promotion. I'm not a hater -- I really liked the show. But season 5? Wow, that was bad. Bad enough that I'm waiting to watch season 6 until it's free somewhere.
I missed this in my Fauci thread yesterday: over the Thanksgiving weekend, Fauci excused China for withholding information about covid, and suggested it was Trump's fault that they withheld vital, life-saving information about their pet plague from the world. I mean, after all, he accurately stated that covid came from China:
Notice he quickly extends this "Trump's Fault" defense to cover for China also refusing to come clean with Biden. "That horse is out of the barn," The Master Scientist explains, scientifically.
The Master Scientist just doesn't understand what politics is doing in any discussion of covid at all, as a matter of fact!
Speaking with moderator Margaret Brennan on CBS's "Face the Nation," Fauci said he is keeping an open mind, but he reiterated that the evidence is "quite strong" that the virus occurred naturally. "They're very suspicious of anybody trying to accuse them," Fauci said of the Chinese government. "We need to have an open dialogue with their scientists and our scientists, keep the politics out of it." Republicans have indicated they plan to investigate the origins of the pandemic upon taking the House majority in January as well as Fauci himself, suggesting COVID-19 instead originated from a laboratory. "All of my colleagues, keep an absolutely open mind," Fauci said on CBS. "We've got to investigate every possibility because this is too important not to do that. That's not incompatible with saying the scientific evidence still weighs much more strongly that this is a natural occurrence. You must keep your mind open that it's something other than that." But Fauci pushed back on the notion that the Chinese Communist Party covered up the pandemic's origins.
The guy who enlisted scientists he funded through government grants to repudiate their prior claim that the virus looked man-made and instead publish an article stating that it must be naturally occurring, and then planted stories in both the scientific and general press smearing top scholars as deranged Grandma Killers for opposing general lockdowns -- that guy now says "politics shouldn't be a part of this." Scooter practices his new job, which is the same as his old one: Obsessive Democrat Twitter Troll.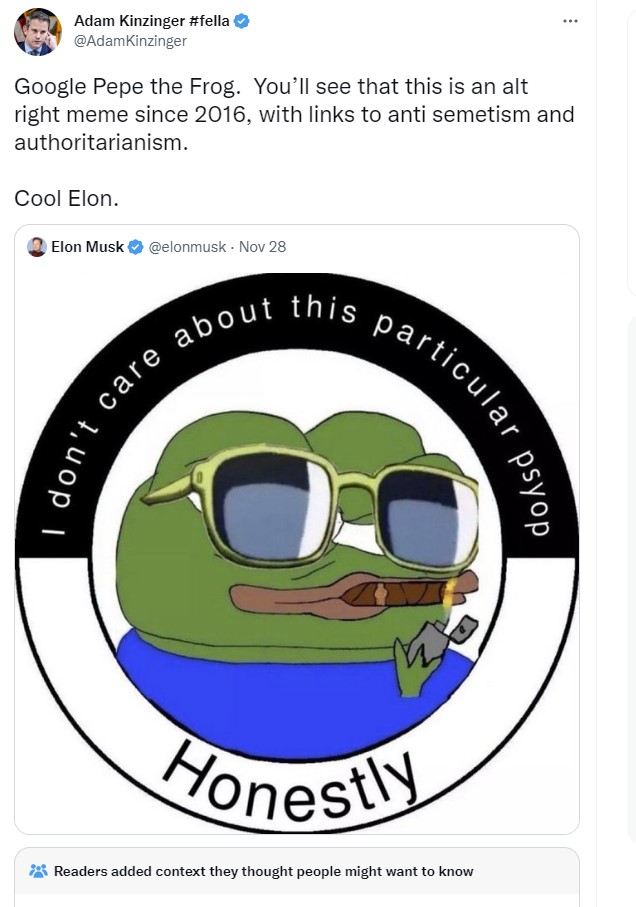 Check out the context Twitter users added to the bottom of Scooter's tweet: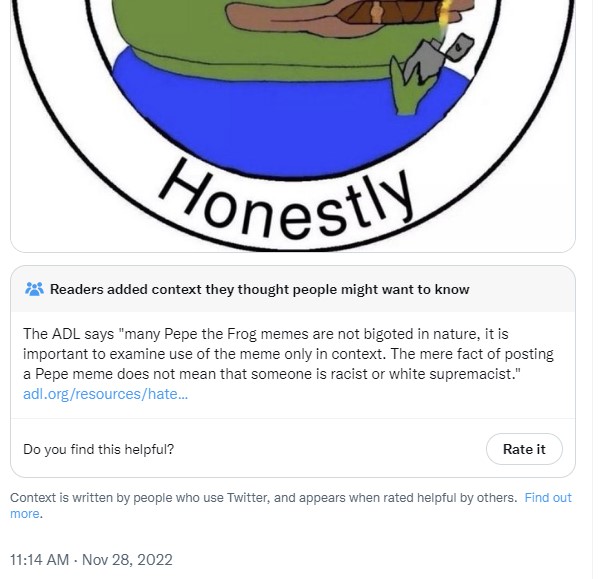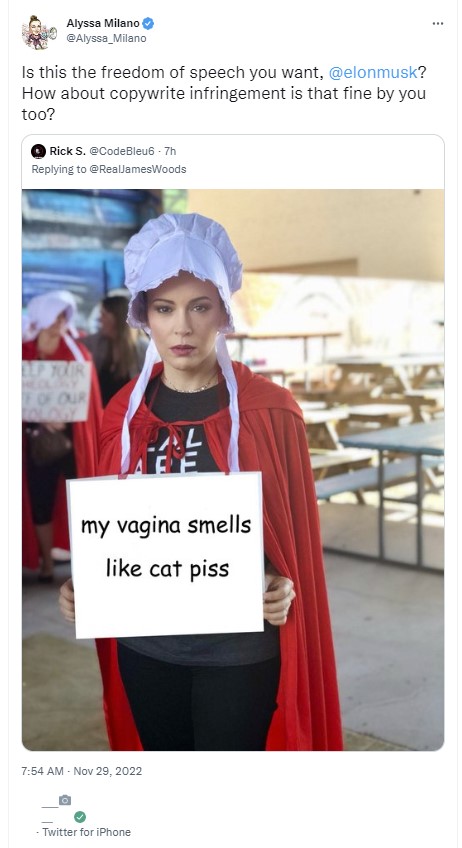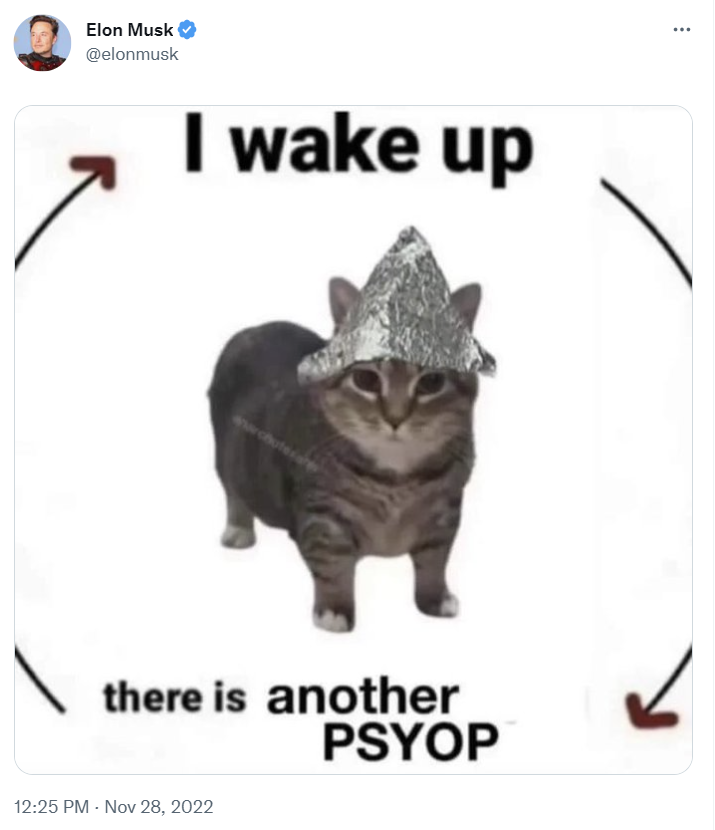 Racism is bad you guys.