Gavin Newsom Signs Bill Making California a "Sanctuary" For Children From Out-of-State Seeking Transgender Surgery without Parental Consent; Bill Bars Any Legal Action to Stop Children By Out-of-State Courts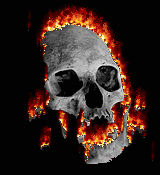 This guy thinks he's going to be president? Where? On Saturn?

On Thursday, California Governor Gavin Newsom signed into law a piece of legislation that will designate the state as a sanctuary for children and teens seeking medicalized gender transitions. Newsom's signature on the bill, SB 107, comes nearly a month after the California legislature passed State Senator Scott Wiener's bill, which was introduced in 2021.
Oh that pervert and pedophile again.

The bill allows families or individual minors who traveled to the state for the purpose of these medical procedures to be safe from out-of-state authorities acting on subpoenas, warrants, and child custody issues if the minor was brought into the state for procedures like surgical gender reassignments or the prescribing of cross-sex hormones. The bill would also "prohibit law enforcement agencies from making, or intentionally participating in, the arrest of an individual pursuant to an out-of-state arrest warrant based on another state's law against receiving or allowing a child to receive gender-affirming health care." ... In addition, the bill that the state will not honor or enforce "A law of another state that authorizes a state agency to remove a child from their parent or guardian based on the parent or guardian allowing their child to receive gender-affirming health care" if a case is pending in California courts.
This is essentially declaring war against the rest of the United States. There's no way that this is constitutional -- California just told the Full Faith and Credit clause to go f*** itself. Or go cut off its own penis. States are required by the Constitution to give "full faith and credit" to "the Public Acts, Records, and judicial Proceedings of every other State." Essentially California is now in a state of -- what's that word the leftwing loves so much? -- Insurrection against the United States of America.
Meanwhile, the media has changed its story on whether or not transgender clinics perform surgeries on children. OUT: Clinics never perform transgender surgeries on children and you should be deplatformed immediately for propagating this Russian Disinformation! IN: Of course clinics perform transgender surgeries on children and G** bless them for the Miracles of Science (TM) their loving scalpels carve into kids!!! Just one short month ago the Washington Post was calling Libs of TikTok a liar for writing that the Boston Children's Hospital provided its dubious "services" to children, and campaigning to get her banned from Twitter. But now that it has been proven again and again that it is the rule that children as young as 13 -- or younger -- are offered chemical castration drugs or even masectomies, the media has shifted gears: God bless these beautiful clinics for the amazing work they do chopping the breasts and penises off our children.
Jarrett Stepman:
The legacy media has changed its mind. We are now informed that life-changing transgender surgeries on minors are real, and that they're spectacular. Just a month ago, when the Twitter account "LibsofTikTok" revealed videos and audio from Boston Children's Hospital talking about various transgender surgeries (such as hysterectomies) and "treatments," legacy media pumped out a wave of "fact checks" insisting that this was all conspiracy theory. To suggest that Boston Children's Hospital would do what it was advocating in public videos and private audio was hateful, dangerous, right-wing conspiracy theory, you see. Well, now we are informed by The New York Times that "top surgeries" are being performed on girls in hospitals all over the country. Oh. The ink barely had dried on the old narrative, and now we've slid on down the slippery slope to the new one. In an extensive piece written by Azeen Ghorayshi and published Monday, The New York Times reported on how transgender "top surgeries" for minors have become a growing phenomenon. When reporters say top surgeries, they often mean mastectomy -- the total removal of female breast tissue -- though The Times' article never uses this word.
Will the Washington Post force Taylor Lorenz to issue a correction? Nah, right?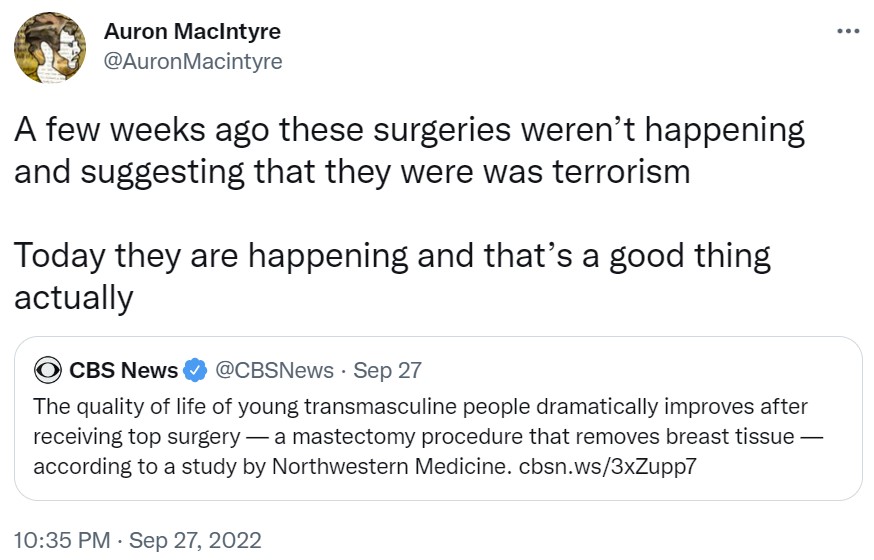 From a CBS article promoting breast amputations for children as healthy:

More at
Twitchy:

Jesse Singal
@jessesingal Quick morality update: Marketing medical procedures directly to children too young to understand their ramifications is [clapping hands emoji] good [clapping hands emoji] now [clapping hands emoji]

My God. If you don't know the Youth Slang, "yeet" means to eject, to throw away violently. Launching someone from a trebuchet would be yeeting them, for example. "YeetTheTeet." She makes a double radical masectomy sound so cute!!! And the use of the youth-slang Twitter word "yeet" indicates she's advertising to children.
Read his thread.
He points out that one of these butchers brags of a zero-percent regret rate -- but, conveniently, is no longer in touch with 30% of her patients, and doesn't seem too stressed about following up with them to see how they're enjoying their maimings. The "doctor" claiming to be unaware of a single case of regret is apparently unaware that one of her former patients is very noisy and energetic anti-transition campaigner who talks a lot about regretting transitioning.

Either "Doctor" Gallagher is lying about not knowing about cases of regret, or is intentionally avoiding discovering these cases. Meanwhile, CBS touts a "study" claiming that
"top surgery" -- their euphemism for radical double masectomy, itself a medical way of obscuring the brutal truth of chopping off healthy breasts -- is just great for young people.
The quality of life of young transmasculine people dramatically improves after receiving top surgery -- a mastectomy procedure that removes breast tissue -- according to a study by Northwestern Medicine. The study, published in peer-reviewed journal JAMA Pediatrics on Monday, is the first to show that top surgery is "associated with significant improvement in chest dysphoria, gender congruence, and body image in transmasculine and nonbinary teens and young adults," Northwestern Medicine said in a press release.
Oh? Chopping off your breasts improves chest dysphoria? Oh, that's terrific! But what is chest dysphoria? Chest dysphoria is "the discomfort and distress from unwanted breast development." So... people who have "discomfort and distress from unwanted breast development" -- in other words,
people who want their breasts cut off
-- will feel relief
when you cut their breasts off.
So if I have "finger dysphoria," the feeling that my fingers are weird alien worms causing me harm, and I feel relief when I have them all surgically removed, we'd all agree that the amputation of a person's fingers is a very effective and healthy procedure for sufferers of finger dysphoria, right? And that this is the proper medical treatment, yes-yes? This is a medical tautology, isn't it? They don't address the underlying mental condition causing the "chest dysphoria." They're not curing
that.
No, they're not addressing the underlying mental illness, just the superficial symptom of the mental illness which they've learned from TikTok and Instagram is to blame their problems on their breasts. They blame their breasts for their problems, and so have "discomfort and distress about the development of unwanted breast development," so, yes, stands to reason, when you cut off their breasts, it will "solve" that one "problem." But that's... that's not
really
the problem that needs to be solved, is it? According to the people making $20,000 a breast lopping, it is, but what would disinterested people not cowed by the Trans Extremist Lobby say?
The study compared two groups of patients ranging in ages from 14 to 24: one group of 36 patients received top surgery, and a control group of 34 patients received gender-affirming care, but did not get top surgery. Three months after surgery, the patients who had the procedure experienced significantly less chest dysphoria than they had prior to surgery, while patients in the control group experienced around the same levels of chest dysphoria as they had at the start of their care.

Yes, the people with an irrational fear of their own tits experienced less irrational fear of their own tits after you chopped their tits off. Now, what do you do when someone comes in with alien hand syndrome? Want to chop that off, too?
... Prior studies have also shown that chest dysphoria is a pervasive issue for trans and gender non-conforming youth. In a study published by the American Academy of Pediatrics in 2021, researchers at the University of Rochester Medical Center "observed consensus that chest dysphoria is a major source of distress and can be functionally disabling to transmasculine youth."
Well at least
the literature
goes
all the way back to 2021.
We'd like to think we were basing our decisions to surgically alter our children on firm, well-tested science before we put them under the knife and irrevocably sexually mutilated them. So, I mean, if this well-tested science goes all the way back to when gas was just $5.35 per gallon, I'm sold.