Quick Hits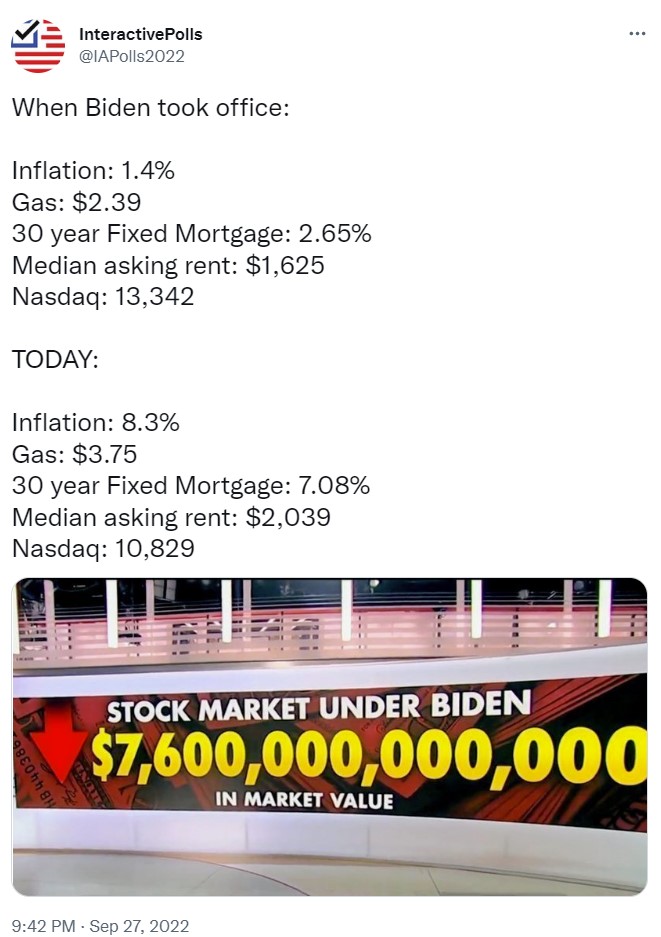 A few days ago, Biden claimed he inherited a "failed Republican economy." Yeah. "Failed."
W. James Antle: Biden is an Inflation Denialist.
I guess The Regime is pivoting towards admitting we're in a recession -- and then selling you on the idea it's
good
to be in a recession.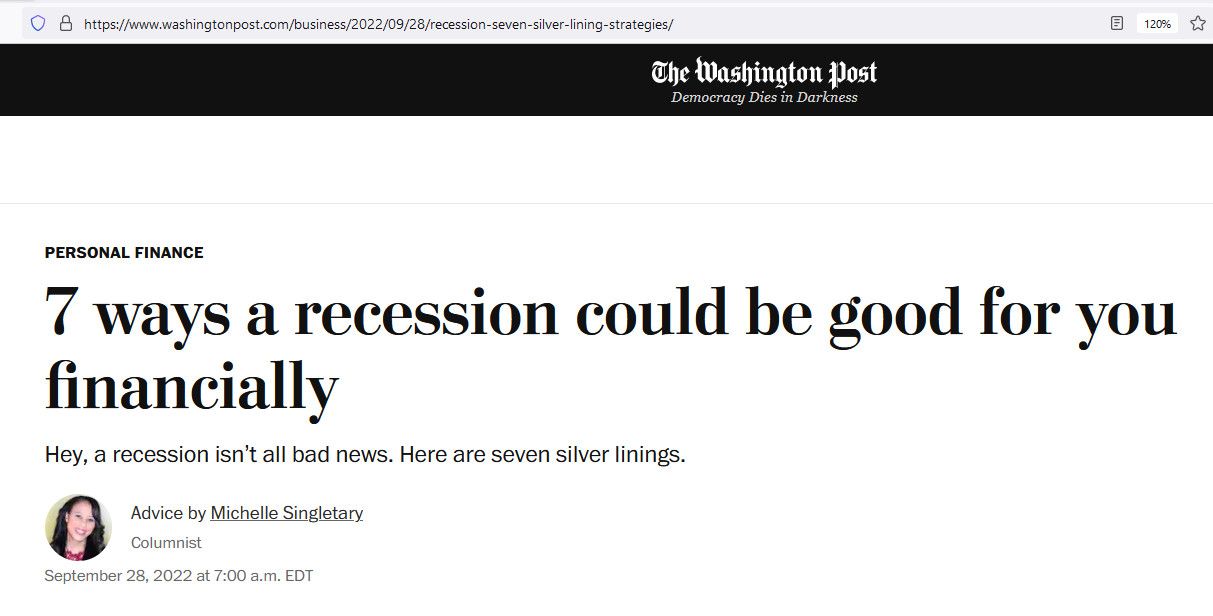 Via Ed Driscoll at
Instapundit, who quotes a couple of the way that Recessions are Fun and Profitable, according to the Washington Post.
He also links a 1976 sketch from Saturday Night Live featuring Jimmy Carter selling you on the idea that inflation is good for you, because, if trends continue, by the year 2000, we'll all be millionaires. What was parody then is Democrat/Media Regime reality now. Funflation, everybody!
Twitter suspended Libs of TikTok again, for unspecified "hateful conduct."
Once again, I have received a wrongful 7-day suspension as the result of a targeted harassment campaign from the Left to deplatform me. In response, we sent another letter to Twitter putting them on notice that we will sue them if they permanently suspend my account.
Twitter claims I have violated their "hateful conduct policy," but like my last suspension, they have provided no explanation as to how I violated this policy. Was it hateful to expose an all-ages drag show where a stripper performed in front of children? Was it hateful to expose a drag queen who allowed a small child to repeatedly rub their crotch?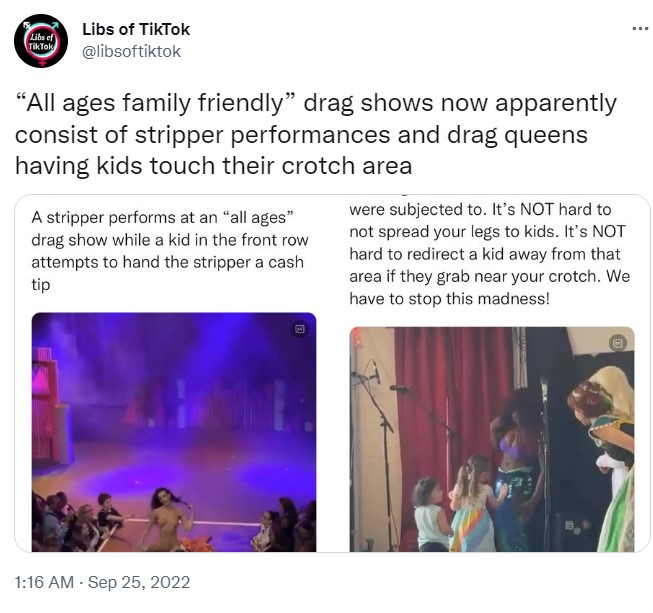 Most likely, yes, that's what it is: Monopoly tech is pro-pedophilia. They are attempting to mainstream pedophilia, and hide it from the public until they feel the public is ready to tolerate pedophilia. Seth Dillon of Babylon Bee, who I think is partners with Libs of TikTok in her website, again threatened to sue: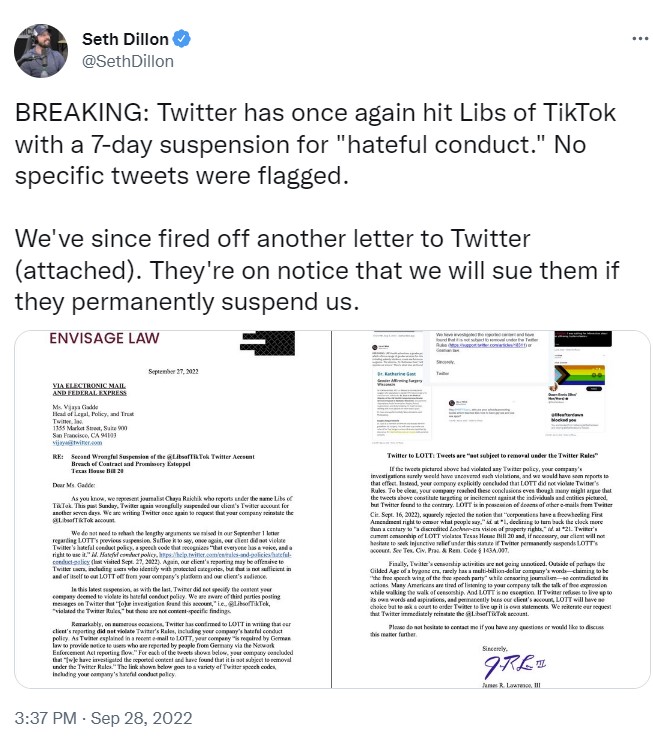 I think he might be in Texas? He suggested he would avail himself of Texas' anti-censorship law in October to sue Twitter, so I think he must be in Texas.
Meanwhile:
Ben Domenech
@bdomenech YouTube has now apparently censored and removed the incoming Italian Prime Minister's 2019 speech to the World Congress on Families.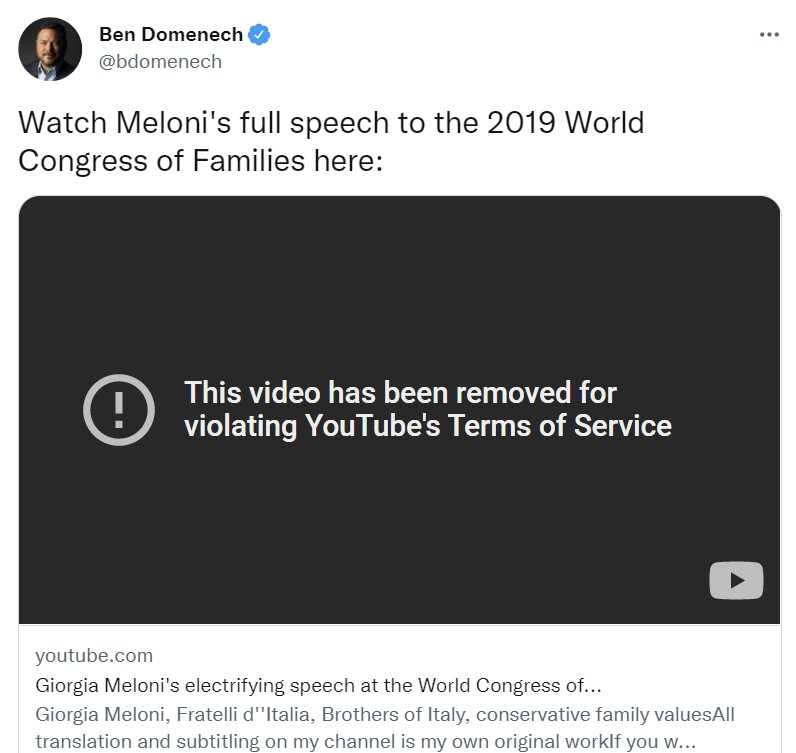 But, as I've said a thousand times: the corpservatives will continue to defend Google, FaceBook, and Twitter because (say it with me) they are simply being paid by Monopoly Tech, either directly or indirectly through pass-through money-laundering services like AEI, to defend them. So everyone, make sure you patronize Conservative, Inc. media and trust the words they are literally being paid to write, the same as if they were an advertising agency on retainer by clients. Prepare for a shock: The View's fake token Republican Alyssa Farrah Griffin says she might, get this,
actually vote Democratic.
As Neo said:
Whoa.
Alex Parker goes through her "evolution," which takes her from denouncing Trump, to denouncing the GOP, to denouncing nationalism, to calling for a third party, to now, saying she's open to voting for Democrats:
"As far as supporting Democrats, I'd be able to on a case-by-case basis. I'd have to look at their policies. And that's kind of where I am."
Feeling harassed by Western governments for not supporting Ukraine with sufficient vigor and credulity? Well, you'll be happy to know there's one group of people permitted to openly align with Putin, and call for all Ukrainians to be "expelled" from their own country so that they can marry "their women," without any rebuke from the western media or any western government. Want to guess what group of people is beyond any criticism? It's the
Palestinians, obviously.
Yesterday I wrote about the Sussex Police threatening people with prosecution if they noted that male transgender convicted of child molestation was a man, and was inarguably a man when he committed the crimes he was convicted of. I mentioned that when someone asked if they had the right as British citizens to speak freely, the police told them to read the law on hate. But I didn't have that tweet exchange saved, and the cops deleted the evidence. Well, I found the exchange. Jesse Singal had linked it: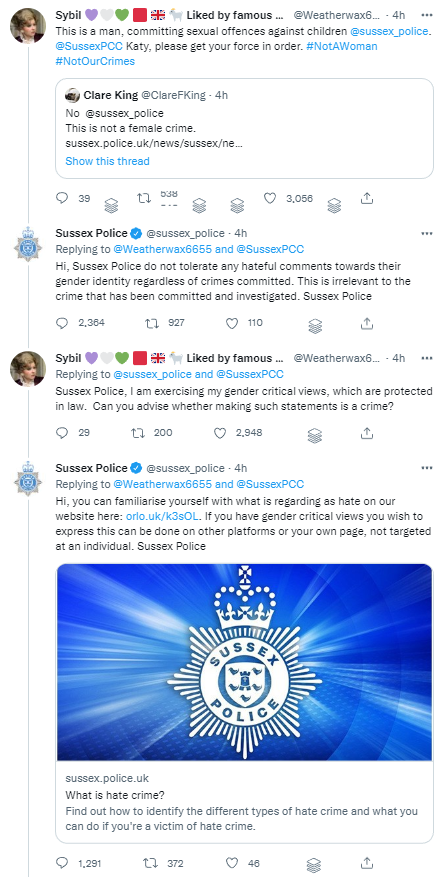 Same bitch who turned her island nation into a
Covid Prison Camp
almost as totalitarian as China now also wants to ban free expression, surprisingly enough:
It is time to encode it into law and the Constitution that any American politician who talks about limiting free speech has committed an impeachable offense and may be removed for that reason.
Flashback: Bill DeBlasio touting the offer from fast food places that if you could prove you were vaccinated, they'd give you free fries with your order. Which had to be picked up curbside or delivered, of course.