Poll: Majority Says Biden's Speech Was a "Dangerous Escalation" Designed to "Incite Conflict"

The poll, conducted by the Trafalgar Group for the Convention of States Action, found that 56.8 percent of likely general election voters said that Biden's speech in which he designated MAGA Republicans extremists "represents a dangerous escalation in rhetoric and is designed to incite conflict amongst Americans." 35.5 percent of Americans said that the speech "is acceptable campaign messaging that is expected in an election year." ...
70.8 percent of Democrats said that the speech was "acceptable campaign messaging," while 18.7 percent said that it was "designed to incite conflict." A vast majority of Republicans, 89.1 percent, said that Biden's speech "represents a dangerous escalation," with just 4.7 percent saying it was "acceptable," and 6.2 percent saying they weren't sure. 62.4 percent of independent voters said the speech was a "dangerous escalation," while 31.2 percent said it was "acceptable."

All those surveyed: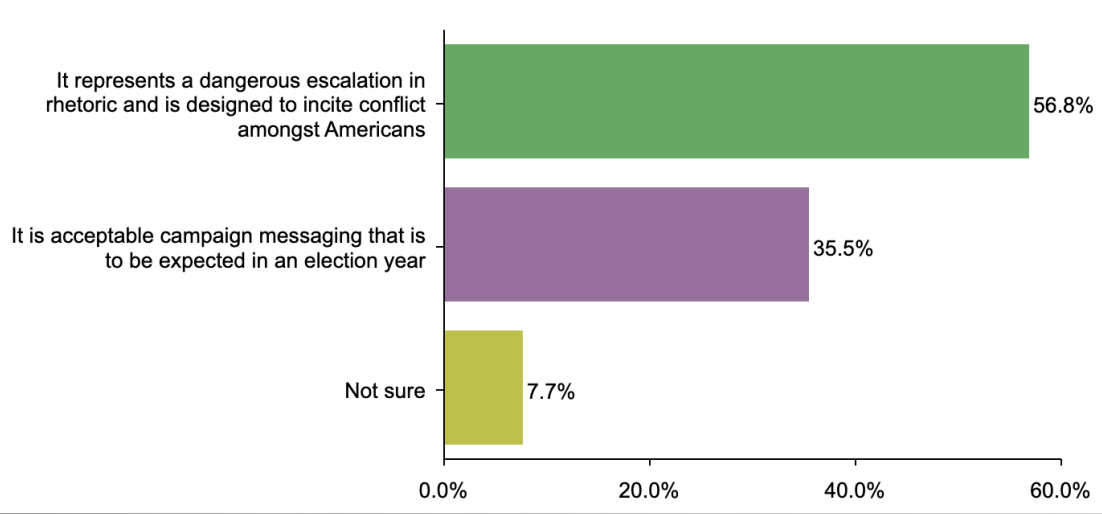 Only independents: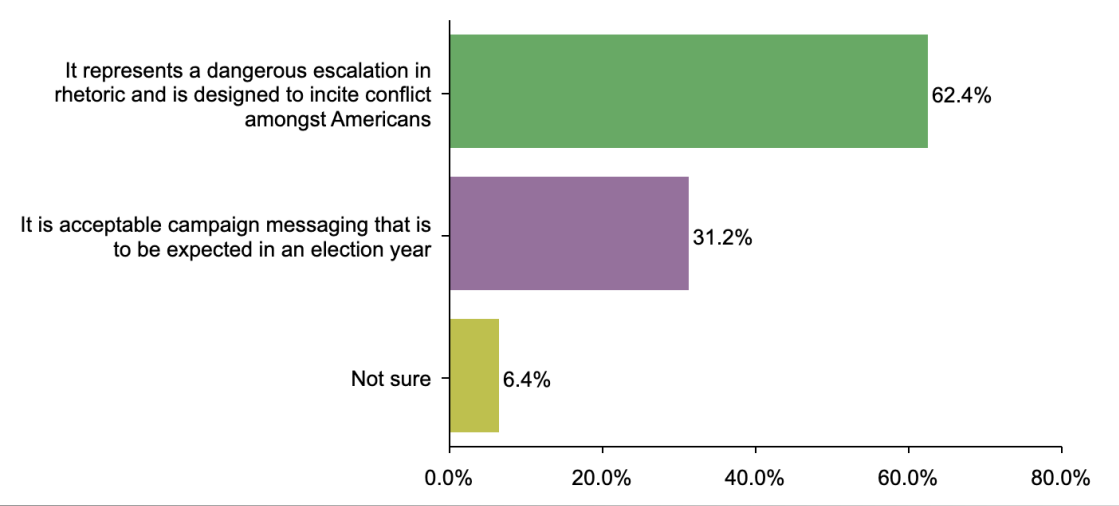 Poll here.
Michael Walsh decries Biden's "evil speech."
Make no mistake: despite Biden's walk-back the next day--for members of Congress, words have no lasting meaning-- this was an evil speech and tantamount to a declaration of war on both conservatives and a Republican Party that, however poorly, represents them. It should have been immediately been greeted with articles of impeachment by the hapless, cowardly, and contemptible GOP, but of course it wasn't. Biden and Left have backed the Chicken Party into a corner, from which they cannot fight back without giving MSM credence to the charges he just laid against them. Grandpa Joe (more like your Wicked Uncle Ernie from Tommy), a veteran of nearly haft a century of "reaching across the aisle" in order to pick the country's pockets, may be dumb but he's not stupid. He knows his enemies and their foolish desire to be loved by the press, and knows that they won't dare stop him as he fiddles about. Despite his manifest unworthiness for the highest office in the land, Joe Biden is in a way the perfect president for our times. Since Reagan, and with the partial exception of Donald Trump, we have had a parade of base, weak, conniving, corrupt, and otherwise unsuitable presidents, so why should he be any different?
Scott Street, a lifelong Democrat, writes in The Federalist that Biden's speech was a Rubicon too far for him.
I am a lifelong Democrat. I even worked for Joe Biden at one time. Thus, nothing that has happened in America since January 2021 has surprised me. But the president's speech in Philadelphia last week marked a new low for America and a new low for a party that I once idolized. ... That has all vanished. Biden's speech in Philadelphia last Thursday confirmed it.
[W]riting a poor speech is one thing. Delivering it in front of a Nuremberg-style backdrop is quite another. The imagery shocked many people. It should have shocked everybody. It took just a few minutes for The Babylon Bee to draw comparisons between Biden's speech and Nazi Germany. And while most Nazi comparisons are exaggerated, these ones struck a little too close to home. After all, while the president warns about fascism (or "semi-fascism," whatever that is) in America, his administration is the one censoring people who disagree with it and trying to prosecute its political opponents, both flagrant violations of democratic norms. His administration is the one that, while claiming to crack down on Big Tech, works with it to punish dissenting voices and stifle debate. His administration is one that attacks its critics as terrorists, and which compares speech to violence. His administration is the one that felt bold enough to create a "disinformation" board within the Department of Homeland Security, an Orwellian concept that the world has not seen on such a large scale since those 1930s regimes that Biden says he hates.
These are not signs of a healthy democracy. They are not what Biden promised to deliver during his 2020 campaign or his inaugural address. Voters have noticed. Although the president's approval rating stabilized during August, it still sits at a measly 42.1 percent in the RealClearPolitics average. It's hard to see that number increasing after last week's speech.
Note that while Biden brands his opponents Nazis, it's he himself engaging in Nazi speechifying and Nazi stagecraft -- after members of his own administration retweeted "Dark Brandon" memes full of
Nazi imagery
. And often simply cribbed from actual Chinese Communist Party propaganda.
You may think that no one could possibly defend Biden's
Hitlerian declaration of war against the Subversives and Undesirables in his country.
But then, you'd be understating how much NeverTrump is willing to do to earn their Democrat graft.
Max Boot thought the speech was just a pip!

Whatever figure you use for MAGA Republicans, it's clear that they account for tens of millions of voters and pose a major threat to our democracy. But there are also millions of Republicans and Republican-leaning independents who aren't hardcore Trumpkins and who are up for grabs. This includes "Never Trump" former Republicans like me (Twitchy editor's note: Max Boot is not, in fact, "up for grabs." He sold his soul to the Left as soon as he realized the pay was better). In elections that are likely to be decided at the margins, in a handful of swing states or competitive districts, relatively small shifts in sentiment can produce a political earthquake. ... While Biden has started attacking "MAGA Republicans," Democrats' election prospects have improved, boosted by gains among independents. A lot of that shift is because of support for abortion rights, a decline in gas prices and Democratic success in passing legislation, but a recent NBC News poll found that voters rank threats to democracy as their No. 1 concern. The GOP reaction to Biden's speech has been so hysterical, one suspects, precisely because Republicans fear that his strategy -- of turning "MAGA" into a toxic brand -- might succeed.
Sounds like someone's worried that he might be fired, given proposed cut of 100 Washington POst "news" personnel. Holler for a dollar, Maxie. You show the leftwing Washington Post that you are willing to put on the kneepads and suck for all that you're worth. Professional Grifter and Man-Boy Dating Service Operator Steve Schmidt says that Biden has kindly offered the GOP a "compromise:" Join with the Democrats to "crush" (!!!) MAGA and Biden will allow you to retain some of your freedoms.

Steve Schmidt
@SteveSchmidtSES 1/ President Biden has offered a compromise to tens of millions of Republican voters who don't want to abandon democracy. He has said let's work together and destroy the MAGA movement. That is the compromise. It is necessary. It must be crushed to save America. ... 3/ The American people must end this madness. The American people must rise up against the coward politicians who have gone off the rails and vandalized the American Republic to sate Trump and protect themselves from his ire. The fall campaign is underway and the choice is here
Sounds insurrectioney. I think the people must Rise Up to Crush
you
, Fat-Boy. What do you think of that? This fat grifter, who bragged that his Lincoln Project would provide him with "generational wealth," also had the (tiny, nonproductive) balls to tweet this:

Steve Schmidt
@SteveSchmidtSES "It's not the job of media to keep the American people safe & free. That's the work of the people. They could be helped, but won't be by institutions that revel in their commitment to fact & truth, but are just money-making ventures pursuing self-interest."
Of course, scumbag sexual assaulter Don LeMon defended Biden's fascist speech, claimin
"It's just politics."
Sure is a distance from his fainting over anything untoward Trump said about Democrats or antifa (but I repeat myself).