Quick Hits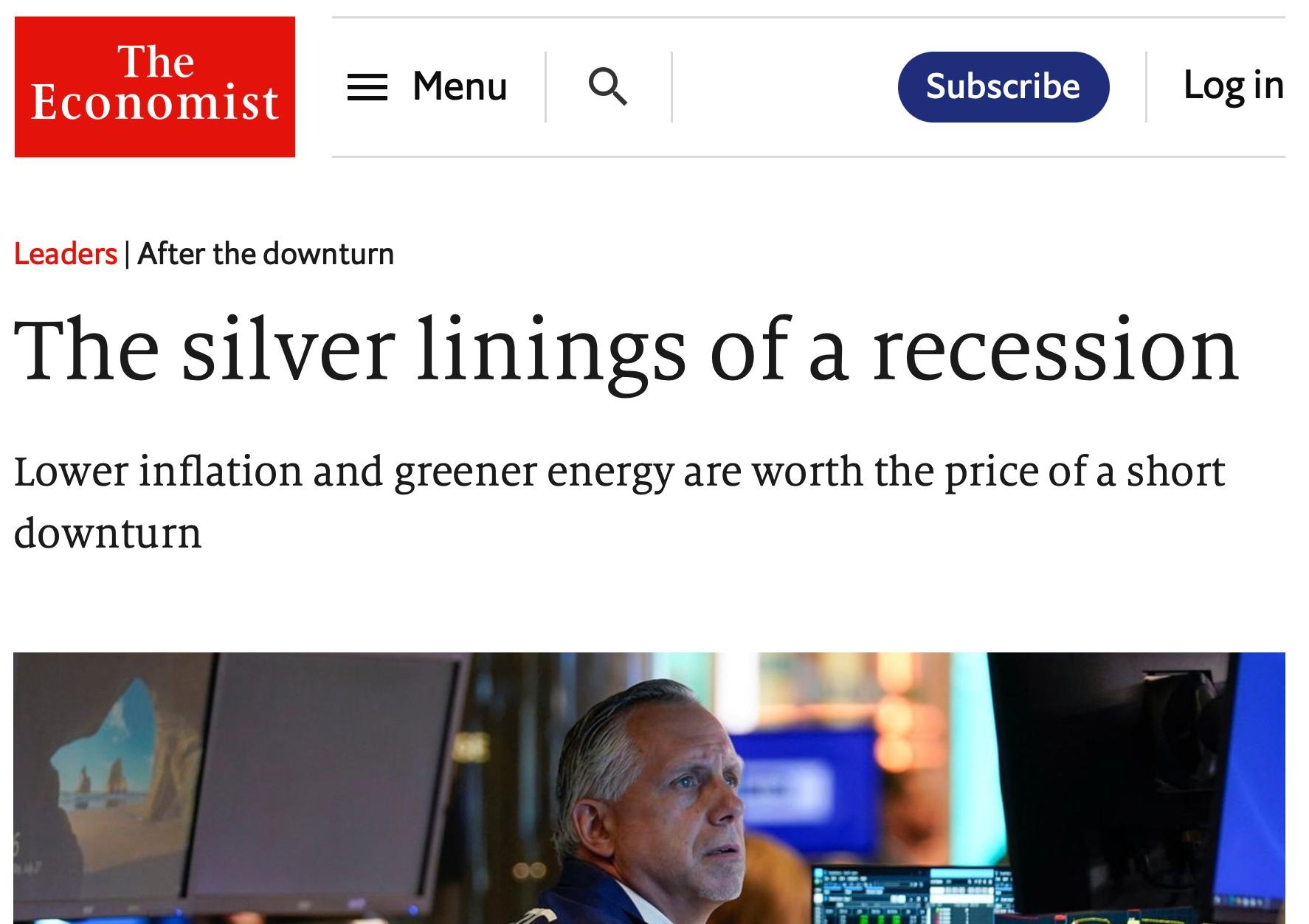 Flashback:
ABC "News," 2014: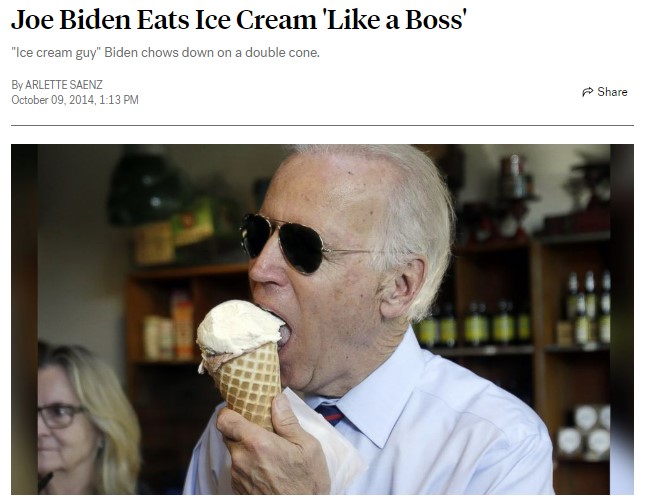 When you've lost Dick Cheney... you've lost, you know, the southern/midwestern bloc of the corporate Uniparty.
Alayna Treene
@alaynatreene Wow-- Dick Cheney:"In our nation's 246 year history, there has never been an individual who is a greater threat to our republic than Donald Trump...There is nothing more important [Liz] will ever do than lead the effort to make sure Donald Trump is never again near the Oval Office"
Wow!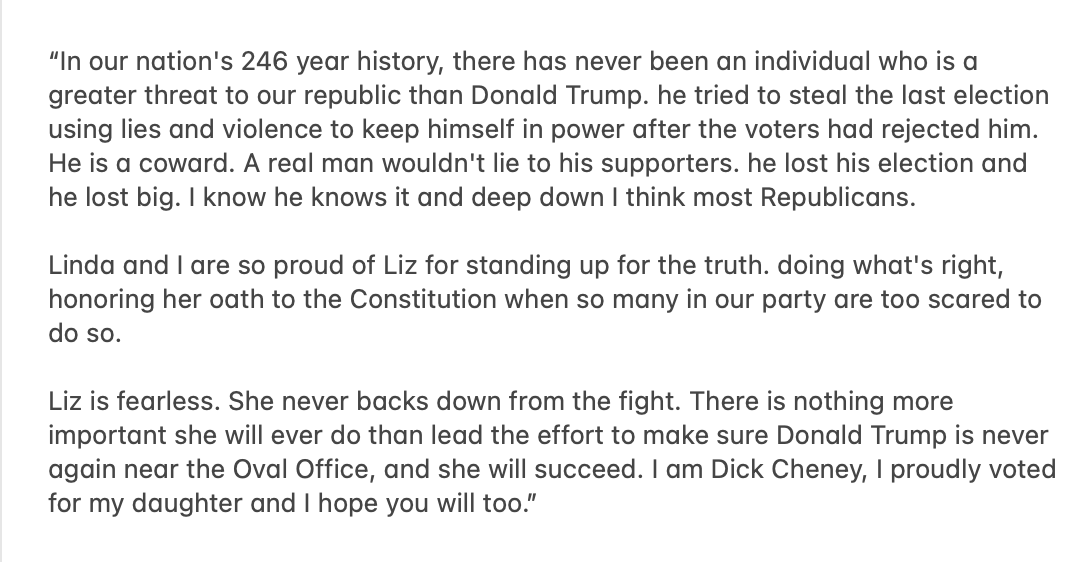 Now let's win this election for Liz like we won in Iraq and Afghanistan! The ad is
here.
Dick Cheney looks like death warmed over, and then put into the refrigerator and left in there pushed all the way to the back until it turns gray and starts to enter that in-between state of really, really dead and Alive Again.
He's wearing a Cowboy Hat to Con the Rubes. I'm really getting sick of Cowboy Hats, I gotta tell you. They're beginning to stink of snakeoil. Yeah yeah I know there's nothing wrong with the hat itself. But they are being used by bad people to deceive other people. "I've got this hat on, so you know everything I say is Authentic Frontier Gibberish, I mean, Authentic Frontier Straight-Talk." Incidentally, the way he words this -- and the way all of the NeverTrump words this -- indicates that if Trump does run and does win the nomination, they're supporting the Democrats,
again.
For the third Presidential election cycle, and fifth election cycle (including congresional elections), in a row.
How many election cycles in a row do you get to support the
extremely leftwing, authoritarian, anti-American, anti-Christian, socialist Democrat party and still claim that you're a rootin'-tootin' American patriot and a God-fearin' conservative?
Apparently it's going to be five. Until they need it to be six. Then, it will be six.
Marvel has another winner series coming up on Disney+. Or Disney Minus, amirite. It's "Ironheart," the highly unpopular canceled black female replacement character for Tony Stark. Well, bless their hearts. But they've decided to really go the extra mile and
cast a drag queen in the show as well.
I mean: Perfect. The Ironheart character is a young teenager so this is supposed to be yet another show directed at tweens. So of course Disney decides to Go Groomer and put a drag queen in it, because Disney is a Groomer Organization first and foremost with some expensive IP to attract children to the grooming. Hey kids-- Free Candy! Via Jane D'Oh:
Drew Hernandez
@DrewHLive DEATH CULT: A woman teaches how to build an altar for a post abortion, which includes a container for the remains of the baby after being aborted and the abortion pills on the altar, she ends the DYI video by kneeling before the altar, not satire

You can decide if
you want to click on that or not.
There's nothing gory shown. It's just the whole concept is seedy and vile. Also from Jane:
Ian Miles Cheong
@stillgray Nikki Fried, who's running for governor against Ron DeSantis, held a virtual press event with a couple of health experts. At the end, she asked to field questions from members of the media. None of them showed up.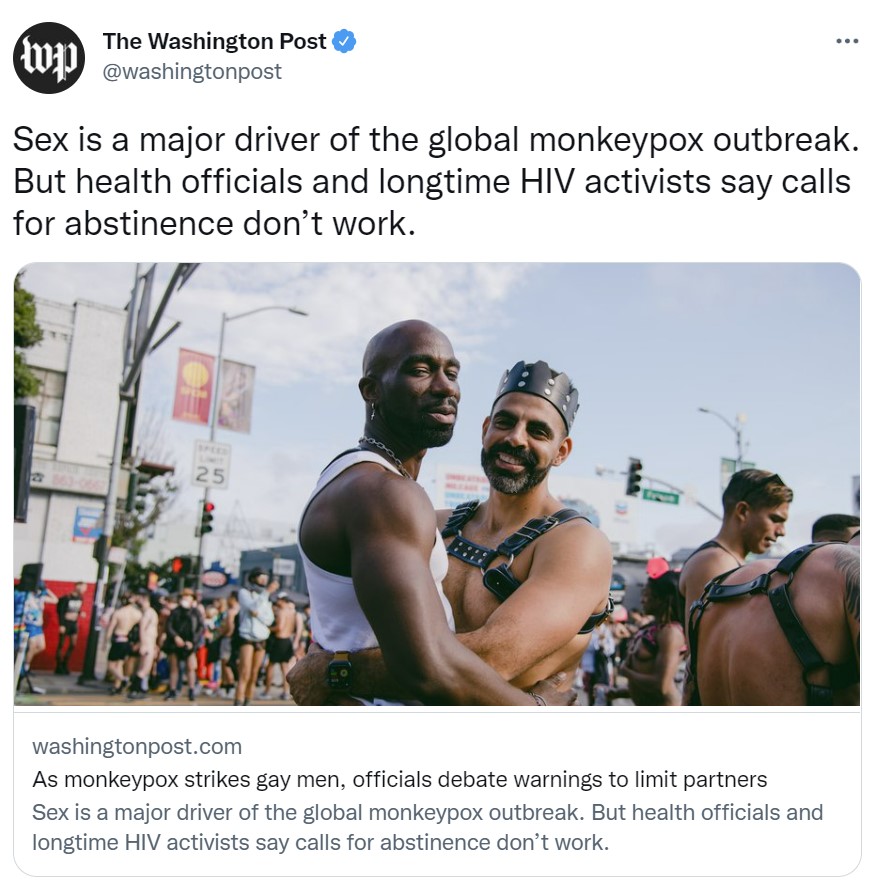 Of course, of course. You can't tell gays to stop having sex. Or even to stop having sex with multiple partners in a week. I mean -- that's sacred. That's holy. What you can do is forbid people to stop doing non-sacred, non-holy things, things like: Going to church, going to marriage ceremonies, going to funerals, going to christenings, seeing relatives who are in the hospital or on their deathbeds, etc. But you certainly can't stop gays from having sex with multiple partners. That is too firmly rooted in this nation's culture! Plus, as they say, it just wouldn't be effective.
Gays would just ignore the your "advice."
Thousands of gay men clad in leather, latex -- and often much less -- partied along Folsom Street here last weekend during the annual kink and fetish festival. Even after the city had just declared the monkeypox outbreak striking its gay community a health emergency -- one day after the World Health Organization urged men to sleep with fewer men to reduce transmission -- San Francisco public health officials made no attempt to rein in festivities or warn attendees to have less sex. As the Centers for Disease Control and Prevention weighs whether to recommend limiting sexual partners, health officials in San Francisco, Chicago, New York and other U.S. cities battling surges disproportionately sickening gay men are avoiding calls for sexual restraint, wary of further stigmatizing same-sex intimacy. Public health authorities typically emphasize safer sex over abstinence to prevent the spread of diseases through intimate contact. But monkeypox is presenting new challenges in calibrating the right message to stop the rare virus from becoming endemic while limiting government intrusion into the bedroom.
I don't remember being told to be "safer" at the gym or beach during covid.
I was told I simply was not permitted to go, and if I tried to go, I would be arrested.
There was no "Use Your Best Judgement" under covid. There was no "You can do what you want to do, just put a band-aid over your sores" under covid. During covid, the health authorities did not merely offer advice. They also sent out the police to
arrest pastors
that held church services. And to arrest business owners who opened their businesses. And to shutter parks and gyms with gates and chains. And other coercive means. But you can't do that with gay bars and gay fetish parties. Again, gay fetish orgy parties are simply too rooted in the misty chords of American memory to be subject to state control, unlike petty matters like religion, children's schooling, children's sports, adults' past-times, or commerce of all kinds. America was founded on two things: unprotected gay multipartner sex, and leftwing riots and murder. They're blessings of liberty, bigot. The FBI and NIH both agree.
Mary Katharine Ham
@mkhammer I mean, I'm all for harm reduction and taking into account how actual humans might act and how much we can control with policy. Great idea! Also, PUBLIC HEALTH TOLD PEOPLE NOT TO HUG EACH OTHER OR HOLD THEIR PARENTS' FUNERALS FOR 2 YEARS.
People were also fired from their jobs for not complying with The Regime's dictates on vaccination. But some people's liberty is just more sacred than other people's. In the Empire of Lies, the truth has a selective utility: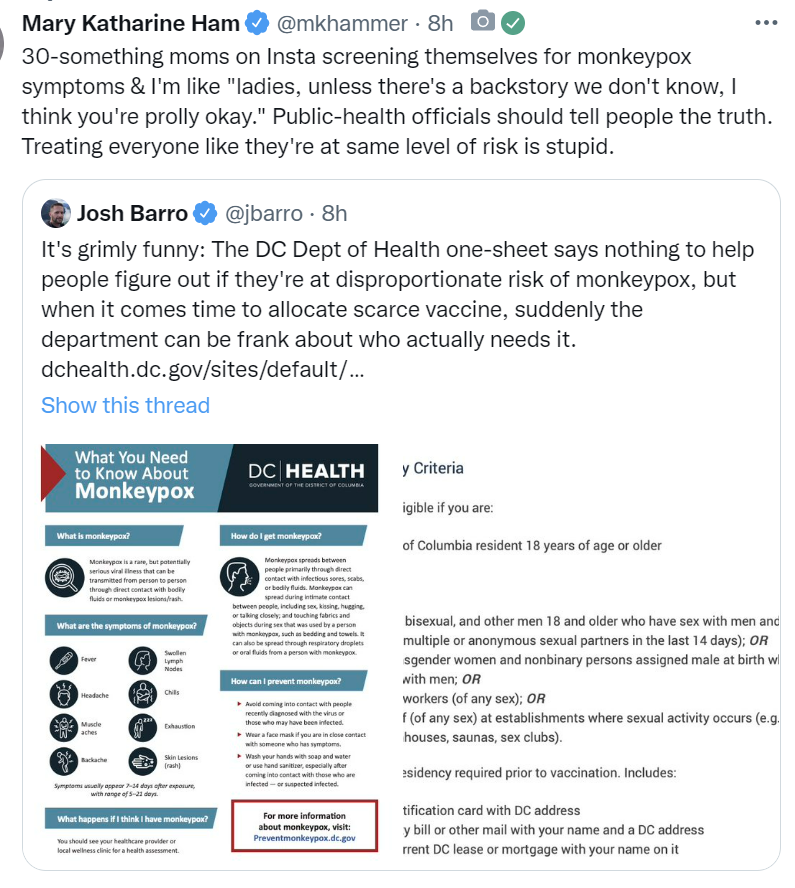 Can I ask a serious question: Why are no Republicans in Congress asking Rachel Walensky or Anthony Fauci about this? Do even our representatives so care about the New York Times' opinion of them that they won't ask highly-relevant questions?
Why has not a single reporter at the supposedly-conservative Fox News asked these questions?
Oh right, because Fox News isn't conservative, it's as leftwing as CNN and MSNBC. It would be homophobic to ask why gays are allowed to continue having multipartner gay sex during a pandemic spread by multipartner gay sex.
Would you say that Drag Queens are a "Blessing of Liberty"?
Donkey-Chompers looks like a drag queen. I wonder if she has a batwanger.