Gardening, Puttering and Adventure Thread, July 30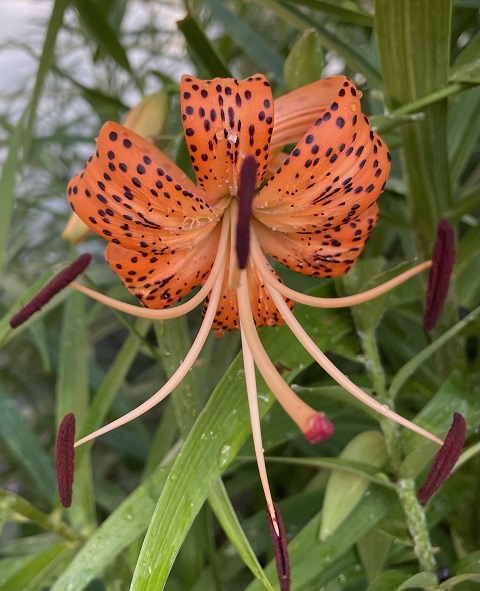 A lurker's garden in Eastern Nebraska. It's surviving and thriving in the hot weather.
Happy last day of July! (Tomorrow. Heh) Hope you are out of range of fire and flood. Is everybody okay? Needing to take precautions? It's the season for serving tomatoes and bacon together. Maybe on a sandwich. The
BLT recipe
from which this photo is taken is for 100 servings! A little ambitious for a home garden, but you can figure out how to cut down the proportions.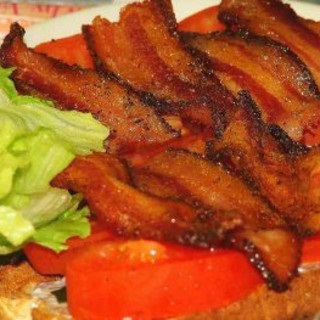 I am a purist when it comes to these sandwiches. No mayo. Maybe a little butter. Good bread (or maybe just home-grown tomato, bacon and a fork). Seasoned with salt and pepper. No lettuce. Avocado is a nice variation. What do you like?
Edible Gardening
More bacon with veggies, namely corn and shelly beans. A friend liked this recipe from Garden & Gun Magazine:
French Style Succotash
Butter beans and bacon blend with tarragon and cream in a Georgia chef's French-accented succotash
Back in 2015, I posted another recipe for succotash with cream, using shelly beans, from an old Joy of Cooking cookbook. And in some places, they add tomatoes to succotash. There is a lot of information on
beans suitable for fresh shelling
on this thread, too. Sufferin' Succotash.
*
For the last few weeks, I've been picking mulberries and black raspberries, but at every turn their a bugs of all sorts their first, eating them and laying their eggs on them. However, I keep finding little piles of animal poop (raccoon or opossum, I'm guessing), full of little berry seeds, so someone's chowing down on them! Grimmy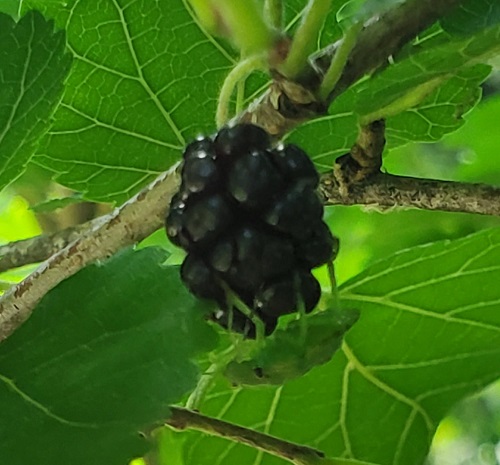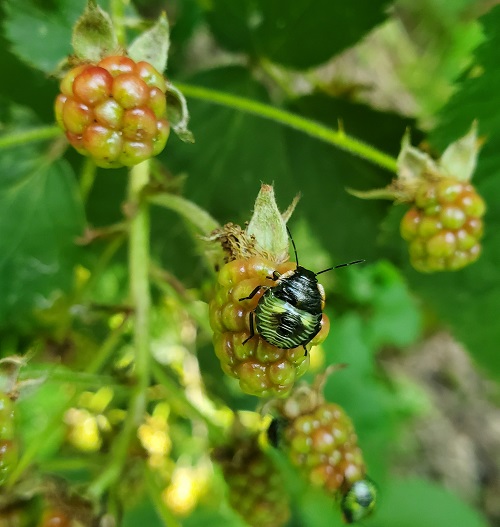 We don't want Grimmy biting into one of those berries without checking it out!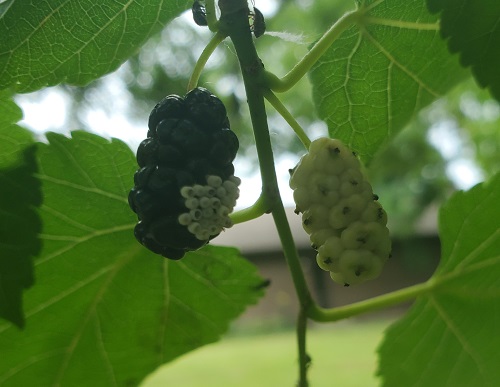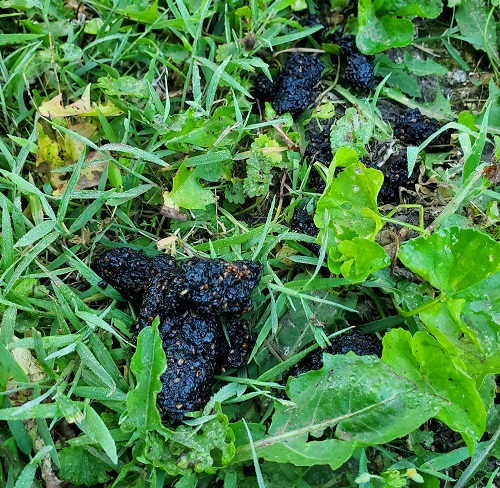 Nice poop photo!
*
Here in south west Oklahoma we have had 100 degree weather since June, so holding the garden together and keeping it producing has been hard this season. Tougher than any recent year. The pictures of the buckets is a typical one evenings' harvest.
We pick in a rotation.
This evening was tomatoes, cantaloupe, and bell peppers. A few odds and ends of cukes and black-eyed peas. Last night was green beans , squash, cucumber, and black-eyed peas.
Okra and jalapeno are not quite in production. Thank you for the chance to participate in your Thread. Gardening On, Talks With Owls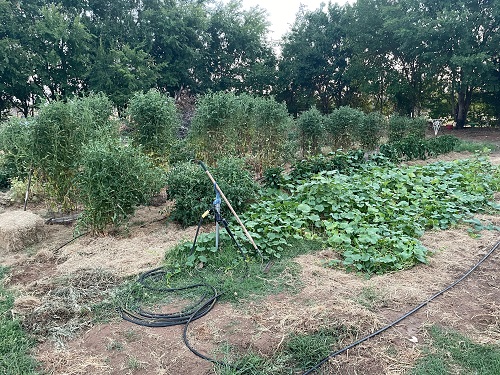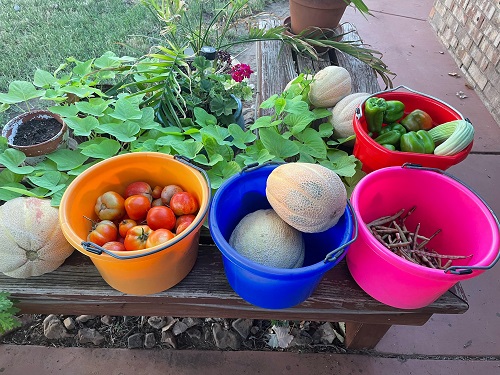 Wow! An enticing haul!
Ah, Nature
Last week, we had a very impressive photo of a Damselfly. This week, at Maggie's Farm, there was a feature
About Dragonflies.
Sky hunters.
Hope everyone has a nice weekend.
If you would like to send photos, stories, links, etc. for the Saturday Gardening, Puttering and Adventure Thread, the address is:
ktinthegarden at g mail dot com
Remember to include the nic or name by which you wish to be known at AoSHQ, or let us know if you want to remain a lurker.
Week in Review What has changed since last week's thread?
Gardening, Puttering and Adventure Thread, July 23
Gorgeous hydrangeas in blue and pink; lotus (water lily) seed pods forming in a tranquil scene. Devastation by racoons and a trapped suspect (probably innocent). Desert fruits: pears and melons. Some beautiful lilies in Kansas. Any thoughts or questions? I closed the comments on this post so you wouldn't get banned for commenting on a week-old post, but don't try it anyway.
Posted by: K.T. at
01:25 PM