Sunday Morning Book Thread - 02-20-2022 ["Perfessor" Squirrel]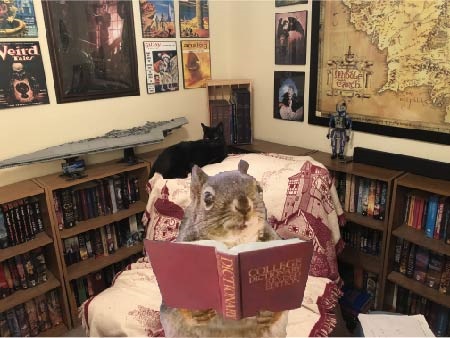 Full Panoramic View
(It's a small room. I'm practically standing in the cats' litter box in order to take the panoramic snapshot. Totally worth it!)
Good morning, Horde! Welcome to the prestigious, internationally acclaimed, stately, and illustrious Sunday Morning Book Thread! The place where all readers are welcome, regardless of whatever
guilty pleasure
we feel like reading. Here is where we can discuss, argue, bicker, quibble, consider, debate, confabulate, converse, and jaw about our latest fancy in reading material, even if it's just the nutritional information on a box of Twinkies. As always, pants are required, unless you are wearing
these pants
...in which case, you need to have some extra Twinkies on hand to keep them docile. So relax, find yourself a warm kitty (or warm puppy--I won't judge) to curl up in your lap, pour yourself a wee dram of your favorite beverage, and crack open a new book. What are YOU reading this fine morning?
PIC NOTE / INTRODUCTION
The Sunday Morning Book Thread is what first convinced me to become a regular commenter here at AoSHQ. I started out on the Book Thread and then joined in commenting on other threads. OregonMuse started posting pictures of other Moron libraries, so I sent him a picture of my own, just on the off chance that it would be featured someday. I was absolutely blown away when I saw it on the Sunday Morning Book Thread. I decided to include it again this week as a way of introducing myself. This time I added myself into the picture, showing just how literate I can be (wink, wink, nudge, nudge).
Several years ago I was inspired to turn one room of my house into a library. I bought some additional shelving units (though ace was unavailable to assist me in assembling them), and then had the rather bright idea of purchasing a giant map of Middle Earth. For the type of reading I do, maps are extremely important and necessary for following many of the stories, and Middle Earth is one of my favorite settings of all time (naturally). I also found a cheap way of creating interesting wall art for my library. I downloaded cover art from some of my favorite fantasy artists along with cover art from science fiction pulp magazines. I then printed them out on cardstock and used cheap picture frames from Walmart to mount them. The effect is really quite excellent taken as a whole. As a bonus, if I get bored with the current pics, it's child's play to swap them out for different pics. I believe that you can gain tremendous insight into a person simply by studying their library and seeing what they enjoy reading. In my case, you can see a fair number of fantasy and science fiction stories. That is my main genre, and one in which I am very well-versed. I consider my library to be an extension of my own mind. The lessons I've learned from reading have shaped my character to be the person I am today. One of those lessons is that you can never have too many books--until it's time to move them! What are some of the design decisions that went into the creation of your library? Did you deliberately create a comfortable reading space? Or has it simply evolved over time as you accumulated more and more books?
IT PAYS TO INCREASE YOUR WORD POWER FICTIONAL GEOGRAPHY
Recently, All Hail Eris posted an image of Oz on the Book Thread. Fictional geography (and geography in general, truth be told) is a fascinating subject. So let's explore, shall we?
A is for Abaton

Abaton is a town of changing location, possibly located in the Scottish highlands. Seeing it is enough to move travelers to tears of great joy or misery, though it's impossible to know which kind any given traveler will experience. Although no one has entered this town (to our knowledge), if you get close enough you may hear distant music, as from a harpsichord, emanating from the walls. (Sir Thomas Bullfinch, My Heart's in the Highlands, 1892)

Z is for Zyunal

Zyunal is a small island among the archipelago of the Isles of Wisdom. It's known as the home of the Pramites, a race of unknown origin who wandered through the archipelago, scorned and persecuted by others (though they are peaceful at heart). They are born wanderers, and will likely leave Zyunal in the not-too-distant future to continue their travels. (Aleksander Moszkowski, Die Inseln der Weisheit, Geschichte einer abenteuerlichen Entdeckungsfahrt, Berlin, 1922)

MY RECOMMENDATION
I recently read an interesting book by Howard V. Hendrix,
The Labyrinth Key
, which explores the concept of a "memory palace." The idea behind this is to create a mental image of objects that evoke memories and place them in an imaginary room so that there is context to the arrangement of those objects. With practice and training, you can become exceedingly skilled at recalling facts and information because you have a well-organized mental map or filing cabinet. Another theme that is central to
The Labyrinth Key
is the difference between a
labyrinth
and a
maze
. Like most people, I didn't see that there was any distinction, but apparently there is one key difference: a labyrinth has only ONE path through it, while a maze can have multiple paths. Hendrix points out that novels, as a rule, are themselves labyrinths. The characters within the novel might have alternate paths open to them, but their choices lock them into a single path that takes them through the story for the reader.
The Labyrinth Key
is one of those books that I picked up a long time ago and only just now got around to reading. I have far too many of those. It was quite excellent, as it frames itself as one part techno-thriller, one part locked room murder mystery, one part philosophical treatise, one part cyberpunk, and one part transcendental. It starts out with a man undergoing some sort of radical spontaneous human combustion effect while he's connected to cyberspace. Turns out his "ash" remains are a little more than normal ash. They contain enough information about his entirety that they can be used to reconstruct him again under the right circumstances. I do find it interesting that this novel explores both conflict and cooperation between China and the United States (it was written in 2006 and takes place in a "near future"). Both countries are researching quantum computing in the hope of unlocking the ultimate weapon to use against the other, but they also have to cooperate with each other to unravel the mystery surrounding the strange death as there are multiple factions (ancient secret societies) all working towards the same goal. Then someone makes a breakthrough and things spiral rapidly out of control as the true power of quantum computing is unleashed. Hint - It ain't pretty for governments around the world.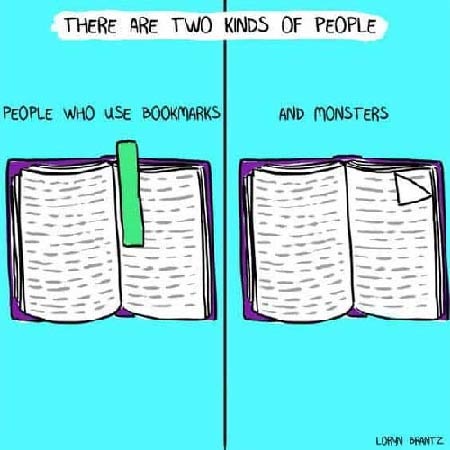 (Full disclosure: I used to be a monster. I've since reformed.)
MORON RECOMMENDATIONS:

Recommended: "A Brave and Cunning Prince" by Jim Horn. The times and travels of one of Powhatan's guys around the Chesapeake Bay as first the Spanish and then the Brits started showing up. Lots of ups and downs but suffering was never far away for any group. Amazing how much info historians, archeologists, and such have been able to put together. Why literacy is important.
Posted by: 11B40 at February 13, 2022 09:33 AM (uuklp)

Comment
From the
online blurb
, it sounds like Spain's attempt to "civilize" the savage backfired spectacularly.
+++++

Still reading "The Hobo. The Sociology of the Homeless Man". 1922 CHAPTER XIII

THE INTELLECTUAL LIFE OF THE HOBO The homeless man is an extensive reader. This is especially true of the transients, the tramp, and the hobo. The tramp employs his leisure to read everything that comes his way. If he is walking along the railroad track, he picks up the papers that are thrown from the trains; he reads the cast-off magazines. If he is in the city, he hunts out some quiet corner where he may read. The tramp is a man with considerable leisure, but few books
Posted by: Guy who likes to blow it out his ass at February 13, 2022 09:38 AM (vrz2I)

Comment:
There's always been a romanticized angle to hobo/tramp culture in America. Jack Reacher, for instance, is basically a hobo going around solving problems. Jules Winnfield from
Pulp Fiction
decided to adopt this lifestyle, though his partner Vincent Vega scoffed at this idea. Something about riding the rails to see the country has a certain appeal to it...but it's also a dangerous lifestyle choice. Adventurers in role-playing games often refer to themselves as
"murderhobos."
+++++

The other book I finished was The Heart's Invisible Furies by John Boyne, about growing up an orphan, and a homo, in Dublin. When I first figured out the subject matter I rolled my eyes and was prepared to be thoroughly disgusted; except as I've stated before Boyne must be the Ric Grenell of writers because there was nothing icky or proselytizing about it and it was a story very well told. Maybe the Irish are just very skilled at writing books situated on their Island. Boyne has other books out, which presumably have different main topics, so I might check them out.
Posted by: Captain Hate won't forget Michael Byrd Murdered Ashli Babbitt at February 13, 2022 09:57 AM (y7DUB)

Comment:
Captain Hate makes a good point about Irish authors. They do seem to have had
tremendous influence
in literature over the centuries. John Boyne is also the author of
The Boy in the Striped Pyjamas
, which was adapted into a film.
+++++
That's about all I have for this week. I want to thank Weasel and CBD for their support and encouragement to try this out. Their feedback has been invaluable. I hope y'all were at least moderately entertained. Future installments will include much more Horde-sourced content, with your support! I especially want to thank OregonMuse (RIP) for providing a space where I could emerge from my shell and interact with all of you fine people. That led to me becoming a somewhat regular commenter and even gave me the courage to attend my first TXMOME last year. He was a scholar and a true gentleman and we are all lessened by his passing. Finally, I want to thank our esteemed host-in-chief, ace, who has given us this remarkable space online in which to play. It's a great big, scary world out there, but in here we can shut it out for the time being and just have fun. If you have any suggestions for improvement, reading recommendations, or writing projects that you'd like to see on the Sunday Morning Book Thread, you can send them to
perfessor dot squirrel at-sign gmail dot com
. Your feedback is always appreciated! You can also take a virtual tour of my library at
kugelblitz.libib.com
.