Media Got Its NPC Programming Update: Biden Wasn't Snapping At Doocy, He Was Merely "Deadpanning"
It's amazing how fast the NPCs update once that notification goes out.
From
Abigail Malone: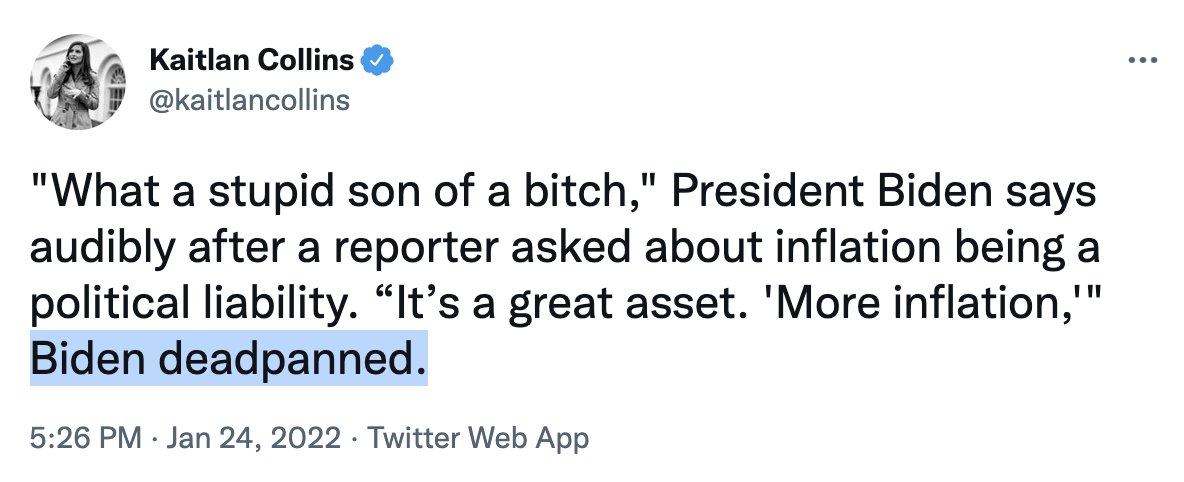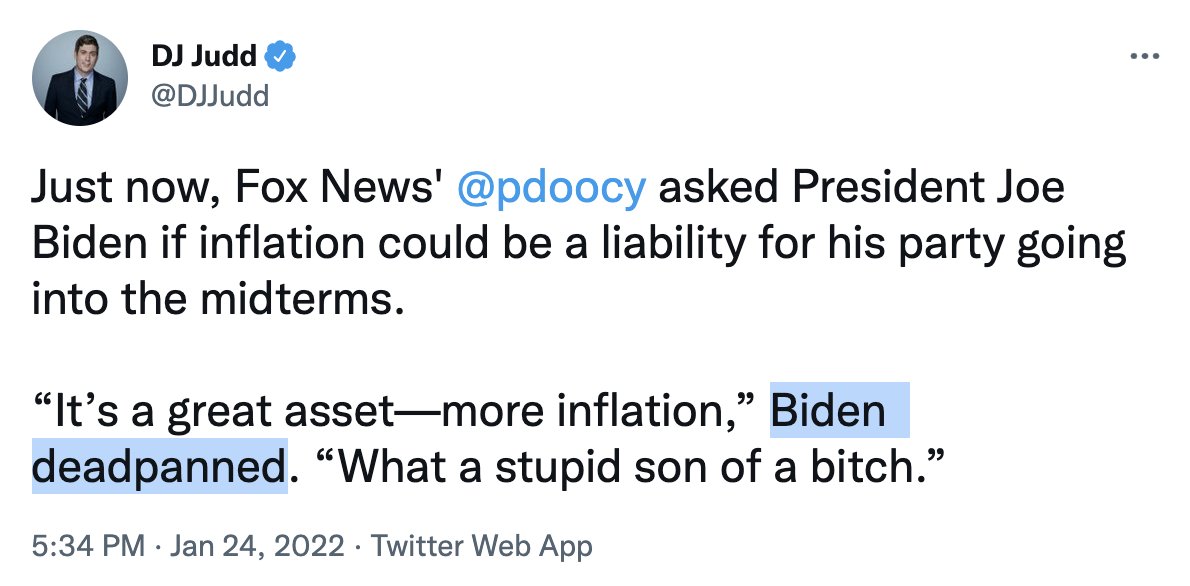 Biden did deadpan about inflation being an asset -- but that wasn't the newsworthy part of the story. The newsworthy part of the story was him
snapping
at Peter Doocy and insulting him, which CNN and the rest of the Play-Acting Drama Queen Media routinely used to claim
put media workers' lives in physical danger
when Trump did it. Now, they don't even acknowledge it happened. "Snapping" makes it sound like he's an old man with senility outburst problems. "Deadpanning" make it sound like he's a cool operator. Let's go with that one! It's not just the overt leftwing media, either -- it's the cover leftwing media, as represented by all the NeverTrump liberals who refuse to quit the "conservative" media and go get honest jobs at the Daily Beast or Buzzfeed or whatever leftwing outlet will have them. Ed Morrissey, as I noted in the sidebar, felt that Biden's deadpanning proved that he was "more coherent than usual," partly mis-citing John Hindracker, who is at the root of this stupidity.
If anything, this might have made Joe Biden look more coherent than usual, John Hinderaker posits. The sarcasm and name-calling reflect that Biden really is worried about inflation and its effect on Democratic electoral prospects, a point that some missed in the exchange:


First of all, contrary to what many are saying, this is not a "hot mic" situation. Biden was perfectly aware that he was sitting at a microphone, ostensibly in order to answer questions, and that anything he said would be heard by everyone. He did it on purpose. To me, what is notable about Biden's answer is not that he said to Doocy, "You're a stupid son of a bitch." That is just Biden's usual senile hatefulness. Rather, it is the fact that for a change, Biden was able to recognize reality, saying sarcastically, "It's a great asset. More inflation." That represents an unusual moment of lucidity. Even Joe Biden understands that rising prices are damaging to the Democrats.
So Hindraker concedes the insult is Biden's "usual senile hatefulness." And then says that's not the story. The real story is that Joey Sprinkles actually managed to recognize that inflation is bad. Wow, yeah John, you're right -- that's the big story here. Not man bites dog, but Man Recognizes Dog Is Dog. As for the part about the "deadpanning" making him seem coherent: Both of these guys need to wake the hell up. Senility is not an Always On thing. As they say of people with dementia: "He has his moments" or "he comes and goes." Their minds are not
always
gone. They do have moments of lucidity here and there. But they also have a lot of moments of confusion, and "senile hatefulness," and these get more and more frequent as the condition progresses, which it always does. Because no one ever "got better" from dementia. It's a progressive condition with treatments but no actual cure. So no, this doesn't really establish that Biden is "coherent." And is that where we are now? That's where the NeverTrump elements of the pseudoright are at? We're awarding Biden Cognitive Fitness Points for
recognizing that inflation is a political danger to him?
That shows he's "more coherent"? We're praising him for that? I choose not to praise him for that, and I choose, in fact, to not even say that that part of "the story" is the story at all. The story is the
angry snapping
at a reporter, which the media claimed was a Hate Crime from 2015 to just 24 hours ago, and which Biden himself said he would never, ever do. In fact, Biden vowed that he would "fire on the spot" anyone he saw treating anyone else "with disrespect" or "talking down to someone:"
So I guess we're admitting that was campaign season bullshit to please the NeverTrumpers and Suburban Karens, huh? "He's not Trump! The Tweets will be Nice! Yay!!!" This NBC hag attempted to spin Biden's Literal Assault on the Press and Democracy Itself as if it was Peter Doocy's fault:
Well: 1, it was an event about the economy and the middle class, and
inflation is very much on-topic in an event about the economy and the middle class
, and 2, who gives a fuck what Biden likes or what questions he wants or doesn't want? Is NBC announcing that as their "journalistic" standard-- presidents should only be asked the questions they want to be asked, and never asked about their liabilities? I know that's their actual working rule under Democrat Presidents but fuck this soulless whore anyway. Meanwhile, everyone in the world knows that Biden has always been a nasty, intemperate bully, and it's only gotten worse as he's begun the quickening spiral into senile darkness: