President Restore Our Norms, Respect the Press, and Heal The Nation's Whole Soul Calls Peter Doocy a "Stupid Son of a Bitch" for Daring to Ask Him About Inflation
He asked an angry, nasty senile old man about something the angry, nasty senile old man hadn't been given notes about and didn't want to talk about.
So the man who had vowed that he would fire, "on the spot," anyone who spoke an untoward word to a "colleague" called Doocy a "stupid son of a bitch" while beaming his Nitwit Grin proudly, showing off for his fellow leftwing idiots of the press corps.
In a major hot mic gaffe for President Biden on Monday, the leader of the free world got caught calling Fox News' Peter Doocy a "stupid son of a bitch." The comment from Biden came after the official White House video feed on YouTube had been cut, but not before C-SPAN's feed ended. Following Biden's opening remarks, White House handlers were trying to shoo members of the press corps out of the room when Doocy shouted his questions: "Will you take questions on inflation? Do you think inflation is a political liability in the midterms?"
I don't think it was a gaffe; he said it right into the microphone and grinned proudly as he was saying it, like he was reliving his old confrontation with Corn-Pop the Made-Up Ethnic Interloper. I think he was showing off. I think this is a case of redirecting "Stray Voltage" -- David Plouffle's idea that when you're doing badly, there's a lot of "stray voltage" negative energy buzzing around, and it is best for you if you can ground it into some
other controversy
which, while maybe controversial, is
less
negative for you than the existing storylines are. In this case -- this endears Biden to his hyperpartisan leftwing supporters, by which I mean the media, who hate Fox News and want to see them degraded. And if you want to know how that squares with their "it's dangerous to encourage a climate of invective towards the press" -- shut up, Seditious Conspirator. That's different. Fox isn't really the press. It's spreads Dangerous Disinformation, unlike the leftwing press, which spreads Benevolent Disinformation. Also, Biden really fancies himself a steely-eyed Clinton Eastwood style tough-guy, and I think this demented old bird thinks he really knocked one out of the park here. I think he's having a real Movie Star Cowboy fantasy here. All because he asked a legitimate question that a senile old idiot didn't want to answer. Spencer Brown adds this context:
The president's words Monday are a far cry from what Biden promised on day one of his presidency just more than one year ago. "I am not joking when I say this, if you are ever working with me and I hear you treat another colleague with disrespect...talk down to someone, I promise you I will fire you on the spot," Biden pledged. "On the spot. No ifs, ands, or buts," he emphasized. "Everybody is entitled to be treated with decency and dignity," Biden told the country before adding "that's been missing in a big way the last four years."
Video of that promise at the link. Below, Joey Sprinkles' latest Senior Moment.
And how is fat stupid ugly hall monitor Brian Stelter covering this? As you may know, he shrieks about all threats to the press, and classifies insults as threats to the press. He mentioned the incident -- he can hardly avoid it, it's the top media story on twitter -- but did so without any negative comment at all. Like an actual journalist for once. But then he retweeted this, suggesting it was no big deal because Doocy wasn't crying about it like Dramatic Junior High School Girl, the way, say, Jim Acosta did when Trump supporters chanted "CNN sucks" at him.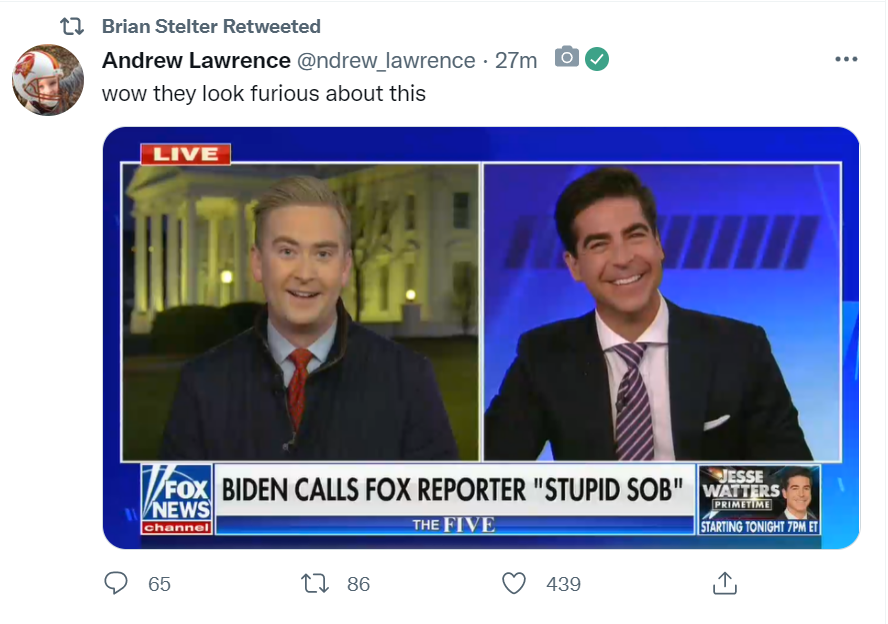 He also pre-criticizes Fox for covering this at all, instead of treating it as the "blip" it deserves to be treated as: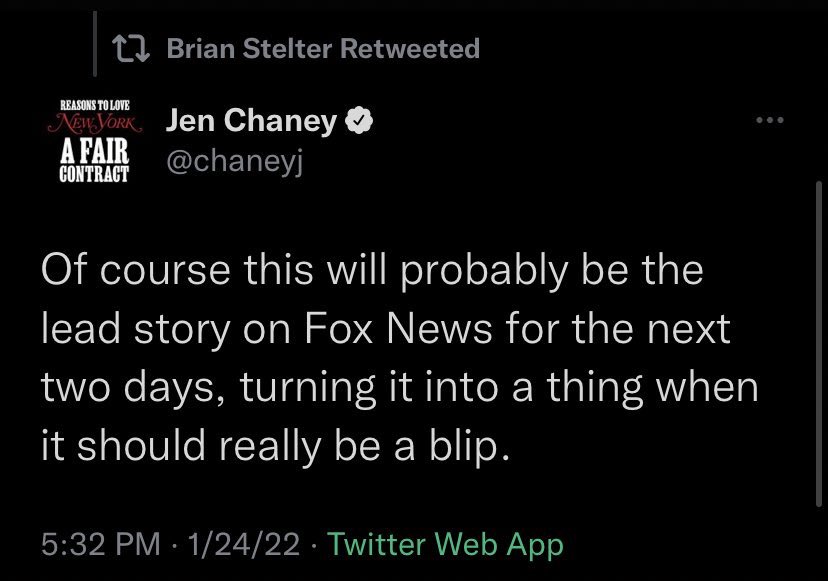 So that's Brian Stelter, bloated attack dog ever-vigilant for any threat to the dignity or safety of the press (and remember, he considered the Wrestling Meme and unacceptable threat the safety of CNN personnel) laughing at Biden calling Doocy a "stupid son of a bitch." "So Ace," you're saying to me now, "Obviously Stelter must have taken the exact same position, that calling a 'journalist' a 'son of a bitch' was just a jokey, blow-off thing, when Trump did it." Wrong again! Boy, you sure get a lot of things wrong. It's a good thing I'm here to correct all the dumb things you think.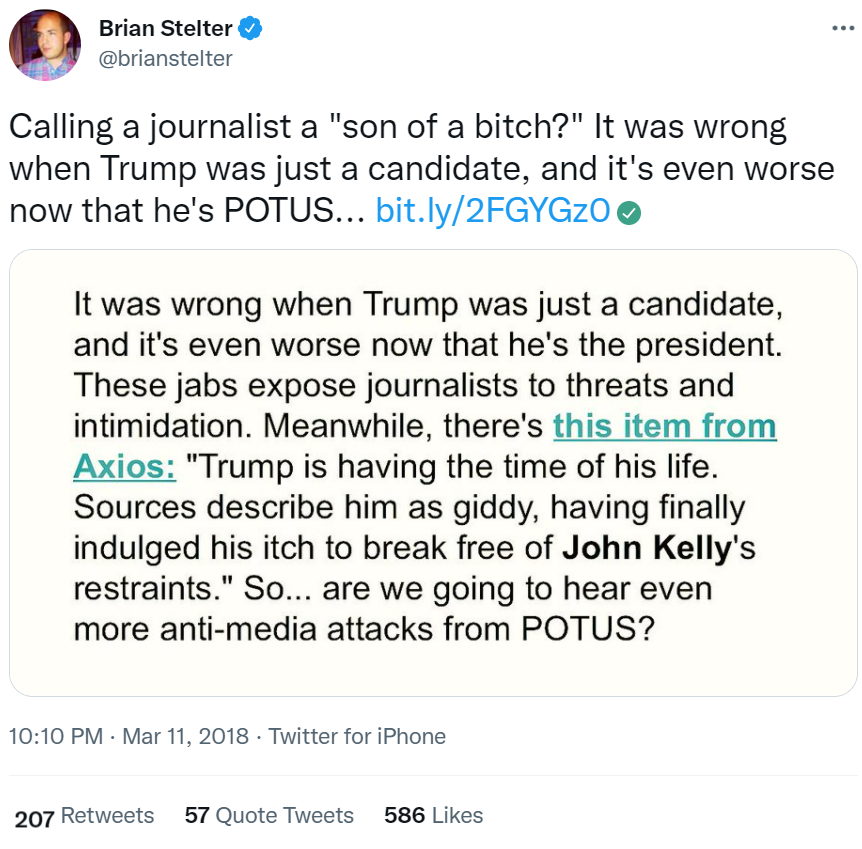 The friend who sent me the tips about Stelter's Obese Hypocrisies writes: "The pillars of democracy were crumbling over Let's Go Brandon just weeks ago. I'm so glad we recovered from that."