Texas Federal Judge Blocks Enforcement of Wrong-Way Brandon's Mandate for Federal Employees
Previously his OSHA mandate was struck down by the Supreme Court.
His mandate on federal
contractors
has been enjoined by an appeals court
since December 7th.
That will be reviewed by the Sixth Circuit, I think, and ultimately by the Supreme Court. He did prevail, at least for now, as far as mandating that nurses and other workers in facilities taking money from Medicare and Medicaid must be vaccinated. Now a Texas district federal court judge enjoins enforcement on his declaration that all federal
employees
-- not contractors, but actual government workers -- must be
vaccinated.
Judge Jeffrey Brown, who was appointed by former President Trump, wrote that the order exceeded the president's authority. The case is about "whether the President can, with the stroke of a pen and without the input of Congress, require millions of federal employees to undergo a medical procedure as a condition of their employment," Brown wrote.
The Department of Justice immediately said it would appeal. The order comes after the Supreme Court earlier this month blocked Biden's mandate that employees at businesses with 100 or more workers get vaccinated or regularly tested, while upholding the vaccination mandate for health care workers. The federal government's power to mandate vaccination for its own employees is thought to be on stronger legal footing, though Friday's ruling underscores the ongoing nature of the dispute. "I'm sorry, but this is just insane," Steve Vladeck, a law professor at the University of Texas, wrote on Twitter. "The federal government lacks the power to require its *own* employees to be vaccinated?"
Yes, but your employer does not have the right of Medical Prima Nochtae over you, which leftwing professors would grasp if a conservative president mandated, say, that all female government workers not get abortions or whatever. And the president's power to order about the bureaucracy is limited by the powers actually given to him by Congress. And Congress has not given him this power. Brandon does what he has repeatedly done, which is to claim that very nebulous language, like laws that say the president can prescribe rules of "conduct" for the civil service, of course must be taken to mean "require vaccinations." I saw a commentator, I forget who, maybe Brit Hume, maybe Jonathan Turley, note that Presidents and their attorneys are usually mindful not just about the personal price of losing on their claims of presidential power, but about the historic price of losing on claims of presidential power for all future presidents. And so that most presidents do not roll the dice and say "YOLO" on very dubious, weak claims of power, knowing that in all likelihood the courts will say "No" and put up a firm limit on presidential power. Brandon doesn't roll that way, obviously. His presidency is not just disastrous for the nation's current citizenry, but for all future occupants of the White House. This small, nasty, weak little man is enfeebling the office of the presidency for all future presidents out of pique and senility-caused anger. I mean, this, for example, is just stupid: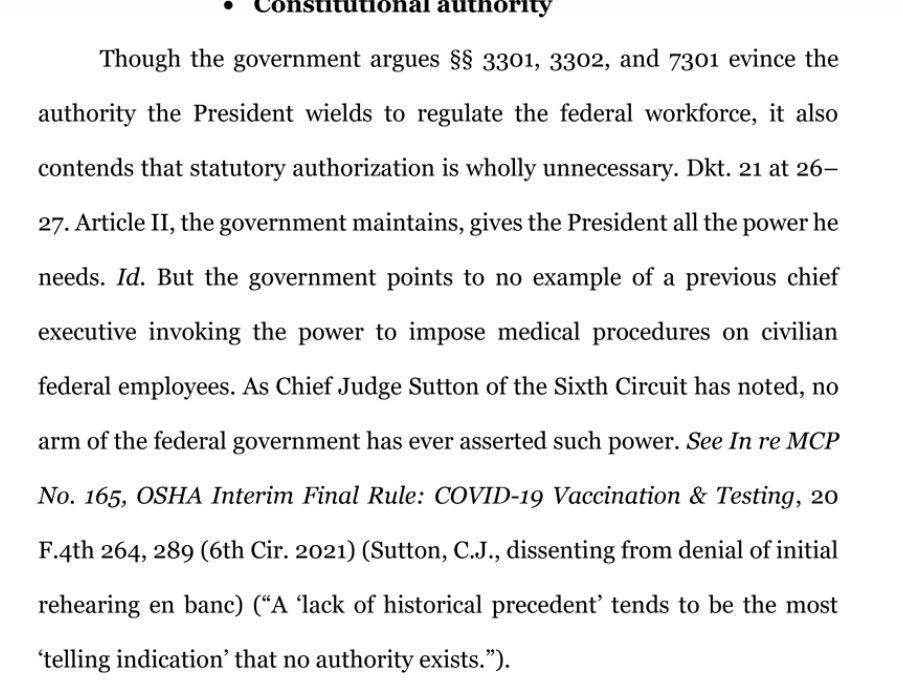 There are areas in which the President's inherent Article 2 powers are inherently strong, areas in which the president is specifically named by the Constitution as having a unique role, areas in which logic and circumstances tell us he has a unique role -- commanding the armed forces, acting as the chief diplomatic officer of the US, stuff like that -- but anything that involves stuff that are easily legislated, and usually are legislated -- like requiring vaccination, or granting the power to require vaccinations -- are just not areas for asserting some previously-invisible font of Article 2 power. Again, a weak, bullshit, YOLO "throw it at the wall and see what sticks" argument by Brandon that diminishes the office. All future presidents will inhabit a presidency diminished by this much-diminished man.