The Lie That Keeps Giving: Covid Can't Be Spread During BLM Riots Because of The Science
There are accusations that Fauci and the CDC have reduced quarantine periods from 10 days to 5 to accommodate industry and to keep entire companies from shutting down.
Almost as if what is claimed to be "The Science" is in fact a hodge-podge of political decisions being made by bureaucrats and their political counterparts, like Ron Klain. But then, this has been going on since the start of the covid panic. Fauci lied about mask being ineffectual, because he didn't want lowly civilians buying them up and shorting them for medical professionals. (Surprise! He had it right the first time -- they are almost entirely ineffectual, but he didn't know that when he claimed it.) Update: Commenters say he knew that masks were practically useless at all points during the pandemic:
34 >>Surprise! He had it right the first time -- they are almost entirely ineffectual, but he didn't know that when he claimed it. Axshually, he did. Fauci wrote and email to Sylvia Burwell, Obama's former head of HHS, in February 2020 and told her that store bought masks were basically useless against a coronavirus. He's been on every side of every issue depending on the day and the political need.
Posted by: JackStraw
He then played game with what would constitute "herd immunity" -- 70%? 75%? 85% 90% -- and admitted he just made up numbers according to what he believed the public was "ready to hear" or what they would
tolerate.
When he felt they were "ready to hear" higher numbers, an would tolerate higher numbers, he shifted his target for herd immunity upward. He admitted this -- he admitted that what he claimed to be "The Science" was in fact just a grab-bag of psychological gambits and tactical deceptions intended for maximum manipulative impact on the public. And yet when you pointed this out, he contacted his palz at the social media companies to censor you. "Experts" wonder why people don't believe a ***-damn word coming from their lying mouths, and want to know why. Why? Why won't they believe us any longer? Why do they believe that when we talk about "The Science," we're really just hustling them to get them to comply with
our
policy and
political
preferences by labeling it "The Science"? Why do they not trust us about "The Science" any longer? Well, maybe they should look at the huge repulsive mass of lies they've vomited at us for two years for a clue. Starting with this one: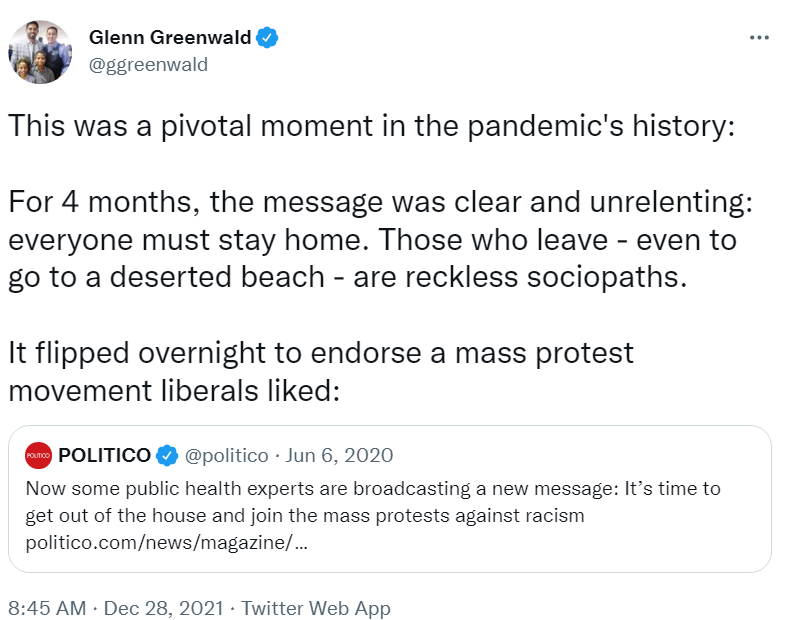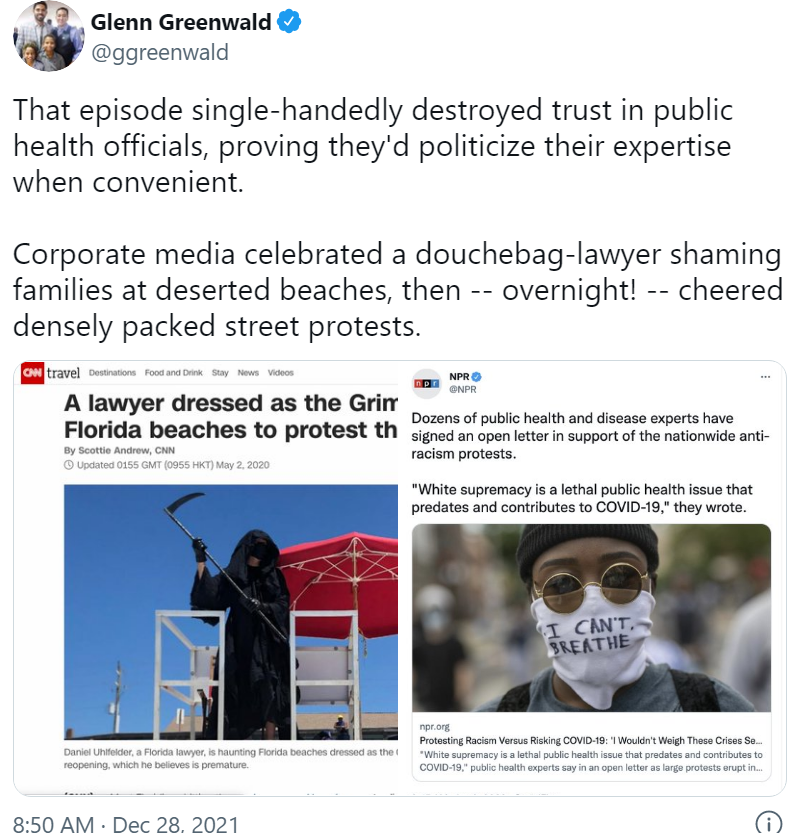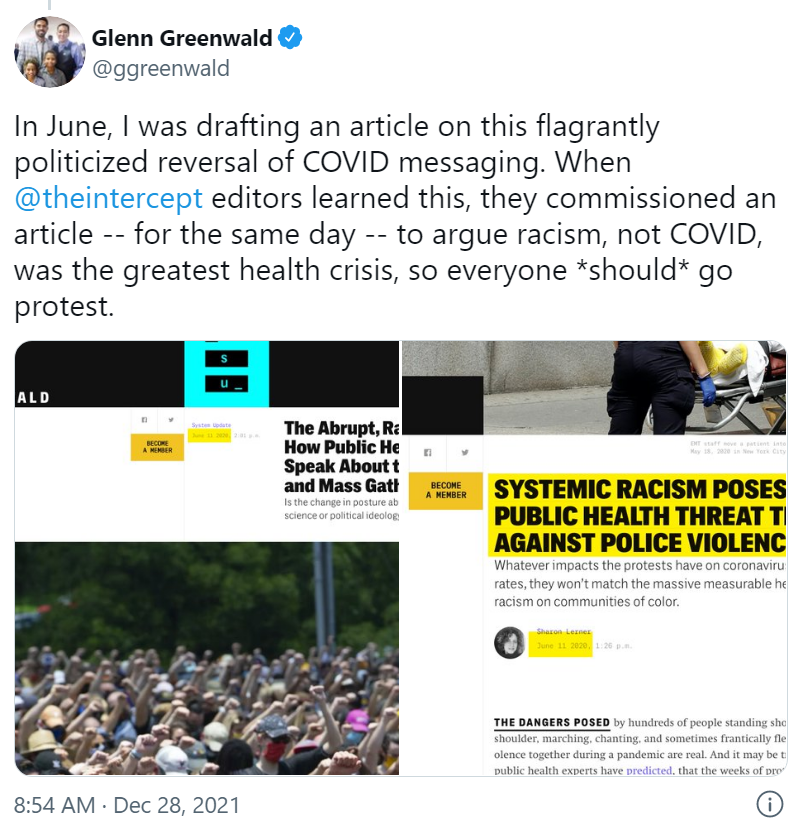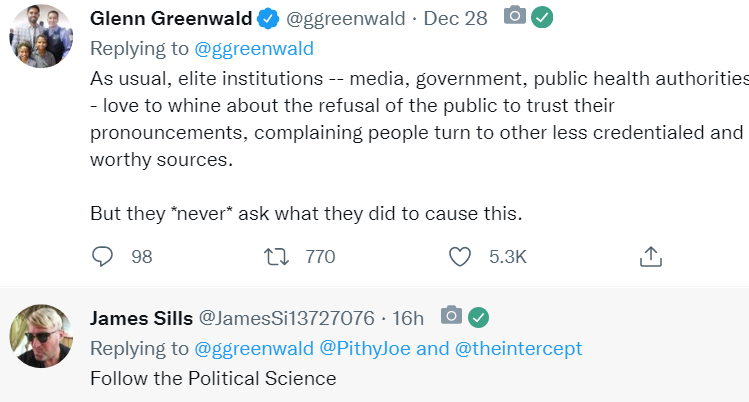 More from John Sexton,
including a great thread from about the
Era of Healthy Covid-Safe Rioting from Drew Holden.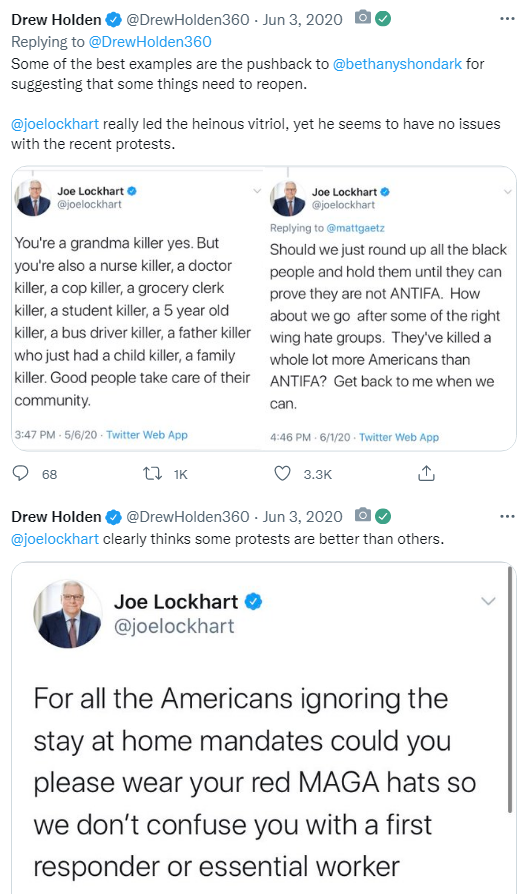 This "public health expert" wants you to know that Whiteness is a very serious public health issue and we need to take to the streets to fight it.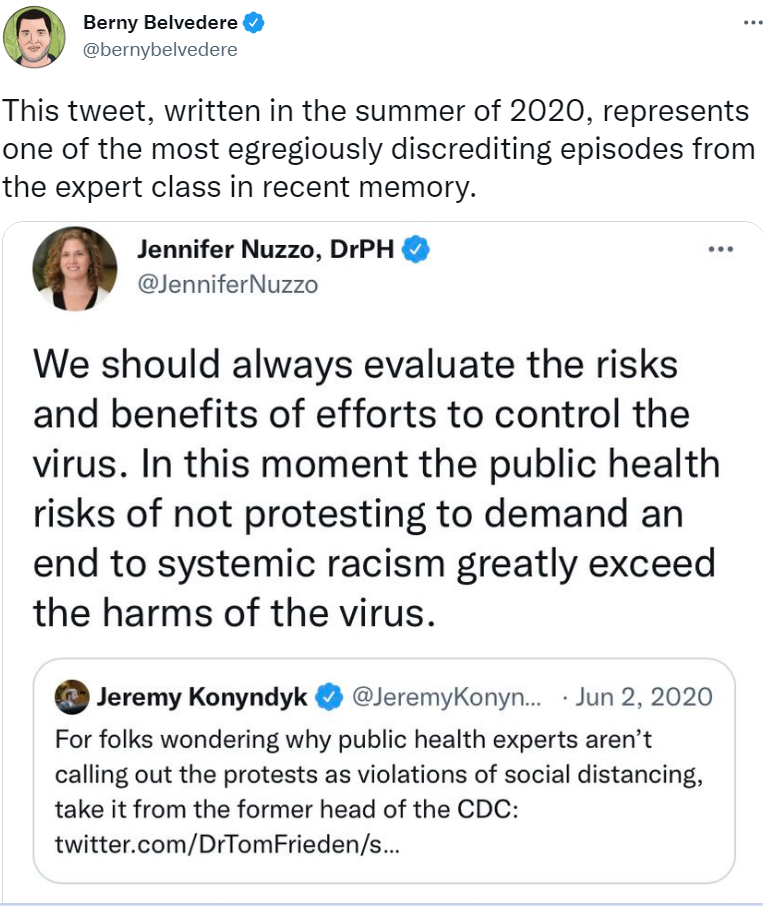 This isn't "The Science" -- this is rabidly leftwing partisans, drenched in self-interest, bending and mutilating science as needed to advance their preferred political agenda. And they're not practicing public health -- they're firing off gunshots and throwing ropes and cracking whips to
control the herd
and get it moving in the direction they want. We are not cattle, and you are not cowboys, assholes. Your "expertise" is only as good as the used car dealer's -- he's an expert too, you know. In used cars. And both of your expertises stop counting for shit the moment we realize you're using it to bluster and scam us, the minute we figure out that you're weaponizing your informational advantage to cheat us. Reliable expertise requires two factors, not just one: 1, proven knowledge in a subject matter field 2,
proven honesty and integrity in using that expertise fairly on behalf of his clients, without self-dealing
Our expert class continually fails the second factor. They continually dupe the people they're providing their "expert counsel" to, and engage in self-dealing and self (political) enrichment. And when they get caught embezzling, they just keep saying, "But we're experts! We're really, really good at corruptly inducing you to sign over your property to us!"
And what's more -- Shiiiiit, 90% of the time they fail the first factor, too. 90% of the time they're incompetent and not even actually experts, either.