Quick Hits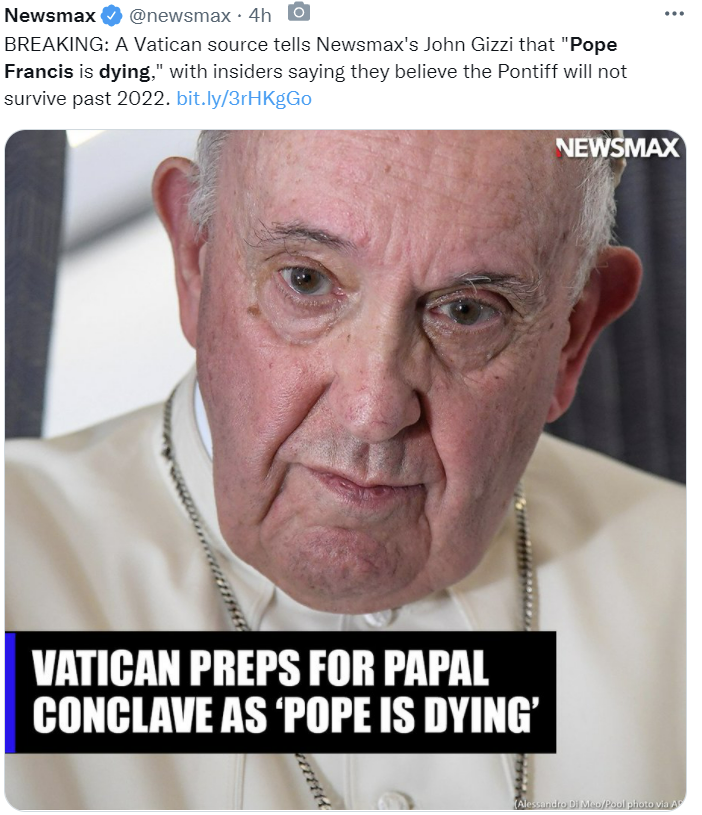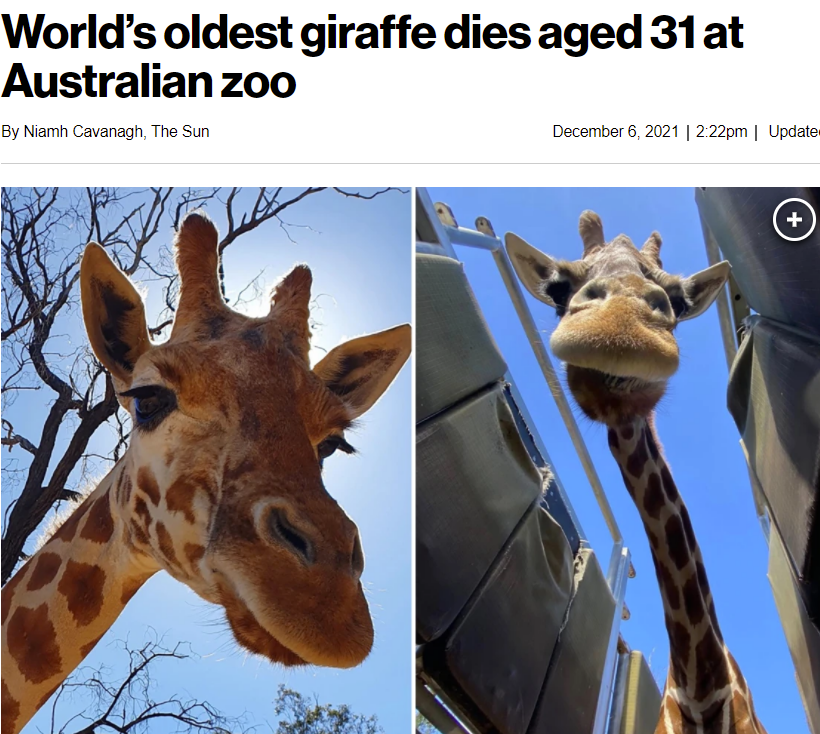 Aww.
Makes you think -- she was just two years older than we pretend to be.
The great-grandmum was the first giraffe calf to be born at the zoo in 1990. Since then she has given birth to 14 calves and has a total of 61 descendants. Two of Mutangi's daughters still live with her at Taronga zoo while her other calves were sent to other enclosures around Australia and New Zealand. Before she passed away, keeper Bobby-Jo Vial described Mutangi as having "a lot of character". "She's quite cheeky and she's always up for a challenge."
If cats were people,
they'd be psychopaths,
scientists say. Notice the headline is not "We've discovered cancer, scientists say."
Researchers at the UK's University of Liverpool and Liverpool John Moores University surveyed pet owners to rate their cats' level of psychopathy -- as defined by human psychological standards. Their findings, published in the December issue of the Journal of Research in Personality, revealed that most cats fall somewhere on the spectrum of psychopathy -- that is, on the "triarchic" concept of psychopathy, which uses levels of boldness, meanness and disinhibition to measure the psychiatric disorder in people. The 46-question survey, which currently includes 549 participants, asked cat owners to rate whether their cat "torments their prey rather than killing it straight away," "cat dominates neighborhood cat(s) (e.g. chases them, picks fights with them)," "is undeterred by punishment i.e. will repeat behaviors he/she is scolded for" and "vocalizes loudly (e.g. meows, yowls) for no apparent reason." ... In addition, researchers added human-unfriendliness and pet-unfriendliness to their scale to create the Cat Triarchic Plus, a tool to measure feline psychopathy.

Wow, so much Sciencing. And what does all of this mean? What important conclusions can be drawn from this Study?
The fact that many cats will fall somewhere on the psychopathy spectrum may be attributable to their animalistic nature, researchers said in an earlier statement to UK media.
Oh.
Oh.
God Bless you all in your work. In Women Posting Their W's Online news, one pluckly lass is just absolutely
shredding
the women's swimming records at
the University of Pennsylvania.
And what's more -- she's
new
at being a woman! She just started being a woman last year! Talk about a prodigy!
Lia Thomas, 22, smashed two U.S. swimming records at an Akron, Ohio contest Thomas won the 1,650 freestyle in a record time of 15:59.71 beating her closest rival Anna Sofia Kalandaze by 38 seconds She left rivals floundering in a 500 freestyle beating them by 14 seconds Last month she competed in a women's swimming event between Princeton and Cornell and has regularly broken records as part of UPenn's team
Thomas previously competed for the school's men's team for three years before
joining the women's team. Her last men's competition was in November 2019 Some have voiced their anger at her swimming success, claiming it to be 'unfair,' and many refused to refer to her as a woman NCAA rules dictate any trans female athlete can take part in women's events if they have completed a year of testosterone suppression treatment
Imagine how good he'd be at women's swimming if he'd been doing it his whole life!
Kyle Rittenhouse responds to LeSnitch Bitch's claim that he faked tears during his trial: "F**k LeBron."
From The Greatest Story Ever Department, a woman wanted an ex-boyfriend to get in touch with her and ask her out again. So she dreamt up a scheme: She would post online about her imaginary, made-up wedding, which she thought would spur her former boyfriend to desperately contact her and beg her to dump the man she just married to date her former boyfriend.
The plan, while obviously brilliant and Full of Win, did not go as intended.
Woman reveals she FAKED her own wedding - complete with lavish venue, stand-in groom, and a professional photoshoot - in a desperate attempt to get her ex to text her, only for him to IGNORE the faux matrimony The woman, who is named Jacqueline, revealed on TikTok that she pretended to get married in an attempt to get her ex-boyfriend to text her - but it didn't work She showed off pictured that were taken from the fake-wedding in a now-viral video, which has gained more than 1.7 million views since it was posted The photos showed her and her faux-groom cuddling, laughing, and dancing together, while she donned a fancy white wedding gown and he wore a tux It appears that Jacqueline even rented out a venue to take the photos, had her hair done professionally, and paid to have a wedding cake made The pictures, which were taken by Alessandro Valeriani, looked convincing - but the stunt was unsuccessful in the end and her ex didn't reach out It's unclear how much Jacqueline payed for the photoshoot, but a photographer will charge anywhere between $500 - $10,000 for a pre-wedding shoot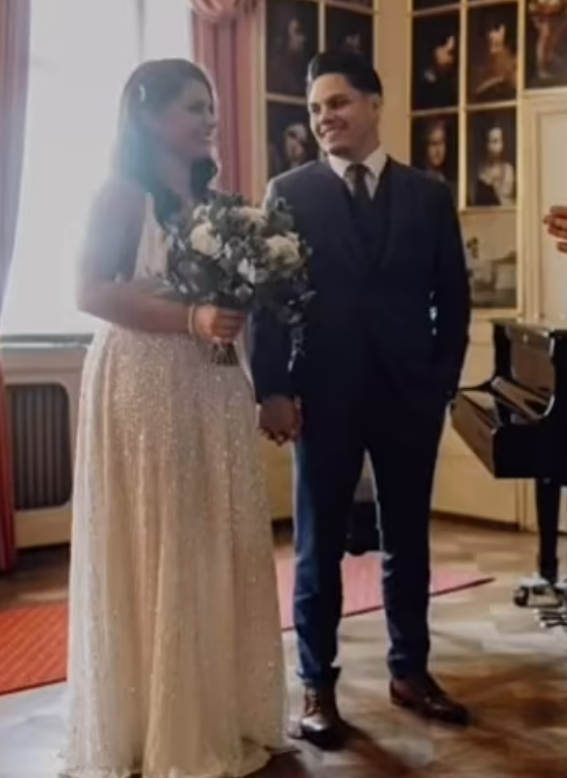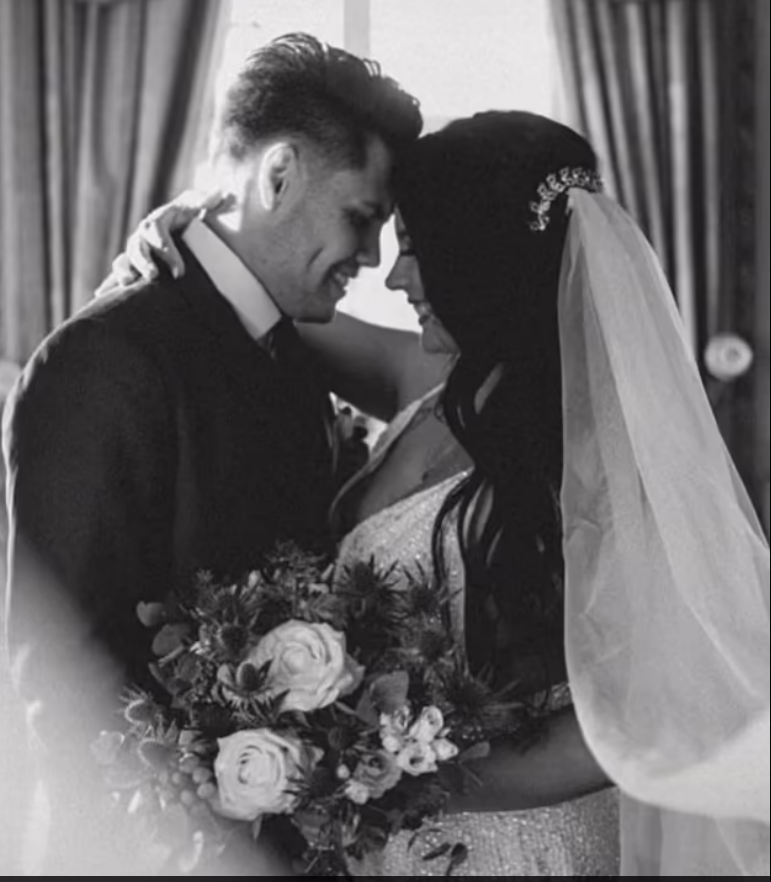 Is this all just an elaborate pitch for Ryan Reynolds' next movie? The video her confessing her plan
is here.
But it's easier to see in the slideshow at the Daily Mail. She's kind of cute.
Thicc German girl.
Thicker than a bowl of oatmeal. She's obviously insane but that might have some advantages, at least for a couple of weeks. Not sure why she's having trouble finding dates. Maybe this is all a lie and she's just playing two dimensional chess to get attention, making up a story about a made-up wedding. (Influencers are operating at absolute peak if they play two dimensional chess.) I heard about this on the Boyscast. They had a guest, An0maly (his spelling not mine), who said something like, "I'd like to have workshopped this plan with her beforehand. Like, best case scenario, he contacts you and you call off your pretend wedding, but now he's with a woman who he thinks cheats on her honeymoon if someone just DMs her 'u up?' on Twitter. We can do better than that. Let's brainstorm. There are no bad ideas, except for the original one you had about the fake wedding." Actually he just said the "workshop" thing and pointed out how bad the plan was. But those were good things to say.