Politico Poll: Near-Majority Says Biden Mentally Unfit to be President; Majority Says He's in Poor Physical Health

Only 40 percent of voters surveyed agreed with the statement that Biden "is in good health," while 50 percent disagreed. That 10-percentage-point gap -- outside the pollís margin of error -- represents a massive 29-point shift since October 2020, when Morning Consult last surveyed the question and found voters believed Biden was in good health by a 19-point margin. Asked whether Biden is mentally fit, voters are almost evenly split, with 46 percent saying he is and 48 percent disagreeing. But that negative 2-point margin stands in stark contrast to Biden's numbers last October, when voters believed he was mentally fit by a 21-point margin.

Biden turns 79 this weekend, assuming he hangs on that long. Celinda Lake claims that the public's questioning of Biden's mental fitness -- including SNL doing joke about it (or the closest approximation to jokes that they can manage) -- is due to, what else, Racist Republican Lies.
"["Conservative outlets" are] running a very aggressive campaign on this, and it's bleeding over into the mainstream a little," Lake said. "By and large, the people who believe this are Trump supporters anyway or they've been exposed to the right-wing disinformation machine."
But Politico points out the "right-wing disinformation machine" was also working before the election, and the public had a higher estimation of Biden's mental capabilities. You know -- when his puppeteers were more able to hide him in the basement all year and "call a lid" every day smartly at 11am.

Before last year's election, independents and voters overall believed Biden was more physically and mentally fit than Trump, whose mismanagement of the pandemic damaged his campaign as the Biden camp embraced social distancing and mostly eschewed large events.
Or medium-sized events. Or small events. Or just "events," period.
But with Trump gone as a foil for now, Biden is more in the spotlight than ever...
Well, they still hide him, but he's not
as
hidden. And the public hears him saying things like "The Great Negro." And then they hear the spin from Democrats and the media (but I repeat myself), "That wasn't on the script he was supposed to read!" Precisely. Precisely. Biden's approval rating is low for this partisan Democrat poll, 44 approving to 53% disapproving. They say the approval rating is "essentially unchanged" over the past few weeks, even though it's fallen from 46% to 45% and now to 44%. They do not say what the
dis
approval rating has done. I found that suspicious, so I looked it up on
RealClearPolitics:
It rose from 51% in the last couple of polls to 53%. I would not say that approval falling from 46% to 44% and disapproval rising from 51% to 53% -- a net four point shift -- is "essentially unchanged." Politico notes that other polls show a greater level of concern about the fake president's rotten brains:

A recent Harvard-Harris poll found that 53 percent of voters said they had doubts about Biden's fitness and 47 percent did not. Asked if Biden is too old to be president, 58 percent said he was and 42 percent said he was fit enough.

That may be related to the fact that he no longer has the capacity for coherent human speech:

... The Morning Consult poll found that voters didn't find Biden a clear communicator by 20 points, they didn't find him energetic by 26 points and they did not find he was a strong leader by 17 points.
Biden's bleeding support from blacks. Or, as Biden might say, from The Great Negroes.

Newhouse noted that Biden is losing support among the most loyal Democratic segment of the electorate: Black voters. Not only does polling show it, Newhouse said -- so did a recent focus group of Black voters in a Southern state who were interviewed to discuss policy issues.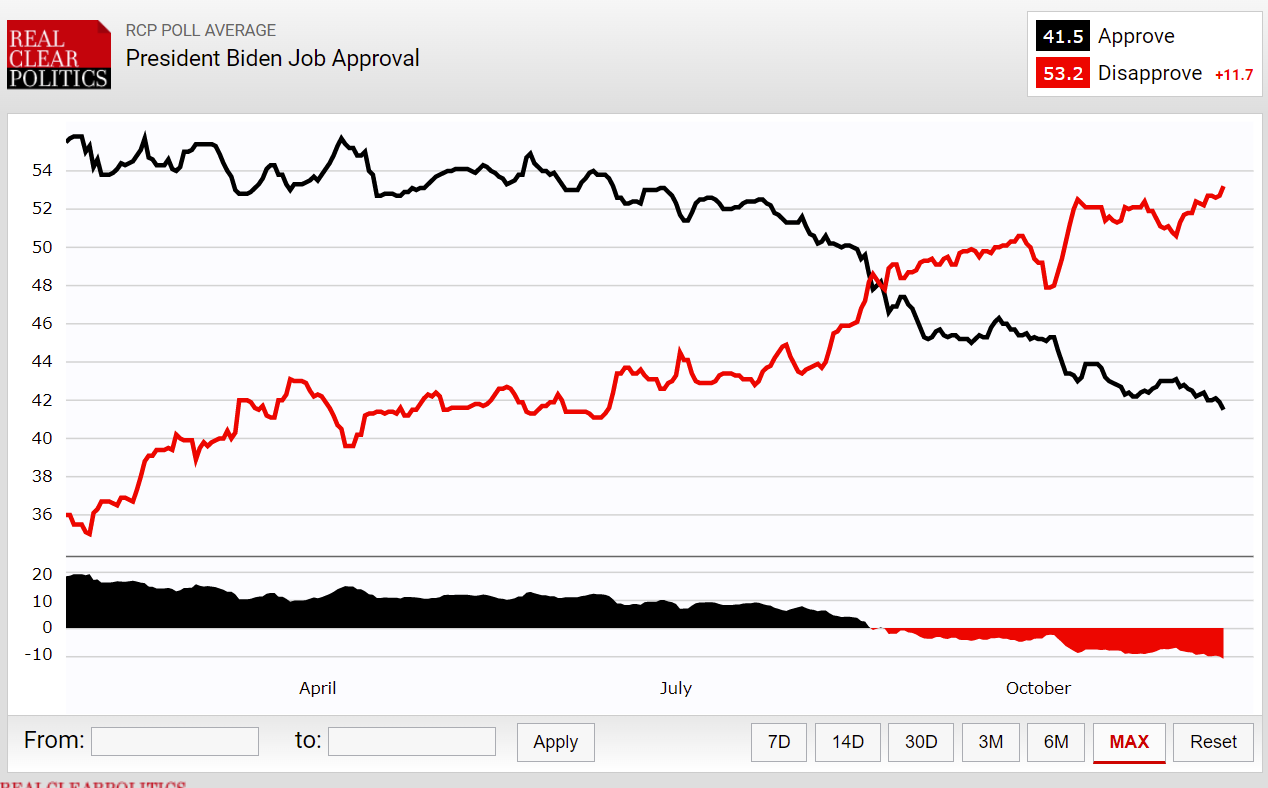 At the trial, I think the judge is deciding whether or not to let the jury see some drone footage they've requested to see again. I think. I'm only half-listening, he's babbling as usual. Here is the best case scenario. From this meme's lips to God's ears: