Update from the Rittenhouse Show Trial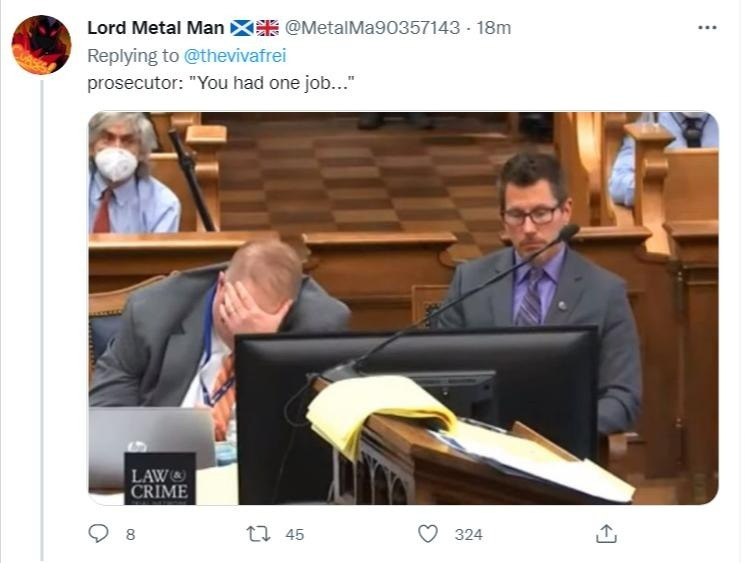 Below, the antifa guy whose name is Gaige Grosskruetz. Grosskreutz is/was an antifa medic, I think, who was also carrying a concealed gun.
Note that in a previous day's testimony, this terrible, inept prosecutor elicited testimony from
his own witness
that later, when he collected Grosskruetz' gun from the street, he had to clear a bullet from the chamber -- thus establishing that the gun had a bullet in the chamber and was quite ready to fire. Grosskreutz drew out this gun and aimed it at Rittenhouse's head. He did this as his antifa confederate was swinging a large skateboard at Rittenhouse's head, and getting shot for that. In response to Huber pointing a gun at his head, Rittenhouse aimed and fired at him. He hit Huber in the arm. It was a devastating injury -- it ripped off 90% of the muscle of his bicep. But Grosskreutz's testimony here is even more devastating for the prosecuting.
Nick Rickieta is shouting "directed verdict." That's where a the defense motions that no reasonable jury could find against the defendant on the facts as presented. If the judge agrees, he issues a directed verdict which says that the trial is over, they don't have to go any further, and that he will write the jury's verdict himself, and that verdict is "Not guilty." Judges really don't like doing this because of the costs of having to re-try a case if they get reversed. If they are found to have issued a D.V. in error, it's a mistrial, and a new case is mounted, with all that expense, and with many witnesses no longer available, and some evidence no longer existent. (Who knows what video the FBI might destroy next.) A judge might reserve the right to issue a directed verdict
after
the jury has ruled, giving them the chance to "get it right" first before he steps in and issues his own verdict. That said, at some point: The directed verdict exists for a reason. This is that reason. There's another reason to consider it. Although I don't know if judges can consider this sort of a reason. But the nephew of drug addict, career criminal, and pervert George Floyd is threatening to dox -- reveal the names and addresses of -- the jurors if they don't vote "guilty." This, of course, is intended to allow his antifa/BLM friends to kill those jurors.
I think that is the only way the prosecution gets its scalp: if the jurors understand that BLM will murder them and burn down their homes unless they convict an innocent man. End it. End it now. Corrected: Commenters inform me that Huber is one of the dead antifa, and that this "disarmed" fellow is Grosskreutz. Thanks guys!
Update:
Cortez King, George Floyd's nephew, is also literally stalking a judge for a decision against BLM he didn't like.
Thanks to Dworkin Barimen. Corrected: I stated that medics in an army were required to be unarmed. Commenters tell me that that's just not true. They're armed. Huh.