Biden Threatens Border Agents: "Those People Will Pay"
They did their job. They did nothing wrong.
But
The Regime will punish people for doing their jobs.

Tarini Parti
@tparti
Biden on the images of border patrol agents in Del Rio: "I promise you, those people will pay."
"There will be consequences. It's an embarrassment. But beyond an embarrassment is dangerous, it's wrong."

More reactions at Twitchy.
The Regime actually doesn't want immigrants stopped at the border. The Regime wants immigrants let through the border, it merely wants to be credited as "trying to secure the border." They can't state what their policy really is -- they'd lose power -- and they intend, like a passive-aggressive person, that border agents will just "get the vibe" of what they want. And when people don't get the vibe, they stroke out. The photographer who took the picture said that
the patrolmen did not whip anyone, and the photograph is being misconstrued.
If you look at the picture -- something the media didn't -- you can see the reins are just flying around freely. The Border Patrol agent is using his hand to grab the fleeing border-sneaker by the arm. The other hand is on the other side of the horse and is presumably controlling it by the reins. He does not have a free hand to "whip" anyone.
Ratje is a photographer based in Las Cruces and has been in Del Rio since Friday. He said took the photographs from the Mexican side. "I've never seen them whip anyone," Ratje said. "He was swinging it, but it can be misconstrued when you're looking at the picture." The photos drew immense criticism from many on social media and the White House said it will investigate. White House press secretary Jen Psaki called images "horrific."
As I mentioned earlier this week: Biden is following the Obama plan on the border. They gin up a story among their media allies and pressure group allies to push the story that they're being Too Tough on the border, to give them cover to issue orders that are essentially open borders, without being admitted as such.
Jen Psaki said that the border agents will no longer be allowed to use horses to patrol a thousand mile long border. I guess they'll just jog, or use golf carts or something.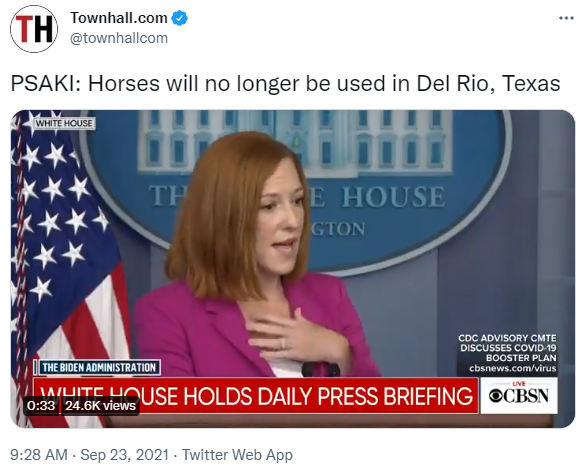 The Babylon Bee
prophecized this
last week: