Biden Is Busing Haitian Immigrants from the Much-Watched Del Rio Bridge to Other Border Points, Which Are Not Being Filmed -- And Then Releasing Them to Disappear Into America
Remember how Obama lied to the country to impose de facto open borders?
He did this by getting his open borders allies to call him "The Deporter in Chief." This was supposedly an insult. Actually, it was arranged cover. Obama
wanted
the public to think the open borders lobby was displeased with him, and that he was the "greatest deporter in American history." This was a lie. Obama was deporting
fewer
people than his predecessors. To make it look like he was deporting more, he did what he did with the "Jobs Created or Saved" numbers: He got the Democrat government bureaucracy to change the way they calculated the numbers deported. Specifically, he had the bureaucracy count those merely
intercepted at the border and turned away
as "deported." Those people had never before been considered "deported." They were merely
halted.
This is a large number of people, so adding in this category -- which had never, ever before been counted as far as deportation -- into the "deported" category allowed Obama to pretend he was deporting more people than any president, when in fact he was deporting far less. And he created this fiction to give him cover to continue deporting very few people,
and
to create the pretext to grant unconstitutional amnesties on illegals. Everyone's heard of controlled opposition. Meet the feigned opposition. It should come as no surprise, then, that the Biden Administration-- which is really Obama's third term -- is just running the Obama playbook again.
15,000 Haitians had taken a boat to Mexico and then attempted to sneak across the porous border. Biden made a great show of supposedly arranging flights to deport these illegals back to Haiti. And again, he got his open borders allies to claim he was The Deporter in Chief. From the leftwing, Democrat-billionaire-funded propaganda sheet The Intercept: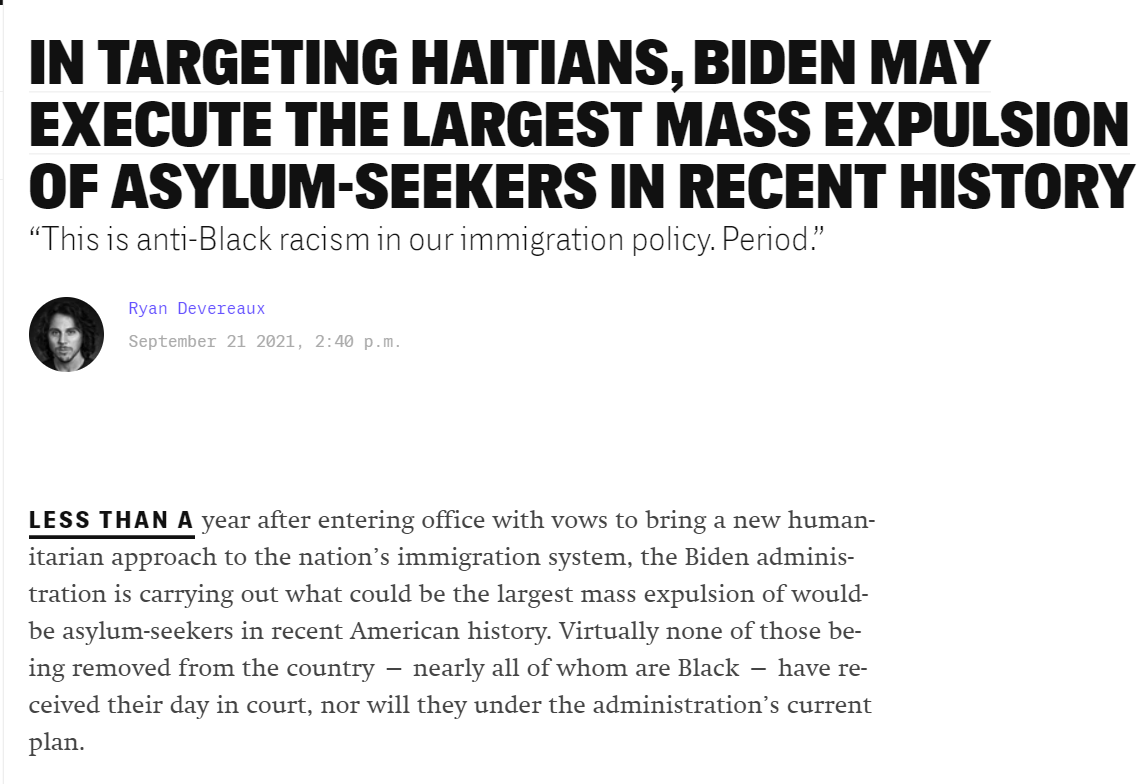 Within a matter of days, the 15,000 gathered under the Del Rio bridge had dwindled to 7,000. Biden and his propaganda ops allies put out the word that this was because they were being mercilessly deported back to Haiti. No. It was a lie again. Only a pittance were deported.
The rest were simply moved to other border points -- border points not being filmed by Fox News -- and then set them free to enter the US.

Many Haitian migrants camped in a small Texas border town are being released in the United States, two U.S. officials said, undercutting the Biden administration's public statements that the thousands in the camp faced immediate expulsion. Haitians have been freed on a "very, very large scale" in recent days, according to one U.S. official who put the figure in the thousands. The official, who has direct knowledge of operations, was not authorized to discuss the matter Tuesday and spoke on condition of anonymity. Many have been released with notices to appear at an immigration office within 60 days, an outcome that requires less processing time from Border Patrol agents than ordering an appearance in immigration court and points to the speed at which authorities are moving, the official said.
Catch and release, again. But meanwhile he has his media propaganda allies cursing him for deporting so many Haitians! What a racist!
The Homeland Security Department has been busing Haitians from Del Rio to El Paso, Laredo and the Rio Grande Valley along the Texas border, and this week added flights to Tucson, Arizona, the official said. They are processed by the Border Patrol at those locations. ... For Haitians hoping to get to the United States, the administration's decision to release many people is a welcome relief.

Yeah no shit Sherlock.
By the way: NeverTrump knew they were supporting Obama's Third Term.
Joe Biden ran on nothing but his promise to be Frail White Obama.
This shows why the "opposition" to Obama was so hollow and half-hearted. I bet you that more than half of NeverTrump voted for Obama -- not wanting to miss their moment to be On the Right Side of History.