SUICIDE BOMBER ATTACK AT KARZAI AIRPORT; THREE US MARINES "SERIOUSLY WOUNDED"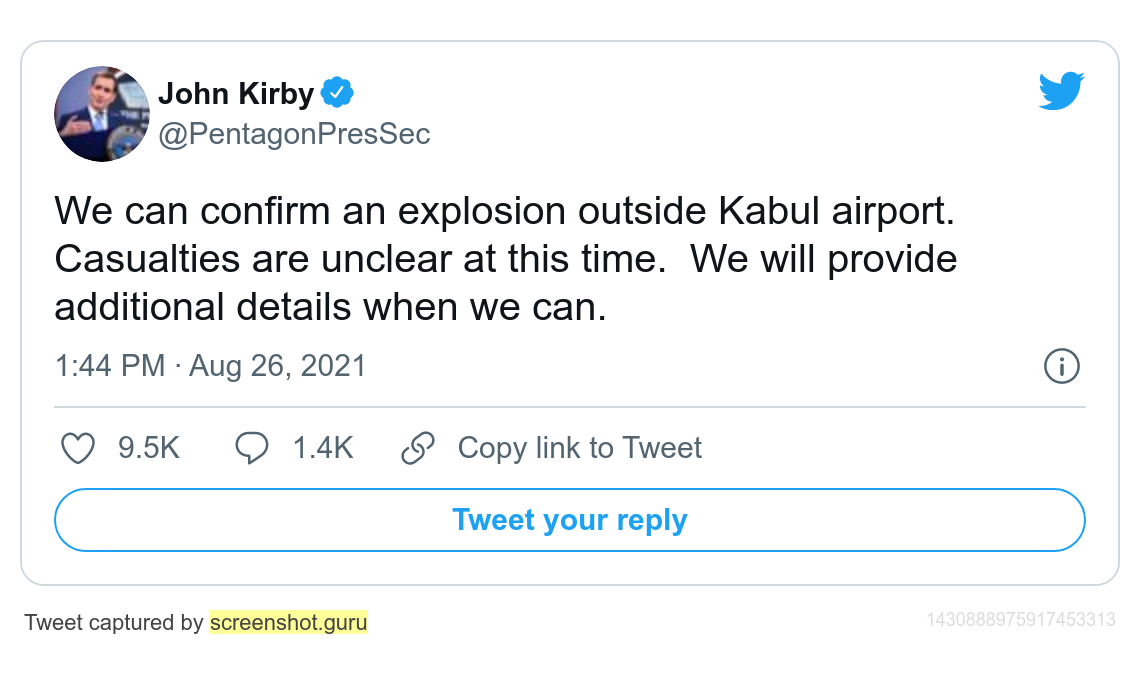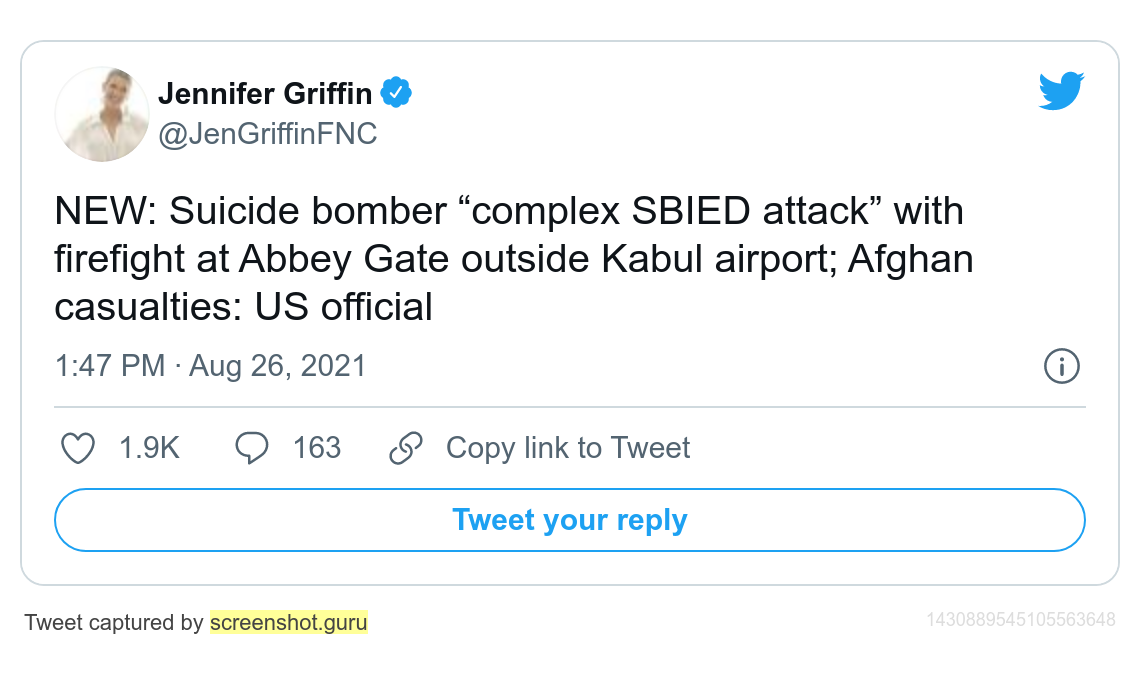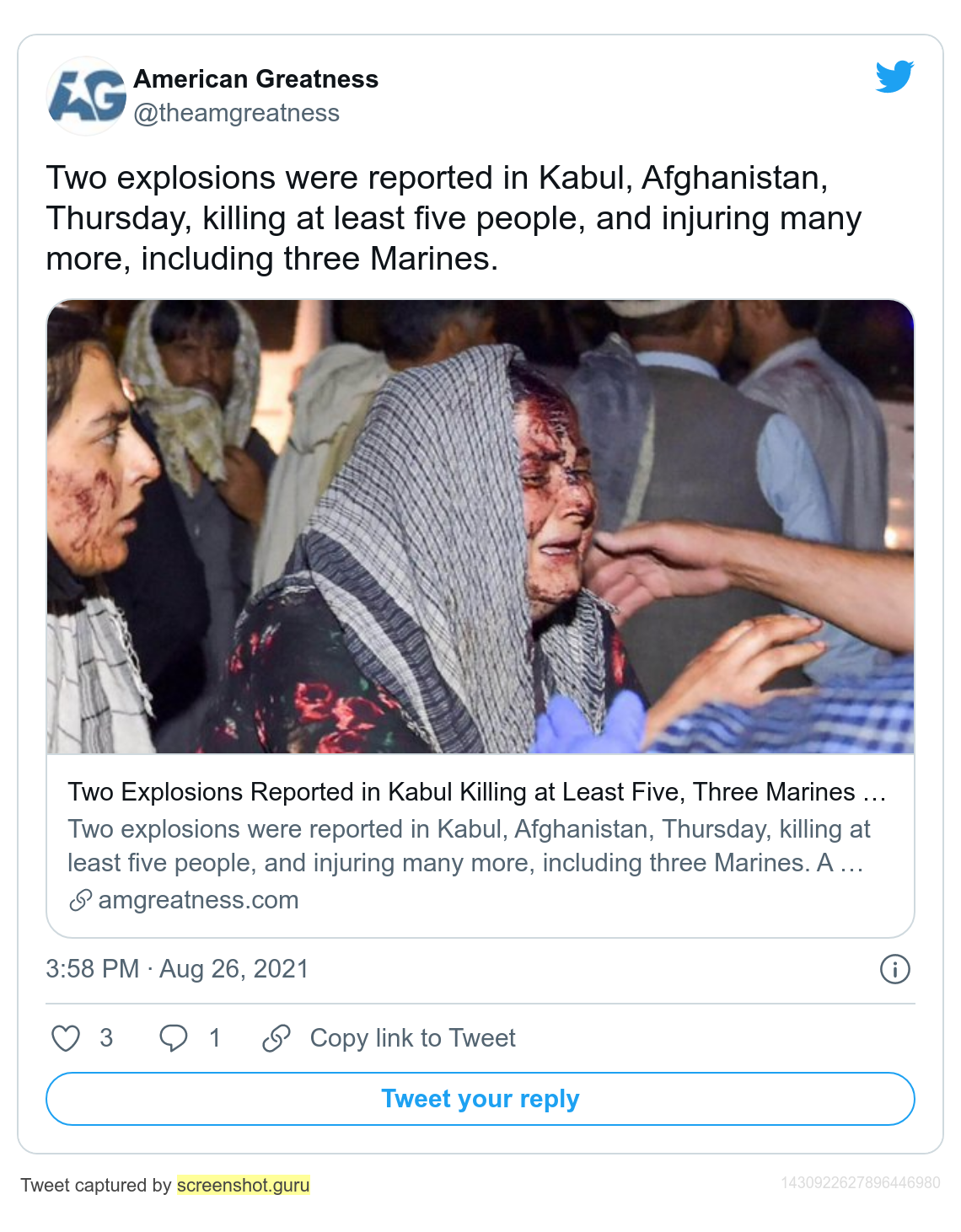 Deb Heine at American Greatness:

Two explosions were reported in Kabul, Afghanistan, Thursday, killing at least five people, and injuring many more, including three Marines. A suicide bomb reportedly detonated outside the Hamid Karzai International Airport (HKIA), and another bomb went off at the nearby Baron Hotel, where Americans have been gathering for rescue and evacuation. According to reports, U.S. forces exchanged fire with gunmen outside near the "Abbey" gate, where evacuees have gathered in large numbers in recent days.
Very graphic short video of the
horrific carnage here.
Content warning. Deb Heine notes that Biden "last week vowed that 'any attack' on American forces or disruption of its operations at the Kabul airport would be met with 'a swift and forceful response.'" But Sean Davis notes this isn't likely the Taliban, but ISIS. The Taliban, he says, wants the US out as soon as possible and isn't likely to conduct an attack that would force the US to stay to fight them. ISIS, on the other hand, just wants to kill Americans. Lot of ISIS in the area, apparently:
Jacqui Heinrich
@JacquiHeinrich NEW: Source briefed on the situation in Kabul tells me "hundreds of ISIS-K in the vicinity, attacks likely to continue"
More via Tami:
@julie_kelly2 8m Jen Griffin reporting US casualties "expected to rise."

@ShelbyTalcott 5m The WH press briefing has been delayed - no new time yet.
Biden's 3pm meeting with governors on Afghanistan has been cancelled. WH also says Biden "will continue to be briefed on updates on the evolving situation" in Afghanistan (he met with his national security team this AM)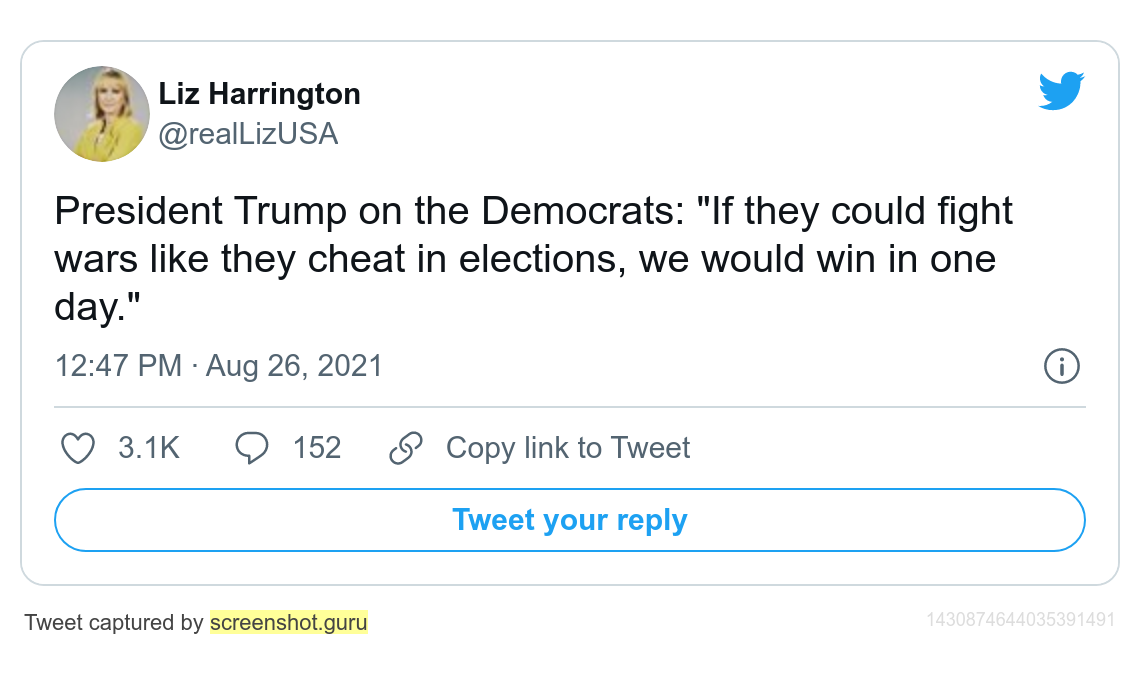 Norms. Restored. Conservative, Inc. -- give yourselves bonuses from the huge pile of money grifted from actual conservatives.
You've earned it.
You serve your True Masters well.
49 Hey. When Trump was in office peace, mostly, broke across the globe but war broke out on Twitter. When Biden was placed in office peace, mostly, broke out on Twitter but war broke out across the globe. Norms and decency restored indeed.
Posted by: thathalfrican - The One
51 We traded mean tweets for blood in the streets.
Posted by: Lrrr
72 It's worse then pictured in the video. Possible KIA amongst the Marines. This was a coordinated PBIED attack. Next up are hostages. Count on it. The Germans just left about an hour ago. Units of the 82nd are egressing out. It's a scramble for the door. There are also reports of small arms fire at departing aircraft. HKIA was never defensible for this type of departure. Bagram was always the Alamo. They knew it. They ignored it. People are going to get left behind. This is a disgrace.
Posted by: Marcus T